Renowned scientist Louis Pasteur once said "chance favors the prepared mind," and that famous saying fits Michelle and Patrick Melchior. In fact, it fits like a custom-made leather apron.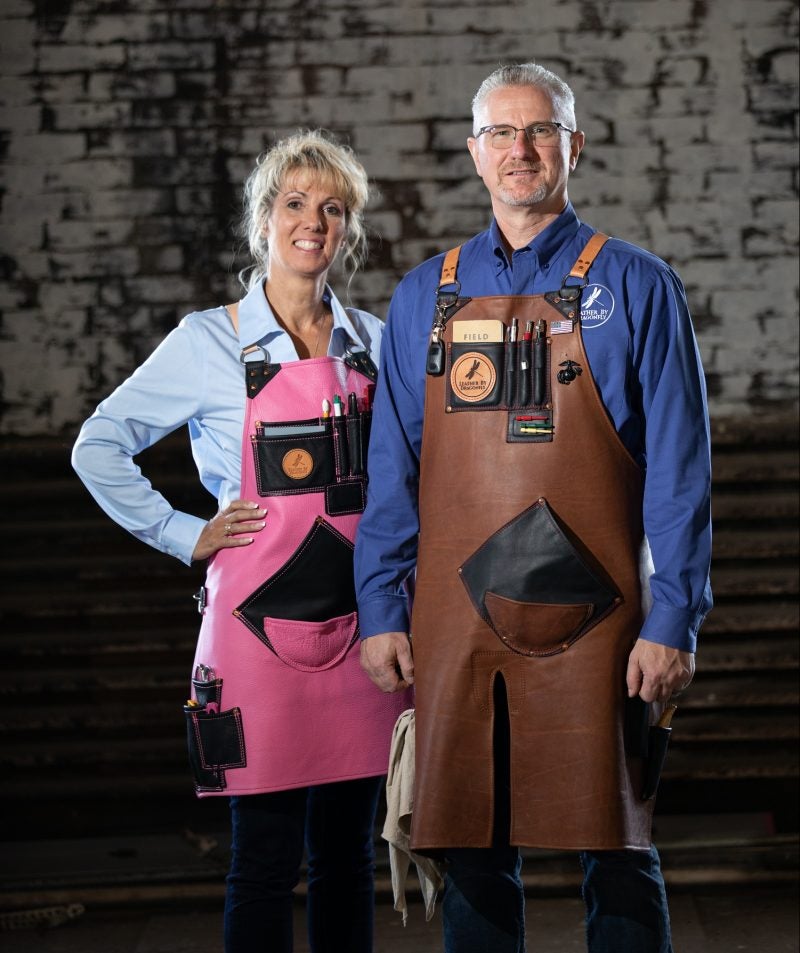 Patrick, a woodworker by hobby, remembers "walking in sawdust since I was a boy" when his father – also a woodworker – built cabinets, coffee tables and nightstands. Into adulthood Patrick continued that desire to build and create. Meanwhile, his wife Michelle has been a sewing artist for decades.
The two put their talents together to create Leather By Dragonfly, producing high-quality bespoke leather aprons, totes, purses and clutches.
Thing is, they never planned it that way. "It was by sheer accident," Patrick said of how the company began.
He had been working in the shop, and happened to drop a Woodpecker square (a high-end measuring device), and it was damaged. He ran inside and said, "Michelle, you have to make me an apron to keep my tools safe, so I don't drop them." They cobbled together what he called a "Frankenstein of an apron," and Michelle made a pocket for his square.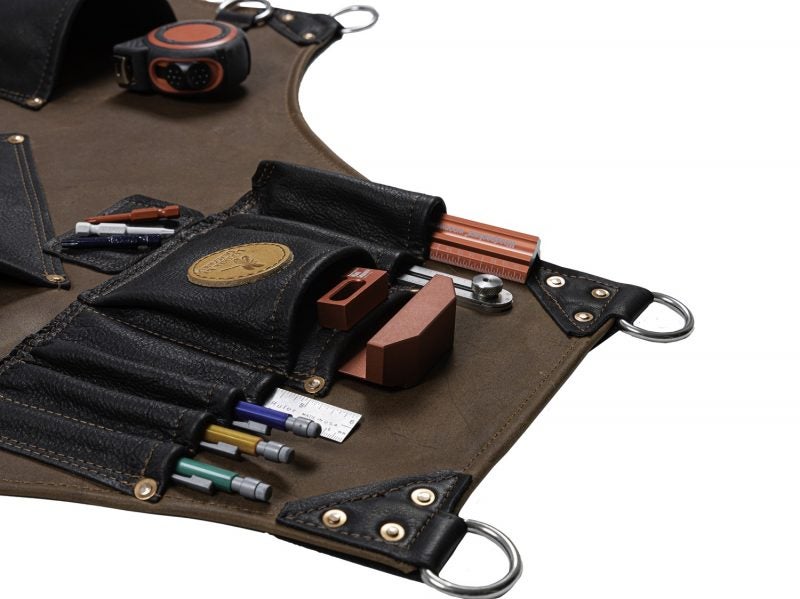 Soon after, he made a YouTube video of him in his workshop, and someone asked him where that apron came from. He said, "My wife made it." The follow-up question was, "do you sell them?"
Patrick looked at his wife, and she looked back, and the answer was a no-brainer: "Yes, we do!"
Since the first apron was made in 2016, thousands have been made – most custom-made. "We are in shock that this is an absolute need that was out there. I believe we are the only ones filling that need," said Patrick.
As part of the process, Dragonfly sends a fabric template apron to the client to wear, fitted as if for a suit or a shirt. During a live video chat fitting session, they create a tailor-made pattern. "Our competitors all make a leather apron made for the masses," Michelle said. "We, however, actually work with the person and put a pocket right where it needs to be. We guide them through placing their hands where they need a pocket."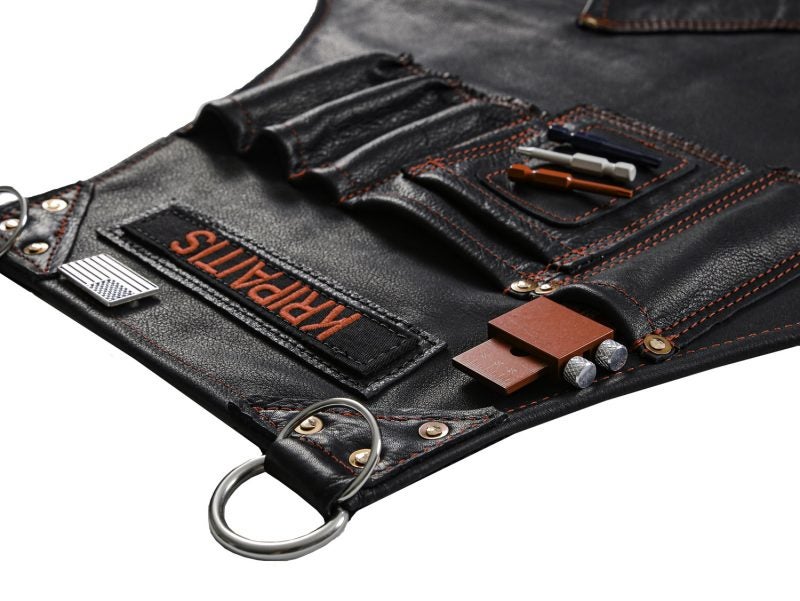 The apron can include pockets for the client's core tools, which makes each apron unique. While a lot of pockets from competitors are flat, Dragonfly pockets are almost three dimensional. It's like they "pop off" the apron. Michelle sews in pleats so they can accept a tool and make room for your hand. More options include extra pockets, or two-tone colors, different color thread and padded shoulder straps – for clients with shoulder injuries.
Dragonfly custom leather aprons provide superior protection and comfort for hobbyists, woodworkers, welders, metal fabricators, wallpaper hangers, shoemakers, surfboard makers, window installers, barbeque pit masters, welders, tattoo artists, gunsmiths  – the list goes on.
Dragonfly provides the insight and experience of what works, and what doesn't work.
"We guide them through all of the designing and measurements of their custom leather apron. At the same time, I'm taking very detailed notes to make it a precision tailored fit to them," said Michelle.
The entire process is a mutual back and forth, with guidance from Dragonfly – where they learn about the clients' core tools, workflow and needs. "Clients are shocked at the depth of customization. I've been sewing for over 40 years, and they will talk about a need, and more than likely I can figure out a solution to fill that need," said Michelle.
An example is a tattoo artist, who would sit most of the time and need to have pockets on their thighs so they can reach what they need. Some woodworkers like to carry very sharp chisels, but those can rip through the apron. So, another addition Michelle can make is a chisel sheath for protection with sturdy veg tan leather, a naturally tanned leather that will soften and develop a rich brown patina with age.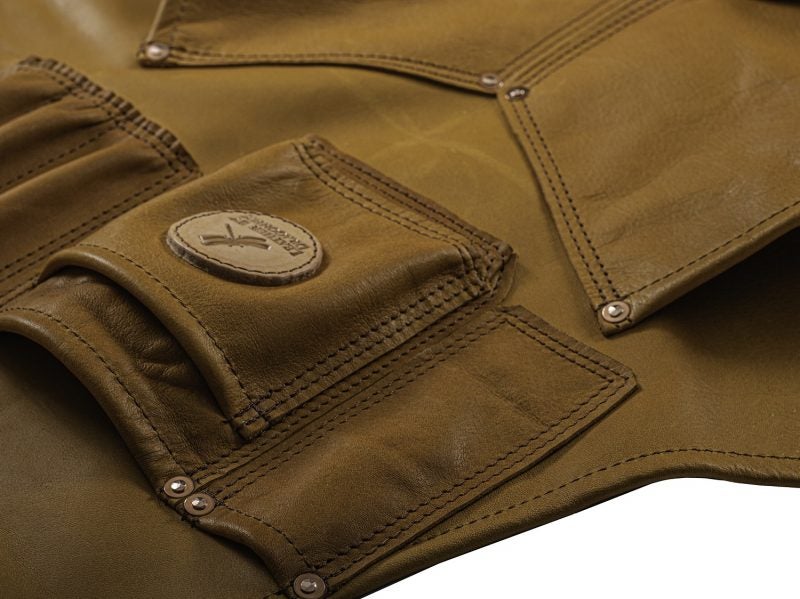 Magnet attachments are their most-requested upgrade; it can, for example, hold a six-inch steel ruler, screws or even drill bits.
"If I'm working at my bench and I lay that little steel ruler down, it can be hard to pick it back up," said Patrick. "On my apron, I carry some torques bits. So, when I assemble a cabinet, I can grab the one I need, and it's not rolling around on my bench, or falling on the floor. A lot of people find it useful for a card scraper, which you use when trying to flatten the panel of a door for a kitchen cabinet. Card scrapers are very sharp on the edges, and very flat like a credit card. It's very difficult to pick them up off a flat surface. It is easier to attach them to a magnet."
Jewelers, too, use fine tools they don't want to shove in a pocket. Still another client, a woodworker, might like to weld and make metal furniture. They need a removable magnet on the apron so the filings would not stick to the magnet.
These custom handmade aprons are indispensable for anyone who appreciates the quality and craftsmanship of handcrafted goods.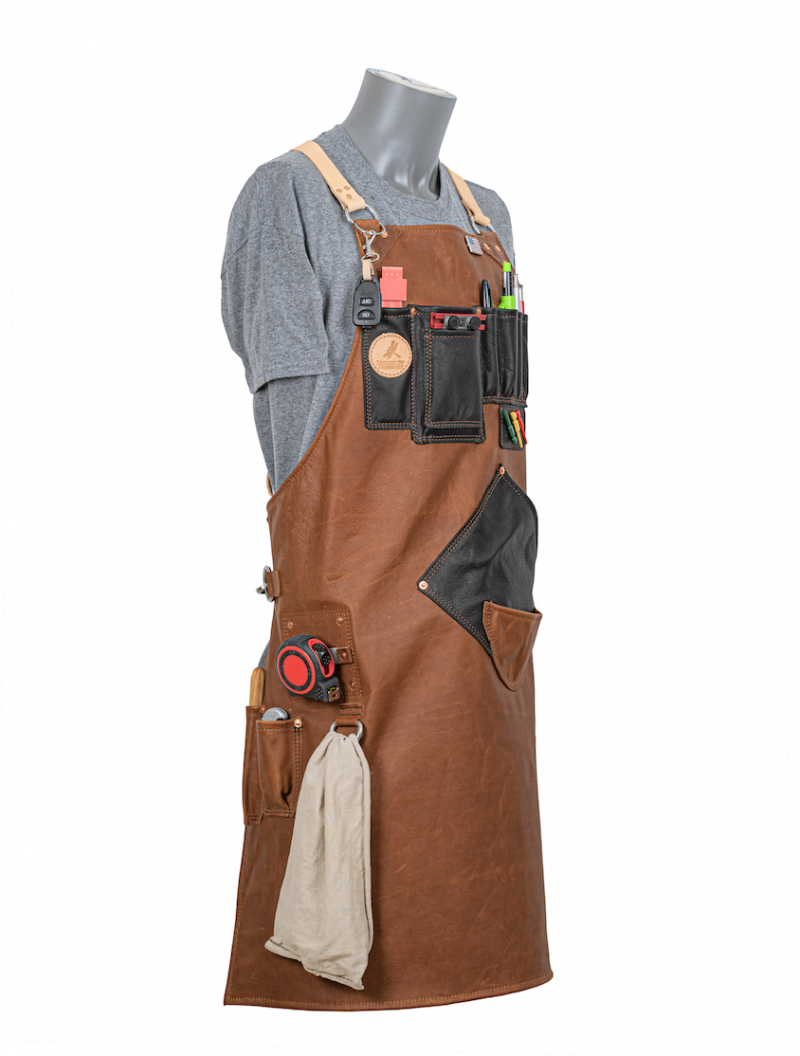 Our Swagger team had the privilege of creating and working through the Master Custom Workplace Apron process with Michelle and Patrick to make an apron. The experience exceeded expectations in professionalism, communication, intuitiveness, expertise and anticipating needs.
It is precisely why clients flock to Leather By Dragonfly – it's that bespoke, tailored experience, blended with superior design and function, that results in a product proudly worn by thousands of clients.