Everyone loses about 100 hair strands on a daily basis. If you think that you are losing more hair than average, you should not ignore it. If you are a man and you noticed changes in your hairline or signs of baldness, you might be having male pattern hair loss. Don't worry, you are not the only one fighting this battle because according to MedLinePlus, male pattern hair loss is the most common type of hair loss in men.
So what causes baldness in men? Is it treatable? Is there something affordable, effective, natural, and safe that men can use in order to get rid of baldness? Is there a way to prevent hair loss on a long-term basis? Is there a product that can be topically applied to affected areas? Let's find out the answer to these questions.
According to WebMD, 95% of men with thinning hair blame their parents' genes. Medical News Today says that men who have first or second-degree relatives who are prone to baldness have a high chance of getting the same condition. White men are more prone to baldness based on age and genes as compared to other ethnic groups, including the Chinese and the Japanese. 50% of white men start to see signs of balding by age 50 and 80% of them experience hair loss by age 70. In the United States alone, over 50 million men suffer from baldness.
Genes could be one of the main causes of hair loss in men, but there are other factors that could cause hair thinning or baldness that many don't know about. Hair loss should be taken seriously because it has been linked to diabetes, high blood pressure, hypertension, obesity, and prostate cancer, according to Genetics Home Reference. It could also be caused by stress, illness, major surgery, and medication side effects. In addition, hair loss could also be an indication that someone is suffering from a fungal infection, lupus, or a thyroid condition.
DHT is also known to cause baldness. Also called Dihydrotestosterone, this male sex hormone gives men their characteristics. However, it is also known to cause hair follicles to shrink, thus contributing to male pattern hair loss. So, it is safe to say that one way to prevent or treat hair loss is by using DHT-blocking products.
A lot of men accept that hair loss is just part of getting old, so they don't do anything to get rid of it. There's nothing wrong with that, but if you value your hair more than anything, there is a product that you might want to check out. It is called the Professional Strength Hair Restore Shampoo.
Professional Strength Hair Restore Shampoo by Hair Restoration Laboratories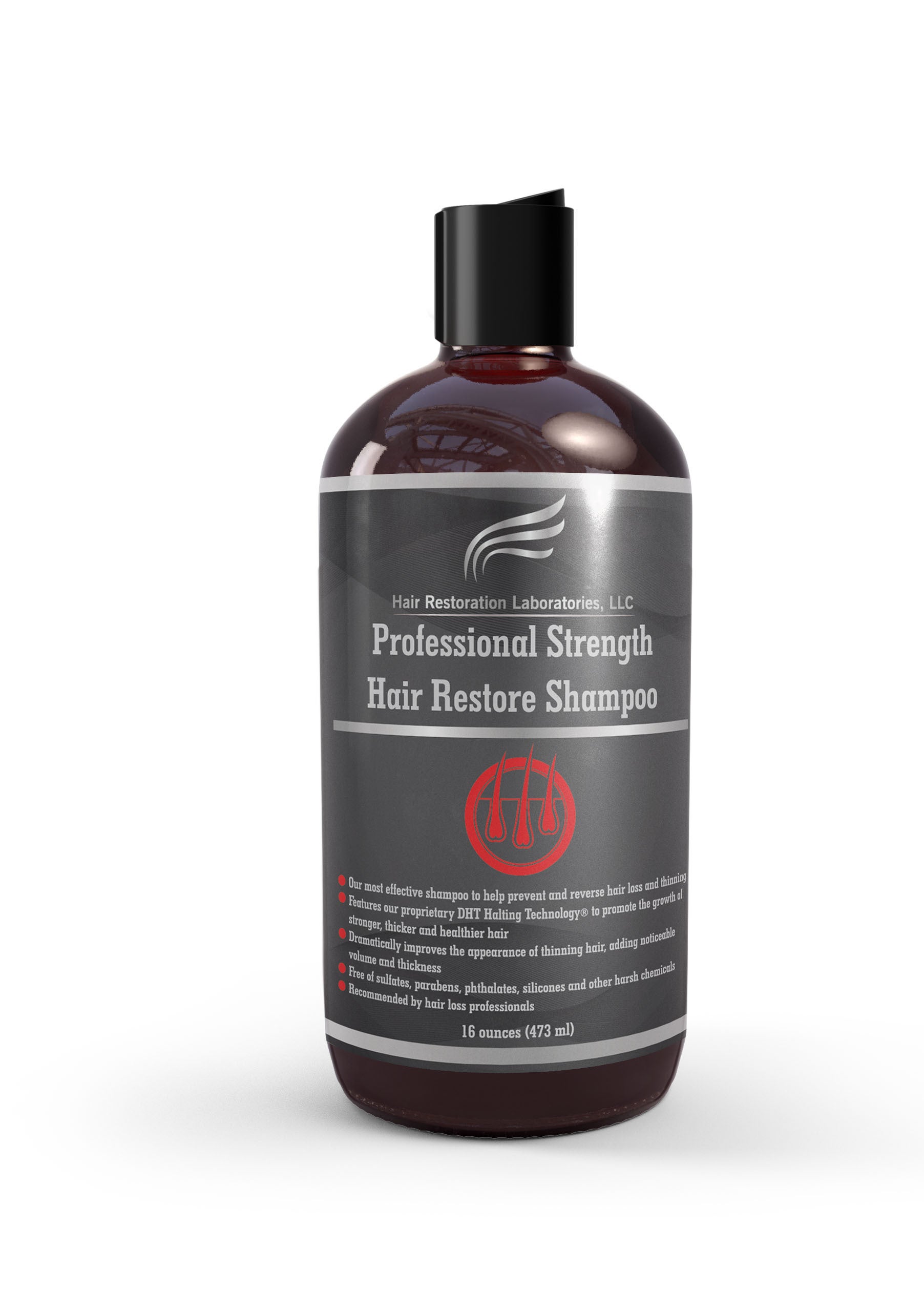 Hair Restoration Laboratories developed the Professional Strength Hair Restore Shampoo using their very own DHT Halting Technology, a formula that contains DHT-fighting ingredients such as Ketoconazole, Green Tea Extract, Biotin, Black Seed Oil, Caffeine, Saw Palmetto, Pisum Sativum (Pea) Extract, Pygeum Africanum Bark Extract, Pumpkin Seed Oil, and Cayenne Fruit Extract. This product maximizes the nourishment of hair follicles, which results to healthy, strong, thick, and quality hair.
Can you use the Professional Strength Hair Restore Shampoo if you are not suffering from baldness yet? The answer is a big yes! This product is free from harsh chemicals, parabens, phthalates, silicone, and sulfates, so it is safe to use even on colored or chemically-treated hair. Here's another thing that you'll love about this product: it was never tested on animals. How cool is that? Here's another fact that you would surely want to hear: it doesn't have any side effects! Admit it, it's not easy to find safe, effective, and natural hair loss treatment nowadays that do not have side effects and is not tested on animals.
The Professional Strength Hair Restore Shampoo is used just like any regular shampoo. However, it should only be used about twice per week. Apply a generous amount and concentrate on balding areas. Gently massage your scalp and hair and allow 3 to 5 minutes for product absorption before rinsing.
Let's talk about the price of this product. It's regularly priced at $39.99, but it's your lucky day because you can get it now for only $34.99. Yes to discounts!