It's everyone's favourite season – summer, and we already know that the Swagger man has enough pride to ensure that he is looking his best all year round. So how can a Swagger man look fiery fine when it's fiery hot outside? He starts here with the Swagger Approved Summer Grooming Essentials. Whether he is looking for high performance skincare, haircare or grooming and manscaping, Swagger has him covered.
HIGH PERFORMANCE SKINCARE by ASYSTEM
First the bad news: Men lose 1% of the collagen in their skin every year after the age of 20. The good news? You can keep your skin in peak condition with products packed with ingredients proven to improve cellular turnover. Like ASYSTEM's Performance Skincare.
An advanced 1-2-3 daily skincare system, powered by clinically proven ingredients, to gently cleanse, hydrate, protect and strengthen — ensuring your skin looks youthful and healthy. ASYSTEM's Performance Skincare is an all-in-one skincare maintenance kit comprising a Daily Cleanser, SPF Moisturizer, and Rebuilding Night Cream.
Invigorating Daily Cleanser
Gentle, non-abrasive pumice powder buffs away dead cells and debris to reduce the appearance of fine lines, acne scarring and hyperpigmentation. Enriched plant-based ingredients help to rejuvenate and brighten your skin.
DAILY DEFENSE MOISTURIZER + SPF 30
A does-it-all moisturizer that provides intense hydration and SPF 30, helping protect from UVA (aging) + UVB (burning) rays and pollution. The formula itself is lightweight and absorbs easily, leaving skin with a smooth, non-greasy finish.
OVERNIGHT REBUILDING CREAM
This intensely hydrating night cream replenishes moisture to naturally plump skin full of anti-aging vitamins and antioxidants. Apply nightly and awaken to renewed skin.
Rubis grooming kit
Rubis grooming kit for men is great for home use or easy to add to your travel bag.   An elegant case made of genuine leather. The case contains the 1F003 scissors for safe nose and ear hair trimming,  the classic 1K102 stainless steel tweezers with slanted tips for eyebrows & facial hair and the 1K920 stainless steel fine pointed tweezers for beard stubble, ingrown hairs, splinters and blackheads.
Made in our Swiss factory to the highest quality standards. Rubis grooming tools are made of the best stainless and acid-resistant surgical steel. Each instrument can therefore be easily cleaned or sterilized.
Rubis products are the result of traditional craftsmanship, put through strict controls and a finishing process under the magnifying glass. No tool leaves the factory without having passed the strict quality controls. Neither scratches nor inaccuracies in material or surface ae permitted.
If you prefer to personalize your grooming kit with another tweezer type: Either of the two tweezers can be exchanged for the 1K320 (straight edge),  safety tweezers 1K302S (rounded tip), 1K902 (two tip) or 1K002 (pointed) tweezers.   There is place on the order form to note the exchange.
We offer free shipping,  if your purchase is for a gift and need you order  to be expedited please let us know in the notes or email admin@rubistweezers.com.
Strictly Man Supply Co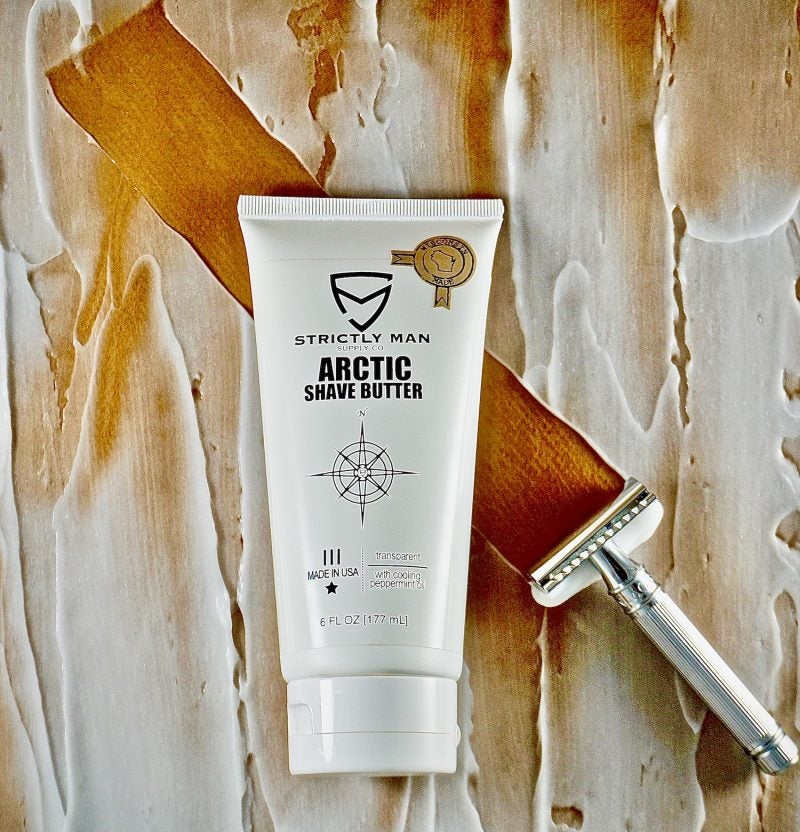 At Strictly Man Supply Co. we believe men should look good, feel confident, and be successful in their relationships, careers, and life in general.
We want you to become the best version of yourself. As a result, we like to think outside the box, challenging the old, dogmatic views of men's grooming. By ensuring our products are effective, novel, and crafted to compete at the highest levels, we can help you accomplish your grooming goals.
Our Arctic Shave Butter has been specifically engineered for men, by men. Designed to give you a smooth glide, close shave and cooling finish, our Shave Butter allows you to precisely see what you're doing, so each hair, line up, and style is cut to perfection.
Say goodbye to redness, irritation, and razor burn. Our transparent, buttery lather combines the protection of shaving cream, glide of shave oil, and the lightweight feeling of shaving gel.
Proudly made in Wisconsin, USA and never tested on animals, we pumped a ton of skin loving ingredients into the formula.  Treat yourself with natural ingredients like refreshing witch hazel, soothing aloe vera, calming sage, vitamin E, coconut oil, sweet almond oil, argan oil & cocoa butter.
A finish of cooling peppermint oil refreshes, calms, brightens and soothes skin.
Revel in the routine and be successful every day this summer with a precision shave you can be proud of!
Me For Men
Me For Men is a One step All In One Minimalist Organic Essential Oil Skincare and Hair Care Product that takes care of all of your needs. The All In One features a 4 ingredient no BS fast absorbing Antioxidant Formula with the "Longevity Molecule" Trans Resveratrol for daily Prevention Protect Hydration and Anti Aging benefits.
Apply post workout or during your morning or night routine and simplify it All In One at Meformen.com.
Gentleman Farmer
This is more than just a shaving cream: think of it as a luxurious, nourishing treatment for your face. Soothing, hydrating botanicals leave skin soft and without irritation or nicks, including:
At the base of the formula is organic and traceable Aloe Vera, which helps calm the skin and prevent razor burn.
A blend of organic botanical extracts, including Papaya, Pineapple and Citrus, gently exfoliation the skin to prevent ingrown hairs.
Organic Jojoba, Cocoa Butter and Shea Butter deeply nourish and protect your handsome mug.
Can be used with or without a shaving brush.
Gentleman Farmer is a modern men's grooming company, for the guy who isn't afraid to get his hands dirty – but still wants to clean up nice. Our mission is to provide discerning men with effective, clean and sustainably sourced grooming products.
Geologie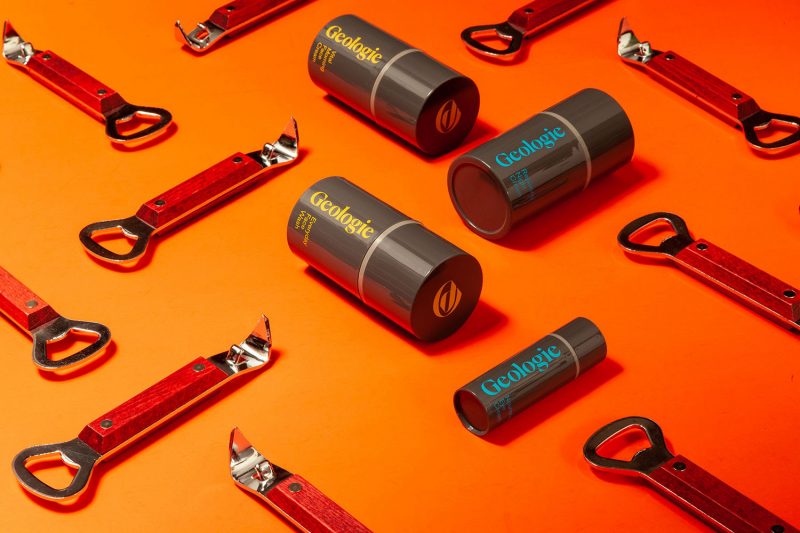 Take a quick 30 second diagnostic, tell us the results you want to see, and Geologie will build the perfect regimen for you. Using only clinically proven ingredients, Geologie makes looking your best easy. Right now you can save 40% on a complete 30-day trial set for only $30 with this exclusive offer from Swagger Magazine.
Each complete personalized set includes two bottles of the Everyday Face Wash to cleanse and exfoliate twice a day. A Vital Morning Face Cream will keep you moisturized, smooth and protected from the sun; the Repairing Night Cream, with the anti-aging super-ingredient retinol, will keep your skin looking rejuvenated, and the Nourishing Eye Cream will reduce puffy, dark under eyes and prevent wrinkles. All of this is complemented by a 5-star customer service experience that has earned Geologie the title, "the most respected brand in men's skincare." This 6X award-winner, having earned Best-Of Grooming accolades from Men's Health, AskMen and Esquire, is making handsome a habit.
Join 300,000+ happy guys and take the free diagnostic. Get started with this special offer: Save 40% off your 30-day trial set with code SWAGGER40. Your face will thank you.
THE ULTIMATE GROWTH KIT + TRIMMER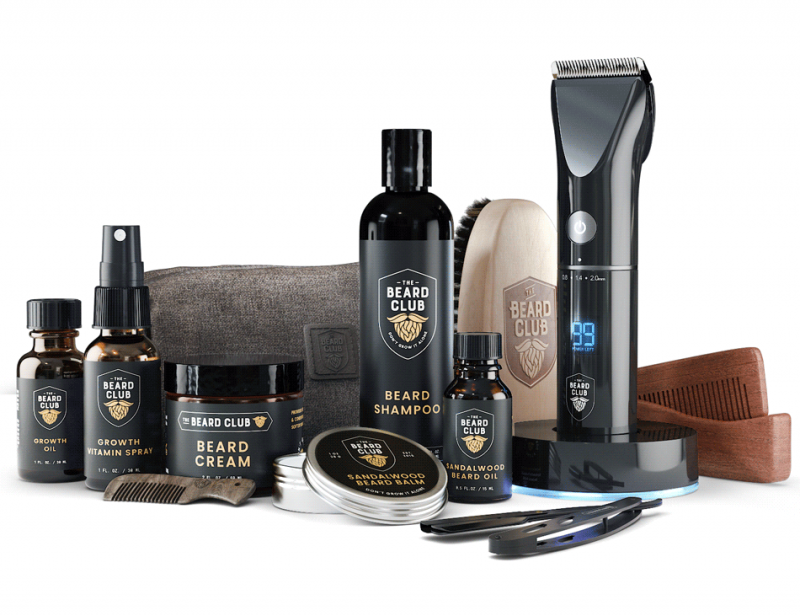 The Beard Club's mission has always been about providing and delivering high-quality grooming products at the best prices. When you join the club, you join a community intent on promoting the best beards possible. The company motto, "Don't Grow Alone", means that the people in the club and the community are always there for you. The Beard Club offers customers the best products for their needs and the best beard advice that will add extra swagger to your daily grooming.
The Beard Club offers the Ultimate Growth Kit + Trimmer for $113, which comes with their most popular and effective products for beards. The kit also has a PT45 Trimmer that works with beard hair, head hair and body hair. There are 8 color-coded guided trimmers and 45 different trim lengths. The twist handle allows 5 different lengths for cutting, and the trimmer has a steel alloy blade that is extra sharp. It has a 3-hour battery life and a travel lock for safety.
The Beard Club's Ultimate Growth Kit + Trimmer allows members to get the products they need for a luxurious beard delivered right to their door. A total of four products in this kit will add serious swagger to your beard. Beard Growth Vitamins are a combination of 20 essential minerals and vitamins with healthy ingredients. There are 60 pills per bottle. Growth Oil is a blend of healthy oils that thickens hair, strengthens roots, and eliminates itching. Growth Vitamin Spray is a special blend of oils and nutrients that hydrate beards. The spray also promotes growth and nourishment all day. Beard Shampoo is specifically made for beards while it refreshes and moisturizes.
The Ultimate Growth Kit + Trimmer from The Beard Club also comes with a travel bag to hold your swag on the go. It is a brown tweed fabric with custom leather accents and a leather zipper. There is a folding comb that is easily portable for daily needs, and a durable boar bristle brush made from Birchwood.
The Beard Club has helped grow and groom nearly a million beards and they're just getting started. Get your swagger grooming on and carry on' with your best beard today.