Definitely painting with a broad brush here, but you're not cool unless you own a bomber jacket. Sorry.
They've been the symbol of urban debonairness for decades, and they aren't going anywhere any time soon. So, you'd be wise to grab you one or two. They're great for pretty much any season because of their unique and adaptable design. You can even sport lightweight versions in summer, preferably with a pair of shorts.
Sure, the bomber jacket has military roots, but it's grown wings over time, so to speak, and crossed over mainstream. Now, regardless of socioeconomic background, gender or ethnicity, you can get access to a really killer bomber jacket. And, frankly, you should.
If all that isn't impressive, this is: Drake wears them, Zac Efron wears them and James Franco wears them. Enough said.
Here are the top 10 best bomber jackets for men. Which one is your favorite?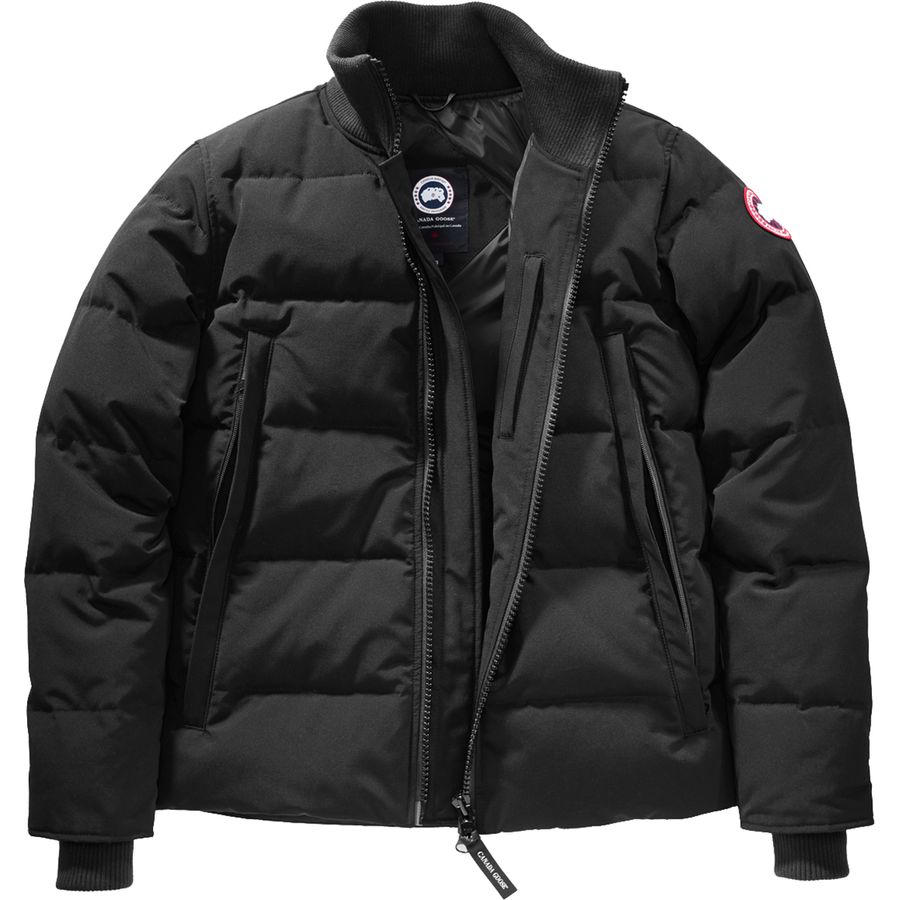 10. Canada Goose "Woolford Down Bomber Jacket"
Canada Goose is no slouch when it comes to durable and good-looking apparel, plain and simple.
This is not your typical bomber, the Woolford Down jacket may not be for every man, but it is for a certain kind of man. If you're athletic or enjoy hiking, this one might just be for you. If you're out and about in colder climates and want to look good out there in the unkinder weather, this should be in your wardrobe ASAP. Plus, a Canada Goose logo bedecks the sleeve.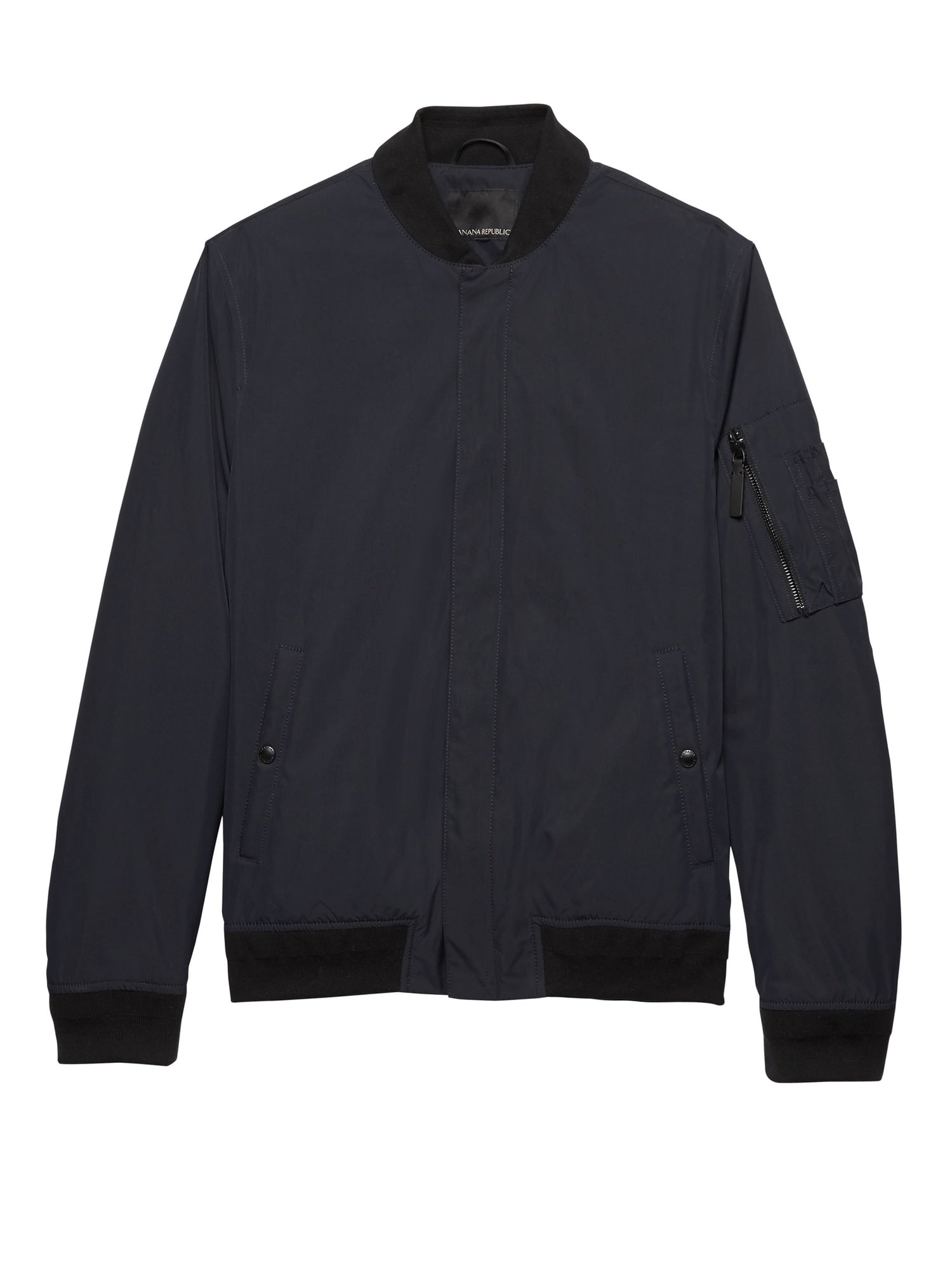 9. Banana Republic "Water-Resistant Lightweight Bomber Jacket"
This Banana Republic special is great for autumn weather, particularly if you're travelling. It's comfortable and easy to wash and upkeep. It has zipper and button closures on the pockets and sleeves, making it convenient for storing little accoutrements if need be. As its name suggests, it is a lightweight garment and a feasible choice for the guy who likes bombers but prefers the less flashy versions.
Banana Republic did a great job on this water-resistant jacket. Now, all you need is a pair of their Rapid Movement Chinos, and you're good to go.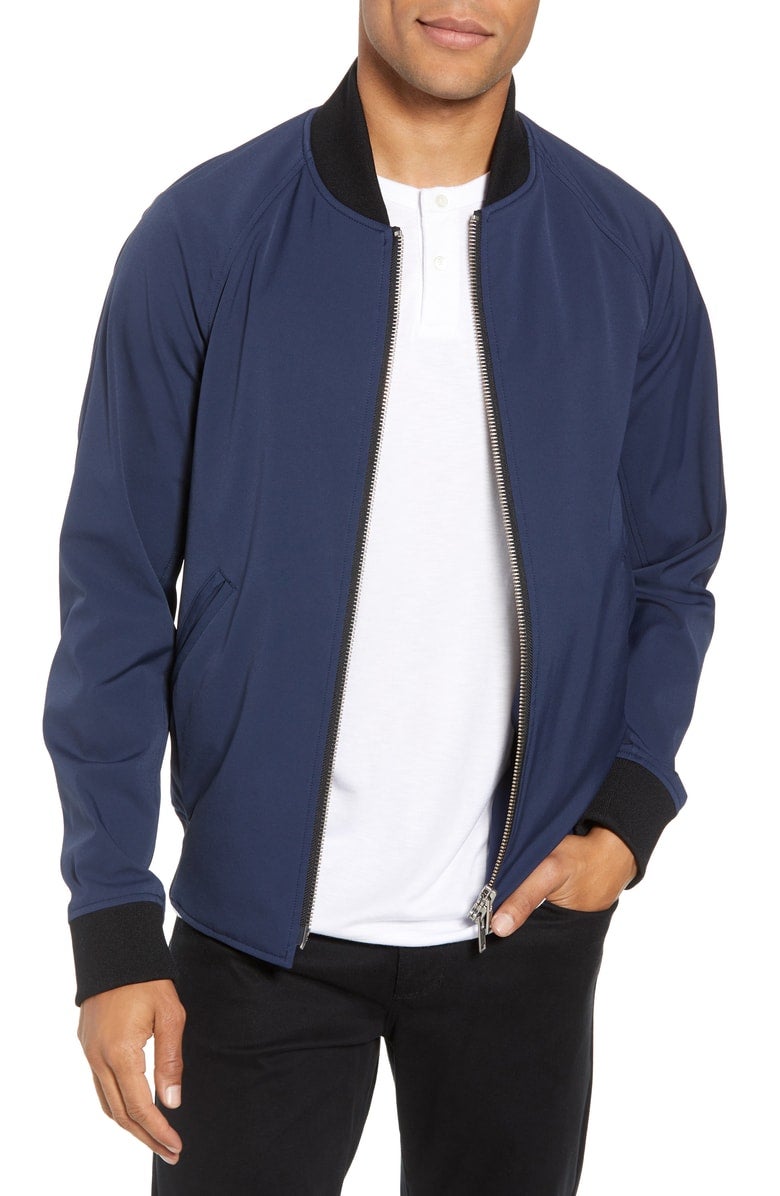 8. Theory "Furg HL Neoteric Bomber Jacket"
The raglan sleeves give the Furg HL Neoteric an edge. It's not over-the-top, but in its own right, it is a bit chic and eye-commanding. Theory decided to design this with neoprene in mind. The raglans and the neoprene together affords it modern appeal. Its layout is good for the practical wearer looking for a touch of swag.
Anything white, say, a white top, will bring the blue out handsomely; additionally, khakis, jeans or anything with varying hues of blue and black. But, remember the white for an extra pop and a some really crazy sneakers.
7. Belstaff "Hallington Blouson Bomber"
Belstaff wasn't playing around with this one. They went all out with this thing, and this is just the beginning. You can tell this series will get flashier and flashier over time, soon becoming a staple in many closets.
Moto is always the way to go if you're aiming for that "bad boy" look. That, coupled with leather and a quilted lining, makes this a deal you can't refuse really. If you've been hitting up the gym lately, the Hallington Blouson slim fit will accentuate your results.
A bit steep in price, this bomber is well worth the splurge. Let's face it, bro, the fur collar alone is enough reason to buy the coat. It exudes a smooth quality, a James-Dean-rebel-without-a-cause contemporary vibe. If you're the kind who eats up attention, the Hallington Blouson would likely be your go-to.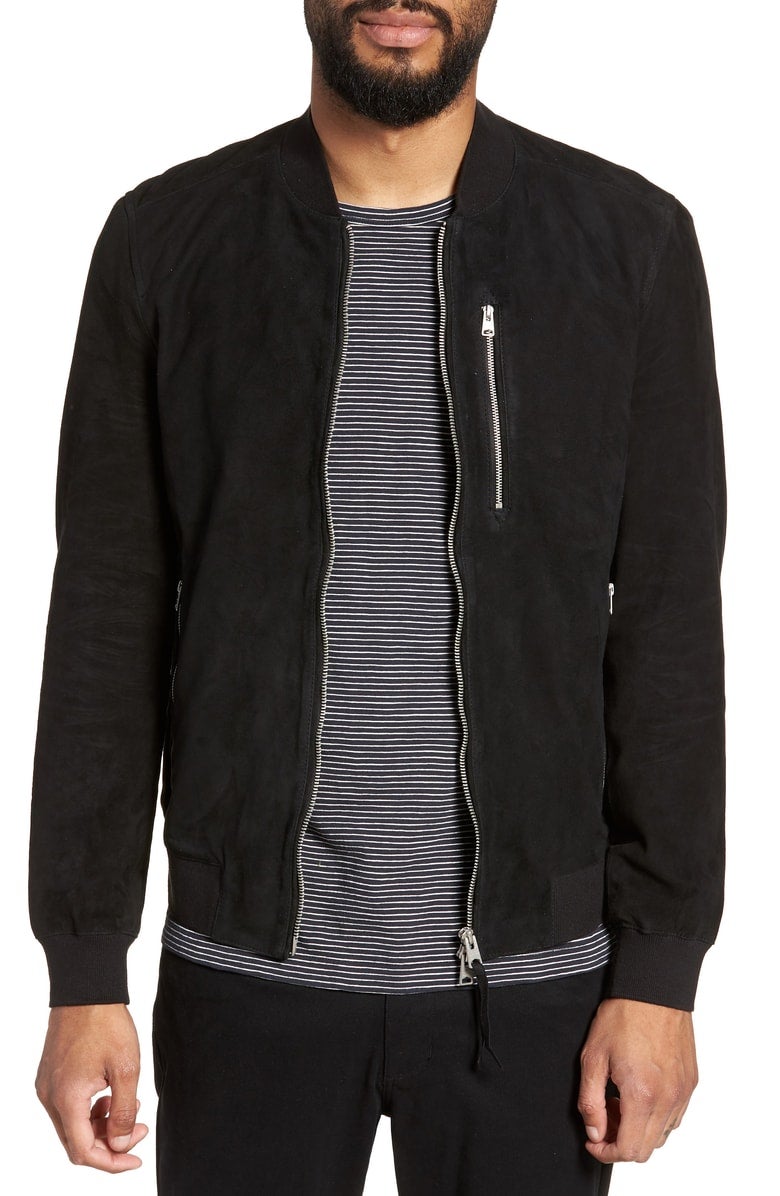 6. AllSaints "Kemble Suede Bomber Jacket"
Goat, anyone?
Yep, this bomber by All Saints is made with top-of-the-line goat suede. How much more masculine can things get?
The zipper is awkwardly placed, causing the Kemble bomber to feel a bit abstract but in an awesome way. It has that classic, ageless silhouette we all love, teasing us with a little hip hop, a little rock-n-roll. Most of all, All Saints kept comfort in mind. You won't have to suffice ruggedness for quality. You get them both with this jacket.
Don't sleep on this Kemble Suede bomber. It feels great and wows aesthetically.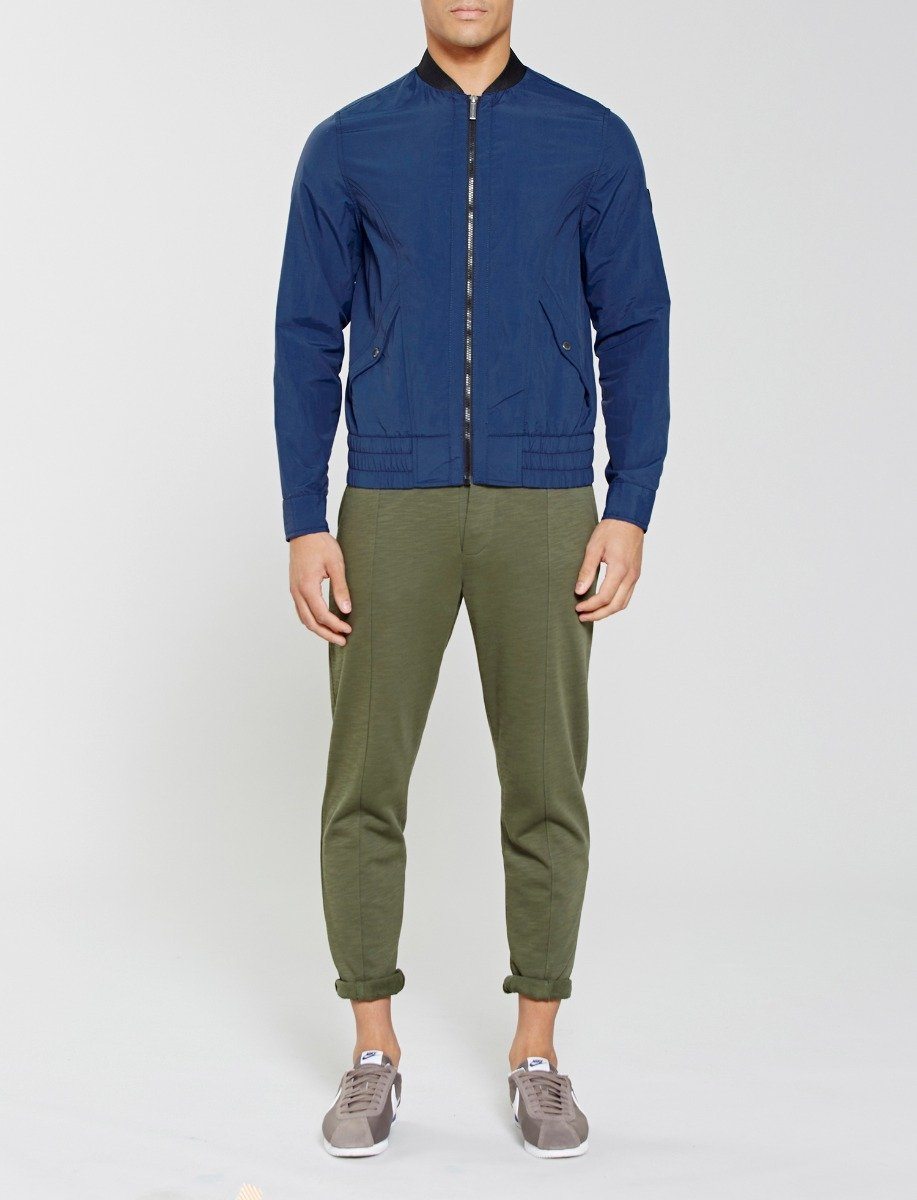 5. Native Youth "Venture Bomber Jacket"
The accents, the pockets, the layout, the jacket itself is next-to-perfect. If you're the fashion-forward type, confident in your own skin and capable of handling the center of attention, give this bomber a shot.
The fit is attractive, rather slim but not clingy. And, again, the pockets set this bomber apart from its counterparts. Pair it with something black or gray or white and you're a fashion icon instantly.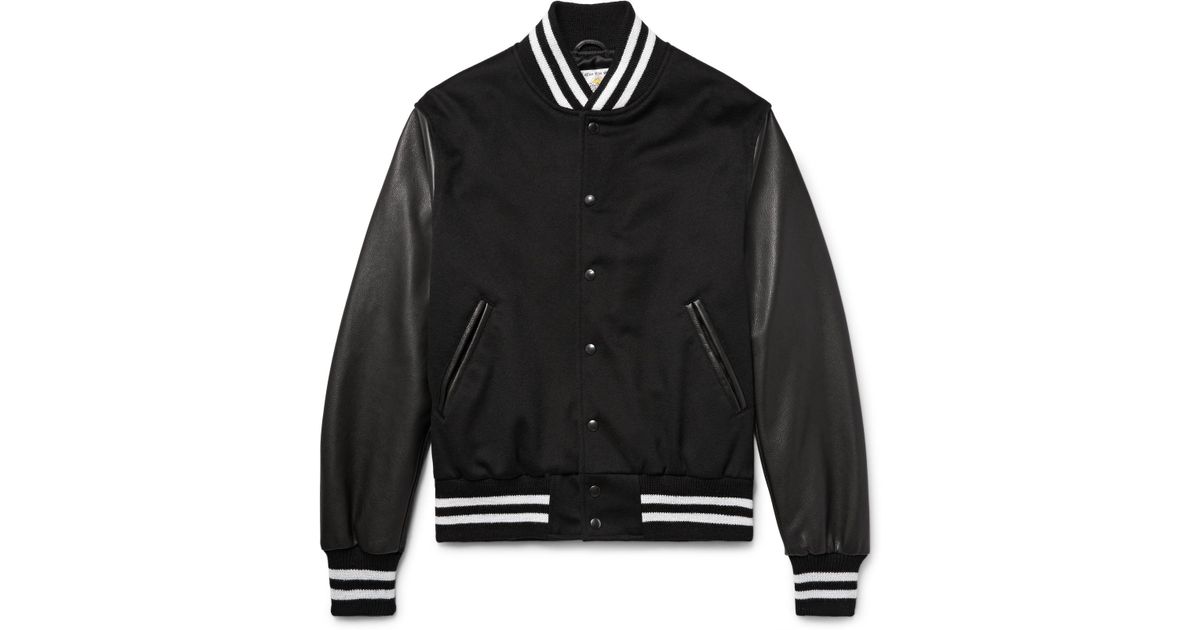 4. Golden Bear "Leather and Wool Bomber Jacket"
Golden Bear put a nostalgic spin on this one. The Leather and Wool bomber is debatably the most legendary of the group. It'll take you back to the old school while giving you an up-to-date flair. You can't go wrong with leather sleeves, right?
Wear it on any occasion, but it's something about wearing this in the fall on a date with your significant other, maybe even to a sporting event. The Loro Piana wool is comfy and striking. Above all else, ribbed and stripped trim is the kicker.
Partner with a pair of dark or light-colored jeans and the right boot or Air Force sneakers and voila! You're the man.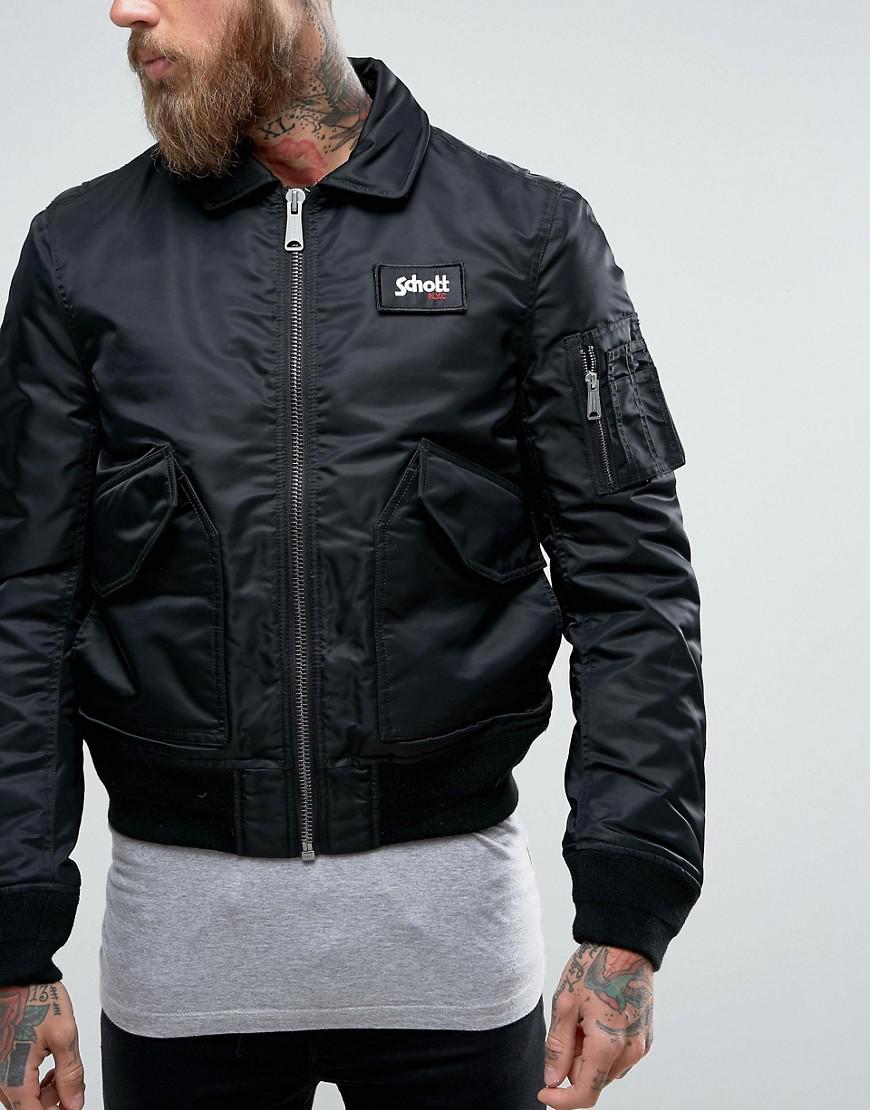 3. Schott "Slim-Fit Nylon Flight Jacket"
Super stylish and lightweight, this slim-fit nylon jacket is a must-have. You can literally wear this any season and just about any occasion. Its accents are eye-catching and so are the colors. This flight jacket can be acquired in three colors: gray, navy or khaki. Either shade is legit, but it's something about the navy; you can do more with it as far as denim is concerned.
Schott spared nothing but gave everything with this bomber. The overall finish has a slight shine to it, making it a great buy.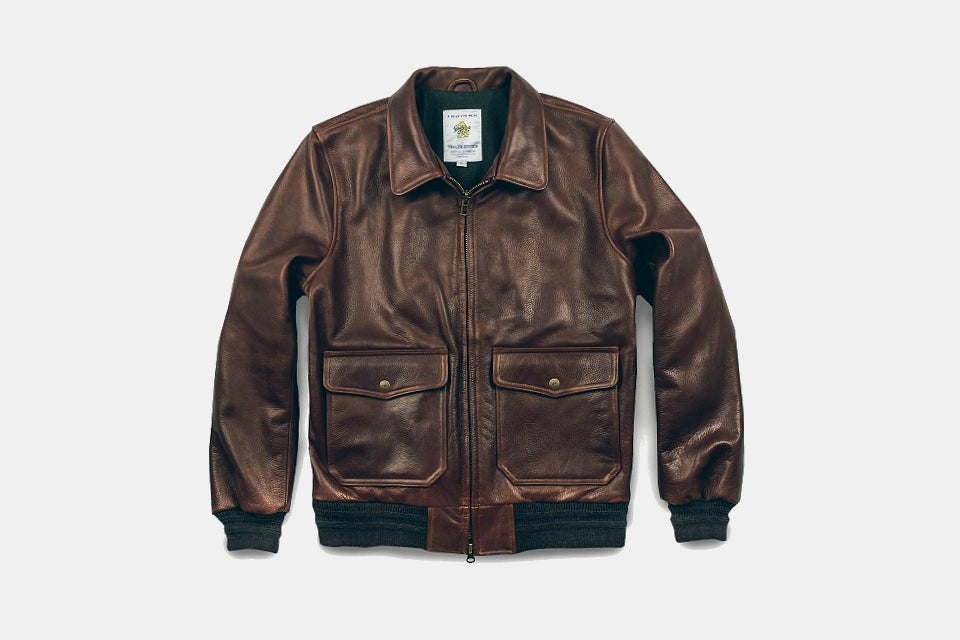 2. Taylor Stitch "Seca"
The Seca jacket by Taylor Stitch is retro meets modern, Mayan Sicars on a boat ride in Havana meets cold brew in the backyard with old frat buddies. In other words, it's a must-have.
Just like all Taylor Stitch products, the Seca jacket is hardwearing and attractive. If you're a fan of racing or the beach-ridden state of Cali, you'd enjoy this as it's the Laguna Seca Raceway's namesake.
It boasts a rich, leather finish, full-grain to be exact. It comes complete with an antique YKK zipper and other detailing to authenticate the garment. Its lining is brushed linen. The Seca jacket pairs very well with jeans or professional attire.
Its versatility makes it an excellent choice for any wardrobe. This jacket lacks nothing, quite possibly because Taylor Stitch hooked up with another outerwear giant, Golden Bear, to create this masterpiece that is Seca.
This puppy is stylish, gentlemanly and eye-catching. If you're afraid to look wealthy, don't wear this. Everyone is bound to think you're rolling in dough.
Not to mention, it's shape is loosely based on the A-2 bomber jacket. The Seca jacket will set you back a little more than a grand, but if you've got it, it's totally worth it.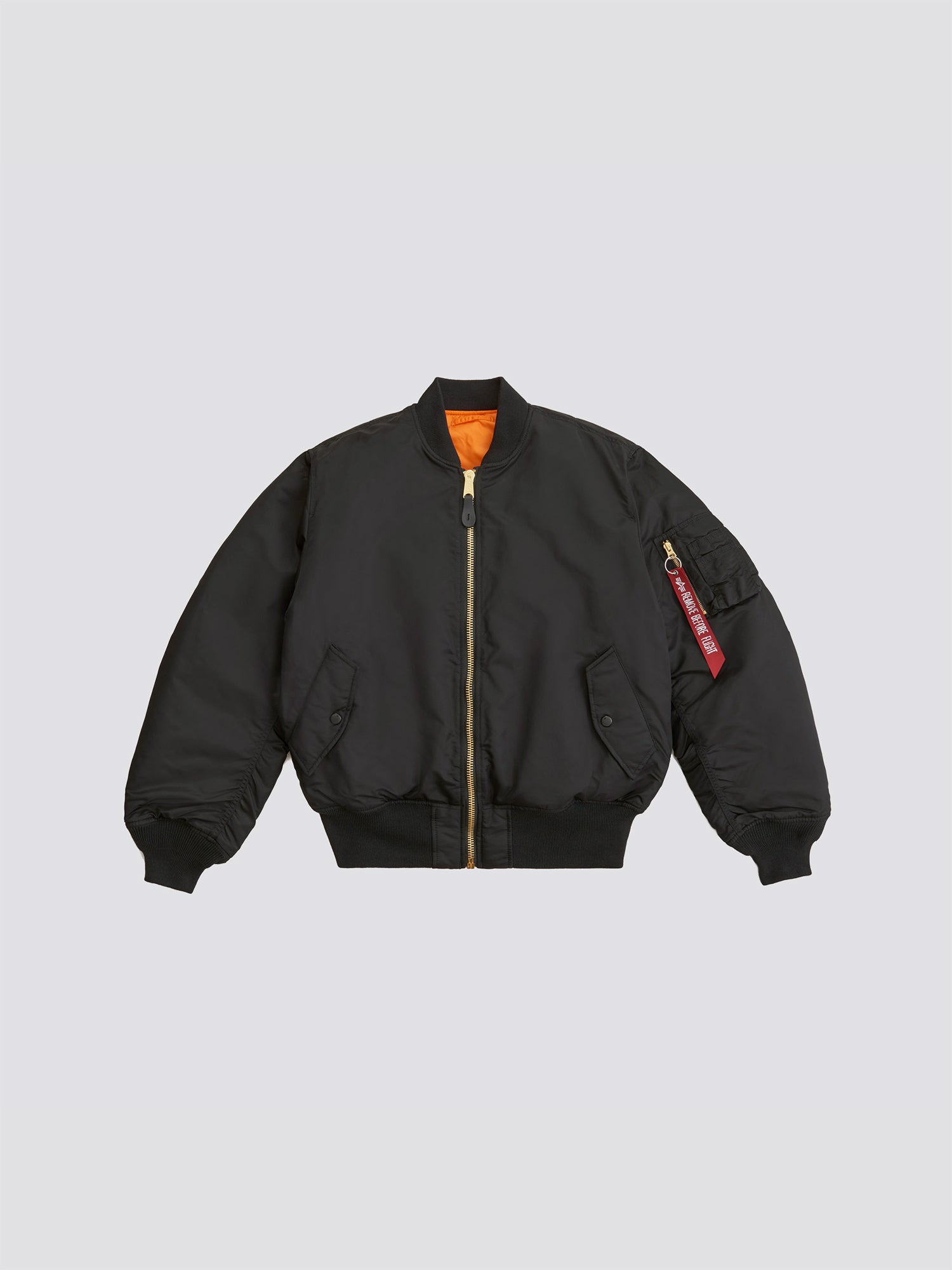 1. Alpha Industries "MA-1"
This slim fit bomber is marketed as a "flight" jacket. It's the most classic silhouette of the bunch. The MA-1 is timeless and can be worn with a variety of bottoms and tops. Tan, white, black, greens, browns and anything utilitarian are complementary regardless of which of the neutral-colored MA-1s you choose.
The pockets are in the right places, giving an overall stylish mien. It's probably the
best bomber jackets for men.