Game rooms are social and entertainment hubs that can provide the best family and friends party nights. Some game rooms are small and cozy, while others can take up an entire basement, and are packed full of expensive gadgets. Whether yours is the former, the latter, or somewhere in between, it's sure to have brought you a lot of fun memories. 
There are many ways to design and set up your room. Some are focused around a poker or roulette table, while others will be designed to optimize video gaming. 
However, some accessories are likely to improve any game room. Whether you're updating your current room or putting together a brand new entertainment space, here are five slick additions to help enhance the room.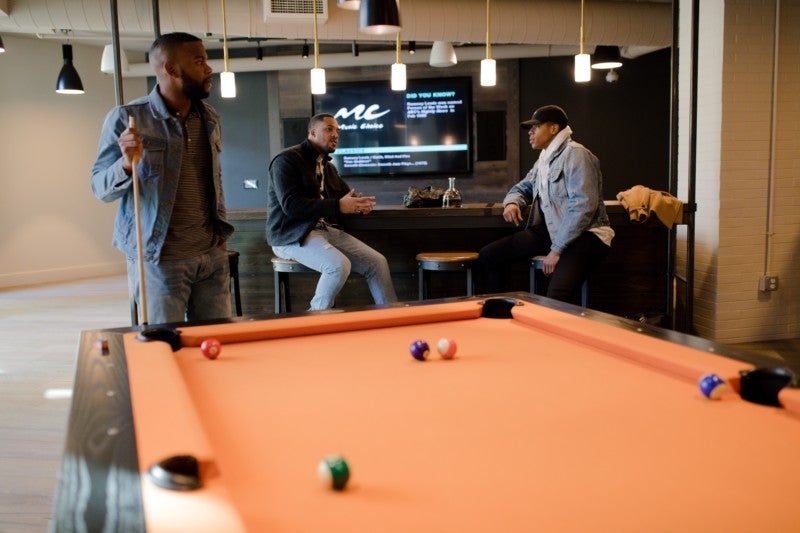 1. Lighting
Often overlooked in a game room, lighting is one of the most significant contributors to ambiance and mood in interior design. Well placed lights can really make a room. 
The type of lighting that you opt for depends on the vibe of the room and your budget. For a video game-focused area, LED strip lighting can be stuck around your monitor, console, or gaming fixtures to give a sleek, modern look. For an old school vibe, vintage lighting or lamps look great. 
      2. Quality speakers
Quality of sound is often sacrificed for volume when people are buying speakers or music equipment. This is simply because quality sound with good volume range is expensive. Although a certain volume level is important, quality sound is much more effective in delivering dynamics and depth. 
Set aside a piece of your budget to invest in high-quality speakers. 
      3. Entertainment system
Many game rooms are used to watch your favorite movies and TV shows. Although Netflix, Youtube, Hulu, and other streaming sites are great services for this, a more diverse entertainment system is even better. 
An entertainment service like Kodi uses third-party plug-ins to deliver live streams of movies, TV shows, music, and live television. It's an all-in-one system that brings versatility to your entertainment room. 
To get maximum value from a service like Kodi, you should consider using a VPN. Check out Troypoint's guide to Kodi VPNs for all you need to know.
      4. Cocktail bar
A homemade cocktail bar adds serious character and class to your game room. It can give you great satisfaction to whip up a batch of your favorite cocktail for party guests while standing behind your very own bar. 
As with the lighting, the style of the bar you go for depends on the vibe of the room. If it's a modern room, a clean, sleek looking surface with bold colors will fit the part. Indirect underlighting adds a crisp finishing touch.
A more classic or old-timey vibe is complemented by a wood finish. This type of bar would be ideal for displaying your whiskey collection.
      5. Projector
Projectors are extremely versatile, portable, and they can display giant images on-screen. If you have large numbers around for a movie or sports night, it can be hard for everyone to see a TV screen. With a projector, this issue is less likely to crop up. 
Modern projectors are quite small and cheap. They are one of the ultimate game room additions currently on the market.