By: John Woods
Blackjack is a fun game, but also comes with a lifestyle that is famous around the world for its glitz and glamour.
If ever you have seen Hollywood movies like "21" or "Rain Man," you'll know that playing blackjack at pro-level requires a certain level of style and charisma. Being able to count cards is undoubtedly going to help your game, but you must also be aware of how to carry yourself in the big casino if you want to win.
Confidence is critical, and when you roll out onto the Las Vegas Strip to take on those dealers, you have to look and feel the part. Below we are going to explain what steps you can take to help you build that confidence and change the perceptions of everyone around you.
Dressing Sharp
Though it may seem irrelevant to the game itself, wearing the right clothes can have a significant impact on the blackjack table. As well as drawing the attention of the crowds, dressing well can boost your confidence and help you keep cool when things get hot under the collar.
With this in mind, we recommend splashing out on something elegant to make you feel like a million dollars as you glide across the casino floor. For men, a sharply cut black suit, matching shoes, and a beautiful watch are a perfect choice. For women, a cocktail dress and some killer heels will never fail to turn peoples' heads.
Body Language
They say you can tell a lot about a person by the way they carry themselves, and with blackjack, this is especially true. Confidence is as simple as this: think it, and you will be it! Walk with a swagger in your step and let the whole world know that you are only there to win – nothing else will do!
Confidence aside, body language is also a key tactic used by professional players such as those in the MIT blackjack beam. Though card counting isn't illegal, it is banned in many casinos, and anyone caught doing it will be asked to leave. To get around this, groups of pro players will use special hand codes and signals to notify one another which tables are hot or not!
Sip a Cocktail
Have you ever seen a photograph of the Rat Pack where at least one of them isn't drinking or smoking? No, neither have we! These vices may not be great for your health, but they sure do make the casino experience much more enjoyable.
For Frank Sinatra, it was two fingers of Jack Daniels over the ice—no more. For James Bond, it was a Vodka Martini, shaken not stirred. Don't you love the way they both roll off the tongue? But remember not to drink too many! Whether you're playing blackjack online or at a land-based casino, remember this is a strategic game, and you need to keep your wits about you.
Keep in Mind the Wisdom of Pros 
Everyone needs idols, and if you want to be a topflight blackjack player, then you should be looking up to the stars.
Below are a few quotes from some of the most successful blackjack players of all time. These are the words they have chosen to define the blackjack experience and are ones that you should live by if you ever hope to match their success:
"Blackjack is a love of mine. This fascinating game of money and chance challenges my mind and allows me to act the role of a secret agent infiltrating foreign territory."
– Michael Dalto, Professional Blackjack Player and Author of Encyclopedia of Casino Twenty-One.
"… in the game of blackjack, as in the game of life, winning is tough. It requires determination, preparation, and plenty of perspiration."
– Professional Blackjack Player and Author of Blackjack for Blood.
"It takes a lot of skill to hide your talent."
– Max Rubin, a gambling expert and author of Comp City: A Guide to Free Gambling Vacations.
"Blackjack is very scientific. There's always a right answer and a wrong answer"
– Charlie Ergen, American Businessman, Founder of Dish Network and former Professional Blackjack Player.
"The only difference between a winner and a loser is character"
– Nicholas "Nick The Greek" Andreas Dandolos, Professional Gambler and High Roller.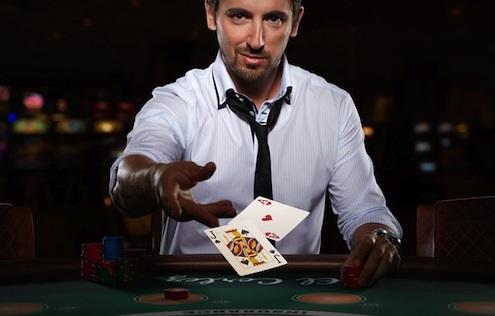 About John Woods:
John is a professional copywriter with seven years of experience creating gripping content for a wide variety of audiences. His work has been published on UC Today, Online United States Casinos (OUSC), No Jitter,  and InGenius. He's a versatile writer who specializes in the fields of technology, cloud communications, as well as gaming and online casinos. In his spare time, he enjoys reading, watching football, playing guitar, and trying to learn Spanish.