HiSO: Luxury for Him & Her
These days, finding the right coat in the world of fashion can make you feel like you're lost in a blizzard of options. Every brand seems to have a flurry of choices that don't quite check off all of your boxes. Style, quality, and comfort are only part of the equation — sustainable practices, compassionately-sourced materials, and a brand that understands the wants, needs, demands, and desires of the times are just as vital.
HiSO gets it. 
They're Canadian to their core and understand what the modern man and woman want in their wardrobes. They're not stitching to fit cookie-cutter standards, because when it comes to cutting-edge fashion, there is no set of standards. Every piece of clothing in their collection is fashion-forward, sustainably-minded, and designed to fit your standards. 
They design it, they craft it, they live it — and their latest luxury seasonal selection exemplifies their commitment to craftsmanship, compassion, and creativity. The HiSO Collection for Fall/Winter 2021 once again belongs in a class of its own.
For Him: The Foster
Raise your hand if you alternate between your go-to hoodie and a fluffy snow jacket throughout the winter. We're just as guilty of defaulting to one or the other based on the winter weather — or, at least, we were until we found the Foster.
This warm shearling coat leaves the chill of winter out in the cold. It's a medium-length jacket in jet suede with a smooth straight cut, looking as slick as it sounds. The best feature –  it's a chameleon: you can wear it dressed up for a night on the town or dress it down for a relaxed — though still luxe — "vibe".
But every guy knows that style comes secondary to comfort.
The Foster is designed with your unique build in mind. This luxurious suede and curly wool shearling jacket will embrace your body with a comfortable fit — snug enough for warmth yet loose enough for casual wear; a fact that we find especially useful when warming our sweetheart in our arms.
Throw the Foster on over your shoulders and head out into the night; you'll take the winter by storm without breaking a sweat.
For Her: The GIA
Ladies, buying a winter coat shouldn't be an ordeal. Unfortunately, many brands make it a time-consuming, frustrating process in which you're forced to examine the look, the feel, the practicality, and the price of every jacket on the rack.
HiSO thinks it's time to trade the games for the GIA, a wonder of HiSO's Collection.
Where the Foster dresses men in a beautiful suede, the GIA gives this women's coat a stunning nappa finish. Though this coat has a refined shear — which has less intact wool than the Foster — its shearling material and wool out accents create textured elements that add warmth and style.
This medium length nappa moto jacket for women features an asymmetrical zip, regular shoulders, and interior zip pockets. It's warm but not bulky, practical and high-quality while still giving the chic look you deserve. The GIA is an absolute necessity for women who want to hit the town or heat up a date night no matter what the weather throws at your evening plans.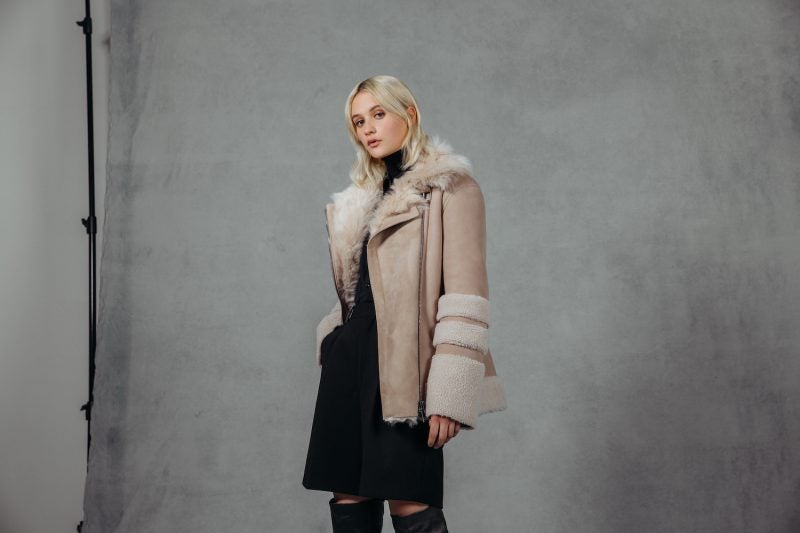 Get acquainted with the GIA and discover how having the right jacket in your wardrobe can enhance your style no matter the season. Discover the GIA in Jet Curly Nappa or Suede Curly Parchment Toscana.
For the Holidays
Shopping for someone special or hoping to treat yourself to an extra special present? HiSO has weaved a wardrobe full of fantastic outerwear including luxury wool coats. The shearling jackets are always in our top favorites — not simply because they look great when you're rocking any style — but because shearling is an ideal material for everyday cold weather wear. We love how easy it is to throw on when heading out into an uncertain forecast and how reliable the high-quality material is when tested by Canada's strong snow storms. No matter who you're shopping for, if their home is in a winter wonderland, a HiSO shearling coat will fit their needs perfectly.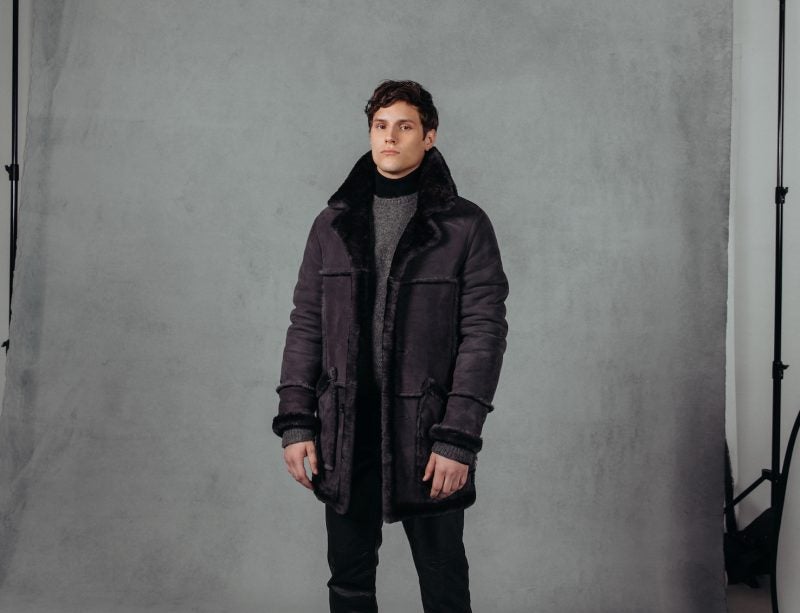 Winter Wear for Warmth & Style
HiSO doesn't have to convince us to slide into one of their coats. The moment we slip one on and look in the mirror, we feel like it was made for us. Elevated yet edgy, chic yet casual, HiSO delivers streetwear that any man or woman can showcase with style.
We also love that this brand is proudly Canadian, making it no wonder why HiSO coats are among the most fashionable, comfortable, and practical coats that Great White North has ever seen. Look through photographs of your parents and you'll spot them wearing these former Hide Society coats as far back as the 1970s. Karl and Mark, twin brothers and second-generation leaders of this family-owned company, have dusted off the idea of the classic coat, revived it with a new-age style and sent it out to make shockwaves in the world of fashion.
Now it's time for you to make your own statement. 
Grab the Foster, the GIA, and all of the latest HiSO Collection for the Fall/Winter 2021 season at multi-door retailers such as Holt Renfrew, Harry Rosen, Bloomingdales, Neiman Marcus, Saks, Nordstrom and more.