Ryland Hilbert has spent his career in luxury retail. His latest undertaking has been his own shop in picturesque Sag Harbor, NY. Ryland meticulously curates his space in-store and online and has created a truly bespoke Men's luxury experience. We had the chance to interview Ryland, whose clothes are featured on this week's cover of Swagger Magazine with Jason Oppenheim, to hear more about his flagship Sag Harbor shop, lifelong career passion, and high-end Men's lifestyle.
Welcome, Ryland! How did the idea for Ryland Life Equipment begin?
I have spent my entire career in luxury retail, much of it in the Hamptons. It always perplexed me as to why so many of these concepts were built exclusively for women. My partner, Brad, had recently left his position at a major consumer brand and we started talking about how we could build a retail experience based on discovery.  We wanted to curate a lifestyle through an amazing assortment of apparel, homeware, apothecary, and combine that with a stylist service to equip you for whatever life throws at you.
What was the biggest challenge you faced starting Ryland Life Equipment as an entrepreneur?
Living up to my own high standards!  My years in luxury retail taught me that our client would demand not only interesting and unique high-quality merchandise but also an inspiring physical location and a high-end experience. I wanted to build something very unique, and that involved a lot of work to convince some incredible brands to sell to what was, at that time, an unproven venture. It meant finding the right team who could create the type of experience in the store and online that would meet our clients' standards, and it meant finding a location that felt special.
You have a lot of experience in the retail industry, can you talk a bit about that and how it prepared you for your current role?
I've worked managing – and as a consultant too – luxury retail in all different fields. It always drove me nuts when people would say "brick and mortar retail is dead". I would always reply, "no, bad brick and mortar retail is dead" because what I saw in so many retail ventures I managed was that if you had a great concept, curated an amazing assortment of merchandise and meticulously delivered an incredible experience, people loved it and were drawn to it. It became part of their overall Hamptons rituals. So, it's one area in my life I guess that my OCD has really been helpful!
At Swagger Magazine we applaud your commitment to avoid fast fashion. Can you go into more detail about your sustainability and fair trade practices?
It's well known that the fashion industry can be one of the greatest contributors to environmental damage and I kept this in mind when we began Ryland Life Equipment. We focus on high-quality merchandise that for the most part is handmade and designed to have a lifetime of use, and even multi-generational use to help dissipate the trend of "disposable fast-fashion". We ensure that our partners have the highest standards of workplace practices and actively support small scale artisans to give them exposure and help build their brands. This year we launched an initiative where we partner with a different community charity to support each month. During the pandemic, we developed programs where we donated our profits to local Hamptons food banks as well as a shelter for victims of domestic violence and soon we will announce a major initiative to support the LGBT Center in New York.  We understand that for Ryland Life Equipment to thrive so too does the community in which we operate.
You posted in support of the Black Lives Matter movement. What practices do you have/intend to implement to continue to show solidarity with the black community?
We believe in actions, not words. I am incredibly proud of the diversity we have in our employee base, across the spectrum. We believe in making sure that we provide opportunities for people who may not enjoy the same level of privilege as others and you'll see that commitment reflected in our team, the clients we serve, and the partners we choose.
Your store covers many different facets of fashion; casual apparel, home accessories, apothecary, and art, what is your favorite aspect to curate and why?
I curate the entire store with how each item speaks to each other across the entire collection. When I merchandise the store and think of a concept I try to pull from each category to build a presence for that idea or "story." For example, right now much of the assortment in-home, accessories, and clothing are based around beach/pool themes.
Sound like summer has made it's way to Ryland Life Equipment! What are your picks for this year's summer essentials?
My top picks for summer are the following:
We love your clean, complimentary, and fashionable social media pictures (follow @rylandlife on FB and Instagram), they seem straight from your shop's location in Sag Harbor, is that a correct assumption?
Yes!  Primarily we want our aesthetic to reflect the incredible Sag Harbor community. We have a team of awesome photographers who try to capture the essence of our brand in the context of The Hamptons. I've even been known to take a few shots and post them myself.
The location looks beautiful, we will definitely be adding Sag Harbor to our travel destinations. Your website mentions a lot of travel. Where are your favorite places to source inspiration?
My partner and I travel the world looking for inspiration. Some of my favorite sources of inspiration come from the European staples like Paris and Milan but we have also found amazing artisans off the beaten path like in the Cotswolds in Oxfordshire in the UK, sustainable cashmere from Mongolia and an incredible perfumer in Auckland.  Travel has always been a personal passion for Brad and me, and now we use that as a source of inspiration for Ryland Life Equipment.
Final question Ryland, what do you want Swagger Magazine's readers to know about you and your brand?
That we are committed to creating a unique experience, both online and in the store. One built around a respect for artisans, a commitment to clients who appreciate the sense of discovery and one that is committed to our community. We are in the business of equipping men (& more) for whatever life throws at them.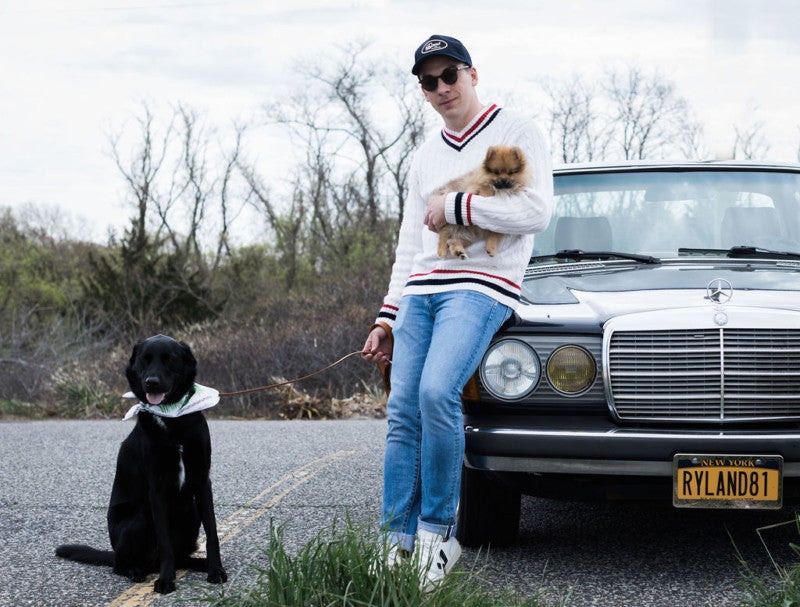 Thank you for your time and thoughtful answers Ryland. We wish you the best in your endeavors at Ryland Life Equipment and you can be sure Swagger Magazine and it's Readers will be visiting your shop in the near future.
Rylandlife.com
26 Madison Street
Sag Harbor, NY 11963
631.919.5433
Best, Chelsea Stone