Las Vegas, Nevada, is the US' playground. A place that is all about the living the dream for a short time and forgetting that the real world out there exists. We go there to party, gamble and feed our darker sides. And boy, does that generate money for the hotels and casinos that line the famous strip. People pay big to live that dream, and none more so than the movie stars, musicians, sports stars, entrepreneurs and other 'world's richest' who populate the luxury suites in the top floors and penthouses overlooking the city's bustling nightlife.
And have you ever wanted to stay in one of those suites yourself? Or just wondered what they look like … and how much you need to save for a one-night stay? Well now we can reveal all as we take you inside the top 7 VIP accommodations in Las Vegas.
1. Caesars Palace's Marcus Aurelius (Spanish) Villa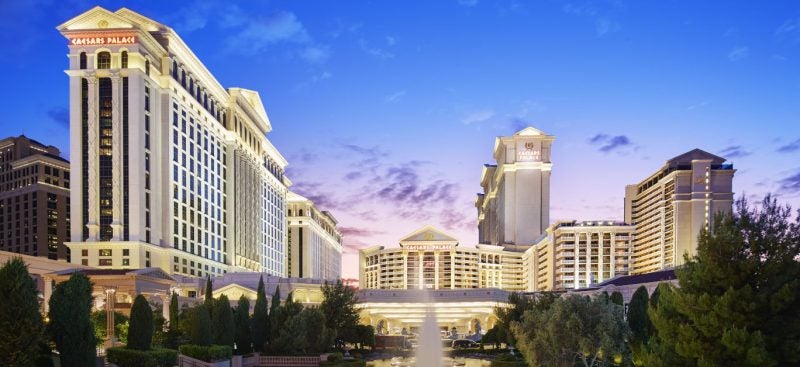 Not just a hotel room … an actual Villa within a Hotel / casino!
The three-bedroom villa is 9,500 square feet in size and contains some very unique features in each room. It holds up to 8 guests within the complex and has a minimum stay of 1 night. So, even if you can't afford a week, this is great if you wish to live like royalty for an evening.
This Instagram worthy villa comprises its own private lift, with an exotic fish tank and even a double-sided fireplace. With 24-hour butler service, you can get anything brought to your door at any time- fantastic!
The master bedroom contains a bespoke 8×8 bed with a complete marble bathroom and bathtub. Bedrooms 2&3 contain both king and queen size beds.
According to Villas of Distinction room rates for this property start at $35,000 per night, this may vary depending on the time of year and extras. This is to be expected when a phenomenal property like this includes a terrace and a media room!
2. MGM Grands Skyloft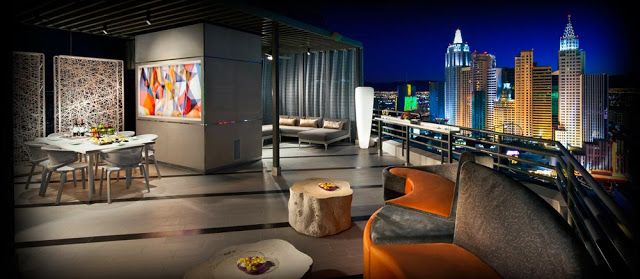 Since opening in 2005, MGM Grands Skyloft is Forbes Five-Star and AAA Five Diamond Award, winner. With 51 lofts available throughout the property the most expensive accommodation is no doubt the three-bedroom loft ranging in price from $8,000 per night, according to the official MGM Grand Website.
This suite is 6,000 square feet 3 ½ bathrooms, a media room and even a billiard room! When staying here you can also enjoy 24-hour concierge, butler services and many more as well as complimentary wifi video games and PCs.
3. Aria Sky Villa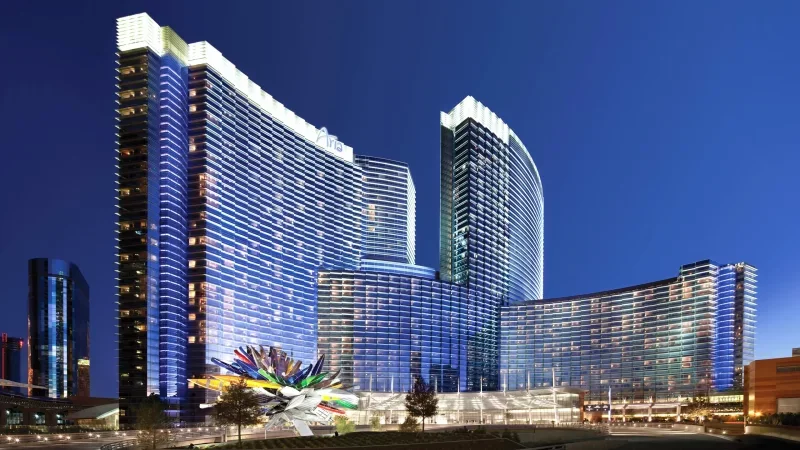 The Aria sky villa is completely powered by tablets, from the lights to air conditioning. These contemporary villas are said to be some of the most technologically advanced in the whole of Vegas. 
With beautiful floor to ceiling windows and 2,060 square feet of room, the views around Vegas will be phenomenal. According to travel+leisure.com sky suites start at $1,100 mid-week and $2,000 on weekends. 
These 2.5 bathroom suites also have personalised concierge services views of the strip, 3 televisions and can hold up to 6 people. Features also included are private kitchens, saunas and billiard rooms.
4. The Bellagio
The Bellagio is one of the most famous casinos in Nevada – it featured in the Ocean's 11 and 12 films – and is known for the opulent experience it gives to everyone who stays there. It ain't cheap though -top rooms are Priced at $5,000 per night. 
Each room has a private solarium, indoor garden and fountain and even an L-shaped bar. Within the two master bedrooms, there are whirlpool tubs, steam showers and if you wish to host a conference meeting there is even a conference room within the suite!
5. The Mirage's Lanai Villa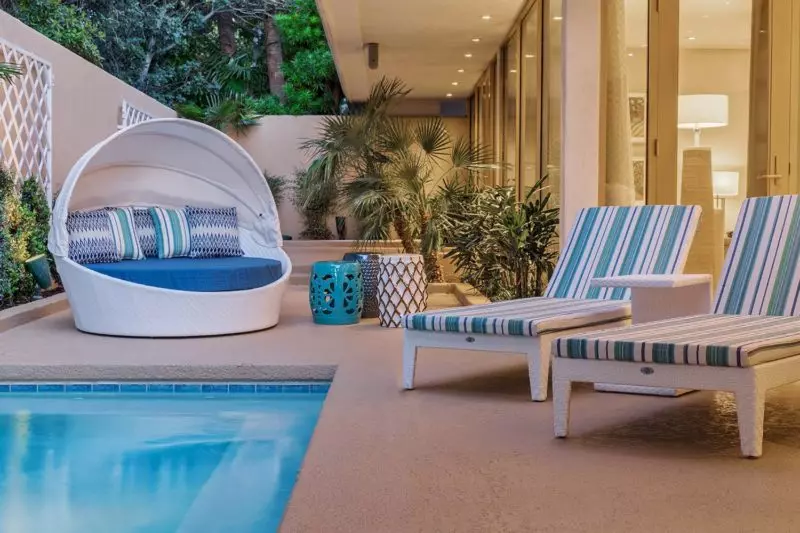 This hotel could be described as paradise. The Mirage's Lanai Villa has an island aesthetic in the middle of Las Vegas. The one-bed suite holds a maximum of 2 guests with an in-house salon and spa area within the 2,650 square-feet complexes. Similar to the other villas, the mirage has a 24-hour butler and chef service and can become a tropical paradise for the duration of your stay. Priced at a minimum of $1500 per night, this villa is a certain luxury.
6. The Venetian's Chairman Suite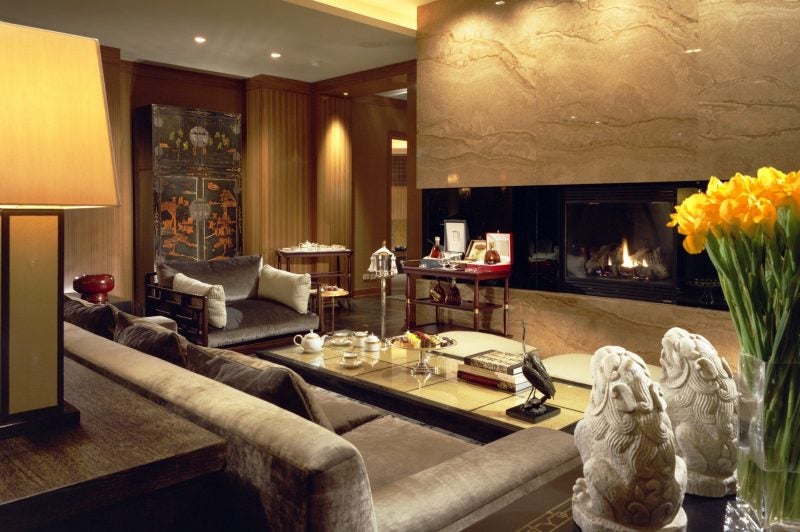 Within the Venetian hotel, there are three suites occupying the top three floors with an amazing view of the Las Vegas strip.
In the Chairman Suite, there are 3,000 square feet of space and prices start from just $25,000 per night, one of the more expensive suites in Vegas. The master bedroom within the suite occupies a kingsize bed and a smaller bedroom that has a queen-sized bed. Some other features of the property include a wet bar and of course a personal butler.
7. Caesars Palace Cleopatra Villa 
Caesars Palace, the most well-known casino in Las Vegas and also featured in the Hangover, has suites starting at $30,000 range to $40,000 and 5,000 square feet of room. They have many different types of suites with themes ranging from the Hangover to Fantasy.
With a massive 10,000 square feet in this suite, you will not be short of the room during your stay. It has been described many times as one of the best suites on the Las Vegas Strip. The 2 bedroom suites comprise elegant decor with a roman theme creating a historic theme of royalty for your stay.
So now that we have whet your appetite, you better start saving. And to put you in the mood for some table game and slots action at those hotels you could always try your luck online on these sites with the best casino payouts. Get lucky and you'll be a VIP in no time!