Visually, parts of AlUla feel like the set design for
Star Wars: A New Hope
–
an expanse of beige-colored desert mountain ranges in each direction.
We travellers joked that we half-expected Jawas and Jedis to appear from behind a 12-storey chunk of aeon-old sandstone rock.
AlUla of course has loads of breathtakingly diverse landscapes.
Located 1,100 km from Riyadh, in North-West Saudi Arabia, AlUla is a sweet spot where natural and modern wonders beg to be traversed. Its ancient heritage sites date back many millennia – including hieroglyphs etched in stone and tribal tombs. Its twenty-first century culture includes a revitalized upscale market, a lush oasis valley, and heart-pumping activity, among others. Perhaps the best phrase is that AlUla is "experiencing a renaissance."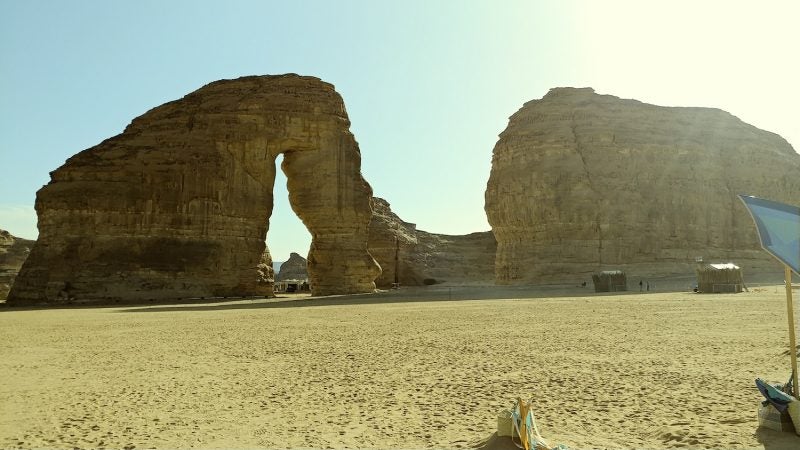 Thankfully, you're not going to be bumping elbows with the tourist throngs – at least not yet. It's still a hidden gem. While previously a stopover for Saudis en route to the Hajj in Mecca, AlUla's primed to receive more attention now that the Kingdom has opened up in recent years, concurrent to it embracing sweeping modern reforms.
Your visa is good for 90 days – but you can get a lot in even within a week. Like Miami, AlUla has dream weather for most of the year, save the zenith of the summer – unless you're the type to appreciate a nice hot shvitz.
Your adventure itinerary:
AlUla Skies Festival

– From the last week in April, to Mid-May, enjoy watching hundreds of hot air balloons take flight, or even get yourself in a basket to enjoy and appreciate AlUla's majestic landscape, the desert expanse, from a mile in the sky. 

The Adventure Hub

is adrenaline-central, where you can channel your inner

Ethan Hunt

. Steady those steps on the 45-meter-long ladder up the side of a cliff (with safety harness!). At the top, take a heart-stomping 150-meter zipline into the canyon below. Afterward, prepare for the equivalent of a right-side up bungee jump, called The Giant Swing, dropping 85-meters, suspended by cables.

Tap your inner Indiana Jones at the Nabataean city of Hegra, a UNESCO World Heritage Site. Explore any number of a hundred tombs carved in stone, and see the jaw-droppingly intricate facades, that will invariably elicit comparisons to Petra, Jordan. The big difference is that your photos will not include scads of other photo-bombers… because

everyone

does Petra. Hegra was the main southern city of the Nabataean Kingdom, and the southernmost outpost of the Roman Empire, after conquering the Nabataeans in 106 CE.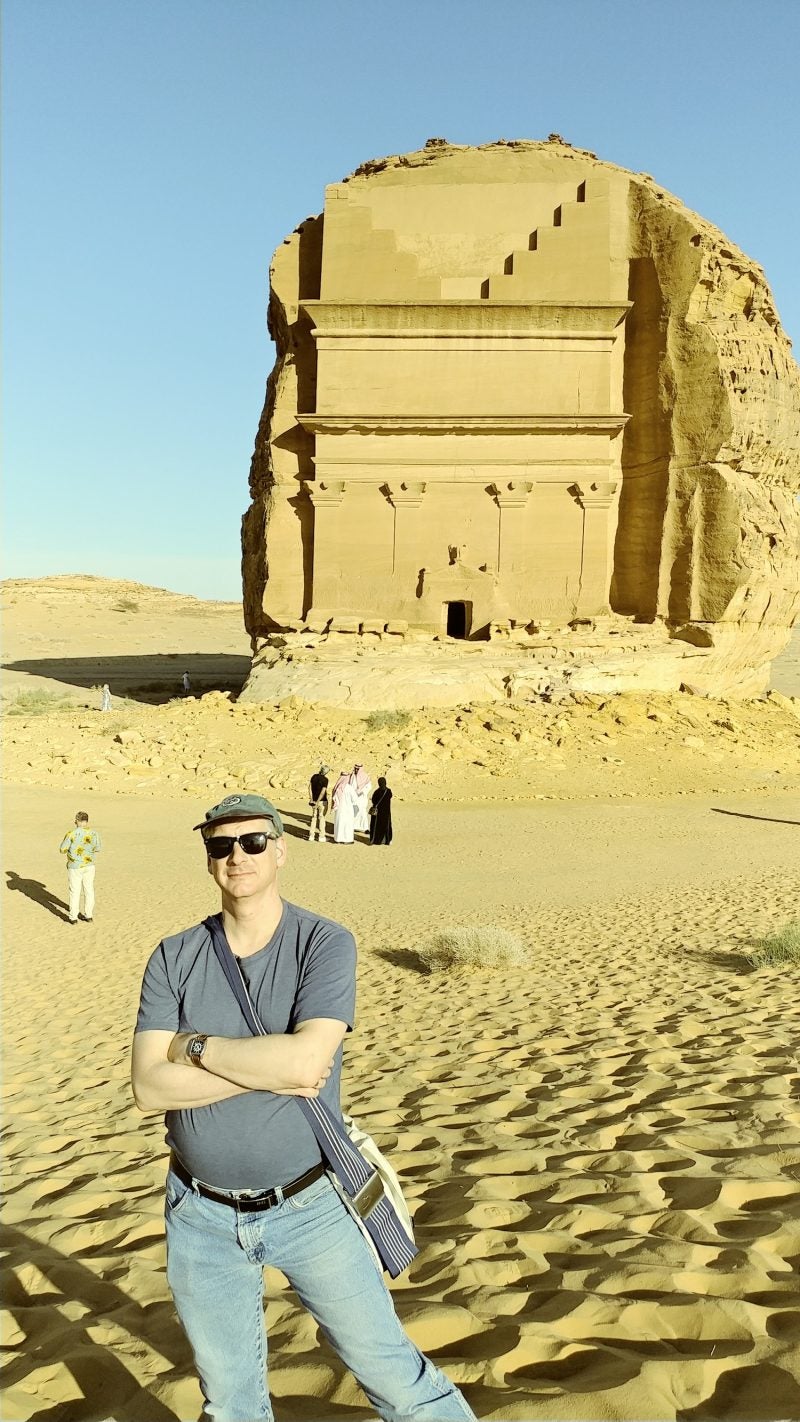 Dadan and Ikmah tour – Transport yourself into the ancient city of Dadan, and view two-thousand year old story-telling in ancient languages, as you peer in the hieroglyphic rock inscriptions. International archaeology teams continue to find new and exciting finds, so you may arrive at a time when a discovery has been made.

Oasis Heritage Trail

–

The 3km-long trail snaking through the shaded palm groves, streams and gardens, will afford you the chance to see up close how local farmers grow abundant crops. Open all day and night, this free trail is perfect for a quiet stroll, or an Instagram shot of basking in greenery.

You can also hire a guide to lead you, and give descriptions of what you see en route.

Elephant Rock (Jabal AlFil)- One of the region's most famous formations, it's a towering natural arch in the middle of the desert that has a "cool factor", especially when you can view it from any one of a number of stylish seats sunken in the ground.

Old Town Village – touted as "one of Northwest Arabia's most impressive heritage sites," its honeycomb of 700-year old mud-brick homes was a once-thriving settlement along ancient trading routes. The Village's street market sells everything from

tchotckes

, soaps, teas, locally-made food items, abayas, you name it. Moringa, which is a plant that grows abundantly in the region, is known for its medicinal properties, and is sold in various kinds of items, such as tea, soap, essential oils, etc. Nearby

AlJadidah

Arts District, meanwhile, is a cultural hub with stunning murals, art expos, curio shops and eateries. 
Maraya

, an exhibition and concert venue, is also the world's largest mirrored building, reflecting the mountains and canyons. It's also become known for hosting A-list performances as John Legend, Andrea Bocelli, Maria Carey, Russell Peters, Alicia Keys and more. At the time of touring, FAME: Andy Warhol Exhibition was on display, showcasing some of the legendary artist's most iconic works, including paintings of Marilyn Monroe and Jackie Kennedy. Something exciting's always going on.
Where to stay:
Banyan Tree AlUla was launched in October 2022, the latest in the franchise. The all-villa luxury tented resort, against the backdrop of striking natural scenery, has all of the amenities of an apart-hotel – kitchen, dining room, living room, patio, and in some cases, pool. The extra touches include spa treatment, an elevated outdoor pool built in a rock cavern, and its house restaurant, Harrat, with a vast full-spread breakfast buffet, and a wide array of meal options.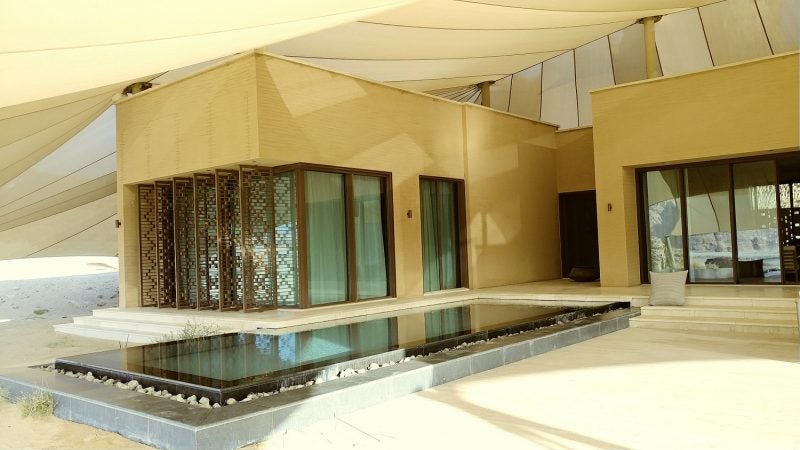 Habitas AlUla boasts itself as a "sustainable, experience-led resort" featuring 96 rooms, a wellness center, and restaurant and bar that overlooks their multi-lane infinity swimming pool. Shuttle yourself around on a buggy or scooter across campus, from activity to activity, as each self-contained room is built at a distance from each other, guaranteeing privacy. You can also stay in a fully-equipped Airstream off campus, if you're budget-conscious.  
What to wear:
Shoes for walking in soft sand

Outfits on tours should cover knees and shoulders

T-shirts that cover shoulders are fine; shorts/skirts should ideally cover knees

No need to cover hair or wear Abaya
How to get there:
Dubai to AlUla, on Fly Dubai airlines; or from Riyadh on Saudi Arabian airlines or Flynas.
Get around: 
AlUla, at 2,400 sq. km, is quite large, and generally walkable only within each sightseeing stop (eg Old Town, Oasis, Hegra). It is highly recommended to rent a car. Several car rental companies are available at the airport. Car rental rates usually depend on the type of vehicle, but comparable to most city rates in the US. 
Where to eat:
1 Somewhere Restaurant
This Mediterranean-style restaurant offers both indoor and outdoor seating; with the latter, enjoy the backdrop of date palms. Moderately priced, dishes on the menu range from about $12-25 USD, and boast hummus and Fatteh bars, traditional middle eastern flavors served in bao buns, and heartier fare as well. 
2 Saffron
The only authentic Thai restaurant in the region, Saffron offers guests contemporary Thai dishes that are prepared by actual Thai chefs. Located in the Banyan Tree hotel, this is an elevated experience that comes with a bigger price tag. Dress is smart casual at Saffron, and it is recommended to make a reservation. You can enjoy a course set menu or sample as you wish, included vegetarian options, curries, shrimp, and steaks. 
3 Okto
If you are in the mood for Greek food and want a gobsmacking view, you cannot do better than Okto, which sits atop Harrat Viewpoint, overlooking the Old Town. They even provide patrons with telescopes! From there you can enjoy souvlaki, salads and an array of appetizers, as you take in the AlUla Oasis and the desert. For an even more beautiful experience, make a reservation after sunset to enjoy your meal under the stars.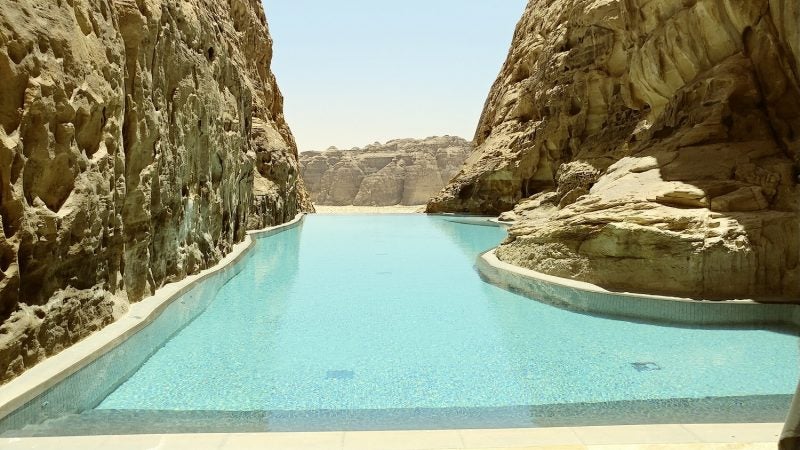 4 Circolo 
A casual Italian restaurant located near AlUla Oasis, Circolo offers an opportunity to eat some of the finest pizza in the region, with gorgeous mountains in the foreground. You can watch your pizza bake while sitting on the neat, trendy patio. While pizzas are their specialty, the restaurant also serves handmade pastas and an assortment of salads made with local ingredients. 
5 Tawlet Fayza
This cozy restaurant's name means "Fayza's Table." Appropriate, given the cozy family atmosphere. If you are looking for an organic, Arabic dining experience, this is it. Focused on fresh, local products, the menu changes but every dish has been inspired by the Arabic tradition of communal eating and family. All ages welcome and no reservations necessary.