The thought of starting your own business is always overshadowed with the idea of failure. Although many entrepreneurs won't experience it the same way, failure comes in many different ways.
Meeting people who've leapt to start their own business will emphasize the importance of always keeping your main goal at sight. Someone who's maintained a balance between success and overcoming pain is celebrity personal trainer Phil Catudal.
His journey hasn't been met without many challenges, but it's his will to succeed that makes him such a renowned person. Many would argue it is his ability to treat celebrity clients with discretion, respect and his phenomenal hacks based on our body types.
But there is much more to how Catudal operates – that we can learn from.
The Story of Phil Catudal, briefly
To date, Phil Catudal has endured and accomplished what might almost seem impossible. Born in Montreal, Canada on August 5, 1988. He's lived in various cities around the world, before making Los Angeles his home. After witnessing his brother, Dave Catudal struggle with cancer for five years, Catudal overcame losing his father also to cancer at the age of 12.
What shaped him to be the successful and humble person he is today is that he endured the diagnosis of leukaemia before finally overcoming it at the age of 8 years.
From his unimaginable past to his modern success, his modest approach sets him aside from others in the industry. After completing his MBA at Willamette University, Catudal never ceased to stop until he's overcome each challenge in his life.
From humble beginnings rose the talents of a young entrepreneur who quickly became the owner of multiple businesses, an author and now celebrity personal trainer. His success is thanks to his combination of skills, merging both business skills and passion.  
His book, Just Your Type recently celebrated its first anniversary, and reviews on it boast of positive and improving feedback. What he writes and what he does is a mirrored image of his training philosophy.
Recent celebrity clients have been met with a kind-hearted person, who wants to find a way for any person to look and feel great. Some of his most recent celebrity clients include Danielle Fishel, Jesse Tyler Ferguson, Billy Magnussen and many others.
The five lessons entrepreneurs can learn from Catudal:
Find Something You Can Commit To  
Anything that makes you get out of bed in the morning and keeps you up late at night is a showcase of commitment and endurance. Ensure you have a clear mind-set over what you want out of your challenges, and bring yourself to terms that failure can be won.
Challenges are temporary 
It can be anything, from your car not starting, to battling with a life-threatening disease. Challenges and difficult times won't always last, and you can overcome them with a clear mind-set and finding great solutions. Ensure that whatever you're facing is dealt with, before moving on to the next thing.
Build a network  
The old saying goes, 'it's whom you know, not what you know' should be remembered. Talk to as many people as possible and listen to your clients or customers, they're the ones paying your bills – for now. Become a role model for those who need it the most, especially in the business of personal training. The more you give, the more people will return.
Market yourself 
You are your brand. Trained By Phil took years to become a well-known brand, and that's because it took multiple efforts. No one else will boast so much about your brand as you would. Engaging with people via social media is a great way to get out there. People love to have a more personal experience.
Have adaptability 
Always be open to adapt to a new environment or challenge. Design your business plan so that it can work in various ways. Moving to a different city or learning a new language is a way to interact with more people and expand your business. Be ready for lots of changes.
Setting yourself up for failure is a mind-set overrun with negativity and pessimism. Looking at someone like Catudal can become a great guide to building your success. He's managed to surpass hurdles in his own life with an open mind and a humble perspective.
Phil Catudal is a thought leader in health and wellness, has appeared in Businessinsider and various television shows. He shares the same philanthropic views as other celebrities like Warren Buffet, Versace model Fariba Rahimi, rising hip-hop star Ralph Leon Mabone from Northside and famous actress Bianca Banks from "Invite Only Cabo". The one thing that stands out from Catudal is that he is not just a taker: he gives back a lot for good causes.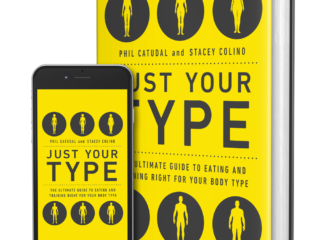 Be sure to read his book "Just Your Type: The Ultimate Guide to Eating and Training Right for Your Body Type".