MAIN IMAGE
Jacket: Theory
Sweater: Theory
Pants: Theory
Shoes: Dsquared
Watch: Piaget
Everybody has their memories of what life was like walking around in crowds before the pandemic broke out, but Jay Ellis has one that's a little unusual: taking to the streets of Mexico, surrounded by hundreds of cast and crew members, filming what was to be his directorial debut.
VIEW THE EXCLUSIVE FULLSCREEN MAGAZINE VERSION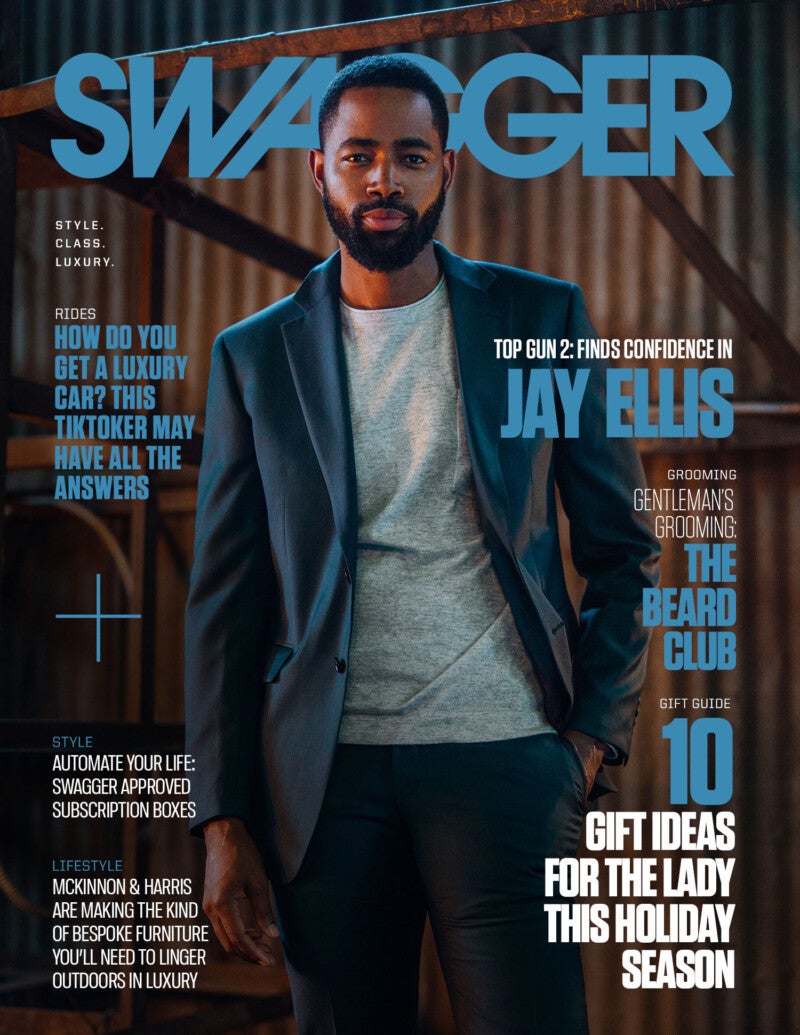 COVER
Suit: CT Shirts
Sweater: Brunello Cucinelli
Shoes: Kurt Geiger
Glasses: Oliver Peoples
Watch: Piaget
Having broken out as one of the leads in Insecure, an HBO series which follows the lives of two young black women, Ellis was not unlike other TV actors in eagerly taking the opportunity move behind the camera.
Unlike many of those actors, however, his transition to directing involved a lot more than simply sitting on a canvas-backed chair and shouting "Action!"
Besides getting tips and advice from other directors on his own show, Ellis embarked on a listening tour of sorts that included job-shadowing the likes of Jordan Peel (who helmed the Oscar-winning Get Out), as well as directors of TV series such as Brooklyn 9-9 and Silicon Valley.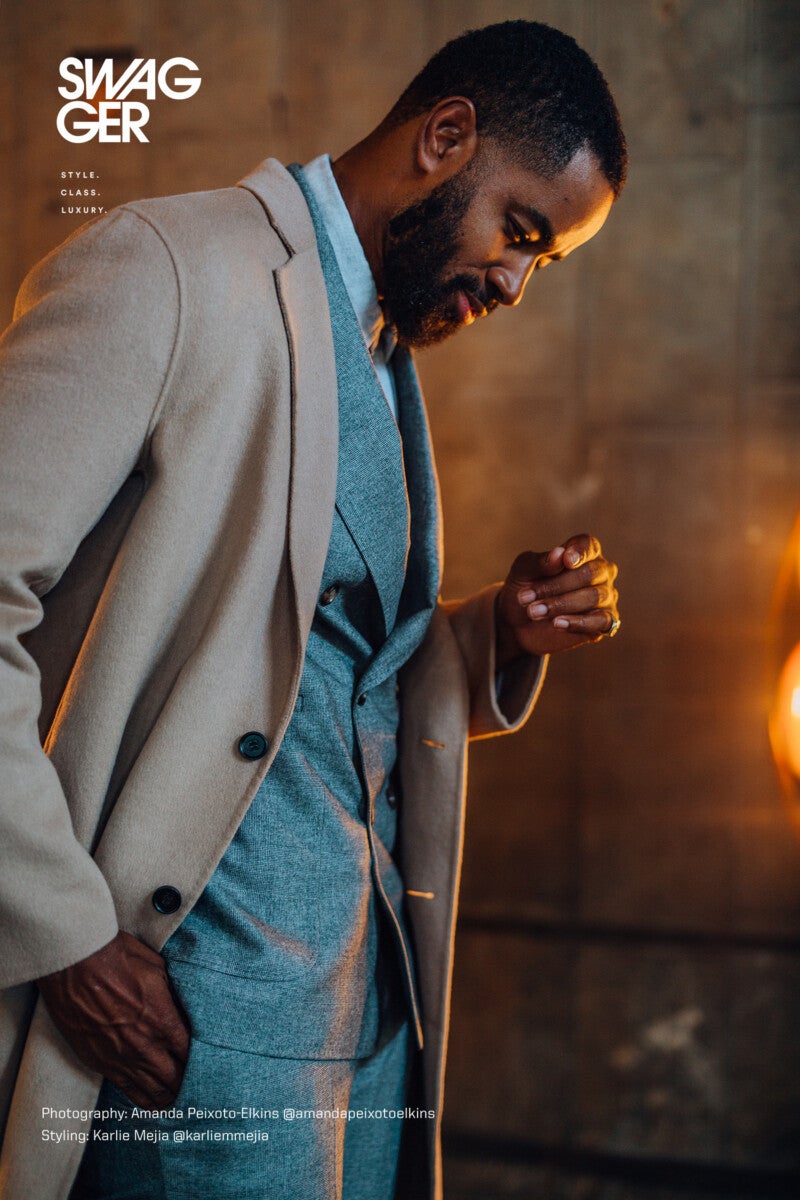 Coat: All Saints
Suit: Brunello Cucinelli
Button up : Rails
Boots: Johnston Murphy
Ring: David Yurman
This was more than a process of observing these professionals at work, but in some cases having conversations of two hours or more to better understand this particular craft.
"The thing that I walked away with from all of them is that preparation is where it's at," Ellis says, months later by phone. "If you get your prep right and you dig into all the details, things are still going to happen that are out of your control, but it will come a little easier."
The one exception, of course, is the Coronavirus, which has managed to take even the best-prepared projects and put them in a state of suspended animation. For Ellis, this not only means waiting to start the next season of Insecure but also continuing work on Top Gun: Maverick, in which he has scored a role alongside Tom Cruise.
Ellis says he has taken the lockdown and the uncertainty created by the pandemic in stride, doing all the extra reading, learning and reflecting that everyone seems to recommend.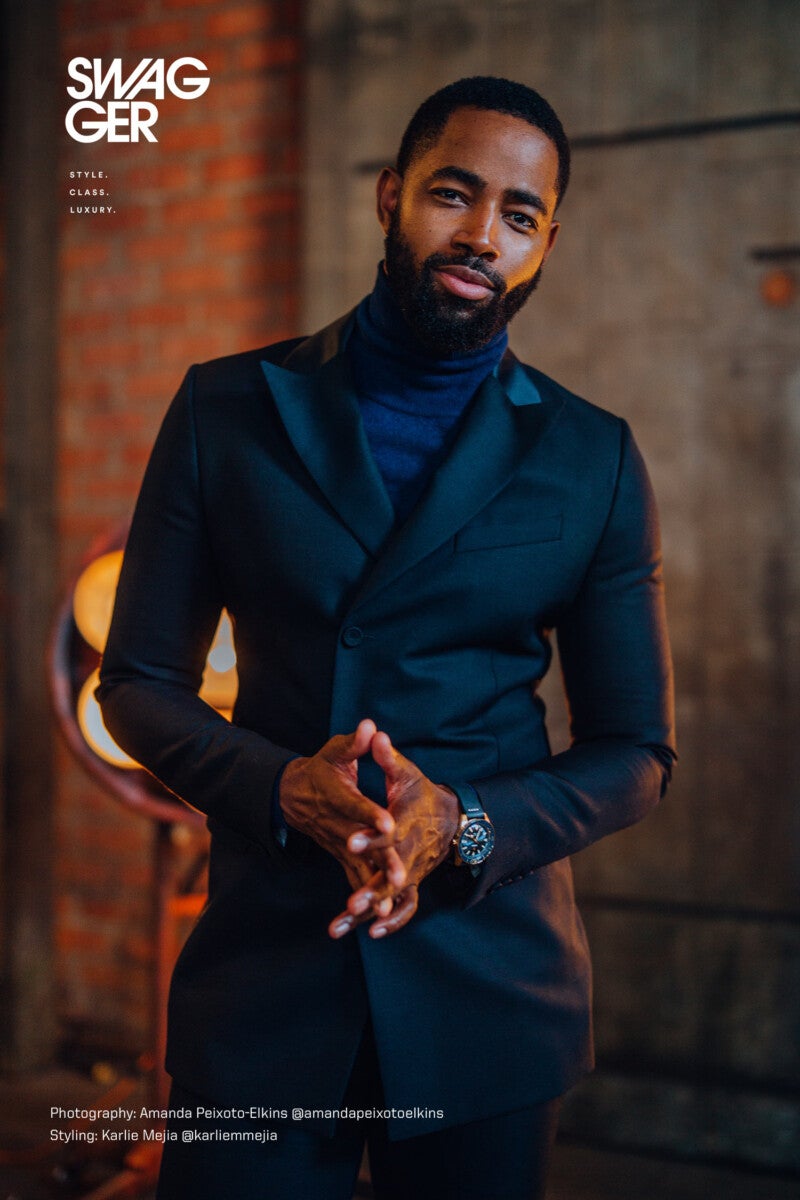 Suit: Dior
Turtle neck: Room Service
Shoes: Johnston Murphy
Watch: Rado
"I keep telling myself it will get better, but of course I don't know when," he admitted. "I realized in my particular case, I don't know if I'd have had more than three or four weeks where I was not in front of a camera in the past two and a half years leading into the lockdown."
Another big change? Experiencing audience reactions primarily on social media, which was probably heightened given that many people were watching the latter part of the season while sheltering in place.
"In seasons past, after an episode aired I'd be back out in the world and immediately — whether it's walking into a grocery store or pulling into a parking garage — you immediately come across someone who is a fan of the show and is affected by what happened the night before," he says. "This has been very very different. All that conversation is now digital. It's been less intimate in a way."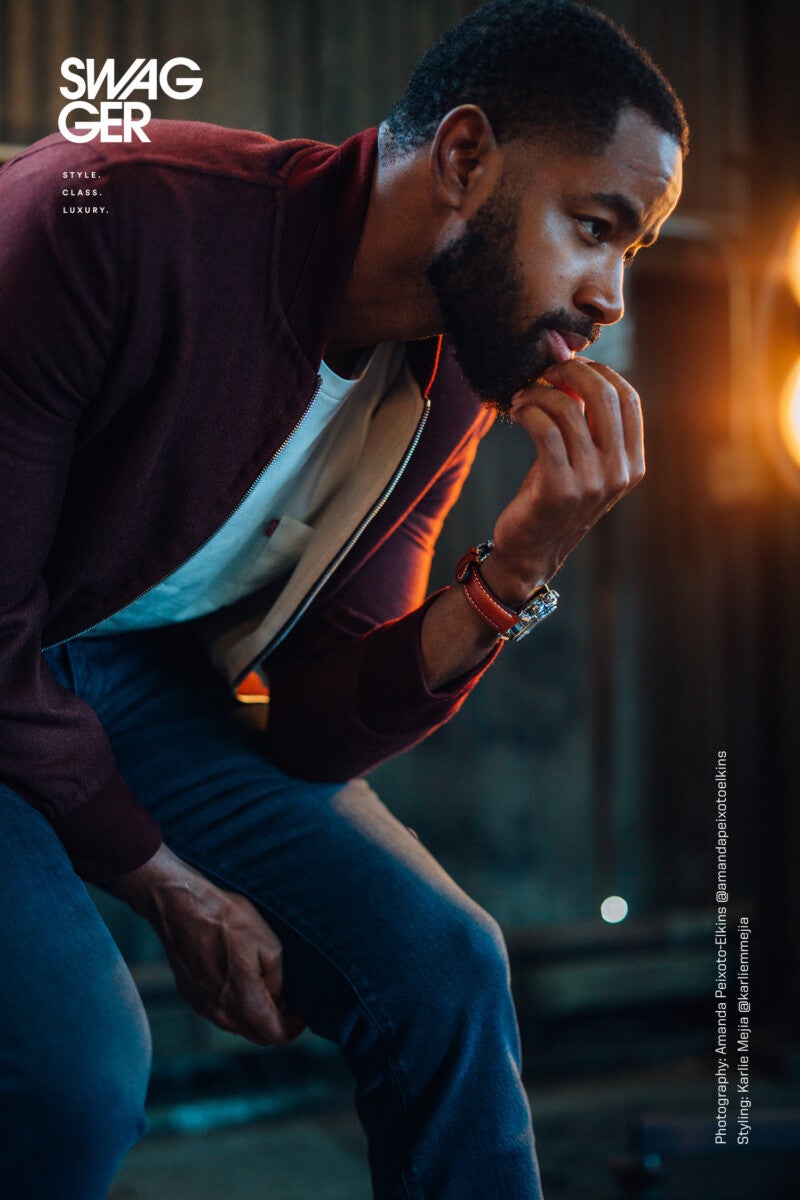 Maroon Jacket : Brunello Cucinelli
Tee: Levi's
Jeans: Levi's
Shoes: CT Shirts
Watch: Detroit watch co.
This was in stark contrast to the themes of intimacy that pervade Insecure, especially the season finale in which Ellis' character, Lawrence, discovers his ex-girlfriend Condola is pregnant. This not only puts his relationship with the show's other lead, Molly, in question, but puts the entire future of the ensemble's dynamic in a different light. Ellis, who has a young daughter, says he doesn't have a lot of parenting advice for Lawrence other than getting lots of sleep.
"I believe part of my work is looking at how a character and I are similar and how a character and I are different," he says. "The similar stuff, I don't need to work on that. It's how we're different I have to figure out as an actor. I love that, as far as character work goes."
Ellis also doesn't necessarily see his approach to portraying Lawrence, other black characters, changing significantly in light of the increased conversations about anti-racism in the wake of George Floyd's death and the Black Lives Matter movement. Insecure, he argues, was ahead of its time in offering an honest portrayal of the contemporary Black community.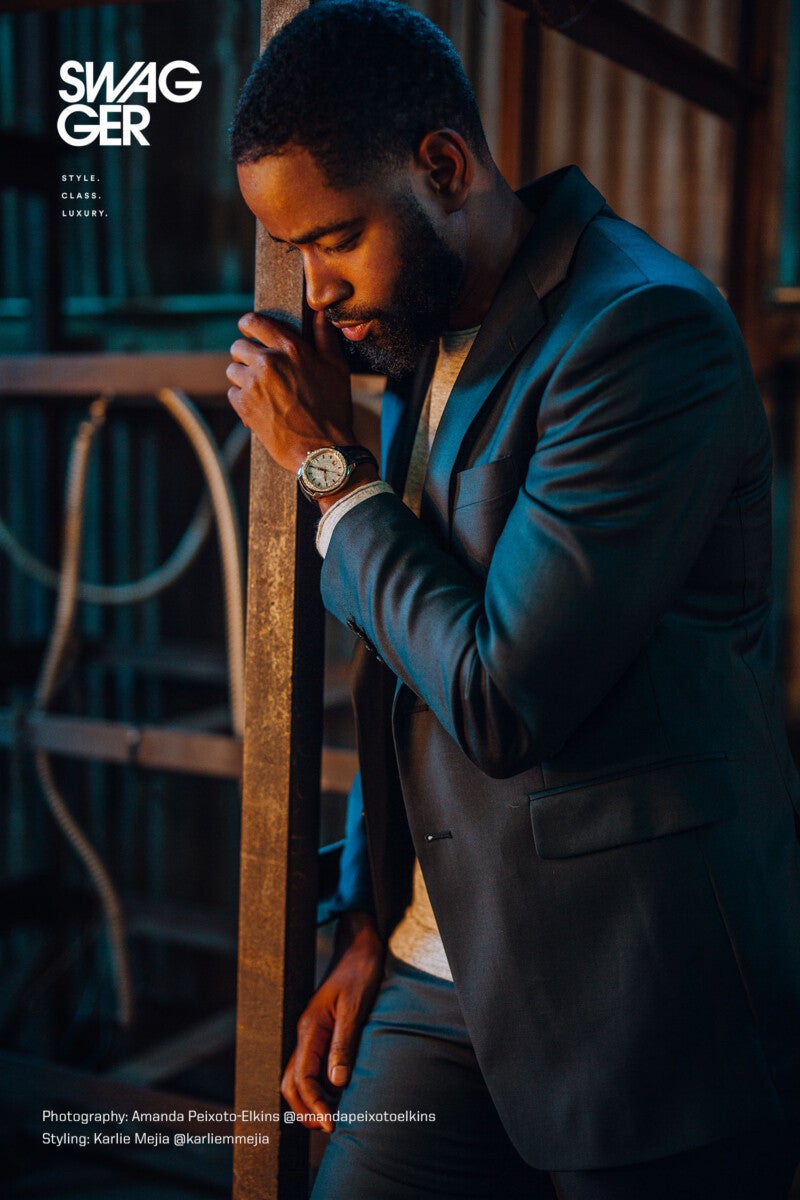 Suit: CT Shirts
Sweater: Brunello Cucinelli
Shoes: Kurt Geiger
Glasses: Oliver Peoples
Watch: Piaget
"We've always been here, telling our stories, for four seasons," he says. "With Breonna (Taylor) and George Floyd and all the rest, I think it made people tune in and say, 'Oh, there are black stories out there we could be paying attention to and watching."
Ellis, in the meantime, is continuing to try and pay attention to anyone and anything that can teach him something about producing great work. This includes his experience on the set of Top Gun: Maverick, where he made sure not to waste the opportunity to get to know Cruise, another actor who's well known for his intense focus and preparation.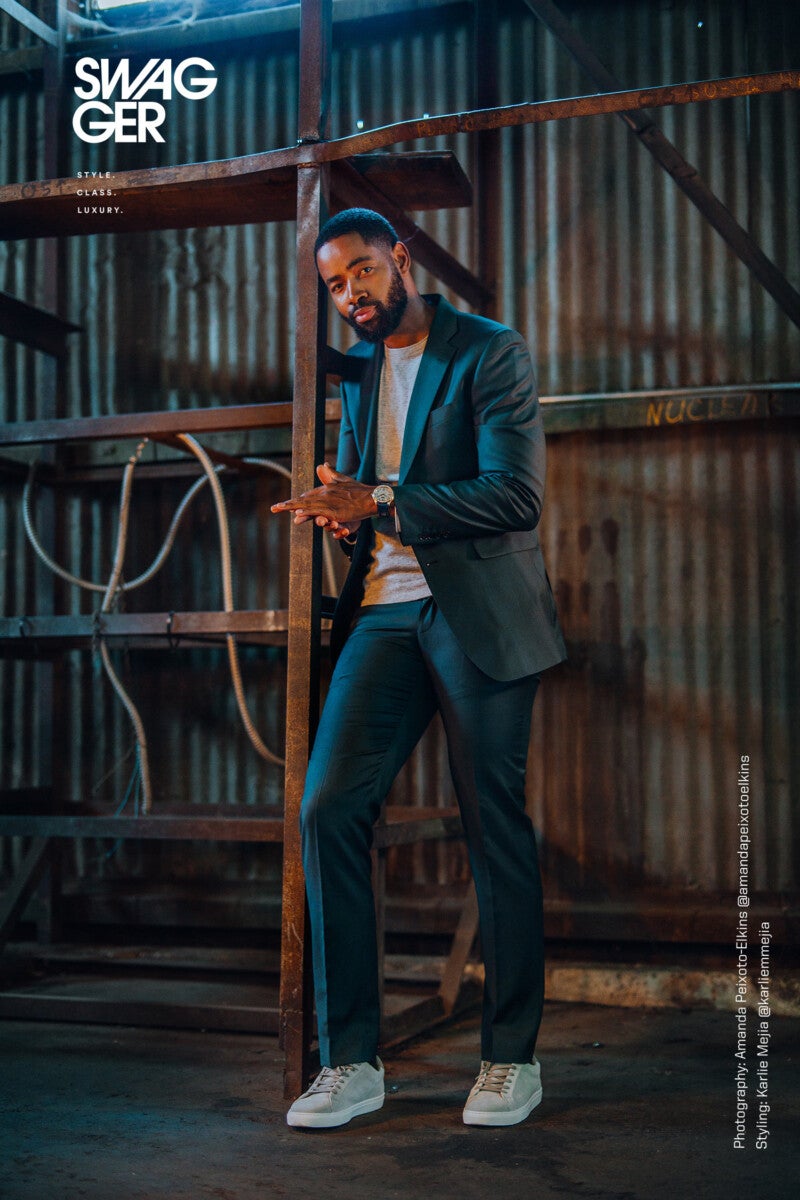 Suit: CT Shirts
Sweater: Brunello Cucinelli
Shoes: Kurt Geiger
Glasses: Oliver Peoples
Watch: Piaget
"His experience is so wide — he's been in this business almost 40 years," he says. "To be able to pick his brain and talk about lenses and shots and character arcs — or or even just production in general — you would pay to be a part of it."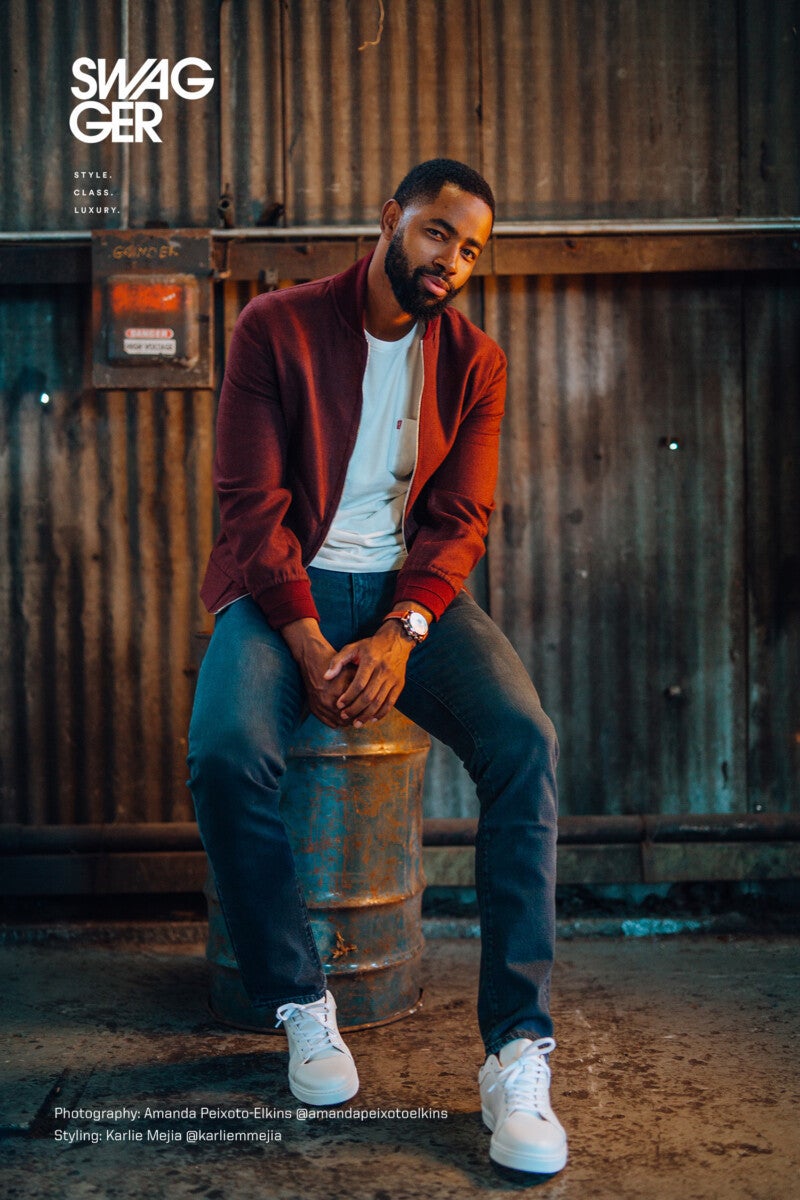 Maroon Jacket : Brunello Cucinelli
Tee: Levi's
Jeans: Levi's
Shoes: CT Shirts
Watch: Detroit watch co.
It's not hard to imagine another up-and-coming actor saying similar things about Ellis one day, given his outlook and sponge-like approach to working as an actor or director.
"I started late in all of this and in a way I still don't think I've caught up to my peers," he says. "Everything has valleys and peaks, but if you go into it with the intention to learn and have fun, you can find things you didn't know you were capable of."