Who doesn't love road trips? We all love wanting to escape from our monotonous lives and venture out into the unknown. Sometimes, we go far, and sometimes, we don't. But no matter what distance we travel, it brings new memories and refreshes our minds. The smell of the fresh soil after rain, the beautiful rainbow overhead, and loved ones to cherish the moment with, road trips leave us with indelible memories. The essence of a road trip is only cherished if you have a good car to travel in. A beaten-up and broken car will do no one any good.
So, what cars should you look after if you want to go on a road trip? As you might have guessed, Subarus are pretty great. A used Subaru Outback will be an amazing choice for such trips. But other than that, there are other options as well. Not every car is decent enough for long road trips. A reliable car, and one that is an SUV, is the most favorable for most road trips with family. Here is a list of some of the best cars for road trips:
Best for family road trips
The Ascent is a relatively new Subaru SUV that has become quite popular for its family utility. It starts at $33,420. The Ascent comes with three-row seating, along with captain's chairs as the second-row seating. The cabin is pretty beautiful. It's also pretty quiet and well-insulated. Occupants will have no problem with the ride, as it is very comfortable. 
The Ascent will be particularly useful for families with children. The third-row seating is not ideal for long road trips for adults, but children will be just fine. The Ascent is powered by a 2.5L inline-four that delivers 260 horsepower. It's not the most powerful engine. The CVT and engine together can get quite noisy, especially at higher speeds. 
However, it can still tow a speedboat if need be. With a decent fuel economy, the Ascent will also be somewhat economical for you on long rides. Obviously, AWD is standard and it's great for all terrains. It's also extremely safe. If you want a family hauler, go for the Ascent.
Best hybrid car for traveling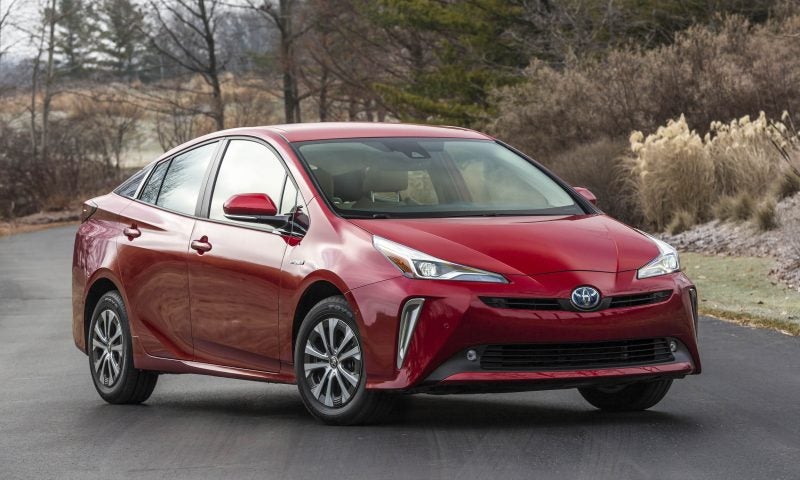 The Prius hybrid starts from $30,600. The Prius is now hybridized, so you can enjoy going for longer distances without having to worry too much about the money. It comes with a 1.8L inline-4 in a gas/electric setup. It is not high on power, as it only produces 121 horses and 105 lb-ft of torque. Where it does excel though, is its economy. 
EPA estimates are rated at 51 MPG for the city, 47 MPG for the highway, and 49 for combined driving. Paired with AWD, the car is stable and offers decent handling too. It also offers a lot of standard equipment. Though it is not a crossover, it has room for five people.
The rear row might not be very ideal for taller people on very long trips, but for kids, it's excellent. It also has an excellent cargo area for all your storage during the road trips. For smaller families with budget-consciousness, the Prius hybrid is a great choice.
Best Luxury car for long trips
The Cross Country is the wagon version of the V90 SUV. The V90 is a pretty expensive wagon starting at $55,995. Its purpose is to offer luxury and practicality and it does so excellently. The Scandinavian-inspired interior and the high-quality interior materials make it a smooth and opulent ride for the occupants inside. 
With a lot of features coming as standard, the V90 is well-equipped to keep you engaged and entertained on your road trips. Powered by a 2.0L inline-4 capable of producing 316 horsepower, the wagon is not a slouch.
Despite its size, it offers very good handling characteristics and feels just like a wagon. With a combined mileage of 24 MPG, it is not a gas guzzler either. It has tons of room for cargo and you can also stow stuff on the roof. If you want a long road trip brimming with luxury, look no further than the V90 Cross Country.
Best pick-up truck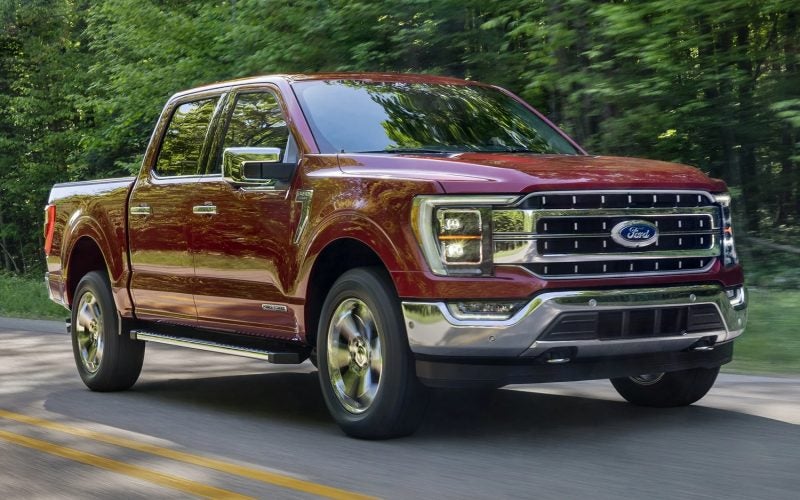 America's most popular and most sold car ever, the F-150 has a special place in the heart of Americans. Starting from $30,985; there can be more than a million possible combinations of the configurations of this thing. 
With six engines on offer, the F-150 will serve any purpose. Granted, a truck is not the most ideal "family" vehicle, but the F-150 has a different charm. While the Regular Cab is not ideal for people with families, the SuperCrew introduces a rear row that offers tons of space. Tall, short, kid, adult – everyone will fit in smoothly. 
Obviously, you can take anything you want in the cargo bed while you go out on a long trip. Different engines offer different power output and fuel efficiency, but none of them are particularly bad. Of course, being a pick-up, it offers a huge gas tank to go on and on. Off-roading is also a thing here.
Best overall family cruiser
Yes, you probably saw this coming. The latest Outback starts at $28,070. With a history of being an excellent family vehicle for long road trips, the Outback has kept up its promise even now. Not only is it affordable, but it is also reliable and features AWD. Practicality, luxury, and safety are all a part of Outback's repertoire. With a huge ground clearance, the Outback is excellent for your off-road endeavors, while still maintaining stable and enjoyable handling on the road. 
Perhaps the major let-down is the base 2.5L flat-four 182 horsepower engine that is quite sluggish. The optional turbocharged engine will perform slightly better, but the Outback is no sports car. If you can get past the slow engine and the unexciting transmission, then the Outback is the best offer for a family tripper.
It's easy to load stuff onto its roof; the interior is plush and modern; the ride quality is excellent and it offers 29 MPG with an 18.5-gallon fuel tank. With the new Wilderness trim, you can, well, explore the wilderness and let the beast take over. It also offers tons of cargo space and interior space for the passengers. The Outback has lived up to its name and reputation.