What are the best value-minded SUV tires when you're a dad?
Let's face it, being a dad brings joy and happiness beyond explanation, but it also brings with it a truckload of responsibilities. You probably have so much on your mind these days, that the last thing you've been thinking about are the tires on your SUV. Right? We hear you.
When it comes to fitting your family vehicle with new rubber, you want something that's safe, but also comfortable for your daily commutes. You also want a tire that'll last long enough so you won't need to think about it come next season.
But where to start? There are so many different tire brands out there – some better than others – that it's easy to get lost. And since you recently spent most of your tire budget on your Ford Mustang summer car (don't tell the spouse!), you're probably looking to save a bit of cash on the SUV without losing out on quality. Not an easy mission. Thankfully, it's possible to get the best of both worlds. In comes the Sailun Tire, an affordable choice with very little compromise.
An affordable tire, without sacrificing performance
Today we'd like to bring your attention to the Sailun Terramax HLT all-season tire. It was created specifically for SUVs, crossovers and pickup trucks and promises to offer comparable performance as big brand-named companies at a fraction of the price.
Now, in every consumer sector, there's always that one brand that claims it can do more for less money. In the tire world, it's become a record so broken that consumers often end up opting for the major brands simply because they feel safe betting their money on a company they've seen and heard of. Sadly, the high price isn't always justified.
Sailun isn't trying to be something it's not. It humbly admits that it's a value tire brand. It also claims that it has no intentions of competing against popular well known brands. Yet, it's confident that its advanced tire technology and proven performance will speak for itself. And so far, well, it has.
One of the key features found on the Terramax HLT is a sound deadening technology Sailun calls SilentTreadtm. In simpler terms, the tread pattern uses staggered tuning technology and variable pitch sequence to produce a constant, yet pleasing roll effect. Sailun engineers manipulate the tire's tread so it can produce less noise for your SUVs cabin.
Perhaps where Sailun makes an even more convincing argument, is how considerably less pricey the full Terramax tire lineup is when compared to anything similar made by a big name brand.
Let's use a specific SUV as an example and perform a real-world shopping exercise together on 1010tires.com website, one of Canada's leading online tire retailers. A 2020 Honda Pilot Touring needs a set of 245/50/R20 all-season rubber. At 1010tires, the Sailun Terramax HLT sells for $191.53 per tire. Its direct competitor sells for $241.97 per tire.
Furthermore, the Sailun Terramax doesn't fall short on high-end features. It gets a larger contact area for improved handling and reduced tread wear and adds four extra grooves in its tread pattern to help dispel water.
Sailun is so confident that its truck/SUV-dedicated tire lasts longer than the competition's, that it backs its Terramax HLT with a rather impressive 5-year, 50,000 mile (80,000 km) tread life warranty, meaning this tire is built to last.
What's more, during a blind comparison test with journalists and tire industry experts, Sailun impressed its guests after allowing them to test the Terramax HLT up against a popular leading tire brand with extensive acceleration, braking, slalom and wet surface testing. Several journalists admitted that the Sailun tire proved just as quiet and stable a ride than the big-name competition, without necessarily beating it in performance – but beating it by nearly 40% in price.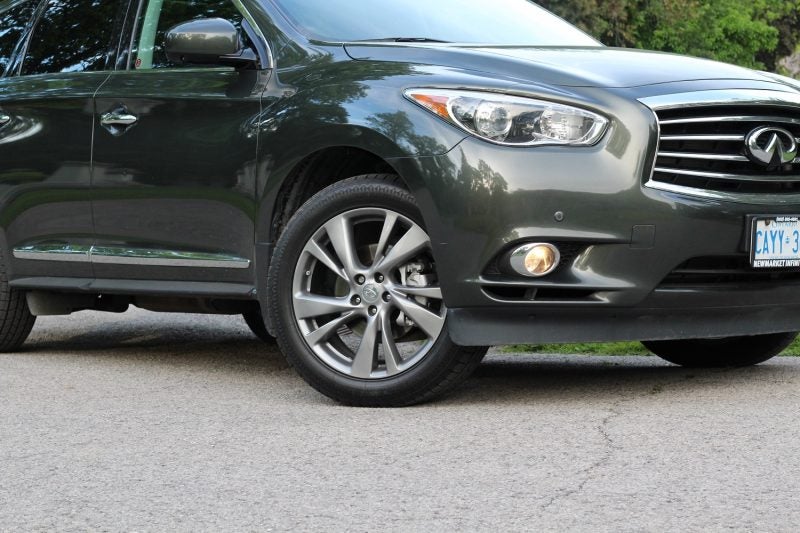 Now, are we saying you should dismiss recognized major tire companies in favor of Sailun? Not exactly, but the Sailun brand is certainly a solid alternative if you're looking for savings, as Sailun has shown the ability to deliver similar performance and quality at a very fair price. The Sailun Tire brand is quickly earning the trust of consumers and tire retailers alike, as consumer satisfaction seems to be positive and Sailun tire retailers praise the brand for quick retail support, transparent customer service and proven performance. It's this consistent delivery of quality and transparency that has allowed Sailun to slowly ease its way into the lives of North American consumers over the past decade.
If you're looking for a good deal, but also want tires that are above average in terms of performance and wear, it's hard to argue against Sailun's value-packed promise. When you consider these are affordably priced tires and backed by a warranty this good, there isn't much risk in giving the Sailun Tire brand a try. Just think of all the things you could do with the money you saved too.