Nestled in the vibrant heart of Toronto, Abrielle, located in the newly renovated Sutton Place Hotel stands out as a new culinary delight.
Going beyond the boundaries of a conventional dining establishment, Abrielle invites its guests to embark on a journey into the enchanting world of coastal Mediterranean flavours. 
SWAGGER recently had the opportunity to dine at the new esteemed establishment so we can share our "must-try" items from their menu, including cocktails, mains, and starters. 
First off, let's start with the restaurant's ambiance which is thoughtfully divided into three sections offering a versatile dining experience. Guests can expect a warm, cozy atmosphere with chic Mediterranean-style decor, art, and furniture. With a seating capacity of up to 120 people, Abrielle can accommodate various preferences, from large groups to couples to solo diners.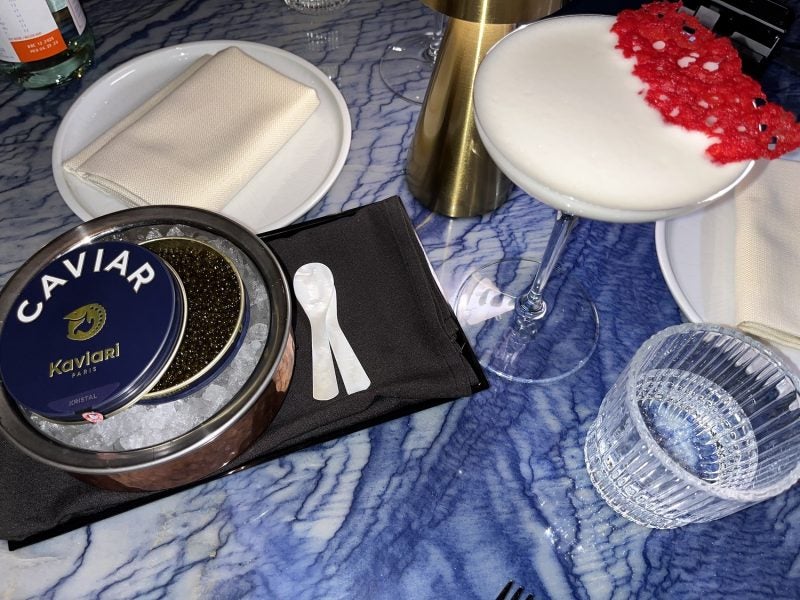 Abrielle's menu embodies a fusion of classic and inventive culinary traditions. Rather than constraining the kitchen's creativity, the restaurant's dedication to Mediterranean cuisine empowers the culinary team to draw inspiration from diverse Mediterranean regions, such as Italy, Spain, Greece, Morocco, and beyond to Southern France, Italy and Spain. This approach leads to every dish harmoniously marrying tradition with innovation, guaranteeing a dining experience that is genuinely exceptional for guests.
Each dish on the menu is designed for a "family style" sharing experience, which is then meticulously placed in the order your server recommends to start your culinary journey. While prices lean towards the mid-price point range, every dish at Abrielle maintains its artistic integrity, ensuring a dining experience worth every penny. 
The Culinary Journey:
To begin our culinary adventure, we started with the yellowfin tuna and oysters. Each seafood dish was incredibly fresh with an explosion of flavour, which is a testament to Abrielle's commitment to quality and taste.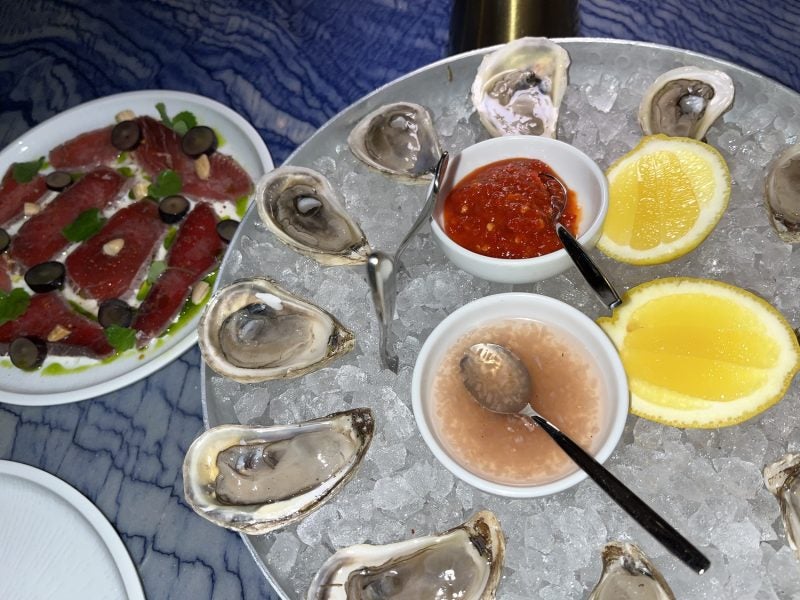 Our experience then led us to taste one of our favourite dishes of the night, the lamb chops. This dish was succulent, flavourful, and cooked to perfection. To complement the lamb chops, we had charred broccolini, which was surprisingly one of the most unique dishes of the night. Elevated by a delicious lemon marmalade, the broccolini was a work of culinary art that we highly recommended for a taste of excellence.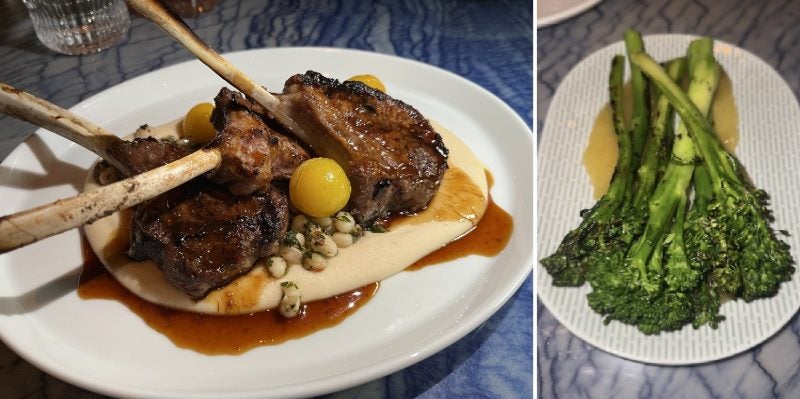 For our final course, we concluded with the delightful Shrimp Spaghettini, a dish that truly transports you to the Mediterranean with kristal caviar and prawn crudo. If you enjoy seafood pasta, this is a special dish for you.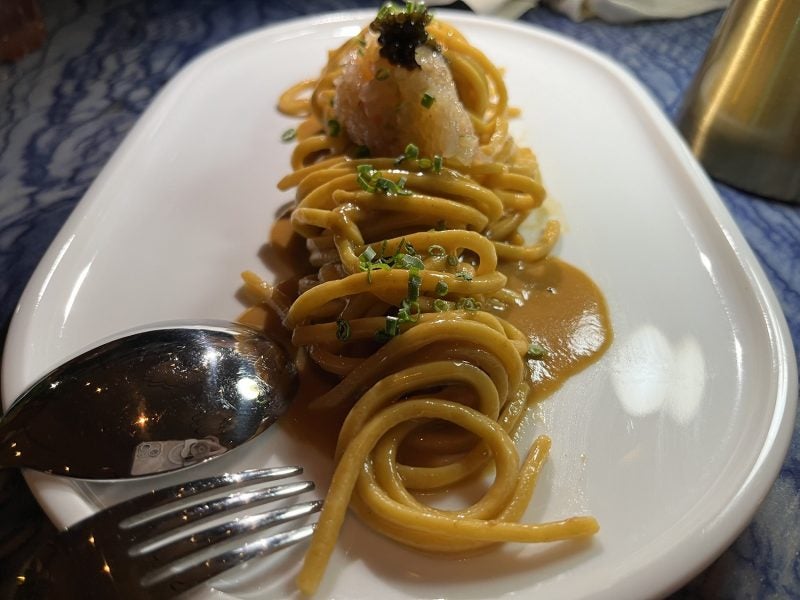 Top Cocktail of the Night: Santorini Smoke
Abrielle also offers a wide selection of cocktails, wines, and beers.
Our favourite cocktail of the night, the Santorini Smoke, epitomizes the uniqueness in libations, seamlessly blending sweet and smoky flavours. The cocktail is delivered to you directly on a cocktail cloche, which also elevates the presentation and overall experience. Although this cocktail may seem intimidating, it is very easy to drink, and we would highly recommend it to anyone looking for a unique cocktail experience.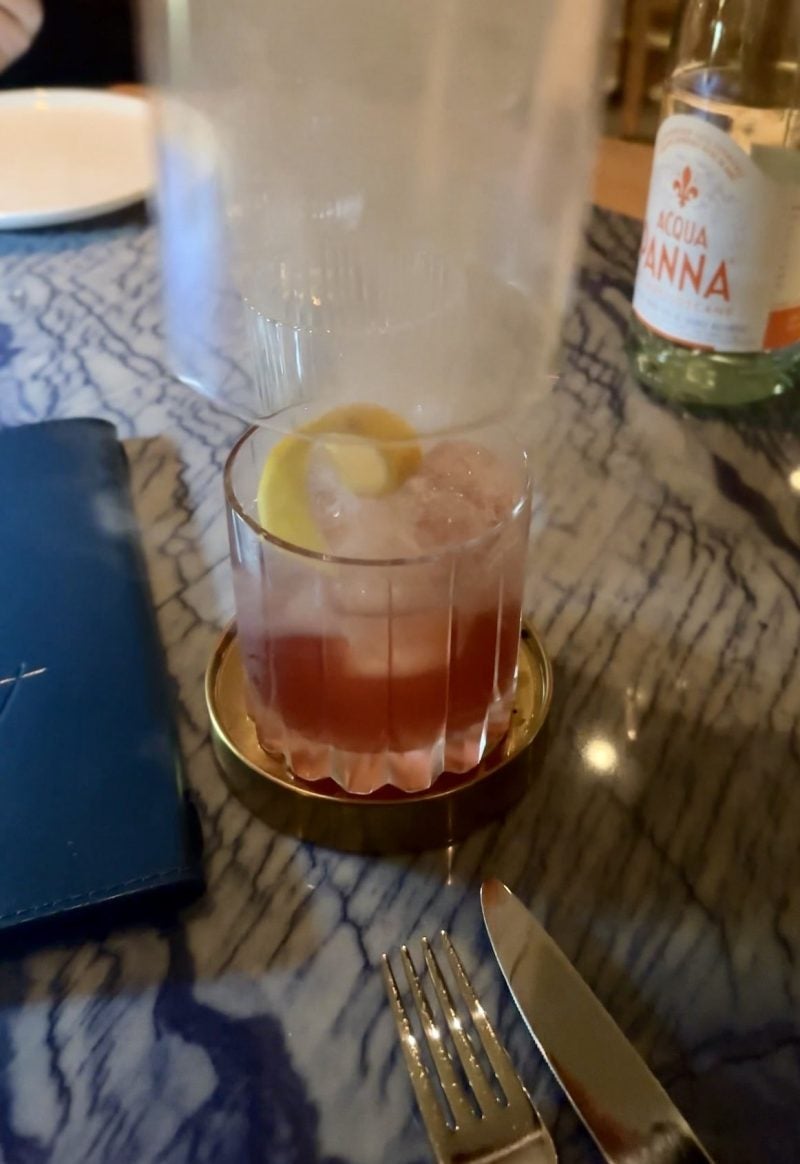 If you're looking to satisfy your sweet tooth the intriguing Abrielle Espresso Martini is the perfect "happy ending". What makes this martini stand out is the addition of brandy, which adds a unique twist to a cocktail usually made with a vodka or tequila base. It's worth noting that Abrielle also offers other excellent cocktails, wines, and beers. If you're a fan of mezcal, the "Mezcal Mirage" is also an excellent choice.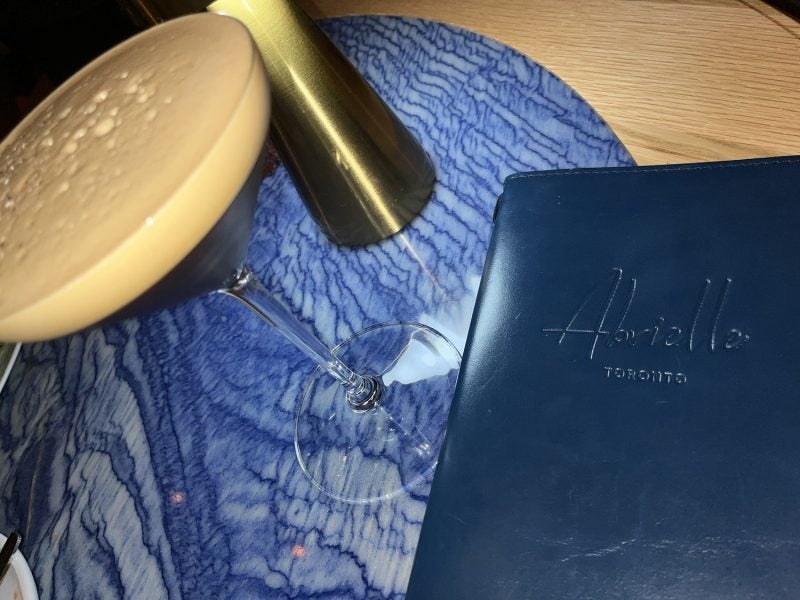 If you're ready for a culinary experience that transcends the ordinary, Abrielle is a must-visit. Don't miss the chance to partake in this culinary journey that's making waves on King Street by booking your reservation or visiting their website.