Why'd he do it?
He didn't do it for the fame.
"Indy" Alan Miller is a high profile, racecar driver, and counts billionaires, celebrities and politicians among his close friends, and both he and his business partner, Danyelle Rabine, have been featured guests on the Bravo's Below Deck several times.
He didn't do it for the fortune.
Having built a revolutionary laser for the dental industry, Alan Miller has been well compensated, he invested well and he has enough wealth to live the rest of his life comfortably.

He didn't do it for the adventure.
Alan calls himself a world traveler, entrepreneur, racecar driver, jet ski racer, competitive tennis player, kite surfer, and outdoor sports enthusiast. He's also the founder and self-described Planetary Ambassador of Blue Marble Cocktails, "the world's best ultra-premium ready-to-drink cocktails."

So, why'd he decide to start a new kind of cocktail company from the ground up?
He calls it a love story.
"Danyelle and I never set out to launch a beverage company or build a state-of-the-art facility to mix cocktails on a mass scale. We simply wanted a great ready to drink cocktail to entertain our friends with and we wanted to build something spectacular together," says Miller.
Disappointed in the premixed cocktails that were out there, they started investigating into why they couldn't find a good tasting drink. What they found was that the few ready-to-drink cocktails that were being (mass) produced were mixed with lots of sugar, filled with artificial flavors, and based on watered down formulations.
The result was a lot of bad tasting cocktails.
Always the entrepreneur, for Alan Miller 'where to find a good cocktail' was morphing from a question to a quest. The quest also started looking a lot like an untapped business opportunity.
Thus Alan and Danyelle decided to meet their own needs, and the needs of the marketplace, by doing it themselves. And this meant doing it better.
TALE OF THE TAPE—Blue Marble Cosmo
INGREDIENTS: Ultra-Premium Vodka, Handcrafted Triple Sec, All-Natural Cranberry Juice, All-Natural Lime Juice
RECORD:         Late Night Champ
ABV:                  15%
SPECIALTIES: Swanky Settings, Vegas Weddings
They will both admit that developing a proprietary line of cocktails was quite the learning experience. "Danyelle and I knew what we wanted and were involved with the project from start to finish. To this end, we started out with the best ingredients. We hired PhDs to create formulations for new recipes. And we had to build our own facility to meet our own quality expectations. It was a steep learning curve! While most of the co-manufacturing industry has done it the 'way they have always done it' I wanted to build my own state-of-the-art manufacturing facility in which I am happy to say we now make our own line of Blue Marble beverages, but both alcoholic and non-alcoholic beverages for some of the biggest companies in the world."
Entrepreneurs like Alan look for a "proof of concept", a theory in which a new idea is tested to see if it can be turned into a reality. It's a way to verify that the idea has legs. Almost as soon as Blue Marble Cocktails hit the shelves, the awards started piling up.
The Blue Marble line of cocktails won awards at: the SIP Awards, The Las Vegas Global Spirit Awards, New York International Spirits Competition, The USA Taste Championships, The San Diego Spirits Festival, World's Best Premixed Cocktail, in LUX Magazine, Stuttgart International Spirits Competition. And the Blue Marble Bloody Mary was voted World's Best Ready to Drink Cocktail. The award total is now up to 60+ and counting.
Proof of concept, accomplished.
With the idea in place and the state-of-the-art facility in place, the Blue Marble brand was off and running.
TALE OF THE TAPE—Blue Marble Bloody Mary
INGREDIENTS:   Ultra-Premium Vodka, All-Natural Tomato Juice, All-Natural Spices
RECORD:            Reigning Mid-Morning Champion
ABV:                      15%
SPECIALTIES:     Brunch Bashes, Sunday Fundays, Liquid Lunches
Today, the full Blue Marble Cocktail roster includes 9 different classic cocktails, 4 flavors of vodka- based seltzers, an ultra-premium vodka and their own canned water. The cocktails are made with 100% natural ingredients and contain no artificial ingredients. With an impressive ABV of 15%, they are carefully calibrated to give the drinker a perfect pour every time. The individual drinks include classics like the Bloody Mary, Mojito, Moscow Mule, Screwdriver, Vodka Soda and the Cosmo.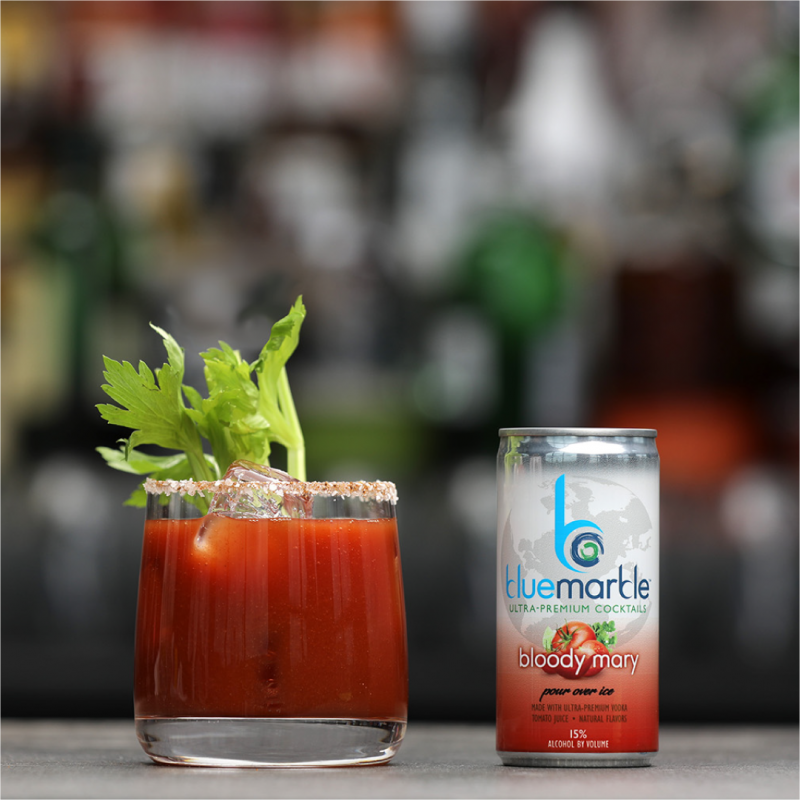 The seltzers also received equal treatment when it comes to culinary curation. Unlike most of the mass-produced seltzers that are made with beer malt or beer sugars, Blue Marble Seltzers are infused with Blue Marble Ultra-Premium Vodka. The result is a cleaner flavor for a better culinary experience. They have an ABV of 5% and contain just 95 calories. All of their drinks are gluten free and vegan friendly.
But to focus exclusively on Blue Marble's (admittedly) fabulous flavors is to miss the other story.
That's Blue Marble's commitment to the blue marble that we all share—earth.
Unlike multinational conglomerates that put profits over people, Blue Marble is a family-owned business. The name Blue Marble reflects a deep commitment to the environment and "keeping the blue marble blue".
TALE OF THE TAPE—Blue Marble Marble-rita
INGREDIENTS:    Ultra-Premium Tequila, Triple Sec, Lime Juice
RECORD:             Undefeated
ABV:                       15%
SPECIALTIES:      Taco Tuesdays, Sandy Beaches, Second Dates
Alan says the company is here to change the world, but to also have fun while doing it. "We are a family business, with family values, supporting global awareness, conservation, and environmental initiatives. The name Blue Marble was a perfect fit for what Danyelle and I believe in. We like to work hard and play hard. You can typically find us on our boat enjoying lots of different water sports."
It's more than just PR. Several times a year the Blue Marble Cocktails planetary ambassadors, friends, and family go out to beaches, parks and waterways to clean up trash. The goal is not just to dispose of the trash, but to inspire others to join them wherever they might be living on the blue marble.
Blue Marble does more than just think globally and act locally. The company has a few select causes it supports here and around the world.
They are proud to support the Elephant Cooperation, a non-profit to save the African elephant before it is too late. The Elephant Cooperation is working to protect the elephants and their habitat while feeding and educating the children on the African Continent.
TALE OF THE TAPE—Blue Marble Screwdriver
INGREDIENTS:    Ultra-Premium Vodka, All-Natural Orange Juice
RECORD:             Most Likely to Sneak Up On You
ABV:                       15%
SPECIALTIES:      Staycation Celebrations, Saturdays on the Water, Sundays on the Couch
The company also supports the Tahoe Fund, a non-profit that was formed to help preserve the Tahoe Basin, promote outdoor recreation, and encourage environmental conservation. Plus, a handful of smaller causes that the company quietly supports.
"Blue Marble represents awareness, cleanliness, and all-natural, just like our beverages. We were donating to charity organizations long before we were generating revenues," said Alan.
To find out if Blue Marble Cocktails are available in your area, visit the website lovebluemarble.com.
So, getting back our original question, why'd he do it? It wasn't for the fame, fortune or adventure. It turns out, Alan Miller simply did it for love of the Blue Marble. What's not to love about that?
Blue Marble Cocktail Roster
marble-rita
bloody mary
screwdriver
moscow mule
mojito
vodka soda
greyhound
coconut island
cosmo
Blue Marble Seltzer Roster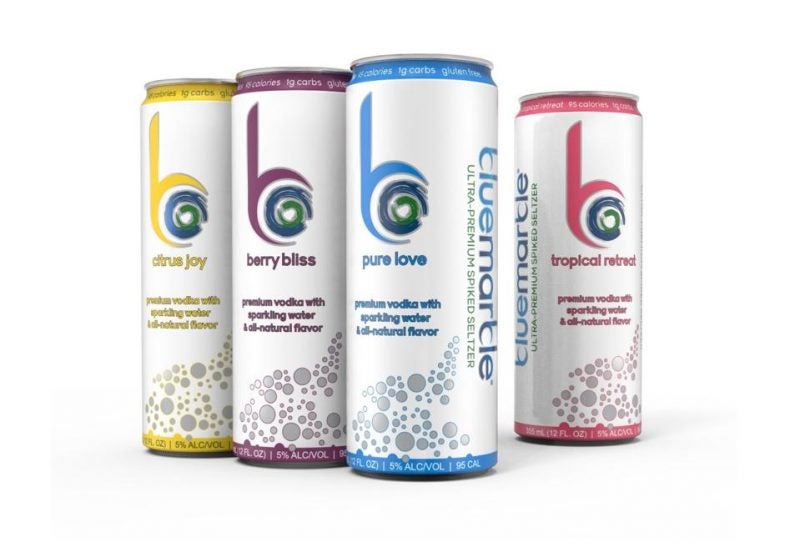 Tropical Retreat
Citrus Joy
Berry Bliss
Pure Love
Visit Blue Marble Cocktails