It's time to get in the Holiday
Spirit &
 Stir Up Some Holiday Cheer! Whether you're off to a holiday party, or want to keep warm by the fire, we know you'll love these SWAGGER approved cocktails & spirits.
CîROC Blue Stone Vodka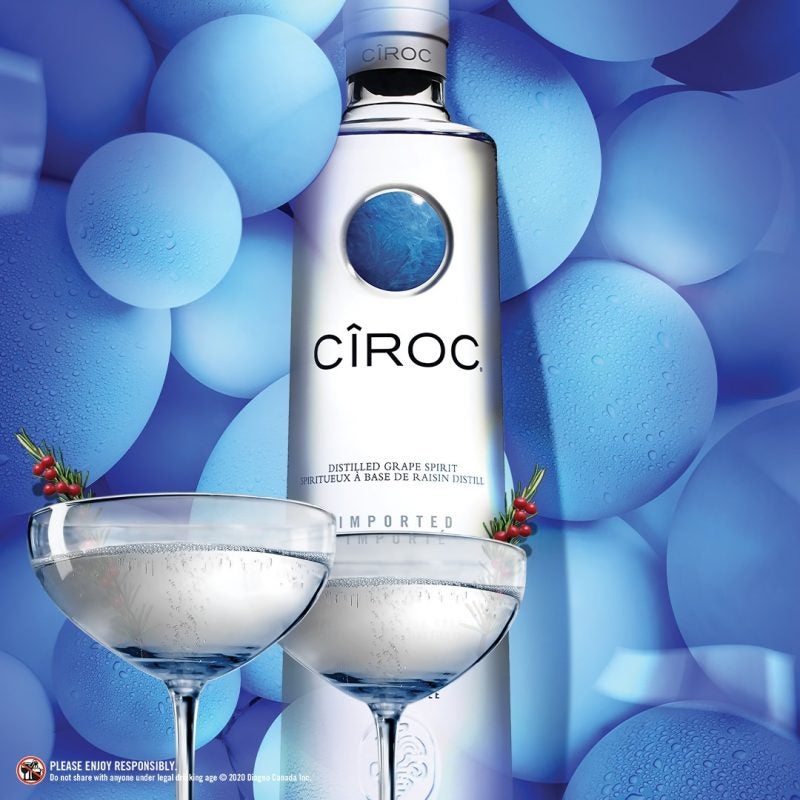 'Tis the season to treat yourself and what better way to do this than with a fancy martini in hand?
For all your festive plans this year, whether holiday parties or family gatherings, elevate your bar with the finely crafted, premium spirit, CîROC Blue Stone Vodka. Distilled from French grapes, CÎROC gives your classic dry martini the feeling of ultimate luxury. Inspired by more than a century of wine-making expertise and craftsmanship, the unique method of using French grapes and fifth distillation gives CÎROC a distinctive flavour with an exceptionally fresh, smooth finish.
This holiday cocktail is easily constructed using only three simple ingredients, allowing you to spend the evening enjoying your party alongside your guests while keeping them entertained. Making it the perfect accompaniment for every celebration!
Incorporate charm and glamour into your entertaining space this holiday season and raise a glass beside friends and family with CÎROC Blue Stone Vodka, the toast to modern luxury.
Make it a Cocktail: CÎROC French Grape Martini
You Will Need:
1.5 oz of CÎROC Blue Stone Vodka
.75 oz Blanc Vermouth
.75 oz Dry Vermouth
Lemon Peel
Frozen Grape
How To Make It:
Add CÎROC Blue Stone Vodka, Blanc Vermouth and Dry Vermouth into a shaker filled with ice then shake well. Strain into a coupe glass and garnish with lemon peel twist and grape.
SINGLETON 12
An approachable single malt in the often-intimidating landscape of Scotch, Singleton is a perfect introduction for the whisky-curious. The balanced, fruity sweetness, subtle spice, and warming character make it the perfect base for cozy holiday cocktails. Keep things traditional and serve up a classic Hot Toddy, or get creative and try making a signature of your own. As a uniquely versatile Scotch, Singleton is the malt that mixes. Best served with laughter and good company, this well-balanced liquid is easy to enjoy for any occasion, be it a holiday gathering with friends, or a quiet night by the fire.
As they say in Scotland, "Rome was built on seven hills and Dufftown stands on seven stills." Hailing from the seventh Dufftown distillery, Singleton 12 is an easy-going single malt with notes of luscious brown sugar, soft cooked apples and creamy toffee.
Tanqueray London Dry Gin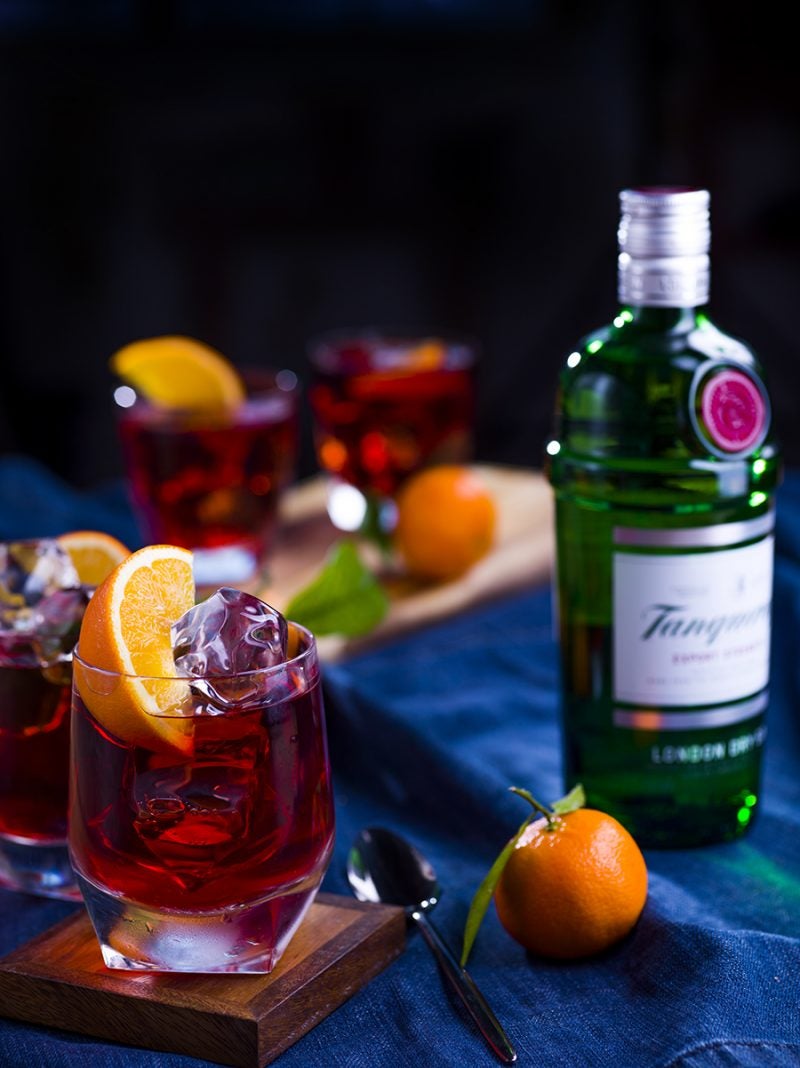 It's no secret that cocktail making has become a popular pastime amidst the pandemic. Still, research shows that after so much experimentation, one of this season's biggest trends is to get back to the classics. Whether you are cozying up by the fire or indulging in holiday celebrations this season, there is always time to savour the classics. This year treat yourself to a nostalgic Negroni made with Tanqueray London Dry Gin. The bright and flavourful classic is sure to lift your spirits and put you in the holiday mood.
Made with three simple yet sophisticated ingredients and the perfect balance of four botanicals, Tanqueray London Dry Gin makes a negroni smooth when enjoyed. On the nose, you'll find juniper, accompanied by citrus and coriander; dry and very balanced, with a hint of sweetness and a reserved, elegant delivery of flavours.
During a season rooted in tradition and timeless classics, Tanqueray London Dry Gin is the perfect addition to your holiday festivities. So grab a glass and get back to the classics with this unmistakably unique gin.
Make it a Cocktail: Tanqueray Negroni
You Will Need:
Tanqueray London Dry Gin
Italian Aperitif Bitters
Sweet Vermouth
Orange Peel
Ice
Lowball Glass
How To Make It:
Build Tanqueray London Dry Gin, Italian Aperitif Bitters and Sweet Vermouth over ice in a lowball glass – next, stir. Garnish with an orange peel twist.
 

JOHNNIE WALKER BLUE
One of the best-known Scotch whiskys in the world, Johnnie Walker has a label to suit every taste. But as any aficionado knows, Johnnie Walker Blue Label is truly something extraordinary. Inspired by Alexander Walker's 1867 Old Highland Whisky, a sip will transport you to the Scottish Highlands.
Crafted to evoke the taste and personality typical of early 19th century whiskies, Johnnie Walker Blue Label is created using a selection of rare casks from the Speyside and Highland distilleries. Casks so rare, that only one in every ten thousand has the elusive quality, character and flavour to deliver the remarkable signature taste. The result is an exquisite combination of Scotland's rarest and most exceptional whiskies.
An unrivaled masterpiece, the blend opens up with flavours of vanilla, hazelnut, honey, orange, sherry and rose petals. Velvety on the palette, the rich and luxuriously long finish showcases the brand's trademark smokiness, making it the perfect end to a holiday meal.
Individually stamped with a serial number and packaged in a silk-lined box, Johnnie Walker Blue Label makes a luxurious gift for everyone on your list – or even yourself, after a long year.
Buy now
Kentucky Straight High Rye Single Barrel
Join Blue Run Spirits for 12 Days of Bourbon, just in time for the holidays. The Blue Run team has selected 12 different single barrels of their High Rye Bourbon, which was contract distilled at Castle & Key Distillery. Each barrel, which featured a #4 alligator char and was aged in Frankfort and Bardstown, KY, will have its own unique personality based on where it was in the rickhouse and how the whiskey reacted to the wood. They range from 115-117 proof and the color of the butterflies vary based upon the distinct flavor profile.
Blue Run Spirits was launched last year, in the middle of the pandemic, by an outsider group of friends and Bourbon lovers – including the designer of Nike Air Force Ones, who crafted the exquisite Blue Run bottle above – that seeks to evolve the Bourbon industry, creating fine products to reach the younger, broader and more diverse whiskey drinker. Blue Run came out of nowhere to win Best in Category and double gold medals for two of their whiskies at the prestigious San Francisco World Spirits Competition.
Buy now
Patrón Reposado Tequila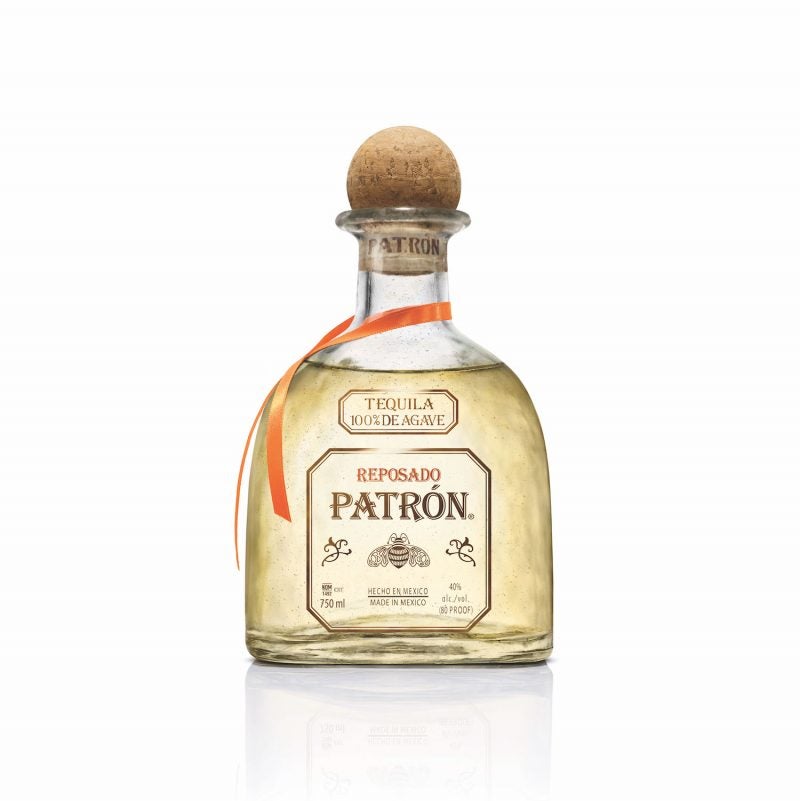 Keep warm with … holiday libations: Patrón Reposado Tequila is a handcrafted, small-batch tequila that's made using the finest blue weber agave and lightly aged for two months in oak barrels. Great on its own, in premium cocktails, and the perfect gift for that special person in your life who appreciates the finer things.
Make it a Cocktail: Patrón Margarita
You Will Need:
1.5 oz Patrón Reposado
0.75 oz Fresh lime juice
0.25 oz Simple syrup, to taste
Lime wheel for garnish
Kosher salt (optional)
How To Make It:
Combine 1.5oz Patrón Reposado, 0.75 oz Lime Juice and 0.25 oz Simple Syrup in a cocktail shaker. Shake with ice.
Strain into a salt-rimmed martini or rocks glass.
Garnish with a lime wheel.
Straightaway Cocktails Maple Old Fashioned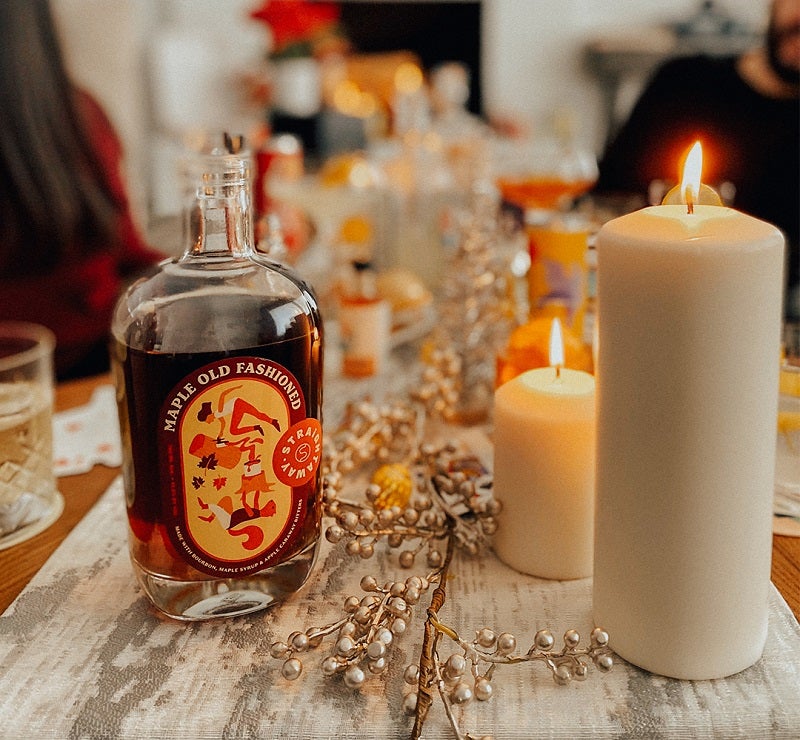 A new season of longer nights, brisk clean air, sweaters, and even your jauntiest of beanies are just a few flips of the calendar away.
Like a cocktailing Nostradamus, Straightaway Cocktails has been anticipating your gifting needs. Here at Straightaway, cocktails are the life of the party and here for the warming of cold toes and brightening up the incoming winter eves. If the Holidays had a taste, they would undoubtedly taste just like the latest Straightaway Cocktails concoction – The Maple Old Fashioned. With notes of maple syrup, savory apple, and caraway bitters in a warm bourbon, all you need to add are the frost covered trees and crackling fireplace.
This Limited Edition flavor will go fast, so get it now, before it sells out.