Are you looking for a delicious and healthy way to enjoy the classic hamburger patty? Look no further! Air-frying is an easy, quick, and healthier alternative to traditional deep frying.
This air fryer hamburger patty with sweet potato will not only taste amazing but it's also good for your health as well. So if you're striving for freedom from unhealthy eating habits, this recipe can help you get there!
The combination of juicy, flavorful beef patties and crispy yet soft sweet potatoes makes the perfect meal. The sweetness of the potatoes complements the savory flavor of the meat patties so that every bite has something special in store. And best part is – it all comes together in just 30 minutes or less! Plus, cooking with an air fryer requires minimal oil which means fewer calories per serving.
So why wait any longer? Let's explore how to make this delicious dish with ease – starting right now! With our step by step instructions, everyone can enjoy a meal that tastes like it came out of a restaurant kitchen without having to put in too much effort or extra time into preparing it.
Explore a wide variety of mouth-watering recipes on Fryer Consumer, a blog that's all about making the most of your air fryer. Whether you're a seasoned pro or a newbie, we've got something that'll tickle your taste buds and keep you coming back for more!
Ingredients Needed For Hamburger Patty
Making a delicious hamburger patty with sweet potato is an easy task when you have the right ingredients on hand. You'll need ground beef, salt and pepper, garlic powder, onion powder, paprika, Worcestershire sauce, egg yolk, breadcrumbs and diced sweet potatoes.
These few simple items come together to create one of your favorite dishes that will leave everyone at the table wanting more! Start by combining all of the seasonings in a bowl before adding them to the ground beef. Next, add in the breadcrumbs and mix everything together well so that it's evenly distributed throughout the mixture. Finally, fold in the diced sweet potatoes until they are fully incorporated.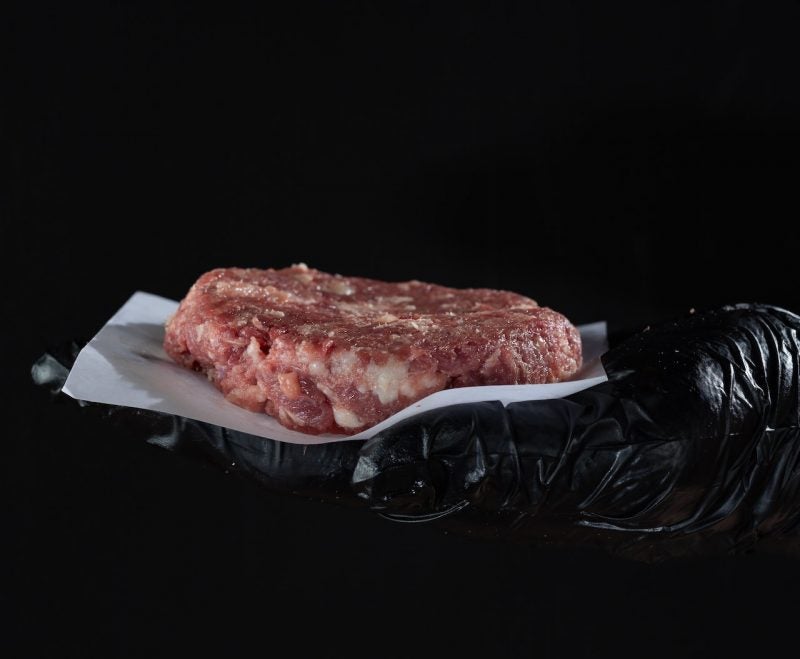 List of ingredients:
1 pound of ground beef

1 teaspoon of salt

1/2 teaspoon of black pepper

1 teaspoon of garlic powder

1 teaspoon of onion powder

1 teaspoon of paprika

1 tablespoon of Worcestershire sauce

1 egg yolk

1/4 cup of breadcrumbs
Ingredients Needed For Sweet Potato Fries
Making air fried hamburger patties is an easy and delicious way to enjoy a healthy meal. But why not add some sweet potato fries on the side? To do that, you'll need a few basic ingredients!
From potatoes to oil, here's what you'll need for sweet potato fries in your air fryer. First, pick up two large sweet potatoes and rinse them off before slicing into thick strips. You'll also want to grab some olive or canola oil for tossing the fries in before cooking. Finally, seasonings like garlic powder, paprika, salt and pepper make these tasty homemade fries even better! With just these simple ingredients, you're ready to have delicious oven-baked sweet potato fries with your air fried burger patty.
List of ingredients:
2-3 medium sized sweet potatoes sliced into fries

3 tablespoon of olive oil

Salt

Pepper

Paprika

Pro tip: Add some cumin too for extra flavor
Instructions For Air Fryer Hamburger Patty with Sweet Potato Fries
Here's how to cook your air fryer hamburger patty:
Preheat the air fryer to 350 degrees Fahrenheit (180 degree Celsius). If your air fryer doesn't have a preheat option, simply wait for about 3 minutes for it to warm up.

Put the hamburger patty in the air fryer basket, making sure it's not too thick, so it cooks evenly. You can put the diced sweet potatoes in a separate part of the basket, or use a different basket if you have one.

Cook the patty for 10-12 minutes, flipping it halfway through cooking time. This ensures even cooking on both sides.

Mix the sweet potatoes around for even cooking twice or 3 times. The sweet potatoes need around a total of 18-20 minutes for the best results

Once the air fryer hamburger patty and sweet potatoes are cooked to your liking, remove from the basket and serve hot.

Enjoy your creation! You can serve your hamburger patty on a bun with your favorite toppings, or eat it as is for a low-carb option.

Tips and tricks:
If you want to cook 2 things at once it is worth thinking about

getting a dual basket air fryer

. You can sync the 2 baskets together and be sure of the perfect result everytime.

For an easier clean up you can use parchment paper or a silicon pot. Remember never preheat the air fryer with the parchment paper because the paper can touch the heating element and burn down your appliance

Use high smoking point oils, like olive or avocado oil
Conclusion
In conclusion, making air fryer hamburger patty with sweet potato fries is a great way to enjoy a delicious and healthy meal. The combination of these two ingredients creates an amazing flavor that everyone can enjoy. With the help of an air fryer, you can make this dish quickly and easily in your own home. Not only will you save time in the kitchen, but you'll also be able to control the quality of food that you're eating. All it takes is a few simple steps and some basic ingredients to create this tasty meal. So why not give it a try today? You won't regret it!
Air frying has become increasingly popular over recent years due to its convenience and health benefits. Rather than using oil or deep-frying methods, air frying uses hot air to circulate around the food which helps reduce fat content while still producing crispiness on the outside and tenderness inside. This makes for healthier meals without sacrificing any flavor or texture. Plus, since air fryers are designed to cook multiple foods at once, they allow people to prepare entire meals in one go – saving both time and energy when cooking dinner after work.
For those looking for an easy yet nutritious meal option, look no further than air fried hamburger patties with sweet potato fries – it's sure to satisfy even the pickiest eaters! With just a handful of ingredients needed and minimal preparation required, anyone can whip up this classic comfort combo in minutes. It offers all the flavors we love while being much lighter on our waistlines – what more could you ask from such an easy weeknight dinner?