Are you hungry — or are you getting 'hangry?'
You know the feeling. It's when you've waited just a little too long to figure out what you're going to eat and where you're going to eat it.
This can happen at any time, but we're all especially prone to hanger now. Going out to restaurants may still feel a bit dicey. Street food options feel scarce.
That leaves only one option left. You're going to have to order in or (worse) make your own food.
Deep breath. It's going to be okay.
For all the jokes about people baking bread during quarantine, there are still many of us whose skills in the kitchen have been limited at best. Fortunately, there are now plenty of services and gadgets that have been designed to help novice home cooks.
These are ideas to make meal prep as simple as possible while still allowing you to enjoy food that's as delicious as possible. Let's dig in:
MealFinds Meal Matcher

MealFinds is the ultimate guide for discovering the best online meal services.  Whether you are looking for keto-friendly prepared meals, fresh dog food delivery for your canine friend, or the finest cuts of beef delivered to your door, MealFinds has your answer. 
On MealFinds you can browse by category to discover something new. Categories include meal kits, prepared meals, weight loss meals, snacks, meat delivery, seafood delivery, pet meals, wine delivery, grocery meal kits, smoothies/shakes, baby/kids meals, and baking kits.

You can also use use Dietary Filters to quickly narrow down your search. These include Keto, Paleo, low-cal, low-carb, soy free, gluten free, dairy free, Whole30, AIP, Low FODMAP, diabetes-friendly, and mediterranean

Read honest reviews to inform your buying decisions, and get exclusive offers and save on your next purchase. Use the Meal Matcher below to find your next meal service!
Get Started
FitFuel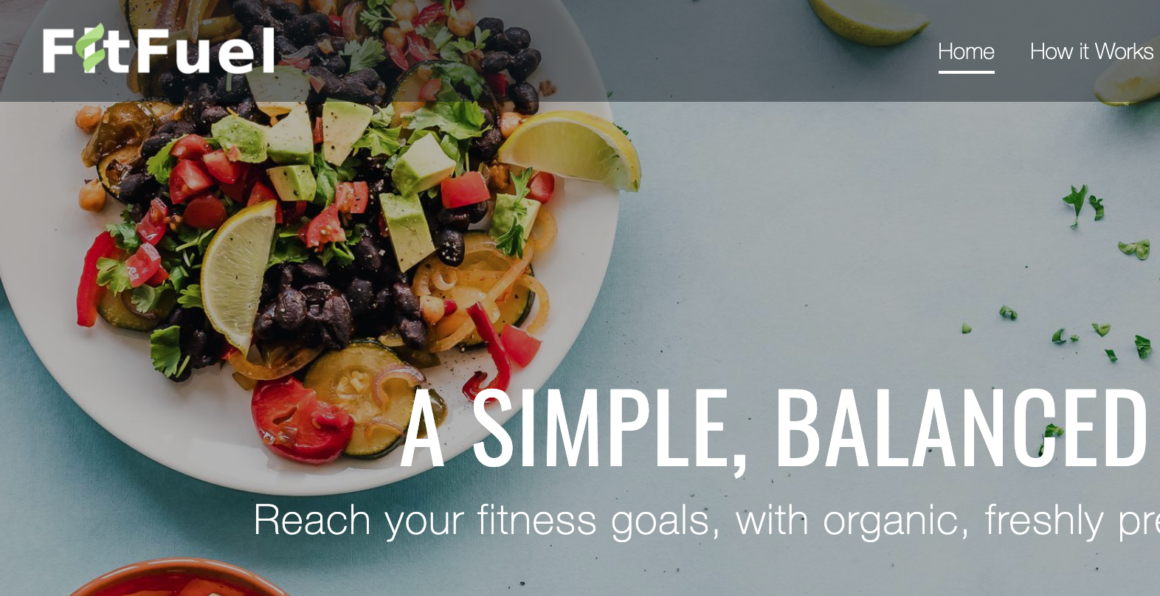 If you haven't tried a meal plan before and your'e trying to shed some extra pounds you gained in quarantine, FitFuel has made the process of eating well and getting lean as easy as possible.
Based on the premise that 80 per cent of weight loss comes down to diet, FitFuel lets you choose from a variety of meal packages that range from five, 10, 15, 20 and 28 ounces, all of which range between 400 and 600 calories. Depending on your fitness goals, you pick from six lunch or dinner options and enter the total number you want to order.
Of course, no one likes to wait around for their next meal, and FitFuel gives you until 10 pm on Thursday to get your meal kits by Sunday between 5:00 and 7:00 p.m., setting you up with food for the week ahead. You'll even get an alert about half an hour before it arrives.
This becomes an almost bespoke experience, because FitFuel pairs you with a specialist to learn your food preferences and helps you develop a plan based on any dietary restrictions, food preferences or delivery instructions.
Those who want to take things a step further could also join F45, which has partnered with FitFuel to create a meal plan specific to its clientele. FitFuel is also available for delivery via UberEats.
Buy now
Philips Soupmaker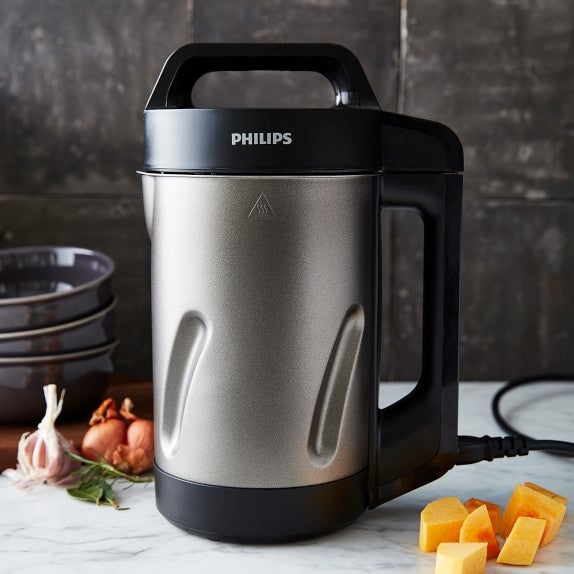 You know you should have more soup. You know it's good for you. You even know you like a lot of different kinds, but you probably don't want to stand in line at a food court right now, and adding water to a can just isn't the same.
The Philips SoupMaker offers an alternative with a device that's both high end and compact. The company has developed a deliberately simple user interface which consists of five pre-defined settings. These settings can be used to make hot and cold smooth soups, chunky soups, compotes, smoothies and for manual blending. Thanks to the efficient 990W heating power, your favorite soups are ready within 20 minutes without the need to stir and monitor during cooking. That means you'll be ready to eat right after a short workout, or while you're finishing up a work call on Zoom.
One of the best things about soup, of course, is that it can feed an entire group of people, or it can be made in enough bulk that you could store some for later. That's why the Philips SoupMaker includes a large 1.2 litre jar that will serves up to four portions of soup. Best of all, if you don't already have a blender the Philips SoupMaker can function as one, saving you a little extra counter or cupboard space. Check out the firm's web site for all kinds of recipes, too.
Buy now
Breville Sear + Press Grill
Peanut butter and jelly sandwiches might have been okay when you were a kid, but your sandwich needs have probably evolved a bit since then.
If you've ever ordered a panini from a nice restaurant it might sound fancy, but it's really just a sandwich that uses Italian bread. Breville's Sear & Press Grill lets you bring that kind of experience home with a device that's compact enough for most kitchens but also attractively designed in brushed stainless steel.
The ceramic coast on the grill is intended to be easy to clean after you're done eating. Breville's approach makes the Sear + Press Grill ideal not only for paninis but a range of sandwiches and even other dishes. The secret is its hinge, which opens 180-degrees. That means it can transform instantly from a press to a full-fledged grill with 240 inches of space. Want to grill some burgers? You can do that while also toasting the buns.
Breville says the Sear + Press Grill can be used outdoors if you want to enjoy your background for a few more months, and can cook everything from steaks to waffles. A removable drip tray will catch juices or any other cooking residue. If you need more ideas, the company includes a downloadable recipe book when you buy the product.
Buy now
Dash Safe Slice Mandoline
Before you can eat your veggies, you have to cut your veggies, which usually means wielding a knife in such a way that you don't accidentally saw off a few fingers. The Dash Safe Slice Mandoline is here to save you from that fate.
Instead of learning some kind of fancy cutting and chopping technique, for instance, the Dash Safe Slice Mandoline gives you a dial where you choose how you want a particular vegetable to turn out. Carrots might taste better, for example, if you have them cut julienne style, while it's easy to prepare French fries for the deep fryer if you can cut your potatoes into matchsticks. There are 30 options available, so whatever your recipe calls for it's likely there.
Once you've made your choice of setting, it's just a matter of sliding the vegetable through the gravity feed shoot, and moving the spring-loaded pump up and down to do the slicing.
The safety features include a suction-cupped bottom that keeps the device in place on your countertop while you're slicing, and internal blades that ensure you're not exposing your skin and bones to the cutting and chopping process.
The Dash Safe Slice Mandoline is also small and easy to fold away into a cupboard or drawer afterwards, and a cleaning brush is included you you can disinfect the blades easily once you're done.

Buy now
The Prepdeck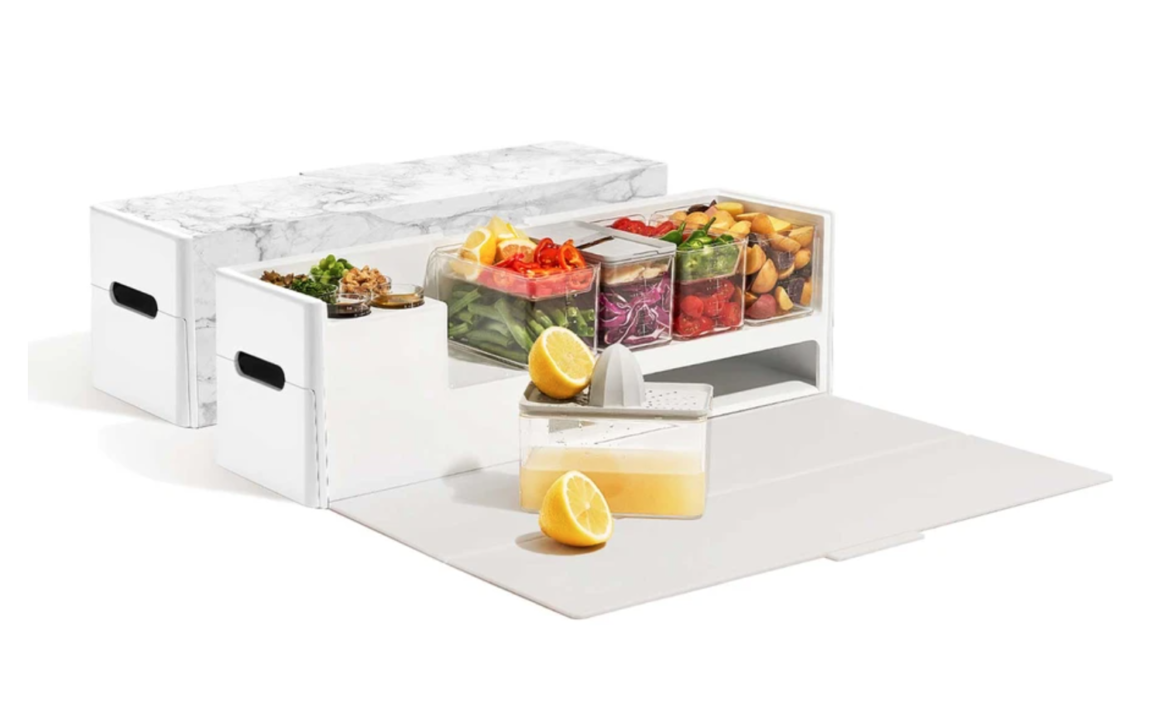 Allow us to teach you a little French: <mise en place> refers to the art of setting up your space to make a meal. You know, the part where most of us screw up royally.
Prepdeck is a sort of organizer that lets you avoid searching for all kinds of ingredients and tools and instead get straight into the fun part of meal prep. It almost looks like a giant Bento box, with 15 different drawers to put the food in alongside eight different tools for things like grating cheese and stripping the leaves off of a stem.
The cutting board is also built into the Prepdeck, so once you're good to go you just take out the items you need, chop or prepare and then transfer into bowls or pots and pans. Of course, unless you're already a highly experienced cook you're probably using someone else's recipe, and the Prepdeck has a special mount where you can either put a book or a tablet without risk of getting it wet or dirty.
The company that makes the Prepdeck says it has 45 different features, but the biggest value probably comes from not leaving your kitchen a mess once your meal is ready. There are also nine different colours to choose from, so it will likely go with your kitchen decor as well.
Buy now
NutriBullet's Magic Bullet Kitchen Express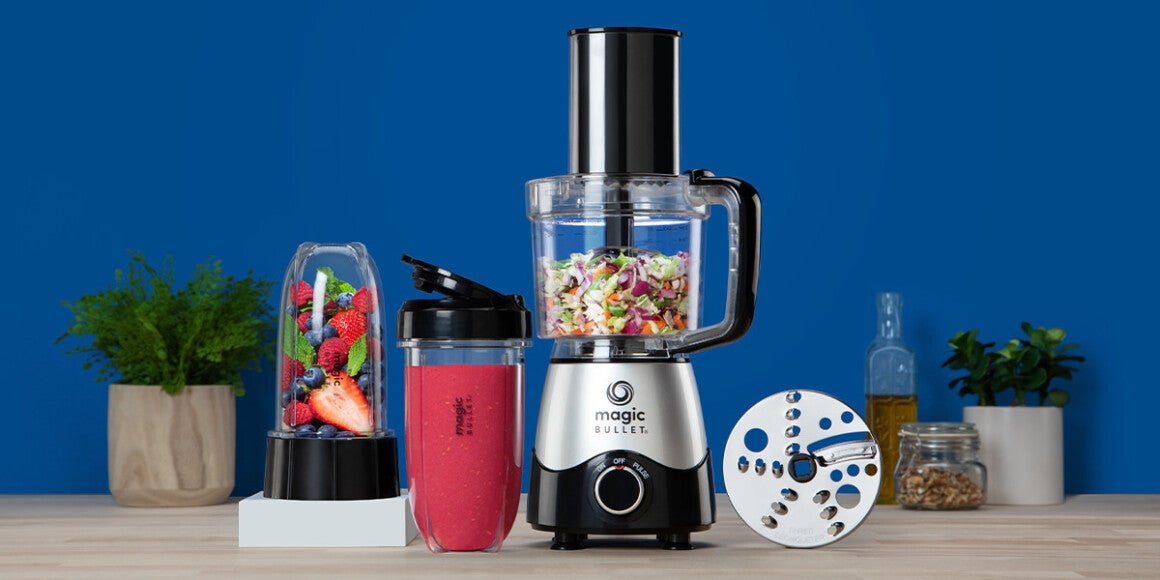 Food processors used to feel like you needed an advanced degree in engineering to figure them out, with a complicated series of attachments and feeding tubes that didn't necessarily deliver the end result you wanted.
The Magic Bullet Kitchen Express is designed to make things a lot simpler by providing an all-in-one mini food processor and blender in single device.
Does it chop? Check. Does it mix? Check. It can also, mince, slice, shred and blend. These adjustments are easy based on a single dial, which means you can develop an endless number of creative recipes – from snacks and salads, to appetizers, entrees, desserts, and more.
The Magic Bullet Kitchen Express includes a 250-watt motor base and two attachments, which easily transforms the product from a mini food processor to a personal blender. It's dishwasher-safe components also make cleanup simple. The Magic Bullet Kitchen Express includes a 3.5 cup work bowl, bowl lid with a feed chute and food pusher, a stacked chopping blade, a reversible slice & shred disc, cross blade, two single serving cups, and a to-go lid.
Recognizing that not every guy has a large kitchen (or would want to leave a food processor sitting out at all times), the Magic Bullet Kitchen Express has a compact design ideal for small spaces. It's not just countertop-friendly and easy to store, it eliminates the need for multiple appliances.
Buy now
BonBowl Induction Cooktop Set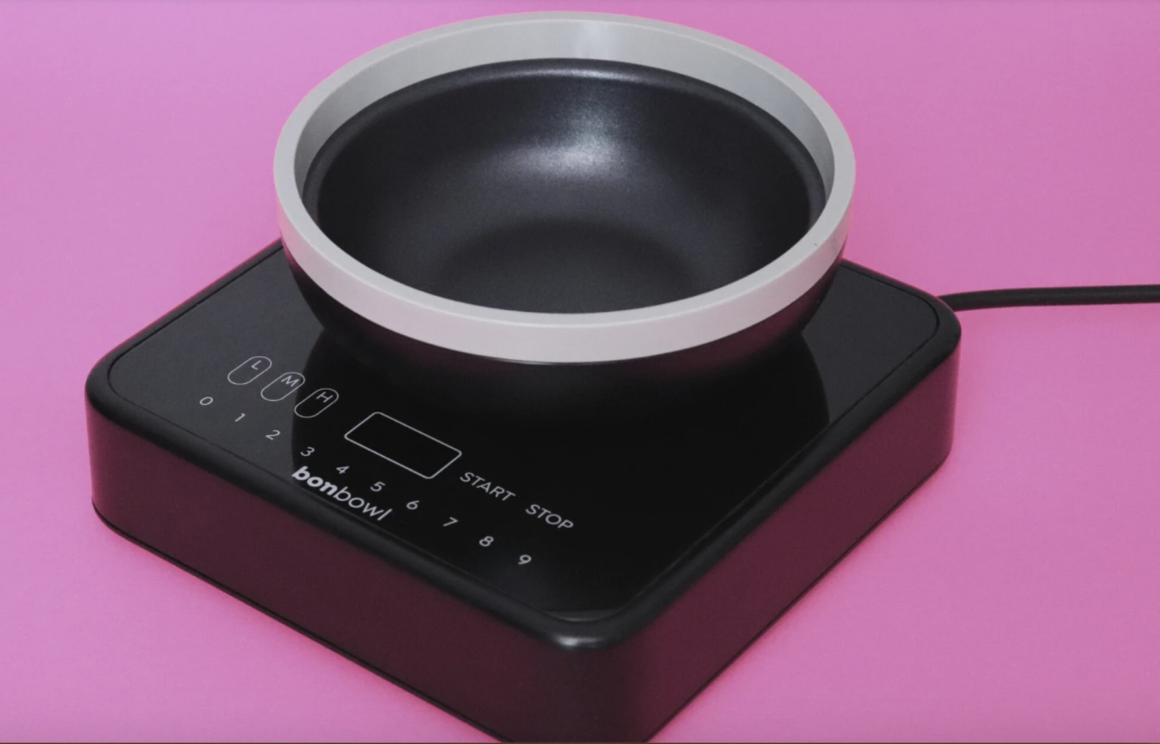 Even if you have a particularly active dating life, there are going to be times you're going to be eating on your own — and maybe even some times when you want it that way. Usually, though, cooking for one feels like too much worse, which means running the risk of too many take-out meals that leave you feeling like garbage.
Instead of going that route, try something like the Bonbowl induction cooktop set, which was specifically created with solo diners in mind. It features double-walled construction in either non-stick or stainless steel and holds 18 ounces. Magnet-powered induction heats the bowl faster than gas or electric stoves and clean-up is minimal given the bowl becomes the foundation for all steps of the process
Beyond the simplicity of making a one-pot meal like soups, stews or chilli, a device like the Bonbowl will keep food warm on the inside but stays cool on the outside. That means you can not only use it to cook, but eat from it directly after you're done. If you don't finish everything, you can also just keep the leftovers in it and store it in the fridge afterwards.
If you do happen to have a guest over, though, the Bonbowl could still come in handy to cook side dishes if your stove top is covered with other pots and pans. There are also some accessories available for straining liquids and steaming.
Buy now