Providing a robust, rustic freshness in every dish, the international-inspired cuisine at Lands 8FIFTY is but one of the many reasons to visit NOMI Resort Club. This bar and restaurant, named for the picturesque 850 acres that surrounds the property, offers a high-end dining experience that rivals the best urban restaurants in the city with the refined hospitality you'd expect from your hometown diner.
Led by the curiosity and creativity of Executive Chef Hugo Saenz, Lands 8FIFTY's incredible menus take even the most discerning palate on a culinary journey. Signature dishes, paired with familiar favorites, are served during sunrise breakfasts and romantic late-night diners. If you have an appetite for indulging in fare that sends you into serenity with every bite, Lands 8FIFTY invites you to settle into a seat at your new favorite restaurant.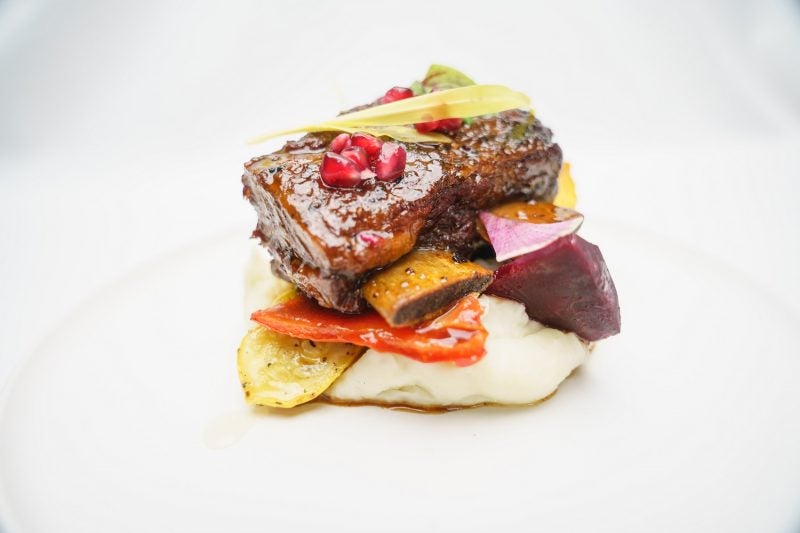 Globally-Inspired Cuisine With a Local Flavor
Though you'll dine at a table set against Haliburton's gorgeous natural scenery, you'll certainly forget you're 250km from Toronto thanks to the internationally-inspired flavors at Lands 8FIFTY. Dozens of inventive global plates set the table for an unforgettable dining experience. The seasonal flavors, sourced from throughout the province and the world alike, allow you to taste the region's bounty while being introduced to dishes from a variety of cultures. Take one look at each menu and you'll discover that Lands 8FIFTY offers a far more elevated dining experience than you'd expect from a resort restaurant.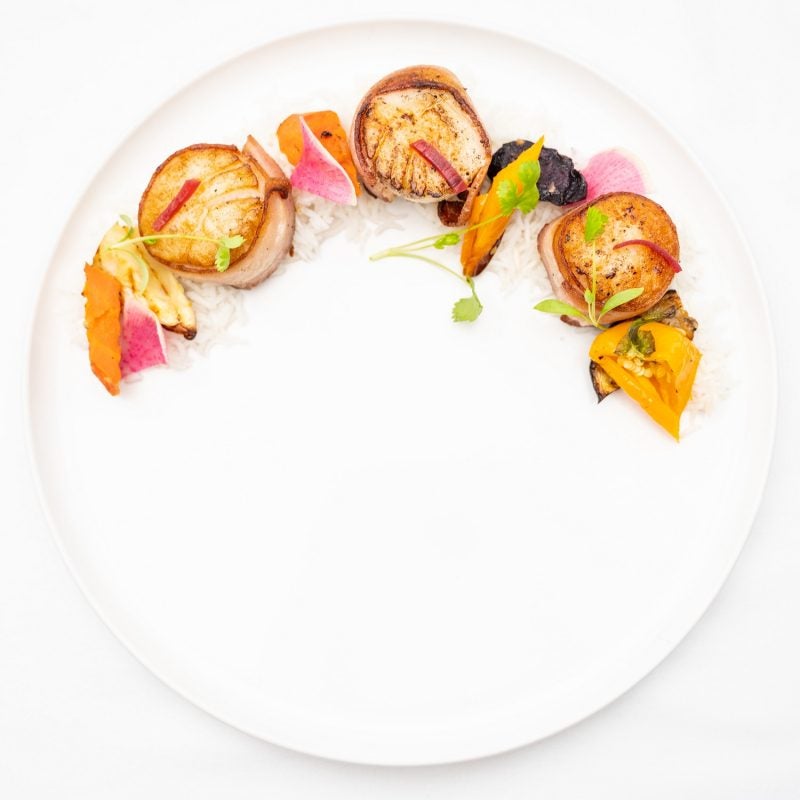 A Menu for All Tastes 
Gourmet cuisine fills this countryside retreat, offering Ontario natives and visitors an opportunity to sample a wealth of fresh ingredients from every corner of the world. Dining service begins every morning with hearty yet healthy breakfast options like Vegetarian Hash Skillets, Banana and Blueberry French Toast, and the seasonal 8FIFTY Juices. These elegant dishes start each day nourished and inspired to discover what more the resort has to offer.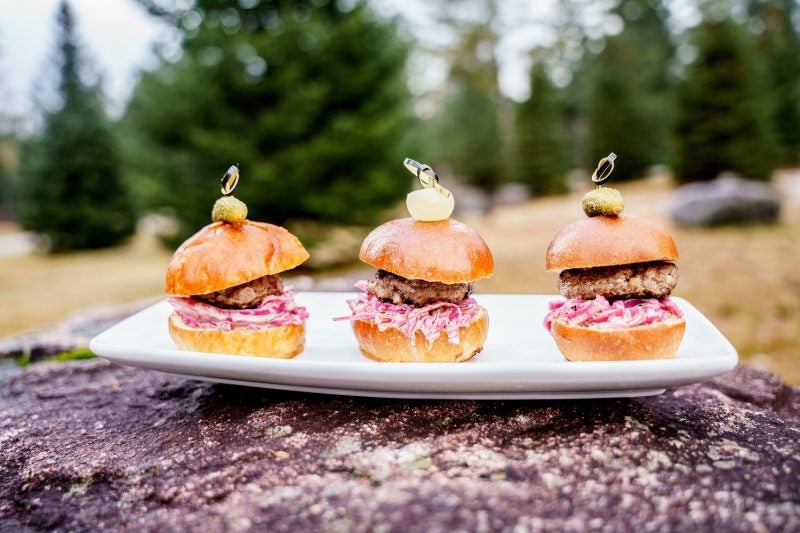 Lunch offers a welcomed pause from a day spent exploring the nearby trails, providing an opportunity to enjoy enticing dishes such as White Truffle Beef Tartar, Sizzling Miami Style Kelvi Beef Short Ribs, and a rich French Onion Soup. When the day gets away from you, you'll still find comfort in knowing that the dinner menu is just as distinctive. Appetizers like Prawn Cocktails and Classic Italian Bruschetta join main courses like Pan Seared Steelhead Trout, Armatic Indian Channa, and Prosciutto Wrapped Chicken Supreme to leave you more than satisfied.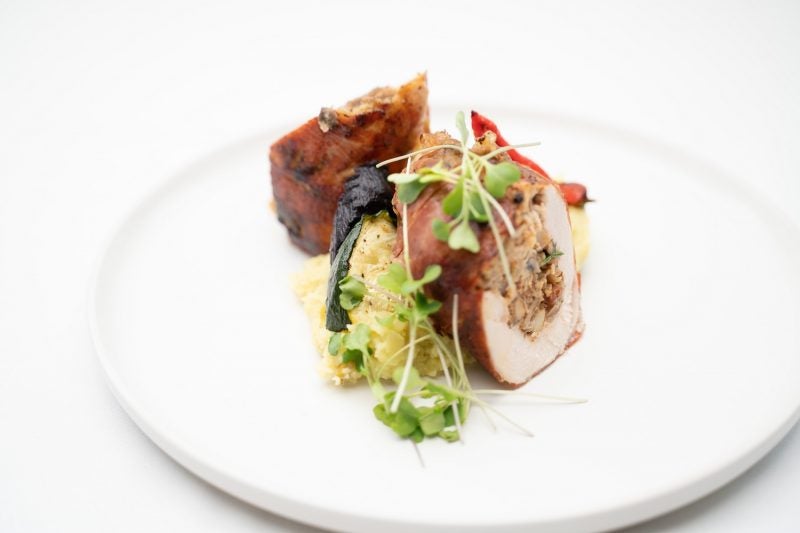 Those who prefer to sample as much as possible should look to the flatbread and tapas menus where Blue Funghi Flatbread and Confit Chicken Lollipops adorn the page. And to complete each meal – or spoil yourself while enjoying this supremely serene setting – allow your eyes to dance around the dessert menu. Flourless Chocolate Mousse Cake, Portuguese Tiramisu, and Crème Brulee will convince you to indulge a little more. End your food-filled journey with an espresso-based drink from the Nespresso menu and you'll be in heaven.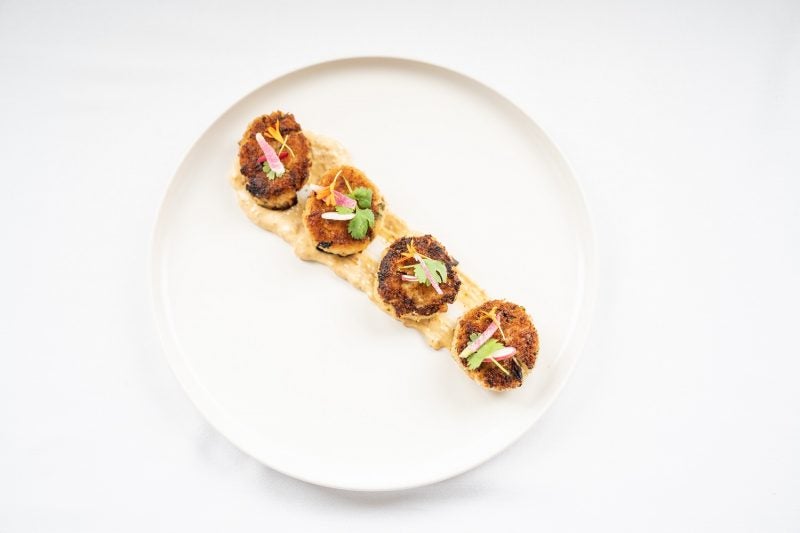 Don't let these diverse, refined menus fool you: Lands 8FIFTY is no adults-only affair. The family-friendly resort was designed with all guests in mind, including children and teens. To provide young diners with familiar food without compromising on the restaurant's high standard of excellence, a special kids and teens menu is available. Crafted to please even the pickiest of eaters, the restaurant offers favorites like Mac & Cheese and Buttered Pasta as well as Wellington County Beef Sliders, Cheese Flatbreads, and Kawartha's French Vanilla Ice-Cream.
Fuel for a Fulfilling Stay
Whether you're one who counts calories or who prefers a balanced lifestyle, you'll have no trouble staying active in between meals at NOMI Resort Club. Simply leave your napkin on the table and walk out of Lands 8FIFTY into an outdoor paradise where endless trails await. Over 31km of paths allow you to let your feet and mind wander safely on the resort grounds. The outdoor enthusiast will be delighted to know that Algonquin Provincial Park is a mere 31km away from NOMI, providing even more space for you to explore. Embrace the natural bliss that houses NOMI then return at any time of the day for a meal at Lands 8FIFTY that will make you feel refreshed, refueled, and ready for as much recreation or relaxation as you desire.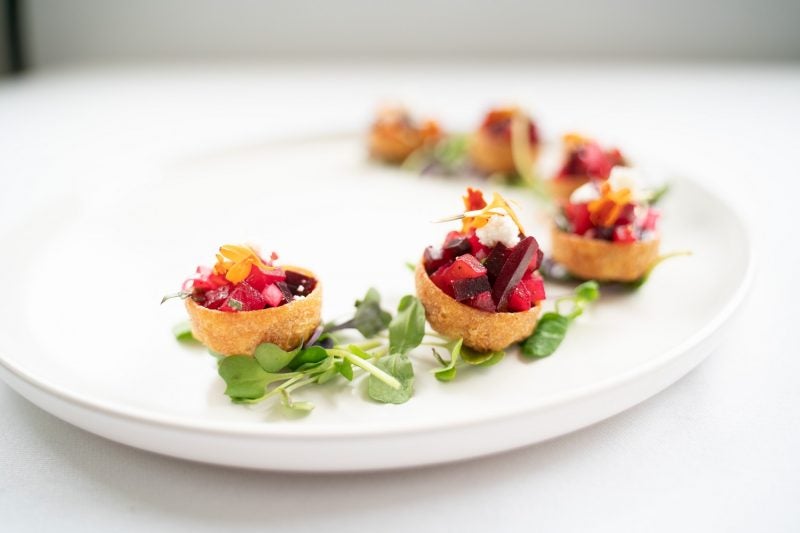 A Reservation Worthy of Your Weekend 
You need not explore NOMI Resort Club's 850 acres of natural splendor to find serenity; simply slide into a chair at Lands 8FIFTY and treat your taste buds to their own rustic getaway. NOMI's year-round resort offers you an opportunity to escape from the stressors of everyday life and discover a sense of calm amongst the South Algonquin forest.
Whether you're seeking a celebratory dinner, treating colleagues to a delicious lunch, or embarking on a much needed food-filled holiday, there's a perfectly prepared plate of culinary excellence waiting for you at Lands 8FIFTY. Reserve your table today and discover every flavor that NOMI Resort Club has to offer.
Nomi – Nature Occupies My Imagination.