It's the holiday season! This time of year comes the age-old question: What do I buy for the loved ones in my life? 
You want to provide the gift recipient with something that not only shows your appreciation for them in your life, but will also be useful for a long time to come. What can fulfill this quota?
Turn to Tech
We do live in a world that runs on technology. From our watches and phones to home appliances, technology runs almost every aspect of our lives! A great way to gift some swagger to someone is to provide them with a useful tech item that will make their lives better. AUKEY knows this. Thus, they have created some amazing items that will wow your recipients for years to come.
The holiday season is the perfect time to gift some swagger to those you care about. You can go the usual route with your gift choices, or you can take it up a notch by choosing something amazing from AUKEY. The USB hub will be perfect for those who wish to upgrade their computer or other personal devices. The Smart Lamp is a great choice for those who like to entertain or make a scene with their decor. By choosing one of these gifts for that special person in your life, you'll be giving a message they will be reminded of every time they use your gift.
Here are two, in particular, that will bring some holiday cheer.
We all have someone who lights up our lives in a special way – they're like a beacon during the darkest night. This Holiday Season light up your special person's life with the AUKEY Smart Table Lamp. As we've all been spending more time at home this year, this chic AUKEY Smart Table Lamp allows users to adjust their ideal lighting whether they are working from home, relaxing or watching their favorite streaming show.
The AUKEY Smart Table Lamp will look extremely stylish brightening up any room. The bright column of light will fit in with a modern atmosphere as well as add plenty of drama for those with a romantic flair. This lamp can be synced with Alexa or Google Assistant via a Wi-Fi network to receive voice commands. This will allow for one to verbally command "Let there be light!" whenever one wishes!
Users can also control the AUKEY Smart Table Lamp using the AUKEY HOME app which allows access to all settings. Brightness along with color temperature can be controlled so you can have a bright reading light or a gentle nightlight at bedtime. The lamp does come with a power adapter and a user manual that will allow the user to learn all the secrets this little piece of magic contains.
Along with providing plenty of light, this lamp can also be set for a variety of colors – 256 colors are at the owner's disposal. Have the lamp rotate through them all or have a favorite color beam bright to add a touch of personality to a room. Reds and greens can be displayed for the holidays or indulge the inner wild child by having the colors change with the beat drop of a favorite song. The possibilities are endless! This Smart Lamp will surely delight and dazzle for many years to come while providing plenty of light for any situation.
By Gifting your special person the AUKEY Smart Table Lamp this Holiday Season, you'll be letting them know that they are appreciated greatly and that you are so happy to have them in your life.
Give the gift of light.
USB C Hub 12-in-1 Type C Adapter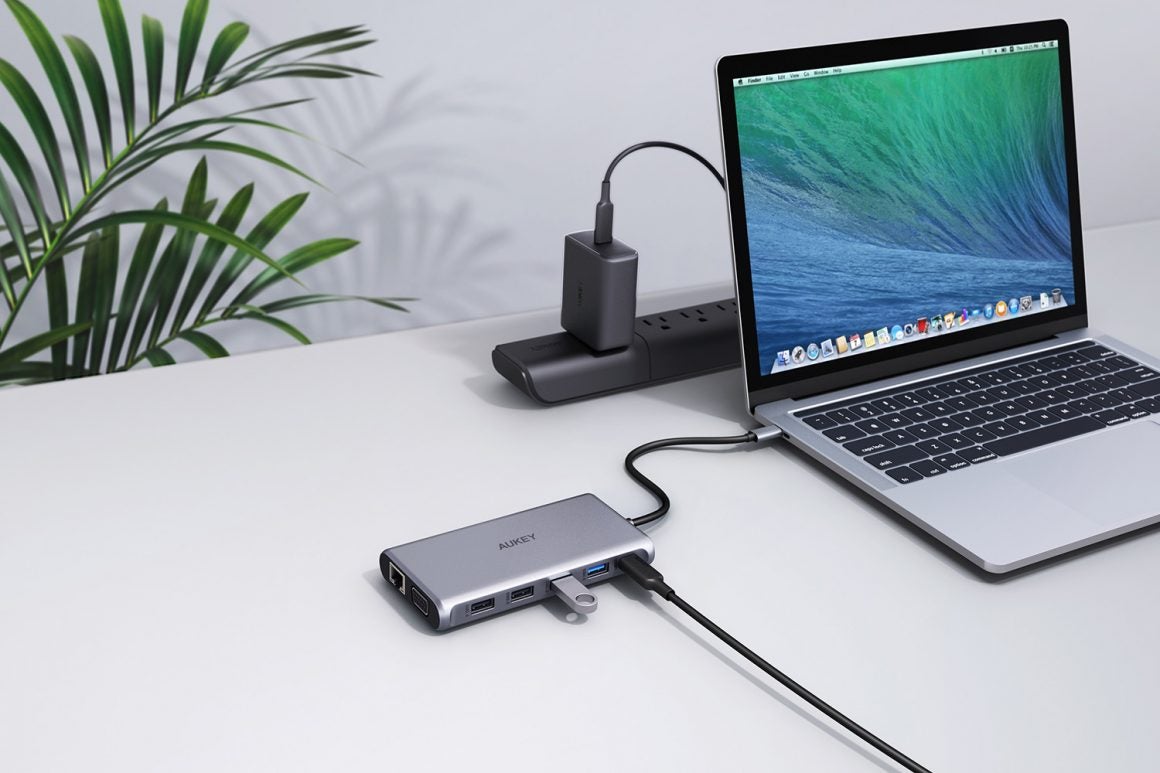 The hub allows the user to connect more elements to their laptop, computer, or tablet so they can reach peak productivity whether working from home or at the office.  This 12-in-1 USB C hub allows a device to evolve into a lean, mean working machine!
This hub includes:
2 HDMI ports that support 4K at 30Hz
1 VGA port that supports 1080p at 60Hz
SD & microSD card slots
1 USB Power Delivery charging port
2 USB 3.1 Gen 1 ports
2 USB 2.0 ports
1 USB-C data port
1 Gigabit Ethernet port
This super-versatile device allows for 100-watt power charging delivery along with 5 Gbps for speedy data transfer. The VGA and HDMI ports allow for extra monitors to be hooked up so you can see and do more with your personal computer or laptop. Mac, Ipad, PC, and laptop configurations can all use this amazing hub! It's unpowered, meaning that you don't need an AC adapter to make it all work. The aluminum alloy in the ionized finish allows for the hub to be extremely durable while shedding heat.
This Plug-and-Play device means that it can be used from the get-go without hours of downloading or installing drivers. This makes a perfect gift for the tech savvy person, the gamers or business folks on your list. To gift this hub is to gift someone with unlimited power and potential!