The world has changed a lot in 2020, and we need more from our smartphones.  They have become everything to us.  We use them for work, play and socializing.  Mobile shopping was already taking over from brick and mortar locations, but recent studies have shown that 80% of Canadians are now shopping online* and 49% of those shoppers are men.  People all over the world are using video apps like Zoom or Houseparty to stay in touch with people outside of their bubble and engage with them like never before.
Even before the world changed, big trends were predicted for mobile devices in 2020.  Here are some of the top trends:
Longer Battery Life
On average, people spend 3 hours and 15 minutes per day on their mobile device, but usage among millennials is even higher at 5.7 hours.**  That means we need devices with a longer battery life and quick charging.  The LG V60 ThinQ 5G 5,000-mAh battery lasts an incredibly long time with a single charge.  When we had the opportunity to test the device, it lasted over 29 hours on a single charge.  Results may vary depending on device usage, but we were impressed.  The AI Power Management auto-adjusts apps and display settings to prolong battery life. It charges to 50% in approximately half an hour.
5G Connectivity
 This is the year that 5G connectivity is going to make a big splash.  All of the major carriers will be rolling out 5G networks in the upcoming months. Bell and Telus launched 5G in June in major centres like Toronto, Vancouver, Edmonton, Calgary and Montreal, with more locations expected by the end of the year. And, you will see more smartphone devices with this capability in 2020 and 2021.
5G stands for fifth-generation cellular wireless.  It brings three new aspects to the table: bigger channels (to speed up data), more responsiveness, and the ability to connect a lot more devices at once.  The LG V60 ThinQ 5G, and recently announced LG VELVET,are among the first 5G mobile devices on the market.
Gaming
5G connectivity also plays an important role in gaming.  According to gamesradar.com, "The promise of 5G applies to more than the evolution of the best gaming routers out there. It means that faster, more reliable connections for home internet, smartphones, and other compatible devices is on the very near horizon – including, potentially, 5G gaming on future consoles or gaming PCs. In fact, the 5G era is already hurtling towards us at top speed, set to deploy broadly across the world in 2020."  Gaming also plays into the need for longer battery life.  Dual screen phones are also convenient, allowing you to see the game display at the top, and use the bottom screen as your controller.
Working on the Go
Our new normal means that most people will be spending less time at a traditional office.  Physically distant and virtual meetings are now the norm.  A dual screen mobile device allows you to participate in meetings and share information. LG's unique dual screen offering features a free-stop hinge, that allows you to flip the screen around or lock it in place at any angle. You can open it like a laptop, use it in stand or tent mode, or do a full 360° flip for a versatile viewing experience letting you work with ease.  The dual screen lets you use the full-screen virtual keyboard to work on the go (or your couch) writing emails, editing presentations, or research in full-screen on the top display.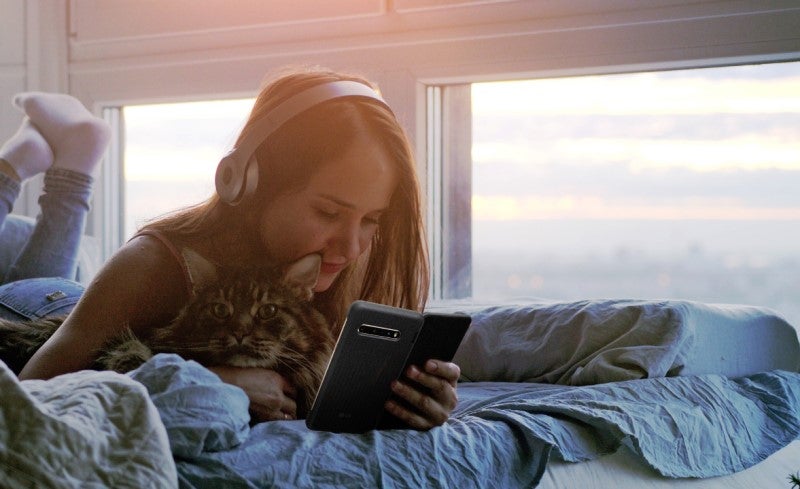 As we move towards 2021, new trends will emerge. Take a look at what your needs are when you decide to invest in a new mobile device.
This article has been sponsored by LG Electronics Canada
*Source – Canada Post E-Commerce at a Glance
** Source – Statista February 2020