World's First Gesture-controlled Neurostimulation Headband 
While reviewing NeoRhythm, the world's first gesture-controlled neurostimulation headband, we at Swagger Magazine were excited and skeptical at the same time.  
Does NeoRhythm really work? What makes it ideal for regular wellness? Is the device fully gesture-controlled? And what is it like wearing it? 
Those were just a few of the questions roaming around our minds. But when we checked out the features of NeoRhythm, we were pleasantly surprised by the answers.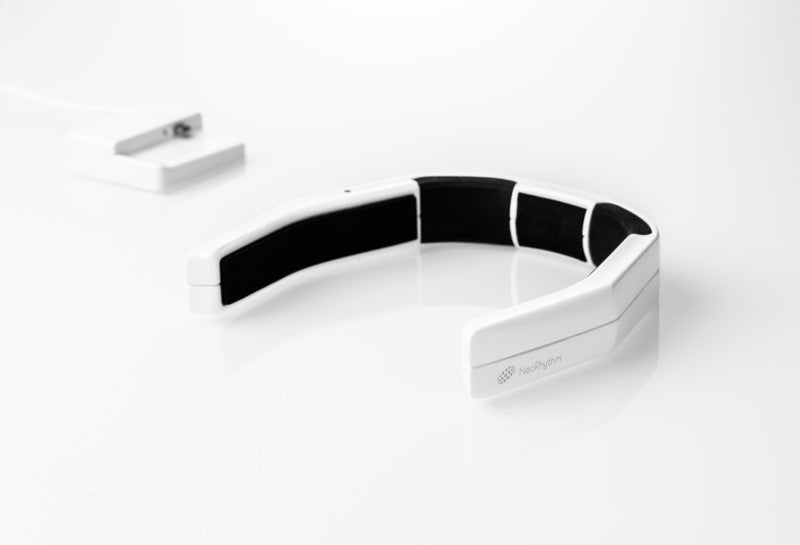 What is NeoRhythm?
NeoRhythm is a neurostimulation device that uses electromagnetic fields for brain stimulation. By using this feature, the device releases brainwaves associated with specific mental responses. This allows it to help with areas including sleep, relaxation, pain, meditation, brain capacity, as well as energy and vitality. 
At Swagger Magazine, we were delighted to see that NeoRhythm comes in the form of a wearable headband, which means you can simply put it over your head to start using it. The headband weighs just 105g and comes with dimensions of 6.3 in x 6.7 in x 1.1 in. This makes it comfortable to wear, even for extended periods of time.
The NeoRhythm headband uses 7 different programs and 5 different placements or positions that target specific areas of your brain. This helps you achieve your desired objective from the use of the device. 
Now that you have a grasp over what NeoRhythm is and what it does, here's a hands-on review of the device and its overall functionalities.
The Unboxing Process Doesn't Disappoint
.
The first time you receive NeoRyhthm, it will come with a box full of swag. Apart from the wearable device itself, the package includes several other components. 
These items include: 
– A charging dock and a micro USB cable for recharging your device with ease. 
– An adjustment kit to help you get the right fit with your wearable.
– A test tube to help you detect the invisible electromagnetic rays in action.
– A user manual to familiarize you with your brand new device. 
– A bag to keep your headband safe even with regular use of programs.
– A hard reset tool to let you reboot the device to its original configuration.
One of the first things that our team at Swagger Magazine noticed about NeoRhythm is its sleek design. While it's shaped like a headband, the use of sturdy materials and modern aesthetic gives it a look that's right out of a futuristic timeline. 
The device has a charging port and a hard reset port located right next to each other on its side, while the LED indicator right beside them helps you detect the function of your NeoRyhthm. 
In addition to the headband itself, all of the items that come with the box are made of high-quality materials and follow a trendy design outlook. This makes the unboxing quite an enjoyable experience that doesn't disappoint in the slightest. 
The First Time Setup is a Breeze
In our experience of reviewing different types of swag over the years, the first time use of new tech devices is quite cumbersome. Thankfully, that's not the case for NeoRhythm, which makes the setup process as easy as its ongoing usage.
When you unbox your NeoRhythm wearable, you need to charge it for 2.5 hours with its provided charging dock and USB cable. 
As the device gets ready for use, you can take the time to locate the NeoRhythm app on the App Store for iOS or the Google Play Store for Android devices. You can then go through the guides provided within the app, and get ready to connect with your NeoRyhthm after that setup is complete.
Once both the device and the app are ready, you can connect NeoRhythm to your phone or tablet via Bluetooth. This provides you with options for your desired objective of using NeoRhythm. Once you select a program from the list, your device is set up to use that specific program whenever it's turned on.
That is where the standout feature of gesture-control comes in. 
Gesture-control Works Like a Charm
According to the observations of our team, if you want to continue using your headband for the same objective, such as sleep or meditation, you can turn it on with the last used program with a simple tap on the device. 
This means that you don't need to connect with your phone or control the headband with Bluetooth each time you have to use it. You just put it over your head in the suggested position for your desired brainwave and use it with a manual tap. 
If you want to change the program in the future, you can turn to your NeoRhythm app to change it. This gives you plenty of flexibility for long term usage.
Using It Properly Does Have Its Advantages
NeoRhythm has proven its efficacy in specific areas through 2 double-blind and placebo-controlled studies. But in order to reap the full benefits of the NeoRhythm swag, it's recommended that you use the device with its programs for at least two weeks. This makes sure that your body is acclimated with the device's electromagnetic waves, and they work as intended. 
Taking safety precautions is also necessary. For instance, you should drink at least 8-10 ounces of water before and after using your NeoRhythm. Similarly, if you are using the sleep program, make sure to cut back on caffeine and exercise before bedtime. 
One thing we noticed is that the headband doesn't respond as well to slight finger taps as it does to a higher-pressure tap with your knuckles. While it might be a safety precaution to not make the device hyper-sensitive to touch, this may take time to get used to for a few users. With that being said, this doesn't affect the overall efficacy of the device. 
All in all, NeoRhythm provides an efficient way for you to put your wellness front and center. Since the device comes with a 2-year warranty, trying it out is definitely the way to go for any tech aficionado. Visit the website https://omnipemf.com and watch the video below for more information on the revolutionary NeoRhythm.