Your wedding day is one of the most significant milestones in your life, and just like anyone else making that walk down the aisle, you want everything to look perfect and everything to go right.
All eyes will be upon you and your partner, and your guests will notice each detail right down to your jewelry and accessories.
Take the wristwatch, for example. For many, it remains one of the most indispensable of all stylish items. On your wedding day, it becomes a symbol of sentimentality and elegance. The late John F. Kennedy Jr. wore his father's watch in honor of the assassinated U.S. president during his wedding to Carolyn Bessette in September 1996. A watch not only epitomizes status and power but can also serve as a reminder of loved ones and meaningful life events.
1. For the Classic Groom
A handsome, luxury watch can bring an added level of refinement to the classic groom and tie his wedding suit together. You only need to consider the high-end brand of Panerai watches when making this important choice for your nuptials. Panerai represents flawless Italian design. The groom will feel pride in wearing such an incredible watch that features Panerai's signature oversized case, its luminescent hands and indices, and a variety of strap options.
You can also choose a striking timepiece from the collection of IWC watches for your big day. The groom will turn heads while wearing this perfectly calibrated watch. The IWC Portofino is a gorgeous timepiece with its traditional round face and Roman numerals that define the ideal accessory for your classic wedding day look.
2. Beach Wedding
If you're saying "I do" against a gorgeous backdrop of crashing waves and soft sand, then a water-resistant timepiece is the ideal choice for you. Offering both style and function, it would look sophisticated with more casual wedding attire. For some, a casual look could include wearing a boldly colored sports watch with a rubber strap such as the Daniel Wellington Iconic Motion timepiece. The watch is made for an active lifestyle and delivers an edgy appeal. In addition, it has a 10 ATM water-resistant watch head, which means that the timepiece is waterproof and suitable for surface swimming and snorkeling.
3. Black-Tie Groom
There is perhaps nothing more fashionable and distinguished than a gentleman dressed in a tuxedo on his wedding day. It is a formal occasion for which every little detail matters right down to the jewelry and accessories. For the groom, a fine example of this would be choosing to wear a shiny Rolex, recognized as an iconic timepiece worldwide. A stunning pre-owned Rolex meets all the characteristics of the perfect timepiece. The brand uses only refined metals designed to make the timepiece last for a lifetime, and the embellishments make each watch elegant and stylish. The watch's overall mechanism embodies extravagance and innovation.
Investing in an authentic watch is a wise decision as it ensures that you are getting a quality timepiece and you're protecting yourself from falling prey to counterfeit products and unscrupulous vendors as well.
4. Sparkle for the Bride
The bride knows that when she appears before her guests on her wedding day, every pair of eyes will be on her hands as well as her dress, face, and hair. Not only will her engagement ring sparkle, but her watch can also add dazzle for the ultimate finishing touch.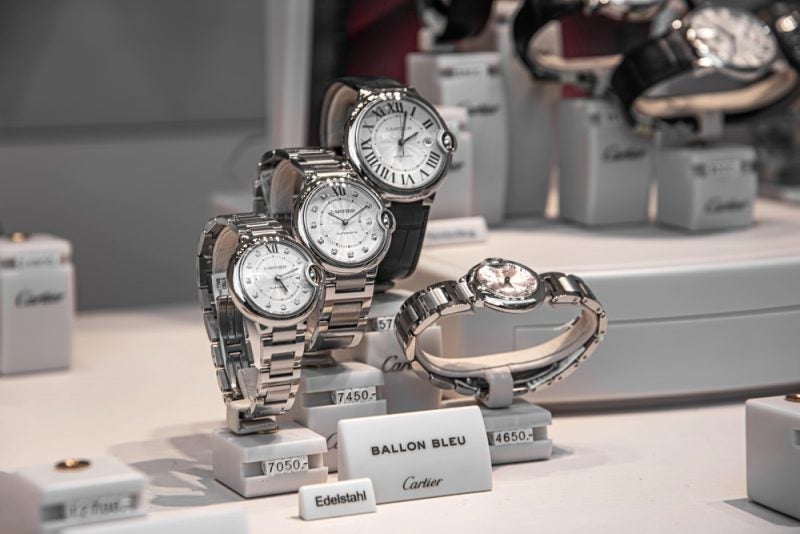 The outstanding luxury timepieces for brides include the Ballon Bleu de Cartier, which would go seamlessly with a clean and glamorous wedding motif. Another spectacular option is the Piaget Treasures High Jewelry watch, boasting 359 brilliant-cut diamonds and 17 marquise-cut diamonds. One more fabulous choice for brides is the women's Patek Philippe Gondolo timepiece featuring 18K white gold and diamonds with a sapphire-crystal case back.
5. His & Hers
The bride and groom could also choose his and hers timepieces to make a statement as they walk down the aisle. You can wear matching watches that symbolize your love and commitment and the gift of timelessness. The beauty of luxury watches is their superb quality in craftsmanship and design and the accuracy and precision that these timepieces continue to deliver.
His and hers watches are a worthy investment and reflect the style and personality of the bride and groom who are wearing them during their nuptials. One of these exceptional timepieces is the Cartier Tank, which is actually designed as a unisex watch and can be bought as a pair to be worn by both partners. The iconic Tank is Cartier's most famous wristwatch, and because of its slim style, it is best worn as a formal watch.
Paul Boutros, the Deputy Chairman and Head of Watches, Americas for Phillips, told the New York Post that if money is no object, then an Audemars Piguet Royal Oak, a Patek Philippe Nautilus or an Aquanaut are all flawless options. All of them can be purchased in larger or smaller case sizes to suit both the bride and groom.
It's About More Than Just Getting to the Church on Time
Keepsake pieces like beautiful, elegant watches for the bride and groom are more than just impeccable fashion accessories that mark the passage of time. These sophisticated and personal art objects truly represent a new chapter in a couple's life and will symbolize the rest of their time together. A watch is something you wear every day, and your wedding watch will always take you back to that moment when you both said, "I do."