The next generation of solar watches, conceived with smart design in mind.
Solar powered watches that are stylish too? Solios is taking over the sustainable watch industry with innovative design and a planet-first mindset. Offering chic watch styles with interchangeable straps, they are made to fit your lifestyle and last a lifetime.
Meet the Solar Curve by Solios. A watch that is not only unique by design but also one of the most sustainable options out there. What makes it so impressive? This timepiece, as well as all others designed by Solios, fully runs on solar powered energy. And we're not talking about huge, obnoxious solar panels either.
Now, Back to The Solar Curve
What makes it so unique you may ask? The only one of its kind, the Solar Curve is the first solar-powered watch with a curved dome glass. Bringing a unique and chic look to the table.
Featuring an infinity sapphire crystal, you can be sure your watch passes the test of wear and tear as it is two times more scratch resistant than non-sapphire crystal watches.
Furthermore, the crown is smaller, flatter and more discrete than their original model, emphasizing the minimalist and chic details of the watch.
Solios has designed a watch that fits your lifestyle. Stylish, powered by renewable energy, and even waterproof.
"The Solar Curve has been one of our best sellers since the pre-order started in April 2022"
Solios In A Nutshell
Where thoughtful design, sustainability & solar come together.
In the fashion industry and watch industry alike, people have become more aware of the damaging and everlasting effects of fast fashion and non-renewable energy. To do their part in combating these negative effects on the planet, Solios has  introduced a way to create and consume an everyday accessory in a renewable way.
Solios, the first existing B-corp  watch brand, took what we know of the traditional watch and made it better. Here's how they're making a difference:
1. Solar Powered
As mentioned, Solios watches feature state-of-the-art "invisible" and powerful solar technology that allows the battery to charge as you go about your day. Not only practical, solar power is the sustainable alternative to single use batteries. Solar powered movements could help reduce the estimated 1 billion watch batteries used in quartz watches every year.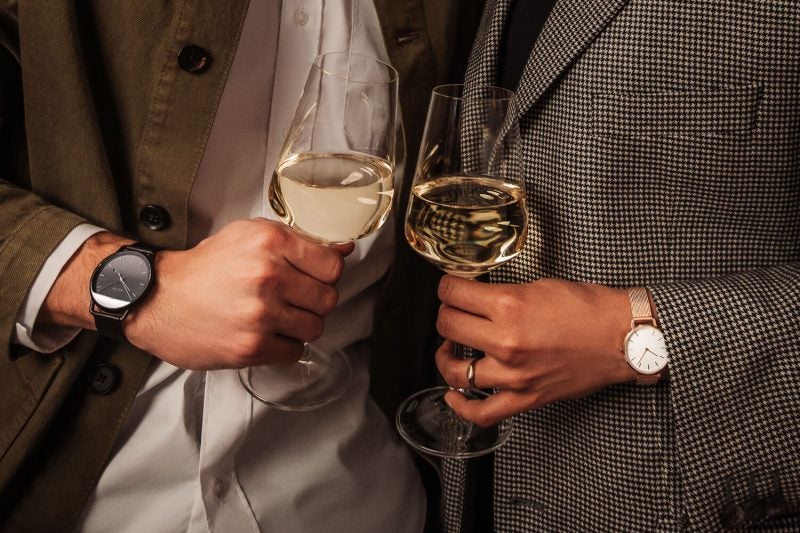 2. Eco Vegan Leather
Pushing the boundaries of what we know in sustainable fashion, Solios offers an innovative eco vegan leather that is friendlier to animals and the environment. 
Made with a silicone-base, this alternative to plastic-made vegan leather is durable, and is made without harmful materials like PU, PVC, and toxic by-products.
3. Certified Recycled Stainless Steel
Solios has designed their watch collection with high quality certified recycled stainless steel.
Not only better for the environment, this recycled stainless steel is made to last. You can go about your day without worrying how your watch will take the wear and tear of your activities.
4. Recycled Packaging
Every watch is delivered in packaging made from FSC certified, 100% recycled and recyclable materials. Sourced locally from Quebec, the packaging is handmade by a supplier powered 100% through renewable energy.
5. 1% Donated to the Rainforest Trust
Since 2020, Solios has been partnered with the Rainforest Trust to help protect endangered rainforest lands, species, and communities. 
The watch brand donates 1% of every watch sold towards the Rainforest Trust, and 10% for every Rainforest edition watch.
In the last two years, Solios has donated over $30,000 USD to Rainforest Trust.
Why Go Solar?
Solar powered batteries run on clean and renewable energy. They are made to last for over 30 years without any maintenance. Which means you can wear the same solar powered watch for a majority of your life without ever needing to dispose of or buy a new battery.
On the other hand, a traditional quartz watch lasts about two years. Once they have run their  lifespan, the batteries end up in a landfill or at the bottom of someone's drawer. Many people take the end of a watch battery life as a sign to buy a new watch, leaving their old one and the battery to landfills.
You see, solar power is a renewable, clean, eco-friendly, and much more efficient alternative. Now that's what we call responsible style.