Longines
, the Swiss watchmaking company with a rich history in sports timekeeping, has been associated with timing some of the most high profile sporting events in the world including the FIS Alpine Ski World Cup and the FIS World Championships, and the International Federation for Equestrian Sports (FEI). 
In 1878, Longines' 20H calibre was the first mechanism manufactured by the brand that was used for precision timing. Fitted in a case engraved with a jockey and his mount, stopwatches powered by this calibre were spotted on American horse racing tracks as early as the 1880's. 
This inspired the production of the world's first wrist chronograph in 1913. Longines had a pioneering role, creating the Calibre 13.33Z, establishing themselves as the revolutionary manufacturer that transitioned this rapidly evolving technology from pocket watches to wristwatches. This innovation introduced flexibility to the way users tracked time and extended its potential applications across various industries.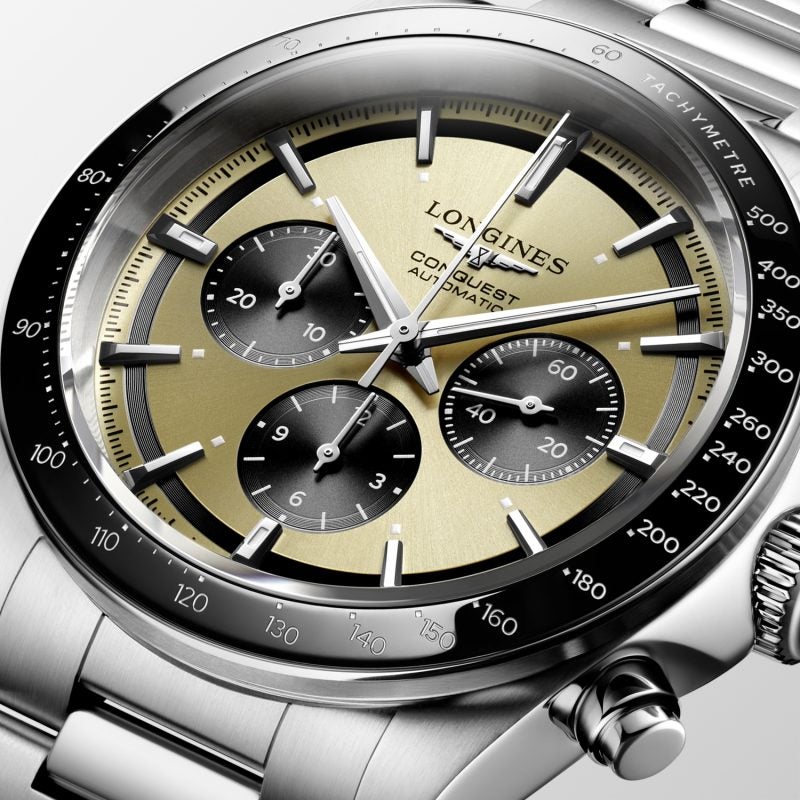 Longines not only developed timepieces that accurately indicated a tenth, hundredth and millionth of a second, but they also created key, innovative equipment that was tailored to the specific timekeeping needs of various sports.

In 1945, Longines used a photoelectric-cell-based light beam barrier device for a ski race in Montana. This device replaced the broken-wire system of the past with the interception of a light beam activating or stopping the pushers of a chronograph.

A few years later, in 1949, Longines introduced their Chronocaméra, a quartz, automatic timekeeping instrument the instantly reacted to a signal and photographed times in 4 seconds. It also recorded order, number of starts and finishes.

In 1953, the technology from the Longines' Chronocaméra was combined with a 16mm camera to provide judges with a series of detailed photographs at the finish line, taken every hundredth of a second, to provide evidence of who had crossed first.

In 1954, Longines launched the first Conquest timepiece. Conquest pays homage to the sporting spirit of those who dare to push further. This year, Longines introduced automatic chronograph models to the collection. Available in 42 mm, the design is inspired by the iconic 1954 timepiece. 
The new Conquest chronograph features a round stainless steel and ceramic case, available with dial colours in sunray brown, black circular, silver matte and sunray blue. The 3, 6 and 9 o'clock counters harmonize with a steel tachograph bezel topped with a ceramic insert. The Conquest features a clear case back, revealing the technical features and movements within, including the meticulous chronograph function. 
Shop the Longines Conquest Chronograph (starting at $4,500 CAD) online at Longines.ca.