When it comes to having swagger, look no further than some of the world's top celebrities and athletes who have branded themselves in the lap of luxury, and for good reason: who wouldn't want to be able to afford and wear nice things?!
That's where a new watch company called ERA Timepieces comes in. Their mission statement says it all, "To make haute horology timepieces attainable to all from the start. We're literally bringing the prices of many complications like the Tourbillon down hundreds of thousands of dollars."
With that statement in mind, ERA has launched several watch products which you can read about here or check out for yourself at: https://eratimepieces.com/a/offers/p/54494/Choose-Your-Dream-Timepiece
ERA Prometheus – The timepiece that started an horological revolution — raising $1.5 Million USD with thousands of happy customers worldwide, our ERA Prometheus is a certified millionaire Tourbillon timepiece that performs on par with any entry-level Tourbillon in the world, and yet is attainable to just about everyone
ERA Prometheus Automatic Edition – How do you improve upon a legendary timepiece?  We start from scratch and remake the movement into our ERA-004 Calibre movement that is entirely Platinum-Plated on the inside, add our perfectly balanced signature ERA Tourbillon cage, and turn the entire look into a monochromatic color scheme.  We added an engraved rotor on the back so the timepiece is completely automatic now and can charge itself with the kinetic energy from your wrist. Externally, we added some truly premium options with a brand new brushed bezel that is expertly treated with the highest tier of Physical Vapor Deposition: Diamond-Like Carbon layering, or DLC for short.  We also offer a Platinum Plated Case as well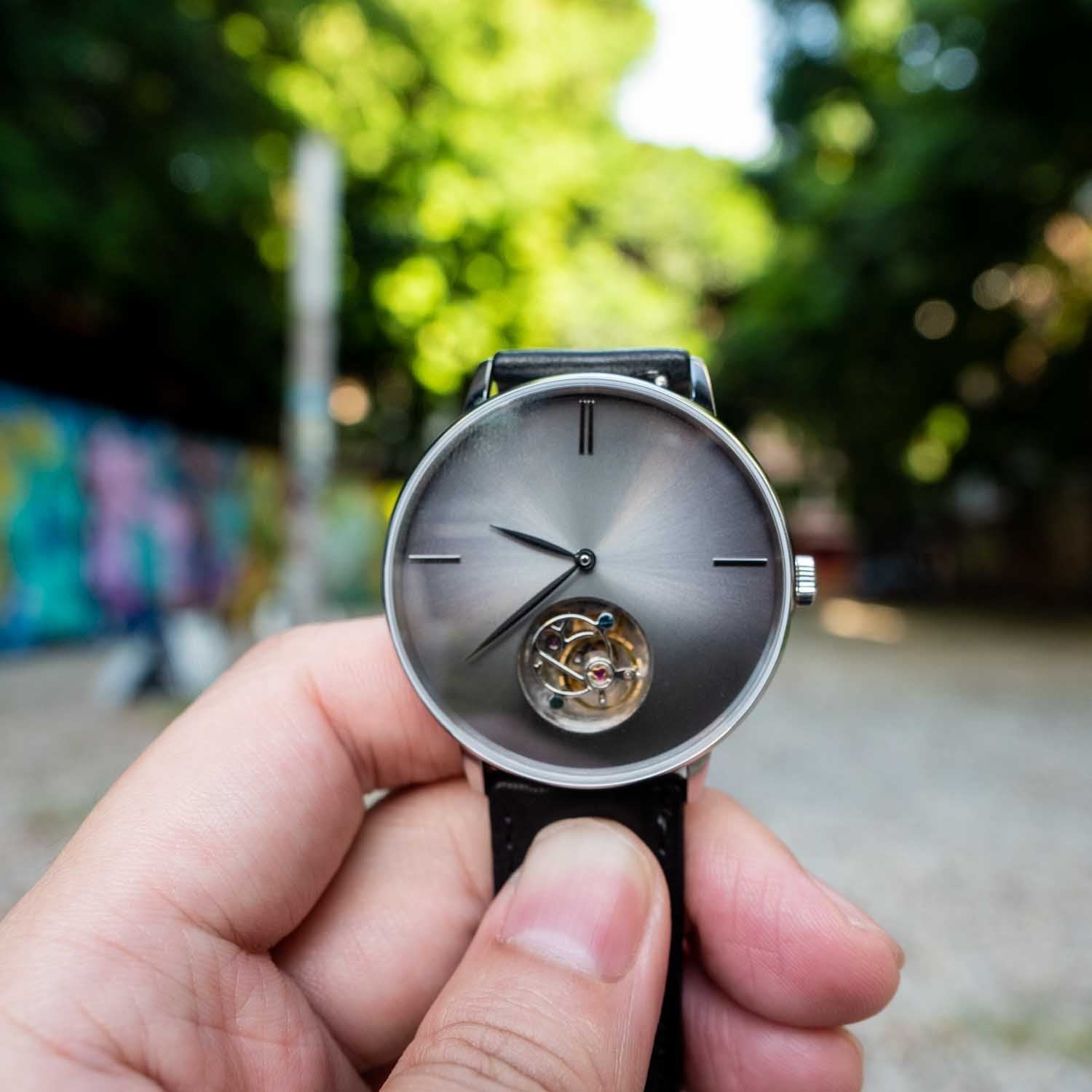 ERA Poseidon – Off the heels of our game-changing ERA Promtheus Certified Millionaire Tourbillon timepiece, we set out to make our spin of the world's most popular type of watch — the diver. The ERA Poseidon contains the ultra-rare wandering hour complication and is water resistant up to 1000 Meters, with a Domed Sapphire Crystal, Helium Relief valve, and everything you would expect from a true "deep diving" watch.
ERA Hyperion – What if you wanted more? Wanted something impossible: like the rarity of a wandering hour AND…the luxury of a tourbillon. No watch has EVER had the BEST of both these worlds. So facing impossibility, we turned to the one place with infinite possibility — the Cosmos. And here among the stars, we found inspiration to create the world's first: wandering hour tourbillon — The ERA Hyperion.
ERA Solaris – Completely re-designed from scratch in collaboration with our master watchmakers, our ERA-003 Calibre Tourbillon movement comes with all the hallmarks you would expect from a legendary mechanical masterpiece.  As fully automatic movement, the back rotor has been fully decorated with Côtes de Genève, better known as Geneva Waves — a stamp and symbol of the extreme level of expertise that has gone into forging the movement. On the front, a completely customized ERA Tourbillon cage has been carefully constructed from scratch to be completely symmetrical in weight, as even a fraction of a gram of unbalanced weight would lead to a non-functioning Tourbillon timepiece. Expertly designed with a minimal solar flare theme that is perfect for both men and women alike, the Solaris is a perfect 40mm in size to fit any wrist perfectly.
ERA Notus – For Some, perfect simplicity is the Ultimate Luxury. But Tourbillons of that style, have ALSO been VERY expensive. So, we went back to our master watchmakers; only this time, we channelled our passions into Pure Simplicity. The result: the world's first accessible – and Elegantly Simple Tourbillon. Made EXACTLY like other tourbillon watches, your Notus comes with a custom made, platinum-plated cage, bearing the ERA insignia. Such detailing on the watch's heart is a true mechanical marvel.Like operating on our human heart, the tiniest of flaws would prove fatal; so this resulting design had to be a perfect balance of weight, size, and shape. Over on the caseback, a luxurious Côtes de Genève finish glazes the in-house movement: the ERA-006 caliber. Like the V12 engine of a supercar, the ERA-006 shows the value and complexity of your superwatch.
Swagger Magazine spoke exclusively to Michael Galarza, the CEO behind ERA Timepieces, about why a watch is so important to one's "swagger", and he commented, "They're the only piece of male accessories that you can get away with wearing for any occasion and situation. Whether it's for business or pleasure, and irregardless of environment."
With most luxury watches costing tens and hundreds of thousands of dollars, Michael and ERA have now made it affordable to buy a luxury watch at a reasonable price which will give you the same long-term value. Just look at Tony Hawk, Ryan Burnett, Vince Carter, Donovan W. Carter, Justin Simmons, Tommy Chong and other celebrities and athletes who support and wear this new brand!
You can see more on ERA's Instagram page at: @eratourbillons