Founded by three college friends in 2014 following a four-year international journey to establish their process, Vincero Collective was born with the single goal of outfitting the world's most ambitious people with premium watches. Today their vision and brand have evolved to also include eyewear, jewelry, and leather goods. And with more collections coming in to fill out their freshly-opened, first in-person stores, located in Los Angeles and New York City, this is just the beginning for Vincero.
While Vincero has a wide range of accessories to choose from, watches are their staple and speciality. Vincero offers a diverse selection of watches that are as versatile as they are stylish. Their countless looks and colorways make it easy to find the perfect accent to your outfit, whether you're an associate or a CEO. From the moment you first pick up a Vincero the quality materials, bold colors, and eye-catching designs immediately stand out. It doesn't matter if you're getting ready for a day in the office or a night on the town, Vincero is here to help elevate your style so you can roll with SWAGGER.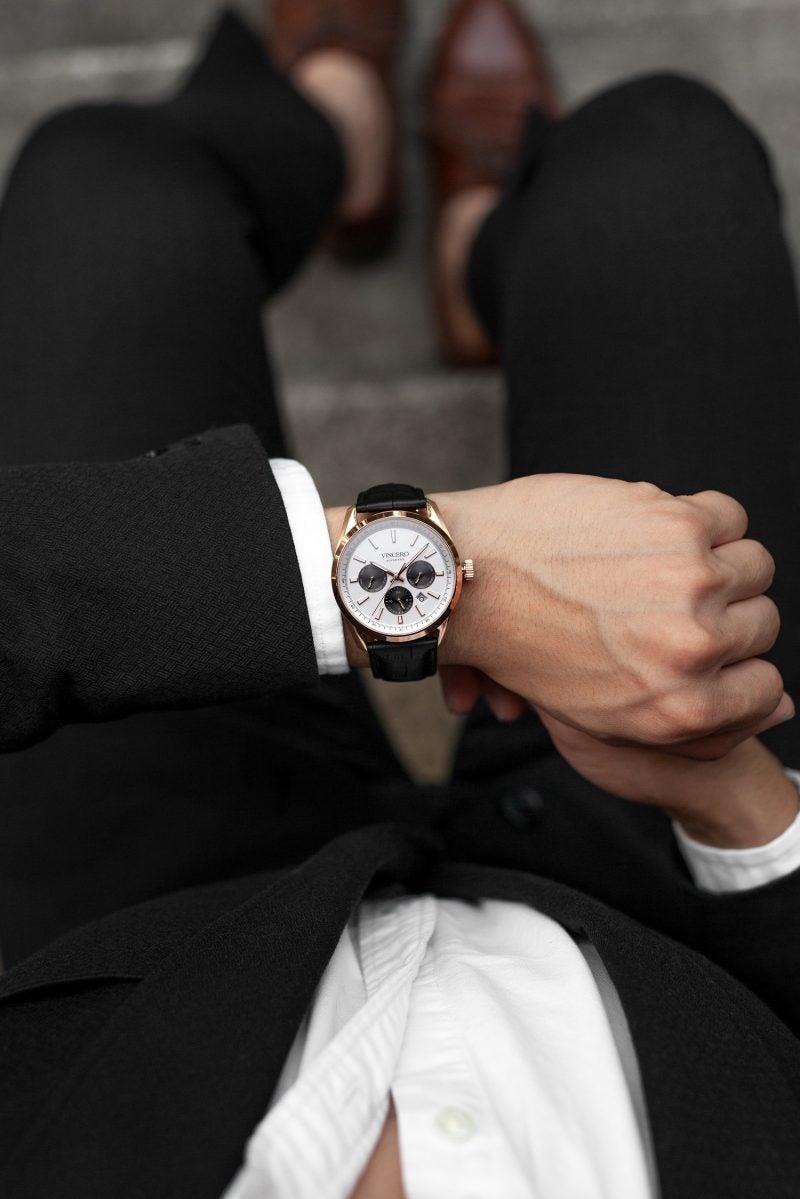 Vincero Collective, Top Collections: The Chrono S, The Rogue, and The Reserve Automatic
The Chrono S
The Chrono S is the watch that started it all for Vincero. Their best selling and longest standing timepiece, it's easy to see why Vincero's Chrono S gets all the love it does – the watchface is sleek and simple, with a classic look, and over fourteen color options provide a modern edge ready to be paired with casualwear, your favorite suit, or anything in between. A Citizen-Miyota Quartz movement, housed in surgical grade stainless steel, powers the piece, promising you never lose a second. Our favorite model showcases a deep olive face, rose gold detailing, and raised hour markers tucked underneath scratch resistant, sapphire coated crystal. Turn the watch over and you'll find a 1 of 1 Italian marble inlay embedded in the caseback, giving your Chono S its own personal feel. Vincero's calling card, The Chrono S, is well on its way to becoming a modern classic.
The Rogue
Vincero's Rogue is their attempt at bridging the always present but rarely joined gap between fashion and functionality. With the Rogue, they just might have pulled it off to perfection. Guaranteeing water-resistance up to 100-ft, and sporting a nearly indestructible silicon strap and scratch resistant glass, the Rogue is ready to go wherever you can take it. Don't let the rugged vibe fool you though; this is a gentleman's watch, powered by an intricate Seiko Mecha-Quartz movement that keeps the hands of this watch moving along with you. And like the Chrono S, turn The Rogue over and you'll find a unique marble caseback.
The Rogue family, and nearly all Vincero collections, exhibits some vibrant color choices, most noticeably bright blues and sharp silvers. But the gunmetal/red edition is what caught our eye. This watch can handle the dirty work, but more importantly, it'll keep you looking clean.

The Reserve Automatic
If you're a watch enthusiast, this is the one for you – Vincero's Reserve Automatic. The Reserve stands out from the rest of Vincero's stock in that it is their most refined and intricately designed piece to date. This watch first became available to consumers in Fall of 2021 and has been the crowned jewel of the Vincero fleet ever since.  As you might've guessed from the name, this watch is powered not by a quartz movement but by an advanced Citizen Miyota 9100 Premium Automatic movement. This is a nod to the time-honored tradition of automatic watchmaking. Just as a car lover would want a manual transmission in their prized sports car, a true watch collector will prize this detailed automatic movement. Maybe specs and fine tuning isn't your thing? The Reserve's stunning layout is sure to turn heads. Featuring Swiss Lume hands, three subdials, and dazzling brushed and polished metals, you're sure to love The Reserve as much as we do.
Why Buy Vincero?
Since day one Vincero has been committed to their craft – providing watches and accessories with remarkable style and undeniable quality. Vincero understands that style is confidence, and confidence is performance, so they've created a collection of products to level up any style and get you playing at the top of your game. They'll be the first to tell you that their brand is for the go-getters and self-starters. When you unbox a Vincero you're not just making a wardrobe decision. You're making a mindset decision. A decision to join a community of consumers who like to work hard, play hard, and look good doing it.
It doesn't matter who you are as much as it matters who you want to be. Vincero's goods are made for the modern man with an old-school work ethic. Their array of colors, assortment of materials, and catalog of collections assure the casual, classic, street, and adventurous styled men all find a watch or accessory that's right for them.
The real secret to Vincero's success lies in their process. From the inception of their brand, vertical integration has been a hallmark of all they do. From material sourcing and product design all the way through packaging, shipping, and customer service, Vincero handles every step of the process. This means that you get products that have undergone rigorous quality control testing, a shopping experience that's incredibly personal and comfortable, and unrivalled value. They've received tens of thousands of five star reviews, and they offer a 5 year warranty, which goes a long way in establishing trust with first-time buyers. And with their limited-time Black Friday Sale, up to 30% off sitewide, there's no better time to check out Vincero Collective.