Because he's been nice (and the right amount of naughty) all year long
What do you get the man in your life that has everything? The things he never knew he needed. We've poured over the best gift guides and found the most unique, useful, and downright awesome gifts for men that we know he'll love.
Watch Gang -The Worlds #1 Watch Club
Watch Gang is The Worlds #1 Watch Club. They send members new, premium timepieces for up to 70% off retail. Plus they give a Rolex away every Friday! Get 50% off for a limited time.
MONSTER MAMMAL™
The future of sports nutrition has arrived. Macro Nutrition presents MONSTER MAMMAL™ Krill Protein Concentrate Infused Hydrolyzed Whey Protein Isolate. Our Krill Protein Concentrate is the result of refining ultra-premium, wild caught and sustainably sourced Antarctic red krill from its oil and shells, leaving behind an immaculate protein-dense powder. Krill Protein Concentrate is ultrarich in distinct Bioactive Peptides, BCAA's/EAA's, Omega-3 phospholipids and Astaxanthin (a powerful antioxidant). Each serving of MONSTER MAMMAL™ provides up to 4 grams of bioactive krill peptides (the same responsible for the Blue Whale's immense, uncontested power and size) and up to 1.8 grams of Omega-3 phospholipids packed with DHA & EPA.
Coupon code Macro20 for 20% off. Supply is limited.
Buy now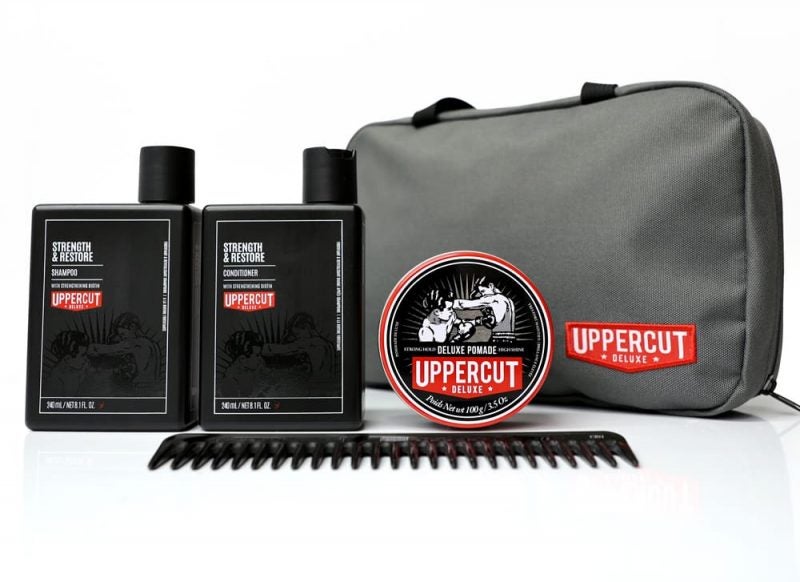 The Uppercut Deluxe Grooming Kit contains everything that you need to keep your look on point. This kit has the basics that should be in every guy's wash bag – a tin of Deluxe Pomade, Strength & Restore Shampoo and Conditioner, a trusty CB11 Rake Comb, and of course, the Wash Bag! Deluxe Pomade was the first pomade in the Uppercut Deluxe range and has since earnt itself a cult following from barbers all across the world. This Pomade works exceptionally well in a variety of hair lengths and types, from thick to then, curly or straight, this is the perfect product for controlling unruly or stubborn hair. The Strength and Restore Shampoo & Conditioner pairing contain strengthening Biotin and Stimulating Caffeine, designed to clean, strengthen and restore thin or lackluster hair. To top it off, the Grooming Kit comes with a tried and tested CB11 wide tooth comb and fold out wash bag to keep your toiletries together when you are on the go.
Signature Garment Duffel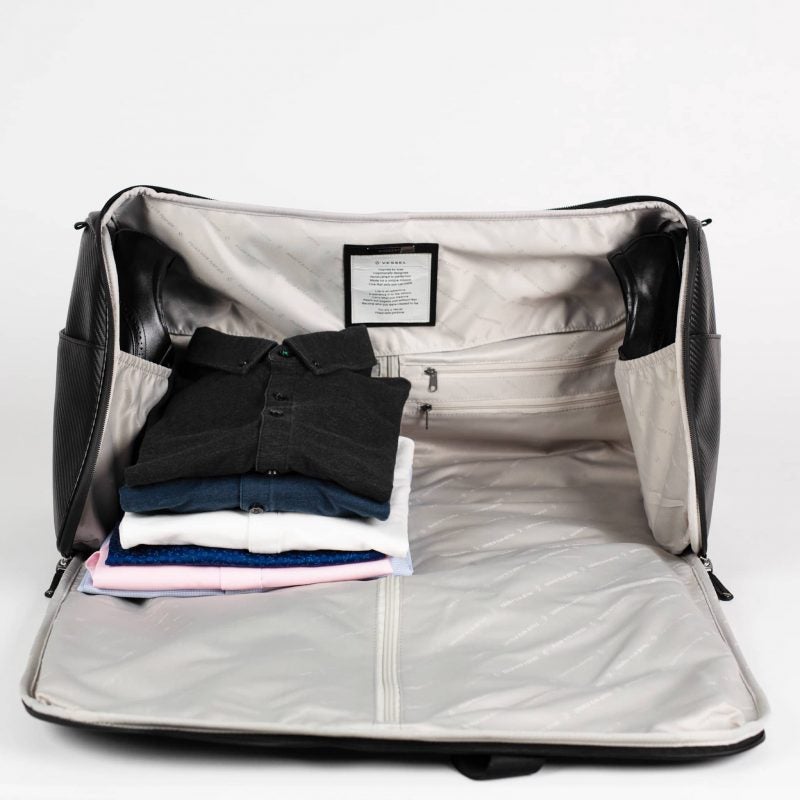 For the sleek, functionality-minded gentleman traveler, the Vessel Signature Garment Duffel is the ultimate carry-on bag. The Signature Garment Duffel combines the portability of a duffel bag with the functionality of a garment bag. Constructed of premium synthetic leather, the Signature Duffel is weather and element resistant, making it a transitional luggage piece, ideal for trips to the city or rugged outdoor excursions. The Signature Garment Duffel opens via a single-zipper that allows the bag to be opened up flat, like a traditional garment bag, able to hold up to 3 garments. When zipped up, this travel bag provides traditional duffel storage with a large main opening for easy packing and unpacking. Functional features, such as a trolley sleeve and detachable shoulder strap, paired with elegant and durable body materials make this the dream duffel for professionals and world travelers.
OARS + ALPS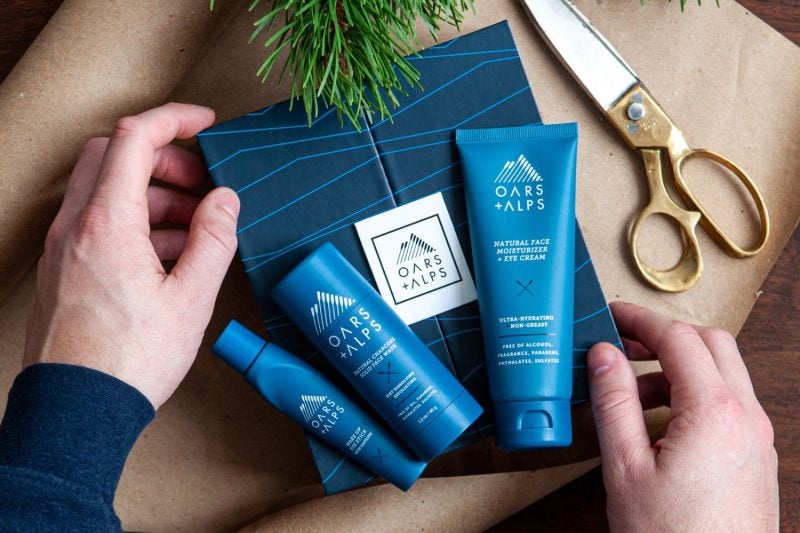 Like a great wardrobe, a skincare routine needs a few high-quality, core staples. For Oars + Alps, that means creating simple, clean, and powerful products that produce real results. We've taken the guesswork out and assembled a 3-step face routine that makes a great foundation for taking care of any type of skin.
Meet the Face Essentials Kit. It comes with our Solid Face Wash which gently exfoliates and draws out deep-down dirt with Activated Charcoal. Next, our lightweight and fast-absorbing Face + Eye Cream seals in your skin's moisture and won't leave it feeling greasy. Finish up your daily routine with our Wake Up Eye Stick, an easy roll-on under-eye serum that cools and depuffs with Caffeine.  Elevate your skincare routine with Oars + Alps.
Essential Elements
During the holidays, hydration is key. Replenish and rejuvenate with Essential Elements Hydration Sticks with ACV. Whether it be the rush of the holidays or a few (or more) festive cocktails, our bodies can lose large amounts of water and electrolytes. Packed with 1500 mg of apple cider vinegar, sodium, potassium, and 800 mg of buffered vitamin C, each stick provides powerful replenishment in a pinch so everyone can feel their best. Essential Elements offers a 24-pack of hydration sticks in flavors everyone will love–blue raspberry lemonade, yuzu-lime, and watermelon cucumber. Keep your taste buds happy while optimizing energy and performance for a stress-free holiday season.
While the hydration sticks give back your much-needed electrolytes, Essential Elements will give back to those who need it most. With every purchase from Essential Elements, they will donate a years-worth of clean water to developing nations. Have a happy holiday season filled with hydration, strong performance, and bolstered immunity–packaged perfectly into an Essential Elements® Hydration Stick.
Demigod XXI by Tomavicci – "Carry the scent of a demigod"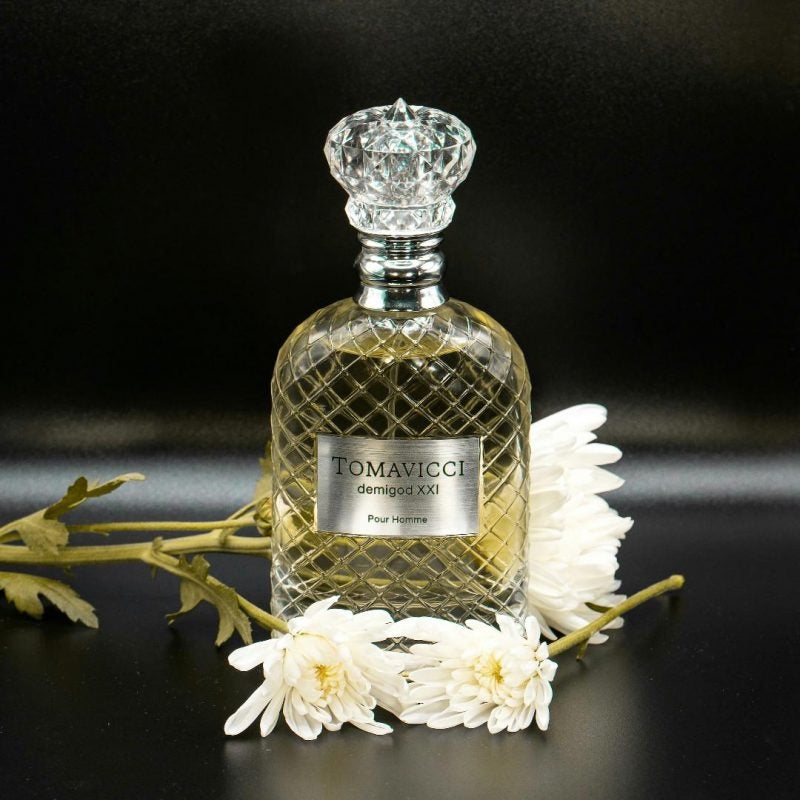 A mysteriously intoxicating fragrance that opens with fresh, spicy notes. The spice transitions to a floral bouquet and ends seductively with musk and vanilla. Demigod XXI is a capturing yet charming scent that creates an alluring aura around you.
Top Notes: Mint, Cardamom and White Sage
Middle Notes: Turkish Rose and Florentine Iris
Base Notes: Vanilla, Amber< Cinnamon, Sandalwood and Musk.
* Cruelty Free
Made in Dubai, UAE.
Buy now
You're the strong, silent type. You do what needs to be done. You don't complain or ask for help. But sometimes, you need a break from all that responsibility and the stress of being an adult. And we get it: It can be hard to take care of yourself when there are so many other people counting on you.
Not anymore! Our CBD and THC products will help you relax and chill out this holiday season, so you can focus on taking care of yourself instead of everyone else! So take a moment for yourself with Franny's Delta 8 THC Chocolate Bar—you deserve it!
Shop online or in one of our 11 Dispensaries today!
www.FrannysFarmacy.com  @FrannysFarmacy on Social Media and Youtube.
Buy now
Fjallraven Expedition Parka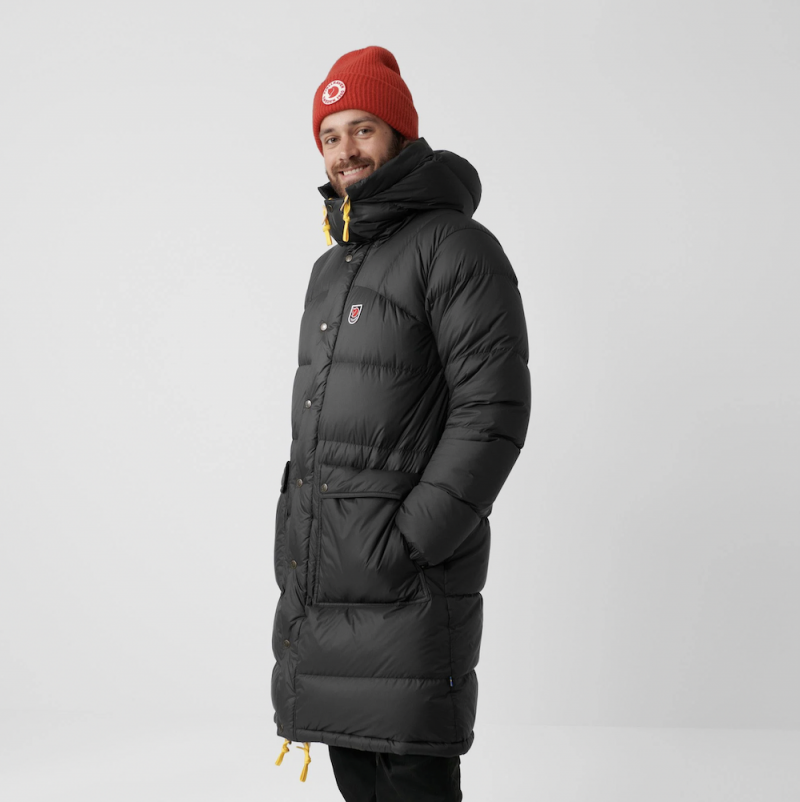 With the colder months ahead of us, make gifting easy with the Fjallraven Expedition Long Down Parka. Inspired by the famous Expedition Down Jacket from 1974, the reimagined Expedition Long Down Parka is cushioned with a blend of down and synthetic insulation in an offset structure that prevents chilly patches. Made with ethically sourced goose down and recycled polyamide to provide optimum warmth, the Expedition Long Down Parka was designed not only for everyday wear but also for excursions such as ice fishing or forest treks. Designed with a two-way front zipper, inside and exterior storage pockets, adjustable cuffs and waist, and a protective hood, you'll be sure to never feel the cold again. The spacious hood and generous length provide protection from brisk winds thanks to its iconic design. Shield your loved ones from the cold this holiday season with Fjallraven— you'll thank us later.
Buy now
Mavi Jeans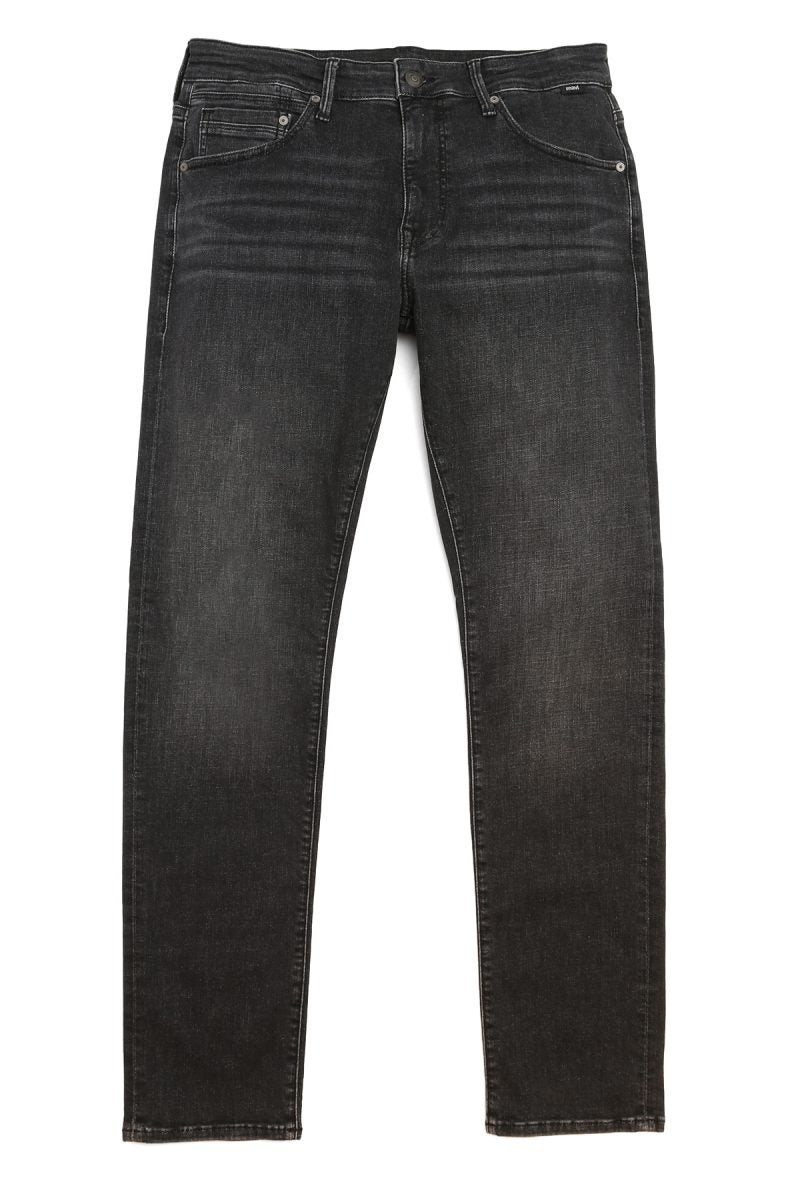 You don't have to struggle finding a perfect gift for him this Holiday season. Mavi Jeans has you covered. The Jake Slim Leg in Dark Smoke Organic Move is a versatile addition to his closet, perfect for dressing up or down depending on his needs. The Jake Slim Leg is made from organic cotton that retains the look and feel of traditional denim while providing him the comfort of maximum stretch. The slim leg shape offers a streamlines and edgy appearance that he'll love to show off. Finish up your Holiday shopping and order him a pair of Mavi jeans.
Buy now
UGG 
The UGG bayside high-weather shoe is a great choice for all seasons. Made of water-proof  leather and suede with sealed seams to ensure your feet are comfortable all day long, even when the weather isn't. The shoe also features a lace-up design so that you can adjust it to fit your feet perfectly.
Buy now
Apple AirPods Pro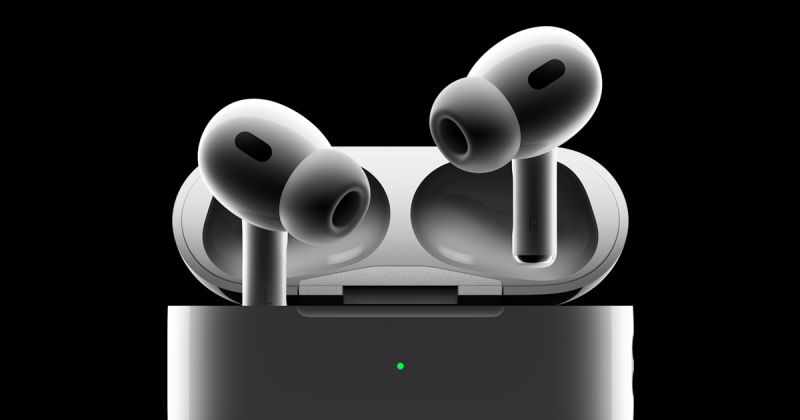 Whether you work from home or enjoy music on the go, the Apple AirPods Pro just got their first major upgrade with the newest second gen release. Powered by the powerful H2 chip the AirPods Pro offer up to twice the noise cancellation, and improved touch controls and battery life.
KeySmart Wireless Chargebook Notebook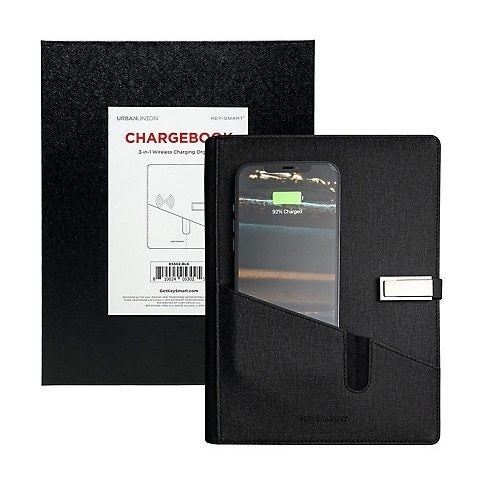 For the person always on the go, stay organized and fully charged with KeySmart. This 3-in-1 chargebook is a daily planner, organizer and wireless portable charger with an 8,000mAh battery integrated into the front cover. Compatible with iPhone or Android.
Buy now