If there is anything we know well, it is what men want. Whether you're gifting a son, friend, significant other, or your boss, don't you worry – the team at Swagger Magazine has you covered. Give him what he wants this Holiday Season with these SWAGGER approved gifts.
Made Trade
Discover ethically made and beautifully crafted gifts for everyone on your list this holiday season at Made Trade. From cozy slippers to dapper accessories, and everything in between, you're sure to find the perfect surprise for all the important men in your life. 
Give the gift of elegance and durability with a Recycled Copper Moscow Mule Gift Set. This set has the barware needed to create delicious craft cocktails in style with 100% recycled copper mugs, sharp shooter cup, ringer bar spoon, and butler bell that are functional, modern, and refined. All Sertodo Copper goods are hand hammered by master copper artisans in Mexico.
Find ethically made and sustainable gifts for everyone at madetrade.com
The Soundboks Gen 3 Speaker is the Perfect Gift For the Guy in Your Life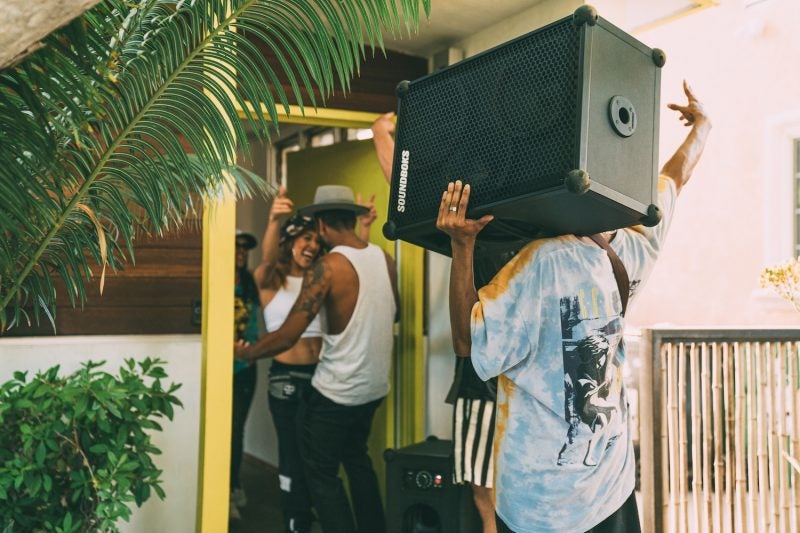 What's a man need in a Bluetooth speaker? They need something strong. They need something portable. They need something loud. The Soundboks Gen 3 Bluetooth Performance Speaker delivers it all.
This holiday season, upgrade the man in your life with concert level volume, prograde sound and equalizers that take into account the environment. With modes like Bass+, Power, and an Indoor mode, no matter your needs, Soundboks can provide. User's will love its ability to use ProPanel for mics, mixers, and more, giving a full level of customization and utility. All of this with 40 hours of mid-volume playback and 8 hours of full volume at 126 dB.
But it doesn't mean anything if it can't survive everyday life. With a dent proof steel grill, shock-absorbing corners, and splashproof electronics, Soundboks are built for the long haul! The Soundboks Bluetooth Performance speaker isn't your average bluetooth speaker. It's one made for a man's life – so get him what he needs this holiday season, and fill his ears with the gift of sound.
Buy now
Transformer Table: The Dining Set 3.0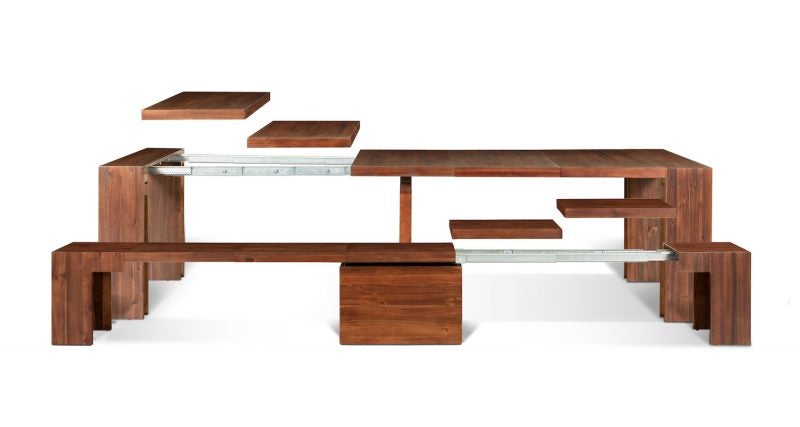 Are you looking for the holiday gift that will WOW all your guests? Well, this Dining Set will be sure to get you ready for your Holiday plans and hosting parties. These award winning and one-of-a-kind products are the most versatile and multifunctional pieces of furniture you'll ever own.
The Transformer Dining Set: THE ONLY DINING SET YOU'LL EVER NEED. This 100% hardwood Dining Set is the space saving dream come true for any dining or office space. With ease this innovative table extends from 18″ to 118″ (45.7cm – 299.7cm), while the bench extends from 28″ to 128″ (71.12 cm to 325.12 cm). Fully extended, the Transformer Dining Set can sit up to 12 people if needed and then collapsed to "console size" for space saving.
There is no need to settle anymore, the struggle is over. So many people have to choose between the size needed everyday versus being able to accommodate larger gatherings, with neither choice being ideal. The 6-in-1 nature of the Transformer Dining Set eliminates this predicament. With 5 individual extension leaves, any size of gathering can be accommodated with ease.
You can even choose from 4 beautiful and stylish 100% Hardwood finishes: American Mahogany, Australian Acacia, Siberian Birch and Canadian Dark Oak
Buy now
Johnny Slicks

Looking for the perfect gift for the gents in your life? The Organic Oil-Based Pomade by Johnny Slicks is a must-have for any man looking for that refined hairstyle with low-to-medium hold and high shine. Too many synthetic pomades have filler ingredients, such as plastic, alcohol, and even formaldehyde, that can damage and thin out your hair. Johnny Slicks products are handcrafted by veterans using only natural, organic ingredients that not only have alluring aromas but that also promote healthy hair growth and even prevent hair loss. The best part? Our one-of-a-kind fragrances for men offer a blissful retreat to every pallet. Most organic pomades are unaffordable for the general public; however, this Organic Oil-Based Pomade only costs $18 USD. All Johnny Slicks products are handcrafted and sourced right here in the U.S.A. A quality, organic grooming product that promotes healthy hair growth at a low cost? That's the Johnny Slicks way.
Buy now
Lumen by OhMibod is powered by the creative interactive technology of our partner Kiirroo. This pleasure plug is not your average toy. The Lumen offers a new experience for those looking to turn their bedroom into their stage. Anal play can be intimating, but the Lumen is approachable yet intriguing. With body-friendly materials, the Lumen is designed with our Velvet Wave™ comfort technology, a cushion ridged silicone designed as much for pleasure as comfort. Connect to the Lumen via the OhMiBod Remote App and take your play to a new level. Finally, pleasure at your fingertips no matter where you are. Featuring a diamond-like LED light on the end, the Lumen syncs the pulsations to the light. Whether you're a performer or getting wild with a partner, the LED light gives visual feedback. Now, you can watch the pleasure while experiencing it. The Lumen offers show-stopping pleasure just in time for the holiday season.
Buy now
Hiatus Tequila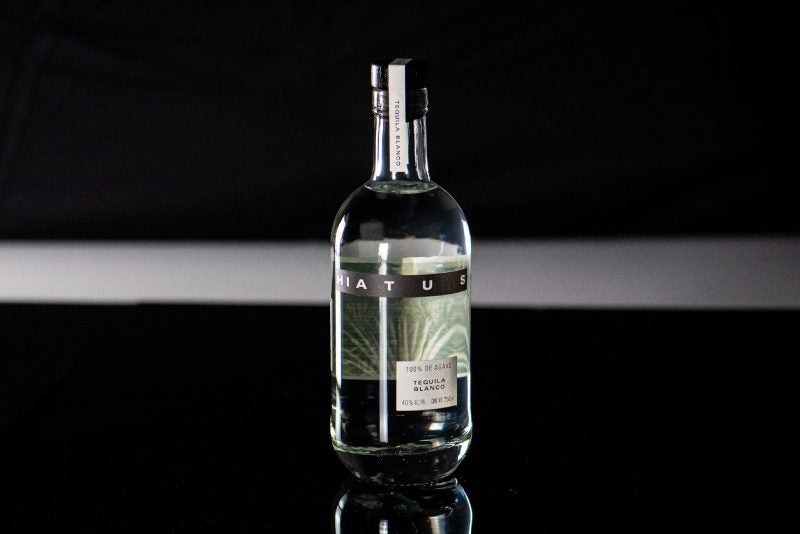 If you're like us, you love tequila. We wanted to make real tequila, a natural tequila. We are a passionate group of like-minded individuals driven by the pursuit of a more pure and elevated way of life. We set out to find a distillery in the place that gave tequila its name. In the town of Tequila, in Jalisco, Mexico, we found a family that makes award-winning tequila —traditionally, transparently, and passionately. Together, with La Cofradia, we crafted something unique, while staying true to how real tequila should taste. Hiatus Tequila is naturally clean yet complex, ideal for sipping neat, but also shines in a cocktail. Just as we were inspired to make our dream of this tequila come true, we hope you'll be inspired to take a break, seek balance, and pursue what matters most. Go on Hiatus this holiday season, enjoy 10% OFF your order using coupon code "SWAGGER" upon checkout at shophiatustequila.com, you deserve it.
Buy now
DUER's Performance Denim
DUER has the world's most comfortable pants. This holiday season, spruce up your wardrobe with DUER's Performance Denim. Natural materials in combination with technical fabric achieves breathability, comfort, and strength for everyday wear—no longer do you have to sacrifice performance when you want to dress up, or style when you're on the move!
DUER's Performance Denim has 5 x the stretch of traditional rigid denim and feature a signature gusset for limitless stretch and movement. The jeans feature reinforced seams with triple stitching for added durability and are made with COOLMAX® fibre technology which wicks moisture from the body in heat, and insulates for warmth in the cold. The denim is also treated with silver ion for maximum odor neutralization which means easy care and less washing. This denim is truly one of a kind.
Vincero Collective: The Apex (Silver/Black)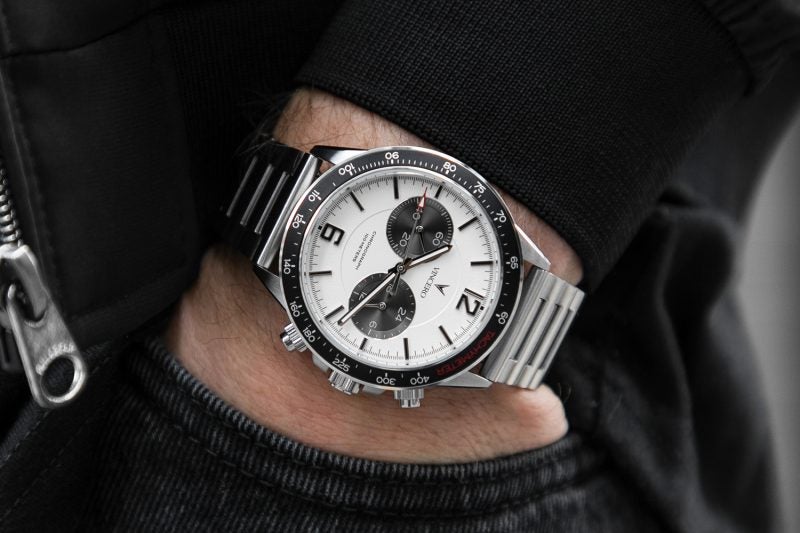 Speed into his good graces with The Apex, Vincero Collective's take on the racing watch. Sleek design, dazzling colorways, and a high-powered Seiko-Mecha Quartz movement make this timepiece as eye-catching as your favorite sports car. An ode to it's racing roots, The Apex's bezel features a tachymeter, giving it some extra flair and functionality, and a stopwatch function, for when you can't afford to miss a second. Surgical grade stainless steel and scratch resistant, sapphire coated mineral make this watch as durable as it is distinguished, promising to be around for many holiday seasons to come.
Buy now
Nanoleaf Lines Make The Perfect Gift For Him
Nanoleaf Lines are LED smart light bars that are used for wall art to enhance any movie-lover or gamer's experience at home. The lines can be put together in any shape or design imagined. After the creation is mounted to the wall above your TV or computer the color pattern can be chosen with Nanoleaf's Screen Mirror. This feature, available on the Nanoleaf desktop app, allows the Lines to light up according to what is on the screen. The major color scheme of a video game will be reflected in the light bars above the computer screen, adding ambience to the entire room. Nanoleaf Line's unique combination of building blocks and electronic space upgrade make for a great holiday gift. The man in your life will have fun putting this decoration together and enjoying the elevated technological experience.
The "Smarter" Kit comes with 9 Lines and connectors to begin creating.
Buy now
Jack Black The Daily Shave
The countdown before the Holidays is on, and SWAGGER has prepared a gift guide with the help of our friends at Jack Black for you to bestow upon your loved ones or to add to your list  this year. Whether you've got a man who's got swag, one who wants it all or one who can't wait to spend his days outside this winter, Jack Black has the perfect gift set for every man on your list.
The Daily Shave is a 3 product combination for the everyday SWAGGER man. What's included in this gift-set: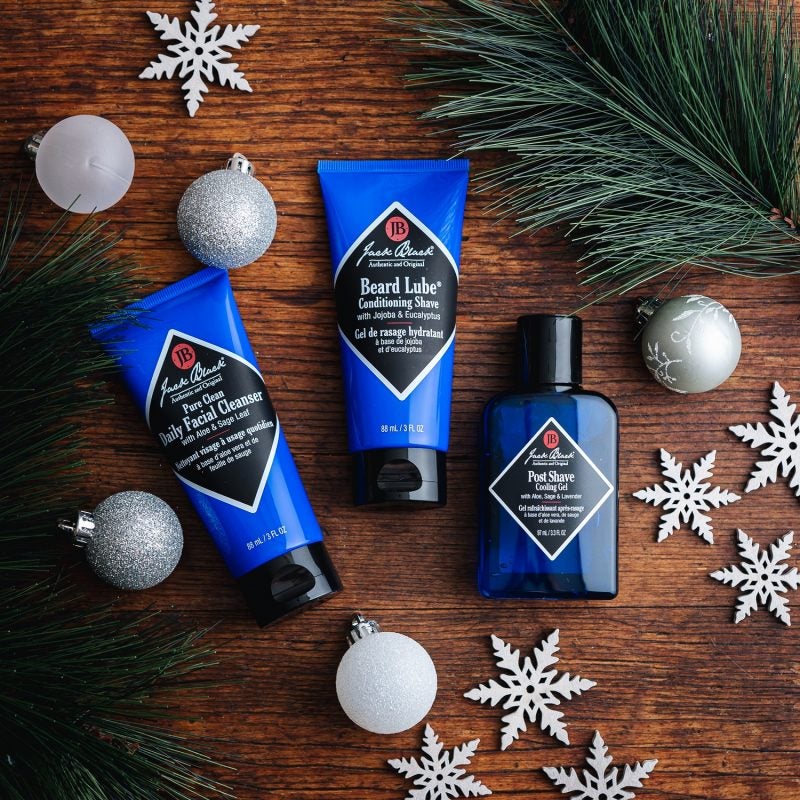 The Pure Clean Daily Facial Cleanser is a 2-1 liquid cleaner that deep cleans dirt and oil, which prepares the face for that ultimate smooth shave. 
The Beard Lube Conditioning Shave is the perfect product for any pre-shave routine. This conditioner softens facial hair for that perfectly smooth shave.
The Post Shaving Cooling Gel is a soothing, fragrance-free, alcohol-free gel that relieves razor burn and irritation.
Priced at $40.00 and valued at $58.50, Jack Black sprinkled extra holiday cheer in The Daily Shave Gift Set. 
Buy now