Choosing the right type of therapy for you is not an easy task.
If you are looking to improve your mental health, you have multiple options, such as video therapy, phone calls, or texting therapy. 
If you are looking for convenience, flexibility, and much-needed support, texting therapy is a robust option worth considering. Keep reading to learn how texting therapy helps individuals improve their mental well-being. 
What Is Texting Therapy?
Texting therapy refers to communicating with a licensed therapist via text messages, either during a live chat session (synchronous texting therapy) or unlimited texting (asynchronous therapy). Asynchronous therapy is completely remote and you can text your therapist at any time of the day – whether it is early morning before you start your work day, during your lunch break, or late at night. The therapist then replies to you as agreed, typically once or twice per day. 
In this type of therapy, you enjoy many benefits, such as:
Consistent Emotional Support
If you have a busy lifestyle, deal with anxiety and stress, or other issues, you may find texting therapy helpful. You can text your therapist regularly whenever you experience intense emotions or stress, so you can unburden and make better decisions at work or at home. Also, as you always have access to your chat history, you can always re-read past conversations or tips shared by your therapist to help you deal with difficult situations in the future. 
As a result, if you are constantly under pressure, texting therapy can help you reduce your stress significantly. Whenever you have pressing thoughts or concerns, you have mental health support at your fingertips – you simply have someone willing to listen to you at any time during your day or night.
Flexibility & Affordability
As with other types of therapy, you can opt for live chat sessions with your therapist at any time convenient for you. Also, unlimited texting therapy is available for those who prefer this option, as it is useful if you have a busy schedule since you no longer need to accommodate the booking in your schedule or cancel other activities. 
Texting therapy is available in any location since you don't need to commute to a local mental health clinic. All you need to do is find a therapist licensed in your state. Also, texting therapy is more affordable than other types of therapy, especially in-person counseling sessions. For example, in-person therapy can cost as much as $200 per session, while unlimited texting therapy may start from only $50 per week.
Anxiety Reduction & Reflection
Some people prefer texting therapy if they find traditional in-person therapy or video therapy intimidating. The layer of anonymity allows people to feel more at ease when discussing sensitive or embarrassing situations, or if they suffer from social anxiety. 
At the same time, texting therapy is unique as it gives you the chance to read back over previous conversations. Some people may feel under stress when having to discuss and memorize information during strict time slots with their therapists. 
With texting therapy, you can easily review what you already discussed with your therapist and uncover new insights that may not come instantly and you don't need to take notes or struggle with remembering or memorizing everything you discuss with your therapist.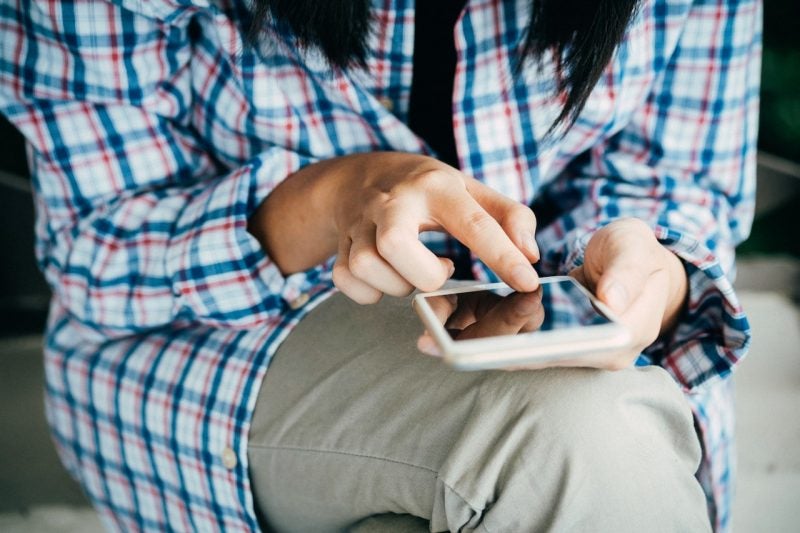 Texting Therapy – Shortcomings
Texting therapy is an excellent way of improving mental health and correcting negative behaviors or thoughts. However, it may take time to find the right texting therapy platform and licensed therapist for your needs. Just like with other types of therapy, patience is key and you should be open to spending time on improving your mental health being and taking a proactive approach. 
Texting Therapy Doesn't Fix Everything
Texting therapy is a key tool when it comes to improving mental health. However, deciding to opt for texting therapy is only the first step in your journey of improving your mental health. Just like with other types of therapy, texting therapy requires constant work. You need to establish a bond with your therapist, be consistent, and implement the habits and techniques recommended to you by your therapist. 
Also, texting therapy may have to be coupled with other types of therapy or even medication if you suffer from a severe condition. 
Strong Writing Skills
Another important factor before deciding to try texting therapy is how comfortable you are expressing yourself in writing. In texting therapy, all the communication happens through written text, so you need to express yourself clearly, otherwise, the therapy may not be effective. 
For example, the more clearly you write about your problems and concerns, the easier it is for the therapist to understand you and offer better advice and coping mechanisms specifically tailored to your needs. Also, there is a higher chance of miscommunication when writing, so strong writing skills can help you avoid being misunderstood. 
Overall, with the help of texting therapy, you can access mental health support at any time thanks to its flexibility and affordability. If you think this type of therapy is your ideal match, make sure you research your chosen platform well and check therapists' qualifications to make sure they meet your needs. 
For texting therapy to work, you need to be open and honest, set realistic expectations, and be ready to embark on a journey that may challenge your preconceptions, thoughts and behaviors, and be ready to bond with your licensed therapist to benefit from personalized treatment plans.