The holiday season is upon us and we're gearing up to spend more time than ever with the family in the kitchen. Whether you're planning to prepare a full course meal or just some fun holiday candies, here are a few essential items to add to your kitchen this season.
Kitchen Guide
Victorinox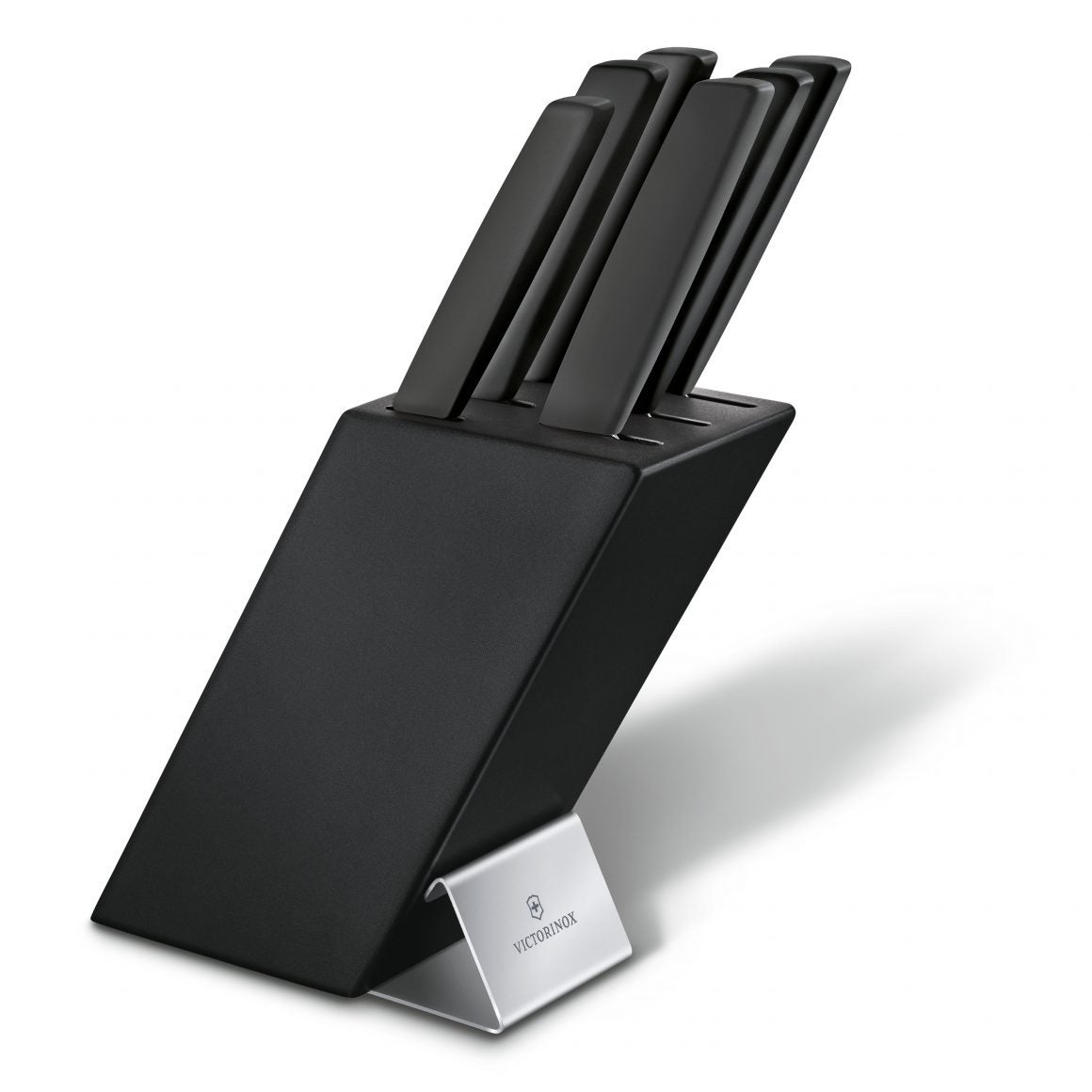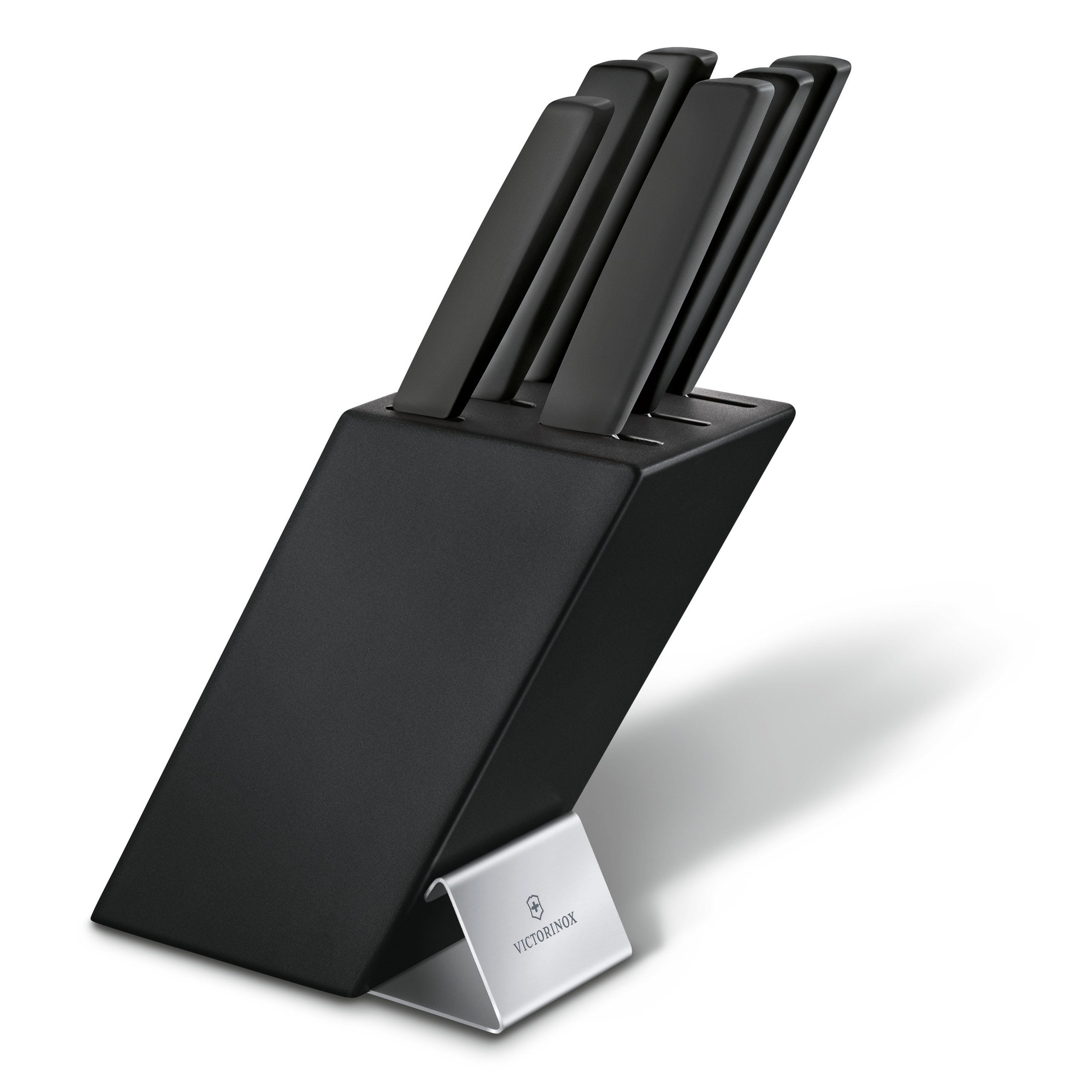 In 1884, Karl Elsener a Swiss Pioneer founded his cutler's business which lead to him paving the way for an unparalleled company history by developing the legendary original "Swiss Army Knife". Today, Victorinox, whose head office remains in the heart of Switzerland, is known for producing and selling high quality products that are unique world-wide. This holiday season bring the gift of premium craftmanship with the Swiss Modern Knife Block. The Swiss Modern Knife Block adds a suave, sophisticated edge to any countertop.
Crafted in beautiful beech wood and then black lacquered for a distinctive modern finish, it's set to become a future design classic. The geometrical angled shape echoes the form of the six unique and precious synthetic handles it houses. Invest in a little kitchen cool.
Retail $460.00
Visit Victorinox.com
Hobart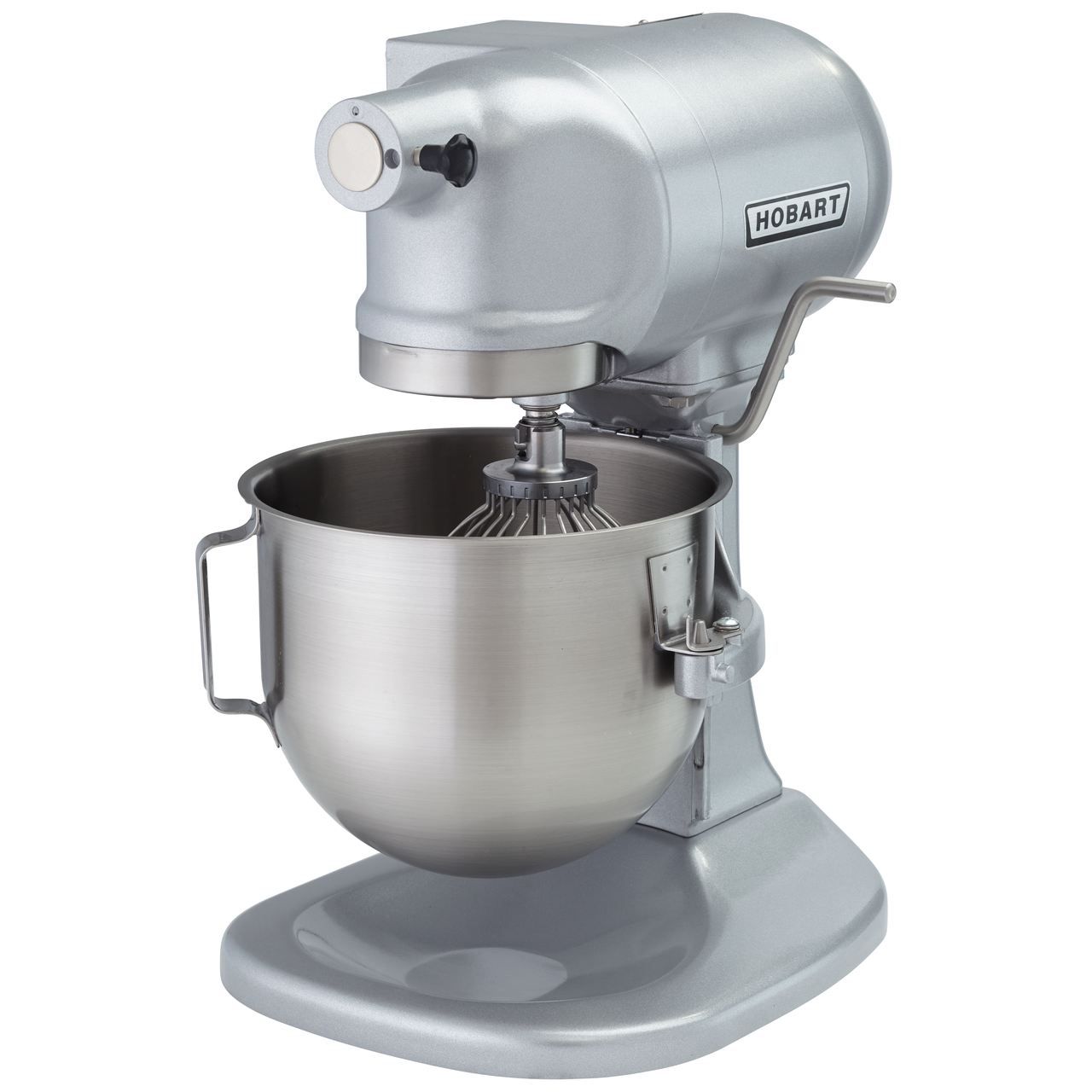 Hobart is a food equipment manufacturer that has been around for more than a century. The company is known for its excellent product quality, as well as food equipment services. Hobart is passionate about providing the best products and services to its customers nationwide.
One of the most important and most used staples in any kitchen is the stand mixer, but not all stand mixers are created equal. Hobart's N50 5-quart mixer packs a large punch in a small package. While this mixer is a countertop model, it is still a commercial grade appliance and features all the power and durability you would expect from a professional product. The N50 is roughly the same size as most high-end mixers on the market, but its weight is nearly double. This is because the N50 features a heavy-duty three-speed transmission motor that mixes consistently every single time.
The N50 comes with a 5-quart stainless steel bowl with a large handle that is easily lifted and lowered with a convenient shift lever, located thoughtfully right beside the large On/Off switch. You won't find any impractical features on this mixer. Simply choose your speed and begin. The N50 comes standard with a flat beater, wire whip, and a dough hook and will fit all standard #10 attachments. Hobart also offers a number of additional attachments for any mixing needs. The N50 comes in a Hybrid Powder Coat finish in the color Hobart Gray that is guaranteed to look gorgeous on any countertop.
Buy now
RÖSLE
The RÖSLE brand is all about the security and happiness of the home. This is why the focus of their company is on sustainability and modernity in all their kitchen gadgets, cookware, and grills. Since 1888, RÖSLE has produced quality, functionality, and innovation in kitchen utensils, and their 40 cm Locking Tongs are no exception. Anyone who cooks at home, from the novice to the expert chef, can attest to the necessity of a good pair of tongs and all the uses for them.
The grill master of the family will be proud to have this utensil in their arsenal. The selling point of these particular tongs is the patented coupling mechanism that allows for locking and unlocking with just one hand. The ergonomic design of the Locking Tongs provides comfortable fit and use in the hand. The Locking Tongs are composed of stainless steel for a sleek and durable finish. The innovative, space-saving shape is not only functional but also appealing. For use in food preparation, preservation, and serving, the Locking Tongs can provide better precision and greater efficiency than other utensils like forks, spoons, and spatulas.
The 40 cm length of the Locking Tongs is the perfect size for grilling, stovetop cooking, and even baking, keeping hands a safe distance from hot surfaces.
Falk Copper Cookware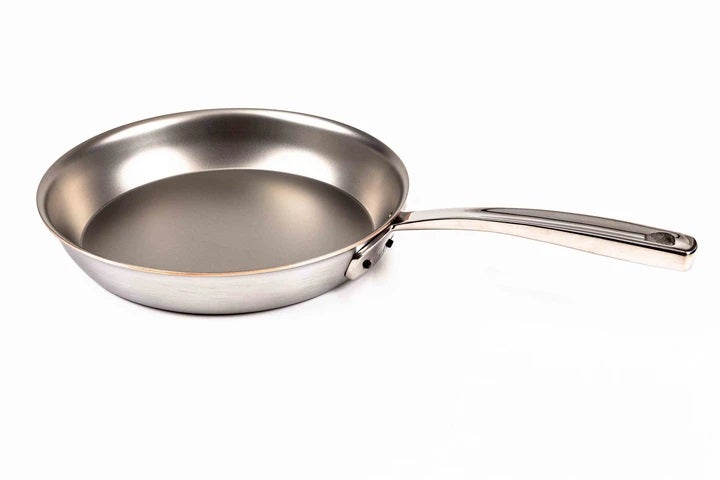 The benefits of copper cookware are well-known and hard to dispute. Falk Copper Cookware is an excellent conductor of heat and distributes heat evenly over the bottom and sides of the pan. Falk is known for its specially developed bimetal copper cookware, which features a thin layer of stainless steel that anchors a thick plate of copper. Falk Copper Cookware offers the best quality and satisfaction with their pots that have been handcrafted in a small workshop in Belgium since 1958. Falk offers a lifetime warranty on the entirety of their copper cookware lines.
The frying pan from the Falk Copper Core Line is sure to become your new go-to pan for all your holiday cooking this season. The Copper Core Line is designed to be used on all surfaces, even induction, which is usually the exception for copper cookware. This is thanks to the revolutionary 0.2 mm stainless layer that lines the inside and the 0.4 mm ferromagnetic lining on the outside, encasing the 1.9 mm full copper core, making it induction compatible.
The copper core is visible on the rim of the pan making for a beautiful appearance. While this pan is on the rather heavy side, with the 28 cm pan weighing in at 2.4 kg (nearly 5 pounds), the handle's arch and shallow thumb groove on top make it very secure to hold overhand or underhand. The fry pan has a low edge which makes it easy to lift out tricky food items like eggs and meat.
Peugeot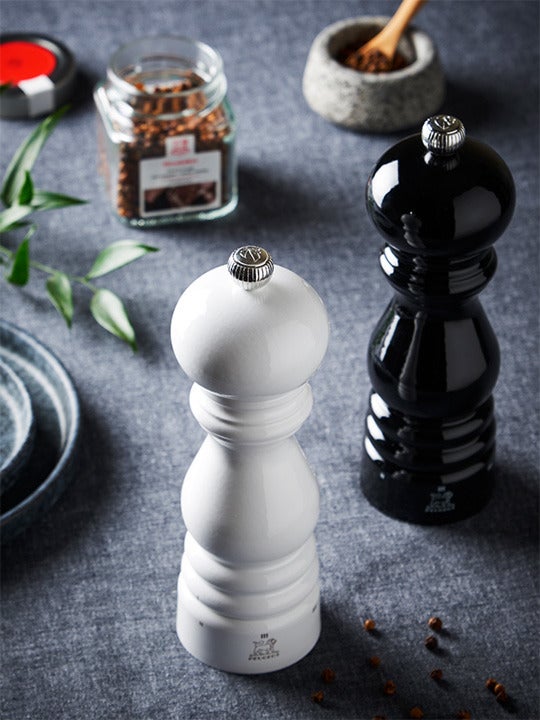 One of the most iconic French brands, Peugeot, is known for their luxury spice mills which are featured in some of the most admirable chefs' kitchens.
Since 1850, the Peugeot lion has represented the benchmark of quality in mills. The Paris u'Select salt and pepper mills are designed to emulate sophistication and ease of use. This oversized ergonomic mill is crafted from beech wood and coated in a sleek black lacquer or rich chocolate finish that compliments any kitchen or table setting and creates an elegant silhouette. The size of the Paris u'Select salt and pepper mills is a lavish 27 cm and commands attention.
The manual mills feature the unique u'Select adjustment system which provides a range from one to six grind sizes for any variety of culinary inclinations. The steel mechanism on all Peugeot mills come with a lifetime guarantee and ensures the mills can be passed down for generations. Peugeot's Paris u'Select salt and pepper mills boast a large reservoir and the unique shape allows it to be easily gripped in the hand and luxurious to use. The chocolate selection is topped with a chic gold topper that complements the warm tones in the finish, while the glossy black lacquer finish emphasizes a classic steel topper.
Either option is guaranteed to look fabulous amongst your holiday decor. The Paris u'Select mills are sure to be functional in the kitchen, and an eye-catching piece on the table setting.