Your home office needs more than just a good Zoom background. You need to outfit your home working space with the same necessities you'd find in the on-site office. To help you get started, we've worked the graveyard shift so we could identify which office upgrades you need to boost your productivity back to employee of the month levels.
Seat Cushion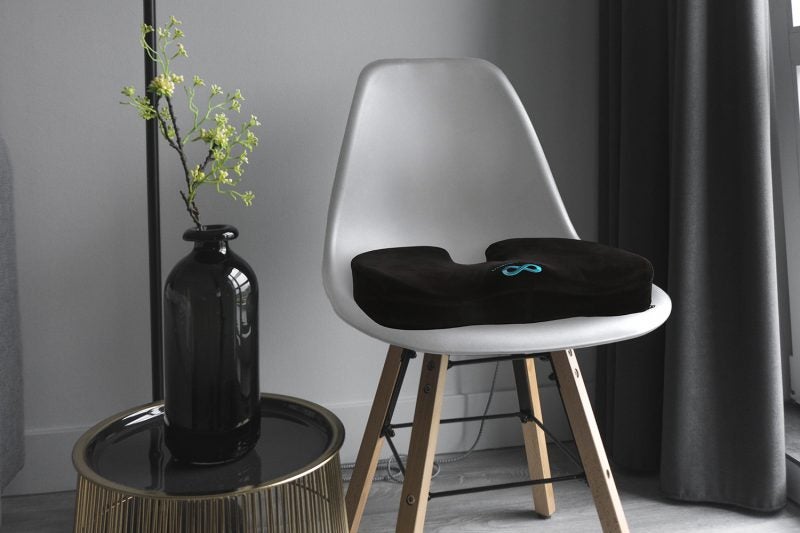 The simple solution to any uncomfortable chair problem: made with pure memory foam, Everlasting Comfort's pressure relief seat cushion uses your own body heat to adapt to your curves, giving you the support your current office chair lacks. The cushion will never lose its shape, is made with certified safe materials unlike other seat cushions, and provides effective tailbone relief designed to fit any chair.
Foot Rest Pillow
Made with 100 percent premium memory foam, the Foot Rest Pillow lifts feet off the ground to reduce pressure and fatigue, while the ergonomic teardrop design contours to the arches of feet for supportive comfort. The slow rebounding memory foam foot rest bounces back into shape after each use; never flattening. It helps position your legs, hips, and back in alignment for improved sitting posture and better circulation. The adjustable foot rest can be used as an under desk stool or simply flip it over and use as a rocking footrest for a bit of leg exercise. Easy to clean, the cover is machine washable and dryer safe.
Ergonomic Mouse Pad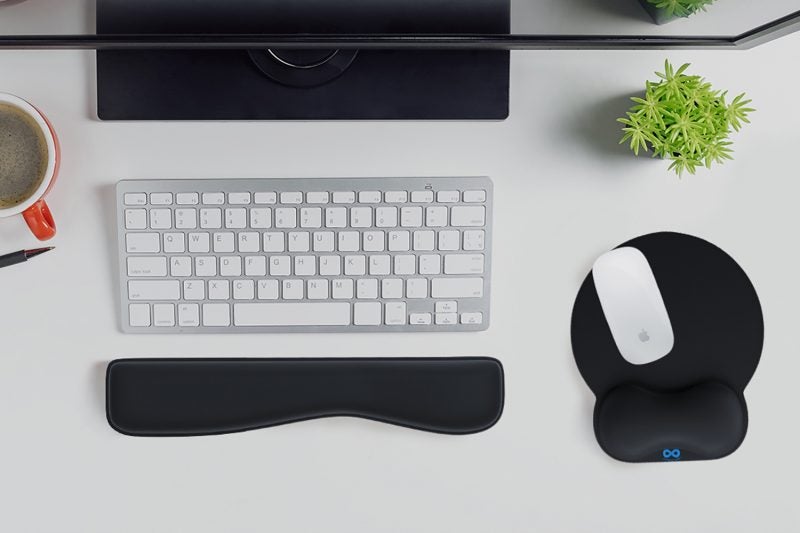 Unlike other brands that only give you a mouse pad, Everlasting Comfort provides an additional keyboard wrist pad to ensure both hands and wrists are fully supported while working, gaming, or studying. Built with reinforced edges that prevent snags, frays and tears, and made with 100 percent premium memory foam that allows your wrists to sink slowly into the keyboard and mouse pad, providing superior support while you work, the Ergonomic Mouse Pad ensures proper wrist alignment, pinpoint mouse accuracy, is perfect for both right and left handed individuals, and fits every mouse and keyboard.
Olson Form Luxury Desk Set: Machine Series
Whether you're back in an office or continuing to work from home, your desk represents the ultimate headquarters where you get work done. A modern office needs to have everything available within reach for the fast-paced life of today. The Olson Form Machine Series has everything you could think of for an office. Upgrade your modern workspace with a clean, new look from the machine series. All ten pieces in the machine series are hand crafted from 6061 Aluminum Alloy and completed with a sleek black anodized finish. The modern sleek look is quality you can see and feel, and provides everything needed to improve the productivity of any workspace. The pieces included in the set are a phone stand, a business card holder, a bolt action pen, a penholder, a paperclip bowl, a money clip, a spinning top, a letter opener, a cable weight and an individual coaster.
Radiate Confidence on Zoom with Lume Cube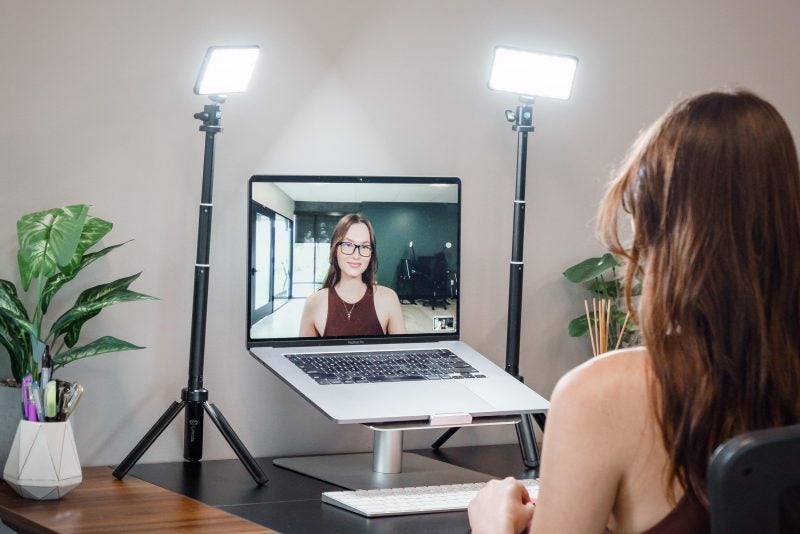 The digital age has ushered in the ability to work from home, with Zoom conferences becoming an essential part of the routine. Proper lighting is key for being camera ready, and Lume Cube's Broadcast lighting cubes are the ultimate solution for the perfect video appearance.
The Lume Cube Broadcast Light Kit 2-Pack Bundle is everything you need to have ideal brightness while eliminating shadows and reflections. The kit includes two lighting cubes that are small enough to take on-the-go for remote work and the setup is as easy as placing the lights on a flat surface. Each light is equipped with an adjustable tripod and a 360 degree ball head mount to ensure an ideal lighting solution for your needs, all while preventing screen glare and unflattering face shadows. SWAGGER loves the adjustable height, brightness, and temperature control.
For the best video appearance with a 2 point lighting system, angle both lights pointed down at your face at 45 degrees, with the light shining out of the frame to prevent glare from glasses.
Radiate confidence and SWAGGER on Zoom today with Lume Cube.
Technisport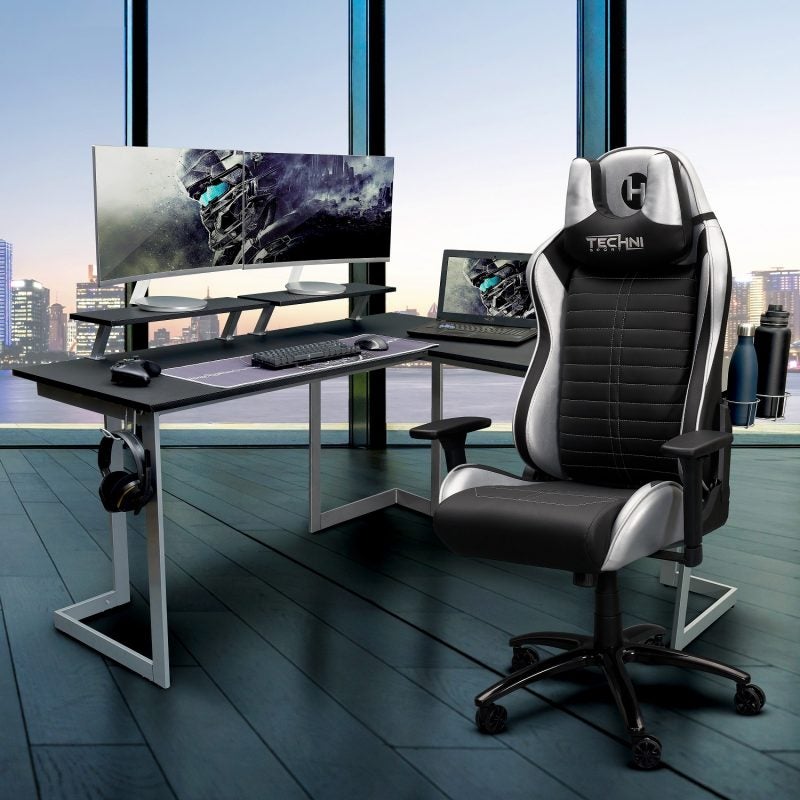 Are you looking to upgrade your comfort during long workdays or gaming sessions? TechniSport offers a variety of chairs and desks to upgrade any gaming or work setup with style, adjustability, and comfort. We offer a wide variety of colors, styles and sizes aimed to provide you long-lasting, top-quality items to match your distinct style. All chairs are crafted with extra adjustability and features, including 150 degree back reclining, adjustable padded arms, sitting height and adjustable soft lumbar and neck pillows. A premium vegan finish paired with a heavy-duty bases and steel frames provide you with a luxurious sitting experience while remaining eco-conscious. Upgrade your setup and comfort TODAY!