The NFL is America's most popular sport, by a wide margin. According to BusinessInsider.com, "[f]orty of the top 50 most-watched sporting events in 2018 were NFL games." 
As the 2019 season approaches, every fan can look forward to an enhanced viewing, listening, fantasy, and even financial experience compared to past years. 
Here's what you can expect come opening kickoff on September 5th, when the Green Bay Packers and Chicago Bears begin the 2019 season at Soldier Field in the Windy City. 
In-Stadium Wi-Fi 6
One of the major changes of the in-stadium NFL experience this year will be the availability of Wi-Fi 6 at 28 of the 32 stadiums. 
Have you ever been at a game, wanted to look something up about a player or a team, and been met with internet that's moving at a punter's pace? ExtremeMobility, the NFL's main Wi-Fi provider, is introducing the next level of connectivity in stadiums this year with Wi-Fi 6. 
Given that "[a]n average of 15,000 sustained concurrent devices and more than a terabyte of data is transferred" at an average game, according to an article from The Guardian, it's no surprise that networks can get overloaded.  
The increased speed and availability created by Wi-Fi 6 will allow fans in the stadium to have every advantage of being at the game, without losing any of the perks of being at home in their living rooms, at least in terms of connectivity. (There will still be washroom lineups, unfortunately.)
From accessing replays to posting your own highlights to social media, expect the mobile experience at 2019 NFL games to be vastly improved. 
Legalized Betting
Betting on football isn't for everyone, but thanks to the Supreme Court decision in Murphy vs. National Collegiate Athletic Association last year, it can be. The ruling allowed for widespread legalization of sports betting, and the 2019 season marks the first full NFL season after the verdict. 
As of August 1st, eleven states have fully operational sports betting within their borders:
Arizona

Arkansas

Delaware

Mississippi

Nevada

New Jersey

New Mexico

New York

Pennsylvania

Rhode Island

West Virginia
Eight more have recently passed legislation on that front. In fact, only six states have not taken any steps towards legalizing sports betting (Alaska, Florida, Idaho, Utah, Wisconsin, and Wyoming).
Also when it comes to Canada, you can legally wager on two or more sporting events at a time (also known as a parlay).
As long as people are playing within their financial limits, betting on a football game can seriously enhance the viewing experience. And some teams have taken it to the next level. Fans at New York Jets games, for instance, can use a betting app on their mobile device to wager on the game they are watching as it's going on. 
As more and more people make their initial foray into betting on football, several companies are creating tools to simplify the process and help you learn the ropes. Comparing odds via Sportsbettingdime.com, betting neophytes can click the "calculate payout" button to get rid of perhaps otherwise cryptic odds in exchange for a straightforward calculation of how much you'll win by betting any amount on any team.
No one should be excluded from the betting party just because they are having a hard time learning the alphanumerical language being spoken. 
My Playbook for Fantasy Owners
One of the reasons that the NFL is so popular is because fantasy football is ever-growing. If you are going to be a successful fantasy footballer, you need to watch the game, know the players, track the injuries, and capitalize on opportunities. 
Or do you?
Not if you dole out a little money for FantasyPros' "My Playbook."
It's basically a fantasy football cheat code, that will guide you through an entire season, from draft to playoffs. 
My Playbook gives fantasy owners bespoke advice on everything from trade analysis to weekly start'em/sit'em to which players you should grab on the waiver wire, based on who else you have on your team. 
This could potentially take some of the fun out of it for certain fantasy players who like to rely on their own brain power, but it's also a great way to get into the game for those just starting. You never have to follow the advice the app gives you, but you can be certain you're not doing something incredibly naïve by double-checking against its picks. 
Your Call Football
Your Call Football ("YCF") isn't exactly an NFL-based competition, but it's one of the most innovative football inventions in recent memory. At heart, it allows everyday people to call plays in a real football game going on, potentially thousands of miles away, while competing against other YCF players to see who calls the best plays. 
Here's how it was described by ESPN's Dayna Evans: 
Every Monday night for four weeks in the spring, fans get a notification at 8 p.m. to open the YCF app. As the game starts, they are given a coach-selected "bundle" of three plays to choose from. They're presented in typical play formation sketch, with all the idiosyncratic names football fans know, and each fan has 10 seconds to decide what the team's offense should do next. 
And while the actual game that's being played doesn't feature the likes of Tom Brady or Aaron Rodgers or Drew Brees, it is being played by legitimate football players, such as for New Orleans Saints wide receiver Robert Meachum. 
While the 2019 season is over, all indications are that YCF will be back for a third year in 2020, and for anyone that fancies themselves a football strategist, it's the most realistic way to test your true football acumen. 
Virtual Reality
This one is more of a prospective advancement than one that you will be enjoying this season. That said, virtual reality technology has grown by leaps and bounds over the last 48 months. Right now, NFL Next is working towards creating the most immersive fan experience this side of actually being on the field.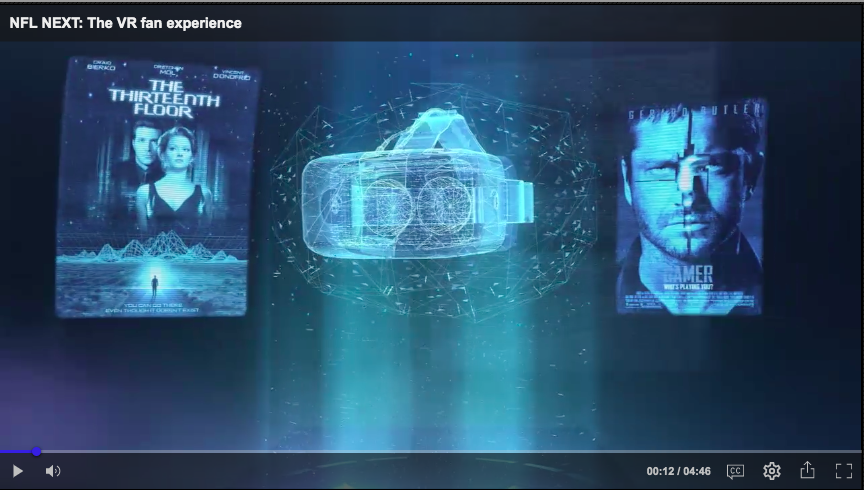 While the technology isn't quite there yet, expect football and VR to be a marriage made in heaven in the coming months and years. So while the 2019 season will reach new heights in terms of the fan experience, don't expect it to plateau when 2020 rolls around.