Welcome to Downtown Los Angeles, a vibrant and ever-evolving urban center that offers many exciting activities and attractions.
Use this as your reliable guide; we'll take you on an immersive journey through the heart of LA, providing you with the ultimate insider's scoop on the top five must-dos and sees that will make your visit unforgettable. Whether you're a seasoned traveler or a first-time visitor, we've got you covered with a curated selection of experiences that will leave you craving more.
Bradbury Building – A Glimpse into the Past and Future
Embark on a cinematic adventure at the historic Bradbury Building, a true architectural gem nestled in the heart of the Historic Core and can be seen by most co living Los Angeles apartments in the area. Dating back to 1893, this remarkable building has graced numerous films, notably the iconic "Blade Runner." You'll be transported to a world of elegance and grandeur when you step through the archway entrance. Marvel at the awe-inspiring light-flooded alley, adorned with intricate wood, iron, and brickwork that exude timeless charm.
While most of the building is now private office space, the ground floor and half a flight of stairs are accessible to the public. History enthusiasts will appreciate the significance of the Bradbury Building as Downtown LA's oldest commercial building. At the same time, movie buffs will relish the opportunity to walk in the footsteps of cinematic legends.
Immerse Yourself in Architectural Marvels at Walt Disney Concert Hall
This grand stop is the iconic Walt Disney Concert Hall, a stunning architectural masterpiece designed by the renowned Frank Gehry. Opened to the public in 2003, this mesmerizing venue is the home of the Los Angeles Philharmonic and the LA Master Chorale. As you approach the hall, the gleaming stainless-steel exterior adorned with twisted curves will leave you in awe.
Step inside and find yourself in a world of artistic brilliance. Take advantage of the free audio tour, allowing you to delve into the fascinating history and design of the hall. Wander through hidden nooks and crannies, including a serene secret garden, offering a tranquil escape from the bustling city.
As day turns into night, the Walt Disney Concert Hall transforms into a sight to behold. The interplay of light and shadow on the shimmering metallic surfaces creates a surreal ambiance that photographers and art enthusiasts will cherish. If you're a food lover, indulge in the culinary delights at Ray Garcia's on-site restaurant, Asterid, or explore the tempting array of José Andrés spots conveniently located across the street at the Grand.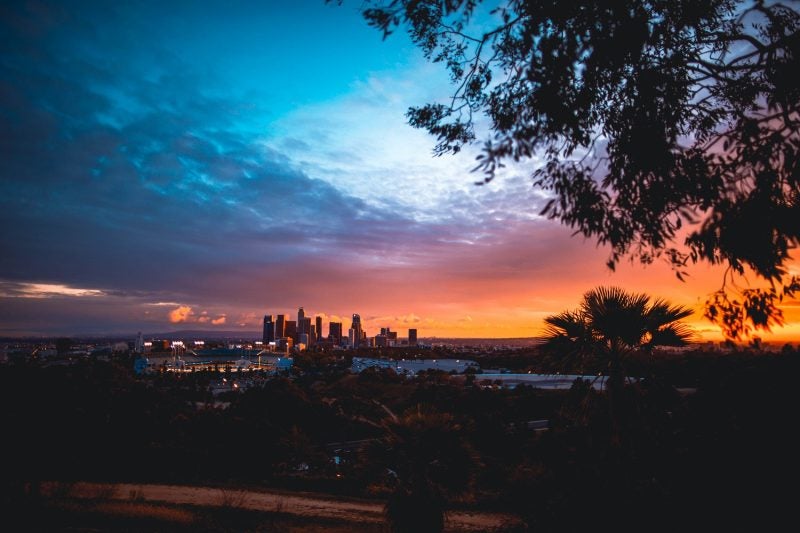 Grand Central Market – A Gastronomic Adventure Awaits
Prepare your taste buds for a culinary extravaganza at the historic Grand Central Market. This century-old landmark stands as a testament to the diverse culinary traditions of Los Angeles. Step into a bustling atmosphere where people from all walks of life come together to celebrate food, community, and culture.
Roam through rows of vibrant spices, fresh produce, and vintage neon signage, creating a colorful tapestry reflecting Downtown LA's vibrant spirit. But the true highlight of Grand Central Market lies in its mouthwatering selection of food vendors, each offering a unique and delectable experience.
Are you craving authentic Salvadoran flavors? Head to Sarita's Pupuseria for their famous pupusas, filled with savory delights. Perhaps you're longing for some Mexican goodness? Tacos Tumbras a Tomas serves up mouthwatering carnitas that will transport your taste buds to culinary heaven. Want to explore diverse Asian cuisine? China Cafe offers flavorful chow mein that will delight your senses.
But it doesn't stop there. Grand Central Market has evolved to cater to the ever-changing culinary landscape, welcoming trendy eateries that have become hotspots for food enthusiasts. Dive into a gastronomic adventure with dishes from Shiku, Sticky Rice, Sari-Sari, Broad Street Oyster Company, and G&B Coffee. Your taste buds will thank you for this unforgettable experience.
The Broad – Where Contemporary Art Comes Alive
Step into a world of contemporary art at The Broad, a popular and cutting-edge museum that showcases a remarkable collection of modern masterpieces. The museum boasts an impressive display of over 2,000 post-war works featuring prominent artists like Andy Warhol, Roy Lichtenstein, Ed Ruscha, Cindy Sherman, Barbara Kruger, and Jeff Koons.
But the real stars of The Broad are Yayoi Kusama's Infinity Mirror Rooms. Step into these mesmerizing installations and get lost in a universe of endless reflections and optical illusions. The Broad now offers a reservation system, ensuring you can experience the full immersive wonder of these mind-bending rooms.
Whether you're an art enthusiast or a casual admirer, The Broad caters to all, offering a gateway into the world of contemporary art like no other. Take your time to wander through the halls and let the captivating artworks transport you into a realm of creativity and expression.
Music Center – The Heart of LA's Cultural Scene
No visit to Downtown LA would be complete without experiencing the city's cultural heart at the Music Center. This cultural complex houses multiple iconic venues that host diverse performances, from classical concerts to Broadway musicals. At the north end, the Ahmanson Theatre presents an impressive lineup of touring Broadway productions, while the smaller Mark Taper Forum showcases a range of compelling new dramas. The grand Dorothy Chandler Pavilion serves as the home base for LA Opera, offering breathtaking opera performances, concerts, and dance events.
Let's not forget our first stop, the Walt Disney Concert Hall, standing proudly among these cultural marvels. Together, the Music Center and its neighboring Walt Disney Concert Hall create a symphony of artistic expression that will inspire you.
Unleash the Magic of Downtown LA
Downtown Los Angeles is a destination with an unforgettable blend of culture, architecture, and gastronomy. As you explore the must-dos and sees we've shared with you, prepare to be enchanted by the allure of this vibrant city center. Whether you're an architecture enthusiast eager to witness the brilliance of Walt Disney Concert Hall, a food lover ready to indulge in the diverse culinary delights of Grand Central Market, an art lover seeking contemporary masterpieces at The Broad, a film buff looking to step into the world of "Blade Runner" at the Bradbury Building, or a culture connoisseur eager to immerse yourself in the performances at the Music Center, Downtown LA has something to offer every traveler. So, embrace the spirit of adventure, and let the magic of Downtown LA unfold before you. Your journey awaits, filled with endless wonders and discoveries that will make your visit a truly remarkable experience. Come and uncover the secrets of this dynamic city center, and we guarantee that your time in Downtown LA will be an unforgettable chapter in your travel story.