Often dubbed as the Island of the Winds or the Queen of the Cyclades, Mykonos is a travel destination that needs no introduction.
We've already said that Mykonos is one of the most popular greek islands for 2023. Known for its stunning beaches, vibrant nightlife, legendary parties, cosmopolitan vibes, and iconic windmills, it is a hotspot that attracts millions of tourists every year.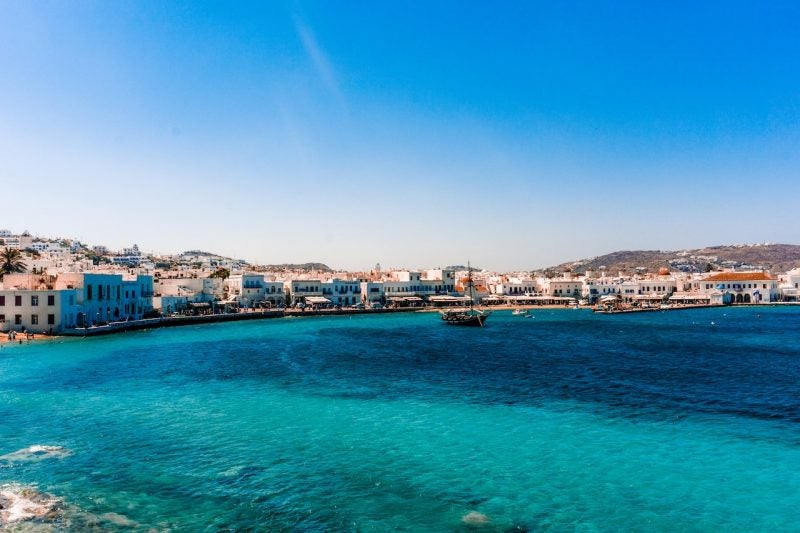 While the summer months of June, July, and August are traditionally considered the best time to visit the famed Greek island, drawing in approximately 75% of the island's annual visitors, there is a hidden gem of a month that many overlook – October.
Contrary to popular belief, October in Mykonos offers a unique blend of experiences that you won't find during the peak season. From significantly reduced accommodation costs (think a 25-35% drop compared to August prices) to a plethora of local events, October is a month that combines the best of both worlds. Whether you're a first-timer or a Mykonos veteran, October should definitely be on your travel radar. Here are 6 compelling reasons why.
Reason #1: Pleasant Weather
October in Mykonos is a meteorological sweet spot. While the scorching heat of the summer months can reach up to 35°C (95°F), October offers a more moderate climate, with daytime temps ranging from 20-25°C (68-77°F). This makes it ideal for various outdoor activities without the discomfort of extreme heat (although the local Meltemi winds do cool things off a bit during high temperatures).
This means that the sea remains warm enough for swimming, snorkelling, scuba-diving and other water sports (without having to wait your turn due to heavy crowds) or to simply lounge by the beach. The milder temperatures are also ideal for exploring the island's beauty and hiking (trails like the one leading to Armenistis Lighthouse offers stunning views).
Alfresco dining is also a fantastic option. The evenings in October are cool but not cold, providing the perfect setting for dining outdoors with expansive sea views as your companion. Enjoy a romantic dinner under the stars without the need for heavy layers. Or, why not, embark on a magical sunset cruise now that the luxury yachts are not packed to capacity.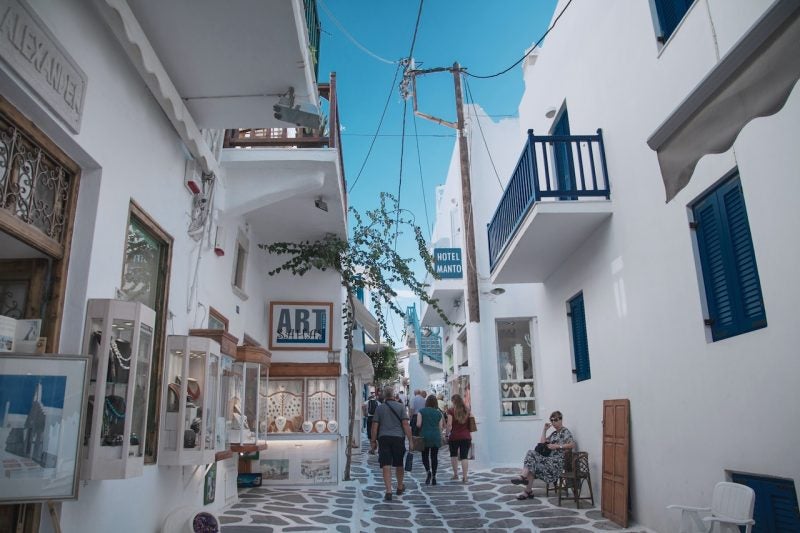 Reason #2: Less Crowded
The significant reduction in tourist traffic is yet another reason to visit the island in October. While the summer months can see upwards 20,000 visitors per day, October averages around 5,000 (a whopping 75% decrease). With fewer people around, you will find the beaches are far less packed. Imagine laying on the golden sands of Elia Beach or Agios Sostis, without having to jostle for a good spot. Or have a leisure drink or cup of coffee at the picturesque Little Venice without elbowing your way through crowds.
Plus, the environment is much more serene compared to the hustle and bustle of the high season, making it the dreamiest time for those looking to experience Mykonos' beauty and historic sites, like the Windmills, in peace. It should also be noted that the locals are more relaxed and open now that the hordes of tourists have left, which adds an even more authentic Greek island component to your overall experiences.
Tip: A must-visit site is Delos Island. A short boat trip away, this UNESCO World Heritage Site is less frequented in October, making your historical exploration more intimate.
Reasons #3: There is always something to do, see, and experience
While October generally offers pleasant weather, it's worth noting that the island experiences an average of 50-60 mm of rainfall during this month, spread over approximately 4-6 days (still relatively low compared to other European destinations). Worry not, as Mykonos has you covered.
Places like the Aegean Maritime Museum and the Folklore Museum are especially costly when there is a drizzle outside. Also, you can use this opportunity to explore the local culinary scene, with many restaurants offering indoor seating and the chance to enjoy a long, leisurely meal. Do pack a light jacket, though, as you will probably need it after sunset.
When the weather is warm and sunny, you can witness the island's transition from the high-energy summer season to a more local vibe and give yourself an opportunity for a unique cultural immersion. 
Although you won't find the many large-scale events of the summertime, there are several local festivals and happenings that provide a glimpse into the traditional Mykonian lifestyle, such as the national holiday of the Ohi Day (October 28th) that involves parades, traditional music, and plenty of local food and many local harvest festivals (October is the time for olive and grape harvesting). 
Art exhibitions at local galleries are also hosted in October, showcasing both local and international artists. Another great idea is to join a cooking class. With the tourist rush slowing down, many local chefs offer cooking classes where you can learn to make traditional Greek dishes.
Reason #4: More affordable luxury accommodation. Live in a luxury villa in Mykonos for less
October in Mykonos? Think of it as snagging a high-fashion designer ensemble at a steal. Dive into the world of Mykonos luxury villas at prices that'll leave you awestruck. Data hints at a dramatic 30-40% dip in luxury accommodation rates compared to the sizzling peak of July and August. This means you get to bask in the opulence of a Mykonos villa that feels every bit 5-star, all while paying what you'd expect for a 3-star spot during peak times.
Dive into the exclusive collection of villas for rent in Mykonos on the Kinglike Concierge list. Come October, they roll out the red carpet with enticing discounted packages. Think spa retreats, gourmet dining affairs, and more, all without the usual lavish expense.
Yearning for an extended escape? These reductions ensure you savor extra days in this Grecian paradise without stretching your budget. Relish in the grandeur of private villas in Mykonos and soak in luxury that's now more accessible than ever. More sun-kissed days in this haven? We say, "Absolutely!"
Don't just take our word for it! Dive into the kinglikeconcierge.com website now and discover the best villas in Mykonos waiting just for you. Your dream vacation is a click away!
Reason #5: Culinary Delights
October is a gastronomic treasure trove in Mykonos. As the island winds down from the busy summer season, local restaurants and tavernas take the opportunity to showcase their best dishes, often featuring fresh, seasonal ingredients. This is also the month that marks the beginning of olive harvest, making it the perfect time to enjoy freshly pressed olive oil. What is more, with fewer tourists, local fishermen have a better catch, translating to fresher seafood on your plate! And, let's not forget about the delicious local wines that can be sampled at local wineries. The lesser crowds ensure a more intimate wine-tasting experience.
Tip: We recommend trying moussaka, a classic Greek dish that tastes even better when made with fresh aubergines, which are in season in October! Also, freshly-caught grilled octopus is another must-try local delicacy, which you can savour at popular places like Kiki's Tavern, Nammos, and Scorpios.
Reason #6: Easier to make reservations
One of the often-overlooked advantages of visiting Mykonos in October is the ease with which you can make reservations. Whether it is a table at a high-end restaurant, a day trip to a nearby island, or even a spa appointment, the reduced tourist traffic makes planning your activities a breeze. This is because, during the summer, you will probably need to book weeks in advance for a table at popular dining venues. In October, a couple of days' notice is often sufficient.
Not to mention the fact that you can be more spontaneous in October, given the increased availability of everything surrounding your Mykonos stay. Fancy a last-minute trip to Delos? It is entirely possible in October. Overall, you will find that providers have more availability and are often willing to offer more personalised experiences, whether it is a diving course, a cooking class, ferries and day-trip boat rides to nearby Tinos and Syros islands, or a yacht rental.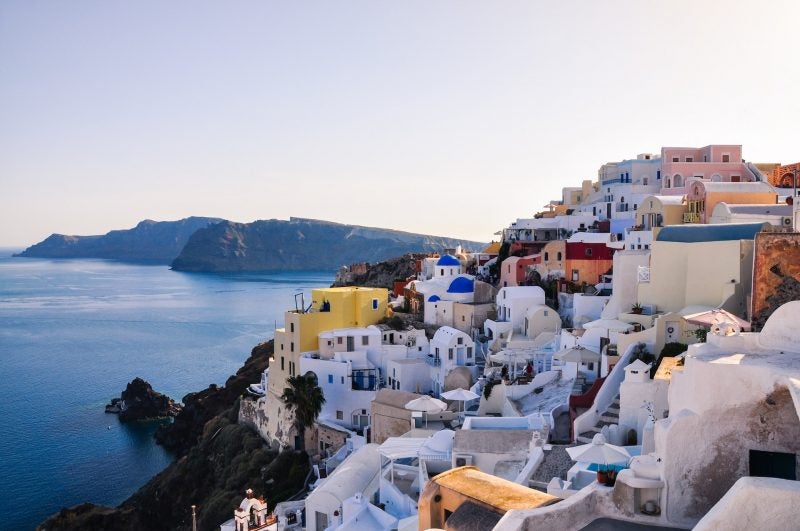 Tip: Make sure you check for end-of-season discounts that add extra value to your trip. Many activity providers and restaurants offer such options at this time of the year.
Final Thoughts
Mykonos in October is a venture like no other. It offers a unique blend of tranquillity, affordability, and cultural richness that you won't find during the bustling summer months. From enjoying luxury accommodation at a fraction of the cost to experiencing local festivals and savouring seasonal culinary delights, October in Mykonos provides a well-rounded and authentic Greek island experience that is just as magical (if not even more magnetic) as in the high season!