Imagine your toes in the warm sand, the smell of salt in the air, the sound of the waves lapping at the shore, and the promise of endless hours of R&R. Few things are more relaxing than a day at the beach. 
Who doesn't love the idea of taking a beach holiday somewhere fabulous when traveling is normal again? For beach lovers and sunseekers, it doesn't get much better than the Mediterranean island of Sicily, just off the south coast of boot-shaped Italy. 
Boasting almost 1,000 miles of varied and beautiful coastline, this gorgeous southern Italian island is home to an astonishing number of splendid beaches, lapped by the limpid waters of the Ionian, Tyrrhenian and Mediterranean seas.
We've shortlisted some of the most beautiful Sicilian beaches that you can add to your summer bucket list.
Isola Bella – North-eastern Sicily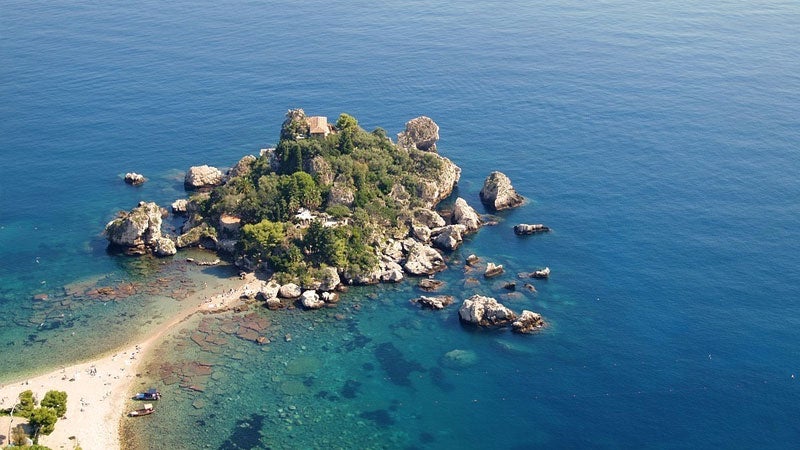 Near the glamorous hilltop town of Taormina, Isola Bella (literally, beautiful island) is an idyllic, UNESCO-protected nature reserve formerly owned by a British aristocrat. 
Set in Taormina's W-shaped bay, Isola Bella – not to be confused with an island of the same name in Lake Maggiore – can be reached on foot via a narrow isthmus from the mainland. This pretty, pebbly beach has fully equipped lidos offering sun beds, umbrellas, beverages and dining. 
Thinking of staying nearby? Renting a private vacation home is the safest choice at the moment. You can choose from a wide array of great rental properties. One of the island's leading holiday home rental agencies is Select Sicily, which boasts an impressive collection of exquisite properties in this area. 
Punta delle Formiche – Southeast Sicily
Just a few miles up the coast from Sicily's southernmost point lies Punta delle Formiche (literally, tip of the ants), a stunning, natural inlet of glistening blue waters surrounded by sea-worn, flat limestone rocks.
Where does the name come from, you ask? Well, locals say that, seen from above, this spectacular rocky promontory looks like long columns of ants.
A popular spot for swimmers, divers and snorkellers, Punta delle Formiche definitely makes for a pretty unique beach setting. This postcard-worthy rocky beach is something of a local secret, so make sure you visit it before the rest of the world does.
Scopello – North-western Sicily
About an hour's drive from Palermo is the fascinating bay of Scopello, one of the most iconic and photogenic locations in all the Mediterranean.
You recognized it? What an eye! Scopello's bay has starred in a number of acclaimed films, TV series and commercials, including Ocean's Twelve, the popular Sicilian books-to-TV series Inspector Montalbano, and the Dolce & Gabbana Light Blue ad.
With its dramatic cliffs, historic tuna plant and huge sea stacks rising out of the electric-blue water, this round little cove on the north-western coast of Sicily is just as awesome as it is on the screen.
Mondello Beach – West Sicily
You could be forgiven for thinking this gorgeous beach is in Rio de Janeiro, Brazil, but it is actually a short hop from Palermo, Sicily's colorful and eclectic capital.
Blessed with gleaming white sand and Tiffany-blue waters, the lively, loud and vibrant Mondello Beach is a favorite with locals, sunbathers, day-trippers and visitors alike. Sicily's answer to Ipanema, Mondello Beach is definitely a great place to kick back, relax, soak up the sun, work on your tan and enjoy a few drinks.
Cefalù – Northern Sicily
The Mediterranean beach town par excellence, Cefalù is Taormina's north coast rival. Just a few steps from the historic centre, Cefalù's crescent-shaped, pink-white sandy beach is lined with fabulously rustic tavernas serving the freshest of fish washed down with delicious Sicilian wine. How does swimming in iridescent turquoise waters before a dinner of fresh-caught seafood sound? 
In summer it can get quite busy, so be sure to arrive early to get a good spot to lay down the beach towel.
Marina di Noto – South-eastern Sicily
On the south-eastern tip of the island, the UNESCO-protected Baroque town of Noto is widely considered one of the most spectacular towns in Sicily. A vacation in the Noto Valley provides a great balance for experiencing a bit of Sicilian Baroque architecture, great art and truly relaxing beach time all in one. A short drive east of central Noto is Marina di Noto, one of the most attractive sandy beaches not just in Sicily but in all of Italy.
Visiting Sicily soon? As mentioned previously, renting a private holiday home is the safest vacation option right now. Self-catering holiday rentals are likely to be in great demand this summer, as their very nature makes them perfect for effective social distancing from other people. 
For more information, visit Select Sicily's website www.selectsicilyvillas.com.