While you may have your winter plans already locked in, one destination should definitely be next on your vacation list:

Revelstoke

, British Columbia. 
Here, there's year-round fun, be it for high adrenaline activity, chill-axing, for powder junkies, or indulging in artisan cuisine. It checks all the boxes.
Many of the sparks can be found in an around the world-famous Revelstoke Mountain Resort. The Resort is as much renown for its ski hills as it is for the plethora of year-round activities.
A must-try is Tandem Paragliding at the Resort. You'll float 2,200 metres above sea level, launching off Mount Mackenzie, the highest vertical relief in North America. It's all-ages and all-year round. All guides are certified by the Hang Gliding and Paragliding Association of Canada.
You can take a scenic gondola ride down, or something much quicker. Take a mountain coaster ride, said to travel as fast at 40km/h (though don't try that on sharp turns!). Think of it as a go-cart without the wheels, along a trail of 1.4 km of twists and turns. It's quite the rush.
The Resort is also where you can rent a rugged two-wheeled steed, and roll down the tree-lined mountain bike trails. I'm told more and more trails are added every so often, so each time you come back, there's a new adventure.
For downtime, travel to Sutherland Falls to explore this natural glacier-fed waterfall. Or about an hour away is Halcyon Hot Springs Resort, situated on the jaw-droppingly gorgeous waterfront location on Upper Arrow Lake, with views of Monashee Montains.
Revelstoke is home to some of the finest craft beers and spirits in the region. Mackenzie Avenue, at the heart of historic downtown, can be a great place to start. Check out Mt. Begbie Brewing, which has been in Revelstoke for 25 years. Rumpus Beer Company is a great spot to enjoy a tasting flight downtown.
In town, there are eateries of all types lining every street, but three can get you started:
The Old School Eatery

– a fun, casual dining experience in a 100-year old heritage site. Grab some pub-fare standbys like thick burgers, and steak and fries. 

Craft Bierhaus

– the salads brim with colour and creativity, the ahi tuna is a flavorful delight, and the smoked brisket leaves your taste buds giddy.

The Quarter Master

– Sourcing from local farms, boutique ranchers, and sustainable fisheries, they create exquisite and timeless cuisine. From the braised lamb shank with jalapeno couscous, to the braised duck, and rib-eye – all a class of its own.
There are over 200 rivers, creeks, and streams churning with freshwater fish around Revelstoke. So if you're keen on a fishing excursion, ring up Zachary at AAA tours, who might take you to Carnes Creek Recreation Site in his fully-equipped boat. Zachary is an affable fellow who keeps conversation flowing like the lake and salmon-filled trout.
And more for the outdoor enthusiast, Lake Revelstoke is an ideal spot for water sports, camping and outdoor activities. Rent a canoe, paddle board or just enjoy the nature. (Though I didn't try them, I'm also told that Wild Blue Yonder, and Apex, are two of the most highly-recommended whitewater rafting companies in the area.)
Looking for the perfect place to hang your hat is difficult anywhere you go, because you don't know what the experience is like – other than from Internet reviews. So I'll tell you from personal experience that I give high marks to Basecamp Resorts.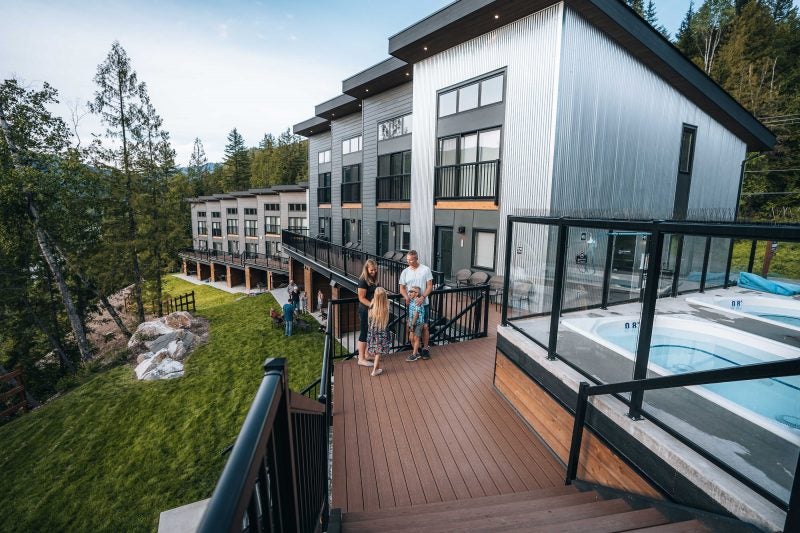 It's one of the latest – and classiest – accommodations in the area.
At just two years old, this boutique hotel/resort, situated just outside of downtown Revelstoke, features 32 townhome-style suites, ranging from five-bedroom suites to studios. Each suite overlooks the Columbia River, and stunning mountain views.
What I enjoyed was the "home away from home" feeling, with all the amenities and conveniences of a hotel, including a fully equipped kitchen, a washer and dryer, living and dining areas, and an outdoor patio. The property also has two rooftop hot tubs, as well as an outdoor barbecue and entertaining area.
Revelstoke's easy to get to via the Kelowna, BC airport. There's a shuttle to the city, or you can rent a car for the 2.5 hour drive –  essentially enabling you to shop, motor around town, and reach some excursions.
There's a reason why the unofficial slogan is "get stoked!"