If you're in Dubai to shop around, meet some locals, and keep it quiet and relaxed, then La Ville Hotel & Suites is perfect. The building itself blends just as seamlessly as tourists and locals in this cultural hub. I was very excited to check this hotel out and personally enjoy the vibe better at these boutique hotels. Make your vacation getaway a unique experience and bask in the private luxury of La Ville Hotel the next time you're travelling to Dubai.
The Place
Located right at your doorstep is the City Walk Dubai shopping centre. There's every urban lifestyle commodity just steps away from La Ville's doors. The chic outdoor mall gives you more perks than just shops. Foot traffic is the only noise pollution you'll get here and located in the middle of downtown Dubai too. Privacy and convenience all wrapped into one.
Given the high-end boutique nature of the hotel, it attracts professionals and business people who want to have a sophisticated and more private time away from the normal buzz you'll find at typical hotel resorts. Here you're close to the business financial district as well as plenty of restaurants and nightlife.
The Accommodation
After an exhausting day spent shopping or for a quick refresher before you head back out, take full advantage of the suites. Your bedroom becomes your sanctuary, surrounded by outdoor greenery, overlooking City Walk or beautiful views of the Burj Khalifa and Dubai skyline.
Your view won't be the only highlight with trendy wallpaper artwork and designs throughout the room. If you really want to secure the Instagram views though, choose from Deluxe Rooms that face City Walk, neighbourhood or Premium Rooms facing the Burj Khalifa. The bathrooms are sleek, modern, and give you plenty of room to freshen up before heading out for the day or night.
The Amenities
I had just landed in Dubai and La Ville was the first hotel I stayed at. The sun was starting to set so after a snapped a couple pics, I immediately headed up to the rooftop to take a cool dip in the infinity pool. This was truly their highlight feature and the vibe up there perfectly chill and relaxing. There's no shortage of other amenities here with a small spa, airport transportation, access to free WiFi, free parking, room service, on-site restaurants, bars, lounges, Shisha and even a centre.
The Restaurants
At La Ville, you won't need to fight the crowd or go too far to find great dining experiences. There's a few options with CHIVAL and GRAPESKIN casting over the beautiful courtyard lite up perfectly enjoying the breeze and live music.
If you'r in the mood to go a but more fancy, then GRAZE Gastro Grill & Bar turned out to be one of my favourite steakhouses in Dubai. I recommend it for their wood-fired Josper oven. This cooks their Australian Premium selection of meats to perfection while retaining the natural juices. Normally I never dip my steak into a sauce, but they insisted a try the peppercorn sauce it came with and have to admit it was addicting. The sides were flavourful and I wish I could've taken that Truffle Mac and Cheese with me to go!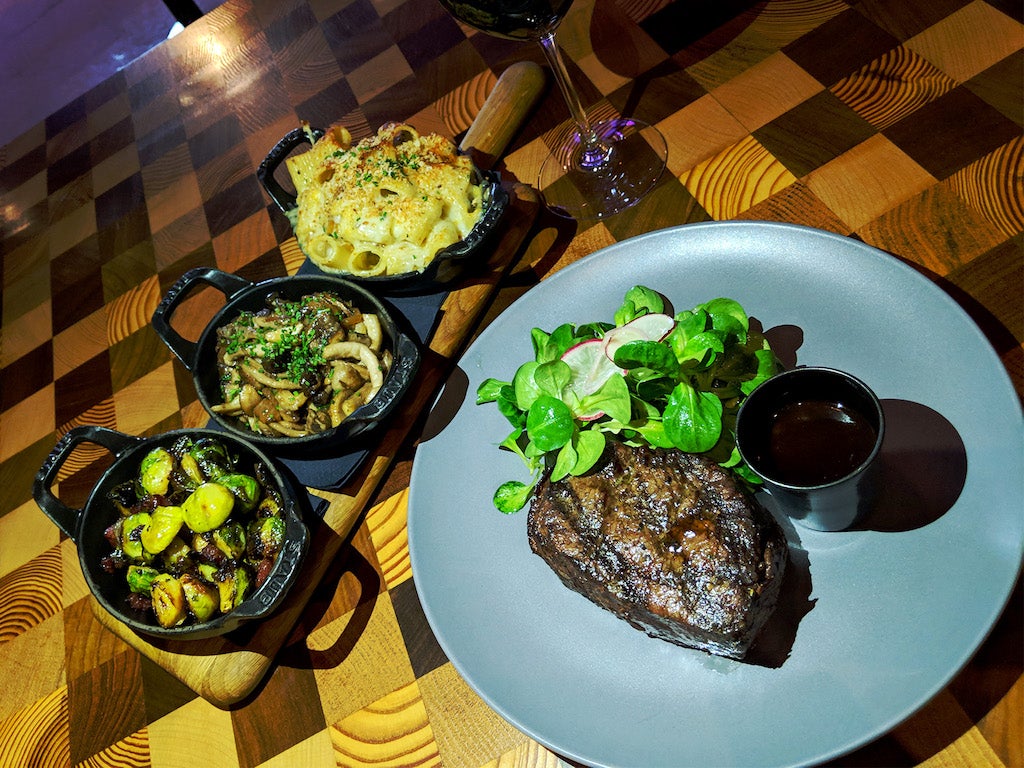 GRAZE even offers a Saturday buffet called the Grazing Feast of all you can eat for any three hours between 1pm and 6pm. Why else are Sundays for?
I can't forget about the most important meal of the day – breakfast. I cherished these mornings and they really helped me recover from the nights. CHIVAL hosts a sweet breakfast buffet with elaborate options. Literally anything your morning heart could be craving, they likely have it. Dig in and start the day off right.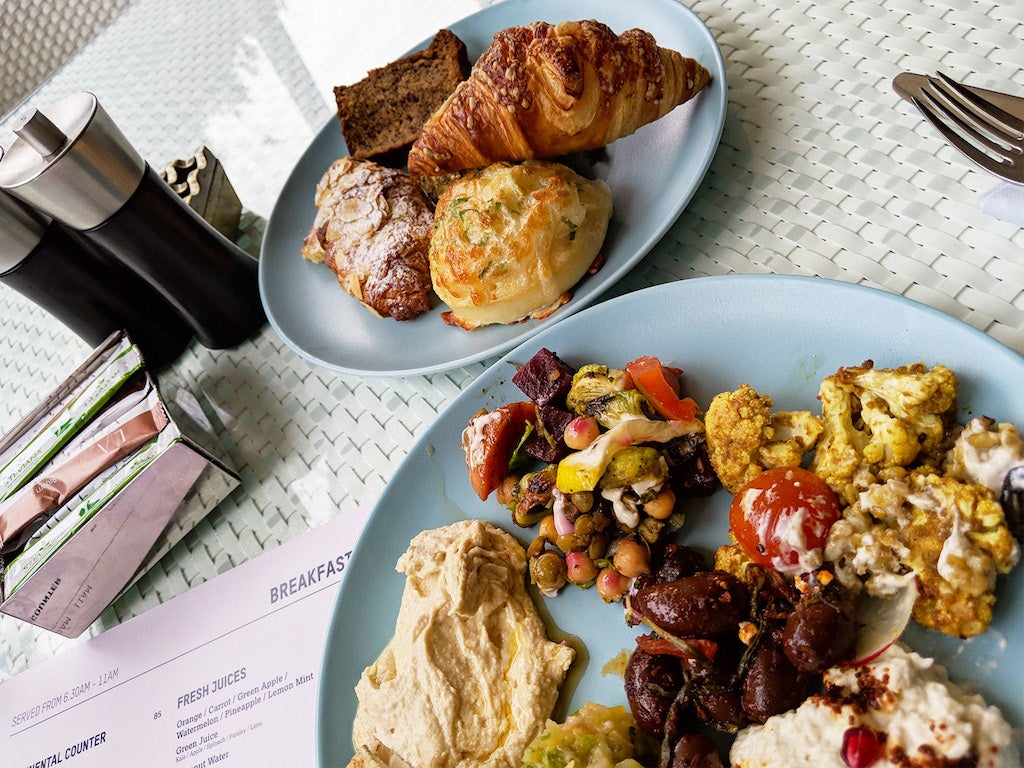 Coolest Spot on City Walk
The biggest standout at La Ville has to be the LOOKUP Rooftop Bar. There's nothing but city skylines ahead. Whether you want to enjoy lunch, chill in the infinity pool or just grab an Instagram pic with the Burj Khalifa. Come for the views but stay for the atmosphere. Maybe some Shisha, some cocktails or a cigar by the pool? It's all available here.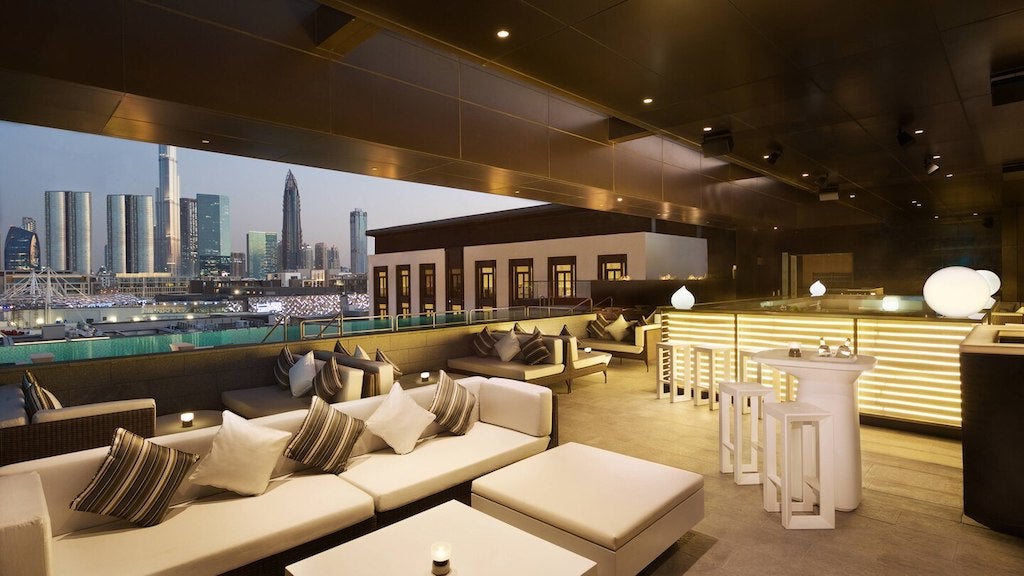 You can actually check out LOOKUP even if you're not a guest at the hotel. Not many people know, which is how they want it, but it is open to the public. You can get day passes that only expire when the sun does, from 100-150 AED. Make sure to bring your smart casual dress because this chic rooftop bar doesn't get any better. They even have party nights on the weekend with live DJs and a decent vibe.
If you're looking for convenience and privacy with a mix of the chic and cultural hubs, then La Ville Hotel & Suites Dubai is the place for you. Personally I will be back and is one of my top faves in Dubai. With all the city views, shops and relaxed atmosphere, La Ville balances vacation and urban living into one. This is a place where all kinds of interesting connections are made. Take some time to network and meet the locals, and who knows what kind of opportunities you'll run into.
---
CREDITS:
Contributing Writer: Sabrina Pavelic