Likely the only place in Canada that combines the feel of Old Europe with modern living, Montreal is in a class all its own. There are many good reasons why it remains a top tourist destination. 
There's something for the newbie or seasoned visitor, be it eye candy, landmarks or flavours. 
So it's no surprise that last year, for the third year in a row, the Time Out Index rated Montreal in its top ten, among forty of the world's best major cities – topping Dubai, Barcelona, Miami, and Paris!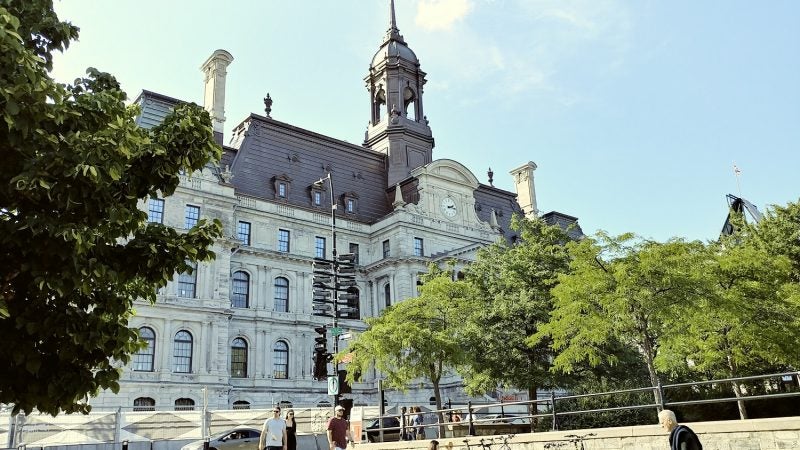 The city is a cultural hub with no parallel, as host to various festivals. From Osheaga, to Montreal Jazz Fest, to the Circus Festival, to Just for Laughs, to Nuit Blache and Igloofest in winter, there is a never-ending melange of special activities in the city. 
No visit is complete without strolling through the cobblestoned-lined Old Montreal. It is lined with boutique shops, galleries, sidewalk vendors and bars. You can still see traces of the original New France architecture from the fortresses of hundreds of years ago.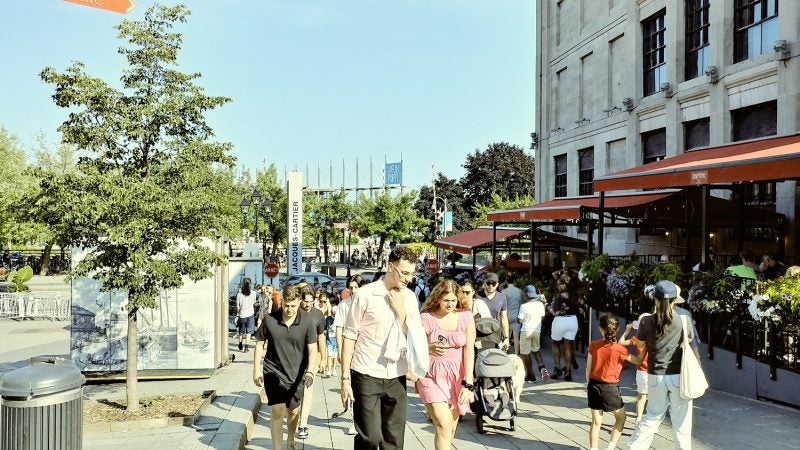 Voiles en Voiles is located at the Old Port of Montreal, and a family friendly adventure park themed around royal and pirate ships. Open all year long, summer activities include climbing aboard life size ships, climbing walls, playing inflatable games, shooting in an archery arena, or watching something exciting at the Pirate Movie Theatre. In winter, you can expect tubing, snow scootering, and winter obstacle courses. 
Bota Bota Spa has all the satisfying and relaxing sessions of a regular spa, but Bota Bota Spy offers these services while anchored in the Old Port of Montreal so that patrons can be lulled into further relaxation by the natural waves of the St. Lawrence River. Consisting of five decks, various spa services are provided along with a sauna with river views, outdoor whirlpools, hot baths, cold showers, and even a restaurant. 
The Promenade Wellington is a commercial centre in the Verdun Borough that hosts open air sidewalk shops, group events, tea houses, restaurants and bars. With abundant bike paths and extended pedestrian-only streets in summertime, the Promenade is a great place to stroll around or even take in a night time dance class.
Le Centre de la Nature is a 50-hectare urban park that services programming all year long, no matter the season, delighting lovers of the great outdoors in and around Montreal. Known for its recreational and educational programming, it is also site of several ponds, a greenhouse, farm, many gardens, and even an observatory.  
Montreal's culinary and food scene, of course, is world renown. Because the city's food offerings are as rich as – and often a reflection of – its multiculturalism, places like  Time Out Market Montréal thrive.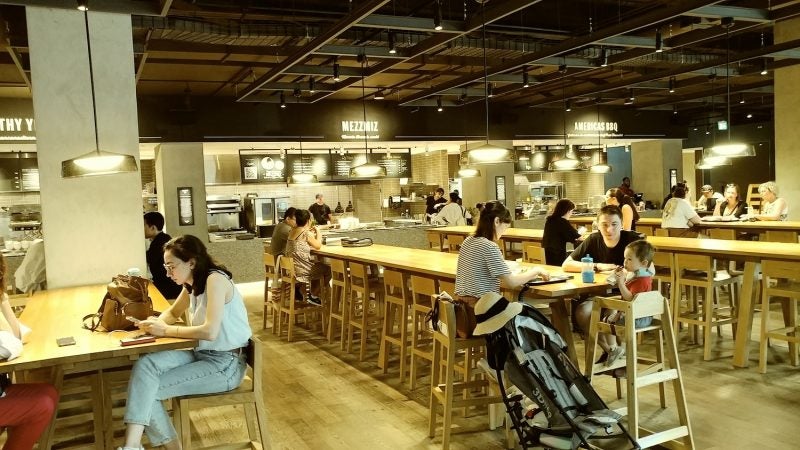 Located in the heart of downtown (Centre Eaton de Montréal, 705 Saint-Catherine St.West) the diverse indoor food market showcases 15 much-loved restaurants. At 40,000 square feet, it is home to a video arcade, an ice cream bar, a wine/cheese bar, a cocktail bar, a mocktail bar, and a cooking academy. Fare is as eclectic as Spanish, Indian, Japanese, Caribbean, Portuguese, Italian, and so much more.
Examples of the vast array of delicacies include:
– Ibéricos, led by Chef Haissam Souki Tamayo, who has worked in Michelin-star restaurants and alongside legendary chefs, to hone his authentic mix of Spanish tradition and local Quebec produce. The menu features delectable Valencian-style paellas, a calamari sandwich that satisfies even the most devoted seafood lover, crispy cod fritters coated in maple syrup, and a Basque cheesecake with a caramelised top and luxuriously creamy interior.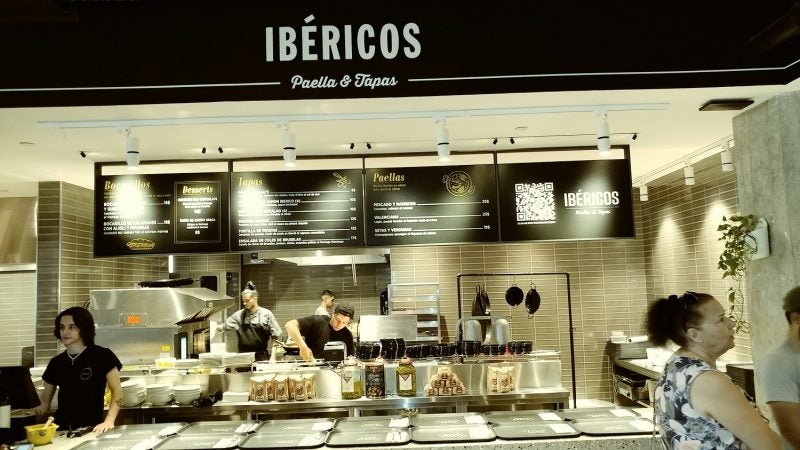 -Americas BBQ, where Chef Paul Toussaint invites you to savour barbecue techniques of North, Central and South America. The menu features spit-roasted méchoui, Mexican al pastor, Caribbean jerk, Argentinian asado, and Brazilian churrasco, to name but a few.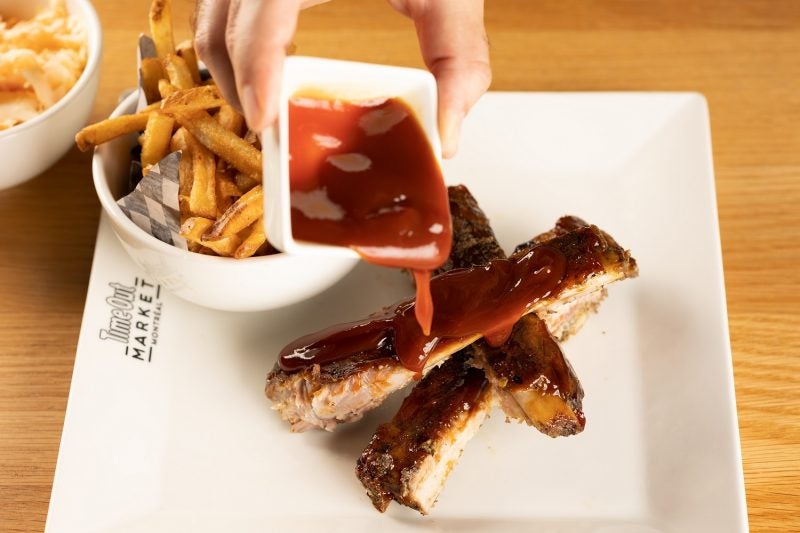 -And, Le Blossom, where the Japanese yatai-style street food includes pressed and torched oshizushi, fresh sashimi and savoury maki, and loaded-to-burst poke bowls.
For an exquisite sit-down dining experience, visit Maggie Oakes on Place Jacques Cartier. The menus feature a wide array of impressively-created pastas, fish, meats, wines and desserts. The attention to detail and the finer touches are what makes this place stand-out. For example, the grilled tuna tataki comes complete with lightly crisped daikon radish, lavender tonic gel, puffed wild rice, aioli, and pickled red onions. Behind the glass case you can see various shelves of aging hunks of beef, and taste from dozens of different steaks of varying size, cuts and shapes. One of which is the juicy and delectable 10oz New York steak, aged 55 days, served with sautéed wild mushrooms, fingerling potatoes, peppers, and borderlaise sauce. The combination of atmosphere, taste and service make this a must-enjoy. 
In sum, Montreal's a city of gastronomic pleasures, arts and culture, excitement and indulgences that rivals any bustling European hub.
WHERE TO STAY
Auberge du Vieux-Port, formerly a 19th century warehouse, is a charming boutique hotel in Old Montreal, with original brick and stone walls, old oak or pine floors, and casement windows, looking out onto St. Paul Street or the St. Lawrence River. Every room is designed to bring out the best in space. Their Lofts — fully furnished with a living room, dining room, kitchen, and Jacuzzi — are particularly suited for the business traveller, or the couple looking for the comforts of home. The beds meet the most picky "bum test", and the pillows softly caress the head and neck. A nice touch are the fluffy and cozy slippers and bathrobes!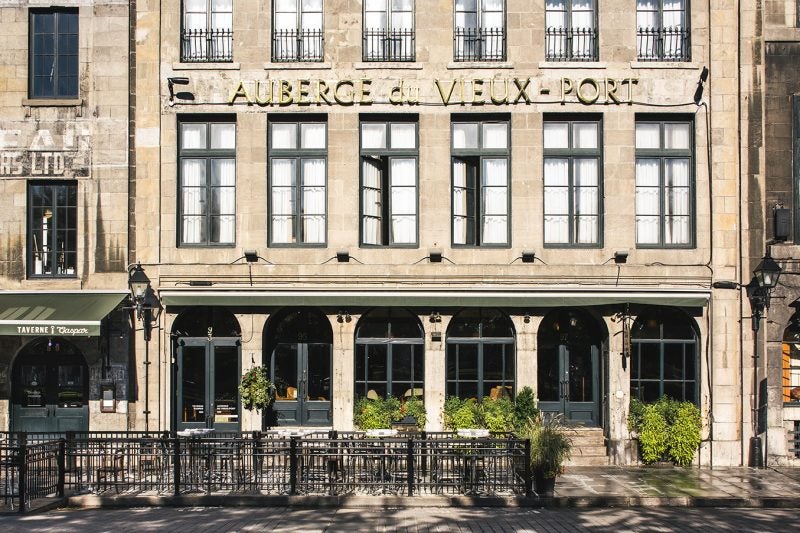 Auberge du Vieux-Port also features their iconic rooftop restaurant Terrasse Sur L'Auberge, a classic bistro offering French fare and drinks, with a stunning view of the St. Lawrence River. It's an ideal spot for exploring Old Montreal's galleries, shops, restaurants and historic monuments. They were awarded by Trip Advisor among Canada's top 25 hotels in 2021, 2022 and 2023.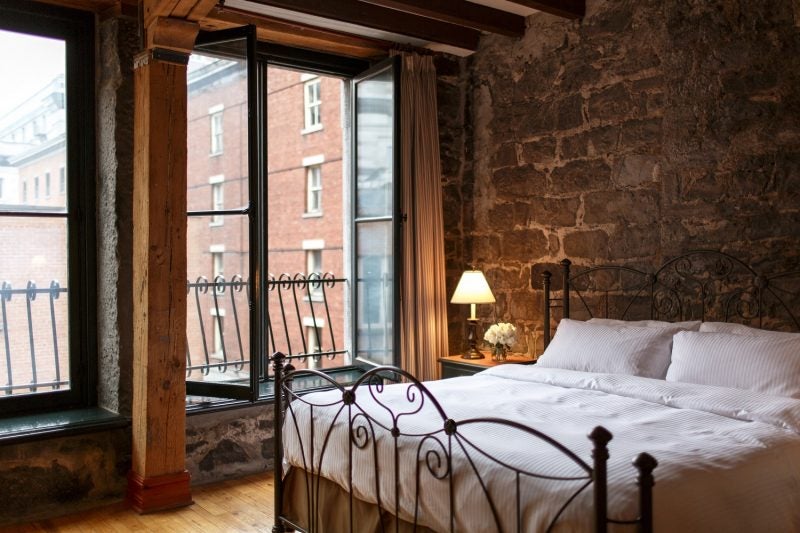 Montreal In a Snapshot
Montreal's Underground City extends over 33 kilometres, starting in the east at Complexe Desjardins. It includes various shops, restaurants, and entertainment opportunities, with links to art museums and entire malls. 

Cycling is so common in Montreal that the city

was named

the '

most cycle-friendly'

city in North America with more than 1,000 km of bike paths. Montrealers are even known to ride their bikes in the snow and ice. 

Montreal is known for its bagels, and what sets these noshes apart from others is in their preparation and baking. Montreal bagels are formed by hand, poached in a honey-water mixtures and then baked in a woodfire oven giving them their unique and enjoyable texture and colour.  
Travel Essential Tools
Every travel pro has a checklist of the "essentials" that take the vacation to the next level. 
Here are some of those must-haves:
The right backup: You don't want to risk losing power in the middle of an important video, or be on a self-guided walking tour when your Google Maps blacks out. Pack a portable battery charger.
The right carry-on: for the traveller who wants a quick and smooth off/on the plane, pack light and tight with the famous Bentley Tracker. The easy-turning wheel design and pop-up handle makes it the perfect grab n' go from the airport to the hotel. 
The right plan: if your cell phone service doesn't cover certain areas or you're unhappy with the out-of-city plan you have, pop into a local electronic store to rent a local SIM card.  
Never lose a bag: get a luggage tracker (aka smart tag). For those times when we need to check the luggage, and want some relief to know that the bag will never be totally lost, it's always just a GPS signal away.