Fifteen-year-old Colin Stangel has been turning heads in the sneaker game for the last year now. Some even consider him the hottest sneaker plug in the game. He has a long list of celebrity clientele that he works with; he's sold shoes to SmokePurpp, Lil Pump, DaBaby, Trippie Red, Lil Baby, Gunna, and more.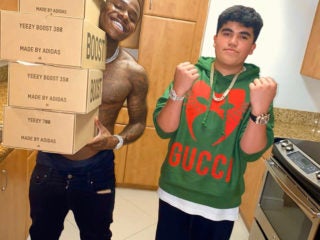 As a fifteen-year-old, he has to manage. his time efficiently between school and his business; from what we've seen, he has a real hustle like mindset, which we love to see, especially in the younger generation. If you take a look at his Instagram (@colinstangel), he has a massive following of over one hundred thousand fans, many celebrities also follow him already.
We talked about his business now. Let's talk about his fashion, and If you take a look at his Instagram, he has impressive outfits from designers like Dior, Louis Vuitton, And Gucci. Colin was invited to the recent very exclusive Dior Miami fashion show, which was very hard to get into!
Anyways Be on the lookout for colin as it's only up from here from this young gentlemen