Family Feud Canada is now accepting applications for a chance to participate on Family Feud Canada, hosted by Gerry Dee!
Family Feud is looking for amazing, unique, diverse, inspiring and hilarious families to go head to head in a pop culture pop-quiz face off for Season 3 of Family Feud Canada.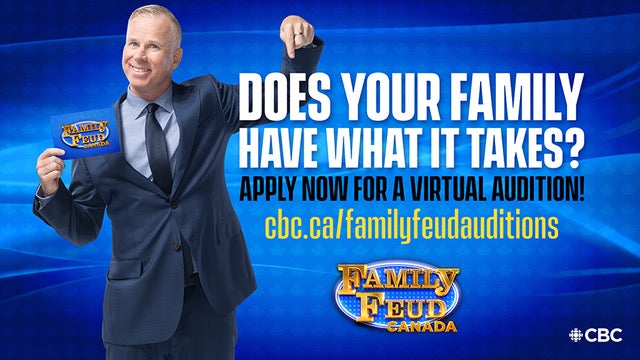 Apply now for a virtual audition!
Each application will require 6 adult (18+) team members (5 family members and 1 alternate, just in case). Everyone who is interested should apply! Families of all kinds, shapes, colors, and sizes are welcome; the more the merrier. There is no limit to which family members can apply either. Want a team of nothing but cousins? Great! Want to take on the world with your elderly grandparents? Fantastic! Want to embarrass your stinky step brother on the national stage? Bring them on down! The bottom line is this: they want to see what sets your family apart, your enthusiasm for family fun, and all the quirks to match it, all while exhibiting your competitive spirit in a friendly, fun, and safe environment!
Every 5 person team that passes the audition and screening processes will face off for up to $10,000 in cash and prizes. It is a bit like a tourney format, so the winning team will move on to go head to head with another family and take their chance at earning another $10,000 for a maximum of $30,000 after three victories! Think of it as being a bit like a game of king of the hill: the winner stays on for up to three victories.
Send in your audition videos here today!
Why can't I audition in person?
Unfortunately, due to the ongoing issue of Covid-19, Family Feud Canada cannot host in person interviews and auditions at this time, but are eager to meet you in the middle and deliver a fantastic show. Producers are however currently conducting various interviews, auditions, and group calls online.
What kind of audition video should we make?
The main goal here is to paint as vivid, accurate, and entertaining a portrait of your family and their quirks as possible. A basic introduction of the potential team members is always a good start, but be sure to include any funny quirks or odd traditions that your family might have. Funny coordinating outfits or "uniforms", enthusiastic behavior, laughter, that sort of thing are also strongly encouraged! The point is to just have fun!
Each video should be about or under 5 minutes in length. It is recommended that each potential contestant try to showcase what makes their family unique. Show off your enthusiasm and individuality in your virtual audition tape! Be proud to be unique, different, and most importantly, hysterically funny!
After your virtual audition, the team will gather via zoom if it appeals to producers and passes our screening process. Taping is expected to begin in September. Should your family be chosen, producers will reach out to you and discuss the next steps to take at that time.
For any further questions, please reach out to familyfeud@cbc.ca.