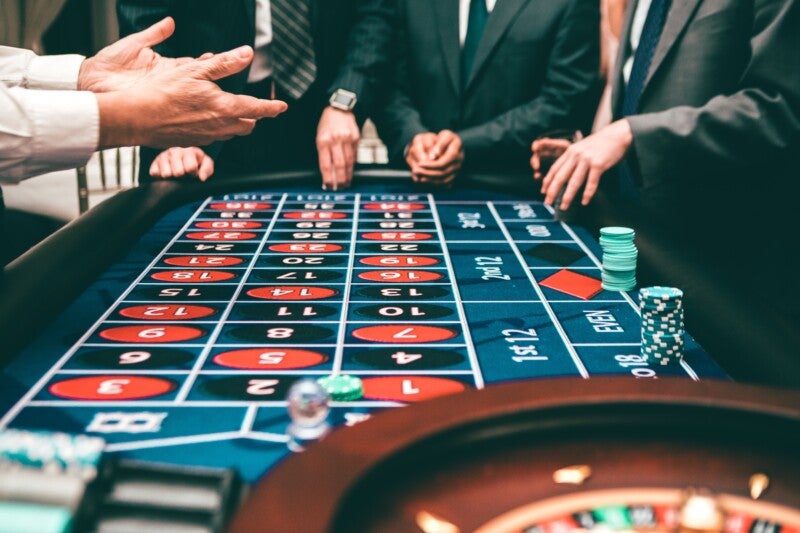 There's something about roulette that makes it so appealing to play. In Las Vegas, people like it because it's simple and non-involving. All you need is to place a bet and the wheel does the rest. On the Internet, people like the broad range of roulette games and bet types.
Then there's the Hollywood appeal forged by Croupier, Indecent Proposal, Run Lola Run and of course, Batman. Movies depict roulette as an exciting, fast-paced game of luck. And indeed, roulette is all those things and more.
Want to become a great roulette player? Start by learning everything you need to know about the game below. Sounds good? Let's dive right in.

A Brief History of Roulette

Roulette traces its origins to 17th century France. Back then, a scientist called Blaise Pascal attempted to create a wheel that could rotate perpetually. He didn't succeed, but he designed the first known version of roulette.
Or did he? There's a second theory that says roulette originated from Italy. That's because it resembles so much to the Italian game of Biribi—a board game that involved marking a set of numbers and determining winners by spinning a wheel.


That said, little has changed about roulette in the last 400 years. When invented, zero and double zero pockets were coloured red and black respectively. These colours were later switched to green in the 1800s so that numbers 1 to 36 are coloured black or red and 0 and 00 are coloured green.

With that in mind, roulette spread from France and into the world in the 19th and 20th centuries. In the US, the game retained both 0 and 00 pockets. But in most other parts of the world, the most played variant features only one zero pocket (European roulette).
Types of Roulette
Most people know two types of roulette: European and American roulette. But these days, there are at least five variations of the game.

1.) European Roulette
It features numbers 1 through 36 and one number zero (0) pocket. As we mentioned earlier, this is the standard version of the game. It's also the blueprint for creating all other variants we'll mention below.
Besides the number format, the most distinguishing feature of European roulette is its house edge: 2.70%. It's much lower than American roulette's house edge despite the two games having the same payout ratio: 35 to 1.

2.) American Roulette
American roulette has numbers 1 through 36. And it has two extra green pockets: one labelled 0 and the second one 00. Because of the extra pocket, this game's house edge (5.26%) is much higher than that of European roulette
So, why play American roulette when it has a higher house edge than European roulette? Lack of information, lower limits and bonuses.

3.) French Roulette
Sure, roulette originated in France. But the variation most associated with France is mostly found in Monte Carlo. Sometimes you can spot an online casino that features this game but they are not easy to find.

So, what's the deal about French roulette that makes it hard to find? It has two well-known rules that lower its house edge to 1.35%. This only applies when you bet on even-money wagers: black/red, odd/even, inside/outside.

Additionally, it works with these two rules: En Prison and La Partage. The first rule "imprisons" your stake when you place a 50/50 bet and the ball lands in a green pocket. After that, you get another chance at the game. If you win, you get the money. If you lose, the house keeps the cash.

The second rule—La Partage—dictates that you get half of your stake back if you wager on a 50/50 bet and the ball lands inside a green pocket.

4.) Mini Roulette
Is this a type of roulette for people in a hurry? In many ways, yes. This is the game some people choose when they want to play roulette but want something more fast-paced than European roulette.
Mini roulette has a small wheel labelled numbers 1 through 12 and one green 0 pocket. The game supports all popular roulette bets. But there's one glaring reality: it has a big house edge (3.85%). So, before you try to play this mini-version of roulette, keep in mind its house edge isn't so enticing.

5.) Live Dealer Online Roulette
Live dealer roulette lets you play the game in front of a human dealer. And there are cameras everywhere that help you view what's going on. Sometimes you can also play live dealer online roulette in a multiplayer setting.
Although it's not different from playing roulette against RNG software alone, live dealer gaming adds some excitement to roulette. It spices it up and makes online gambling feel a tad more sociable.

However, before you bet on roulette online, ensure you're at a casino that accepts players from your country. If you're in the UK, find an operator licensed by the Gambling Commission. In Europe, operators licensed in Malta are the norm.

In North America, you can play online roulette in Canada by choosing one of the recommended sites at casino review platforms. In the states, it depends on where you are: New Jersey, Pennsylvania, Delaware and West Virginia are the only states that permit online casinos.

6.) Lightning Roulette
Lightning Roulette is a new variation of the game created by London-based software provider Playtech. It works in a live online setting—a virtual room between you and the dealer or hundreds of players at a time.
A dealer stands in front of a gigantic screen that acts as the game's paytable. The room is branded and there's a roulette wheel at the centre. On your screen, there's an interface for placing bets and following the action.
Lightning roulette features a European roulette wheel. But what makes it exciting is that a "lightning" strikes five numbers on the paytable and highlights them with multiplies of 50x to 500x. If the ball lands in one of the numbers and you had wagered correctly, you could win up to 500x your bet.

How to Play Roulette
The standard roulette wheel consists of two things:
1.) A wheel labelled numbers 1 through 36 (coloured blue or red alternatively) and one or two green pockets labelled 0 and 00.
2.) A pay table labelled roulette numbers and explanations of bet types and payout percentages.
To bet on roulette, all you need is to choose a bet type and an amount. You can wager as little as ten cents for low-stakes games to as much as $100,000 at high-stakes high roller roulette wheels.
Although you can bet higher amounts at brick and mortar casinos, online casinos provide more convenience. Also, they are more private, have a broader range of roulette games and even welcome you with bonuses.

Types of Roulette Bets
The most common roulette wager is called a straight-up bet. It involves choosing one number in a roulette wheel. If the ball lands on this number, you get paid at a rate of 35 to 1 for European and American roulette. And 11 to 1 for mini roulette.
That said, there are more roulette bet types:
•Street: you choose three numbers—say 4, 5 and 6. If the ball lands on one of the numbers, you win. The payout rate is 11 to 1.
•Split: involves two numbers located next to each other—e.g., 10/11 or 26/27. The payout is 17 to 1.
•Corner: you select four numbers on a paytable. Let's say numbers 3, and 4 are located next to each other. And directly below them are numbers 5 and 6. Essentially, they form a square. And if the ball lands on one of them you win 8 to 1.
•50/50 bets: include red/black, odd/even or high/low. The last one consists of low bets (1 to 18) and high (19 to 36). Even money bets payout at a rate of 1:1.
•Columns: Roulette pay tables arrange numbers in three columns of 12 numbers each. You can bet on the ball appearing in a pocket located in any of the columns and get paid 2 to 1.
•Dozens: the numbers are divided in order: 1 to 12, 13 to 24 and 25 to 36. In other words, first, second and third dozen for a payout of 2 to 1.
•Five–number bet: comes with a list of five digits—1, 2, 3, 0 and 00. If you pick this selection and win, the payout is 6 to 1.
•Basket: involves betting on the first four numbers—0, 1, 2 and 3. The payout rate is 6 to 1.

Roulette Odds Explained

Let's face it. We don't just play roulette because it's a fun game. We also want to win. Unfortunately, the game is designed such that winners are determined through a random manner.
You see, roulette is a game of math. When the wheel spins and the ball is thrown in there, there are odds 36 to 1 for the ball landing on a number you picked. If you bet on black and the only other colour is red, the odds of winning are 50/50.
Against that backdrop, the objective is to choose a bet type with great odds and a decent payout. Here's an overview of popular European roulette bets and their winning odds:
•Single/Straight up: 2.70%
•2 number combinations: 5.4%
•3 number combinations: 8.1%
•4 number combination: 10.8%
•6 number combination: 13.5%
•Column/Dozen: 32.4%
•Red/black, high/low and even/odd: 48.65%
Naturally, the most picked bets are those with big odds: even, columns, dozens, and 4-6 number combinations. They might not have the best payout rates. But they provide the best odds of winning.
How to Win at Roulette: Best Strategies and Tips
You probably know this—casinos have an advantage over you. The odds of black/red aren't truly 50/50. And the odds of straight ups aren't 37 to 1. The house gets an edge that ensures they make a profit over the long run.
So, how can you make consistent profits in roulette when the game is titled against you? Strategies and tips. Here are some of them.
•Martingale Strategy
This system dictates that you double your bets after every loss. Its goal is to help you recoup your losses and make a profit when you ultimately win. According to experts, the Martingale strategy works best on even money bets.
While it can help you recoup your losses, the Martingale system requires a decent pool of capital.
Reverse Martingale System
You guessed it right—you double your stake after every win. Of course, it targets 50/50 bets and requires decent capital. It's not a guaranteed system but it helps you maximize profits during your winning streaks.
•D'Alembert System
This system also targets 50/50 roulette bets. But it is based on playing it safe. Basically, you increase your bet by one unit ($1) after a loss and decrease it by $1 after a win. But don't get confused. The objective is to walk away with a profit.
•The Paroli Strategy
Here's the drill. You double your bet after a win. Then you double it again and again. Let's say you wager $10 and win. Next, you bet $20. If you win, you double again: $40. After the third triumph, you revert your stake to the original amount.
Some experts advise that you tweak the system a bit by double your stake after your second bet. Let's say, you bet $10 and win. Don't double your bankroll just yet. Wager $10 again. If you win, now you can double your stake. The benefit is that you avoid burning your initial stake too soon.

Conclusion
There you have it—a beginner's guide to online roulette. The game originated in 17th century France. But now you can cherish it at the comfort of your home. As mentioned, there are several types of roulette, bet types, and betting systems.
Take your time to understand everything we outlined above. Choose your roulette type carefully. Exercise even more caution when deciding your stake and strategies to use. It's a game of chance, so only bet that amount you can afford to lose.