The action packed thriller Slapface, is now available for streaming on OTT demand service site, Shudder. The flick stars actor, producer and TV star, Mike Manning who plays the older brother named Tom, to younger brother Lucas who is portrayed by August Maturo. Tom, who is desperately trying to keep his family together after the death of their parents, realizes he is in over his head when Lucas befriends a supernatural creature in the woods. The performances from start to finish are captivating, leaving many grasping at their seats with fear!
The flick opens up with an explanation of its name, as the two brothers are seen playing a game of slapface. The two use this game as a way of creating concentration and self discipline, as their family dynamic has drastically changed since the death of their parents. This theme of grief and abuse will be apparent and strong within the rest of the film, detailing how the boys cope with their extraordinary loss.
Visually, Slapface nails the eerie and sinister aesthetic that makes horror movies that much more enjoyable to watch. The film is dark and mysterious leaving viewers not knowing what might happen at any moment- a suspenseful experience for all. Many themes in the film tie to supernatural and witchcraft phenomenon, specifically how these elements can take advantage of vulnerable children, like Lucas.
Lucas's life is perfectly portrayed at an all time low. In addition to the passing of his parents, he is at the hands of constant bullying by a group of brooding preteen girls. This mixed with a  hidden romance with Mirabelle Lee's character Moriah, Lucas is desperate for friendship and a change in his life. The young boy finds himself befriending a suspicious creature of the name Virago, who is played by Lukas Hassel.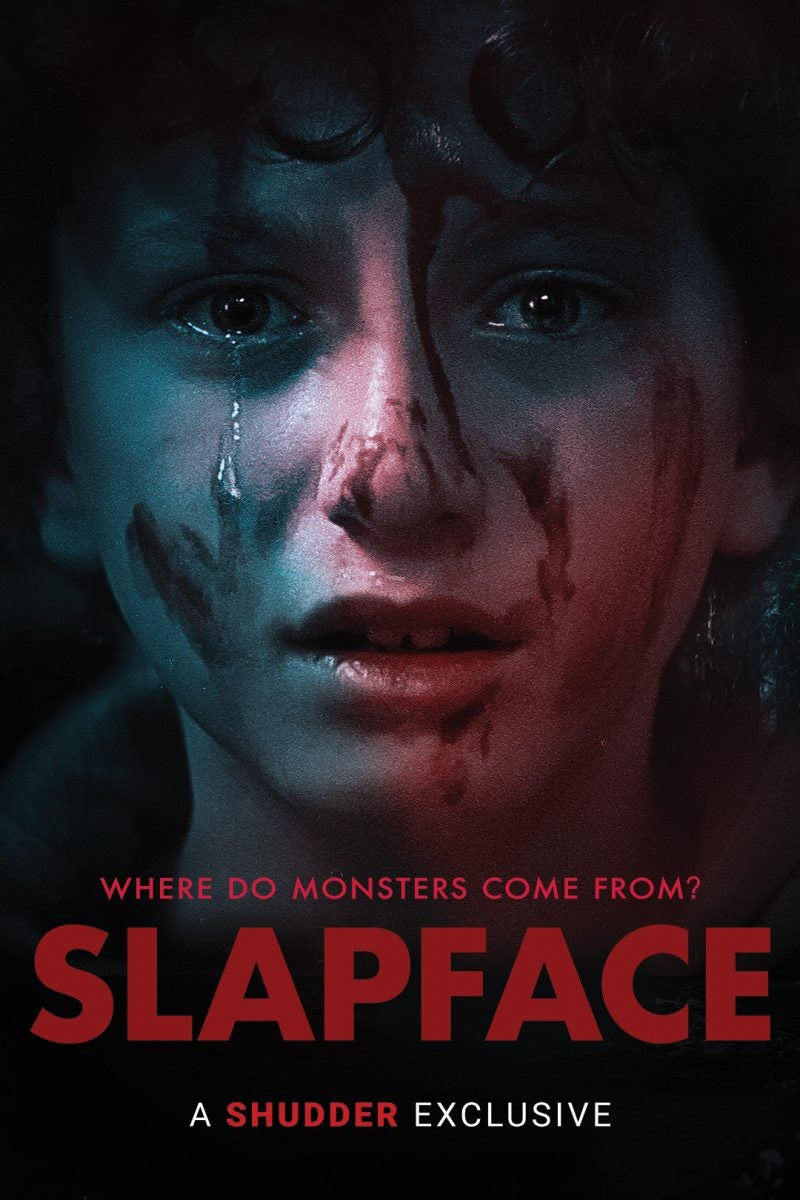 The friendship between Lucas and Virago quickly unfolds to be something more disturbing and dark. It is up to older brother Tom, his love interest and the town sheriff to put an end to the evil that has taken advantage of two grief stricken boys.
Slapface explores the important themes of grief and abuse, and how these two can cause a reaction between one another. Tom and Lucas are trying their best to navigate their new lives, while simultaneously protecting one another. The two can get caught up in violent ways of reacting that in turn illustrates the pain and misfortune that death brings along.
Mike Manning (Tom) was also a producer of the film, teaming up with Jeremiah Kipp as lead director. What was created was a mix of both of their individual ideas and collaborated mastery. The entire process of putting together this story was brought together by Manning and Kipp. From casting, producing, directing and writing the director and actor duo did it all.
Mannings performance was enjoyable to see play out on screen. As he is navigating life as a full time caretaker and big brother to Lucas, mannings portrayal of Tom was an inspiring journey to see first hand. Adding the stress of a supernatural creator tormenting his younger brother very much tested Tom's character and left the audience wondering what they would do if they were in his position of authority. By the end of the film we see an evolved and more confident big brother in Tom, an admiring attribute to Manning as an actor.
"The fan response was really positive and we can't wait to share the film with the rest of the world," Manning exclaims.
The sci-fi thriller mixes realism with fantasy to create a dark masterpiece that has already left audiences wanting more. Slapface tells the story of two lost boys reeling with the death of their parents, who get thrown into an even scarier situation when a villainous creature preys on their weakness. The circumstances test the boys to their very wits end, and at times it seems like they will not be able to overcome their supernatural dilemma.
As the film does emphasize the supernatural and a tense experience for viewers, at the end of the day it portrays a heartwarming story of two brothers looking out for each other. The evolution of Tom and Lucas's relationship is beautifully created by Manning and Maturo. Horror movie lovers will get a kick out of the eerie story setting but also experience a great story about brotherhood.
Do not miss out on the spooky and bittersweet story that is Slapface! Viewers can stream on Shudder with a subscription.