At this year's Tribeca Film Festival, the romantic drama "I Carry You With Me" was celebrated due to the efforts of Supper Suite. Hosted at Gerber Group's restaurant and lounge, Nearly Ninth, within the Arlo Midtown, and co-sponsored by GREY GOOSE Essences, Peroni Beer, Billionaires Row Champagne, and PAC Protocol, the party was a hit.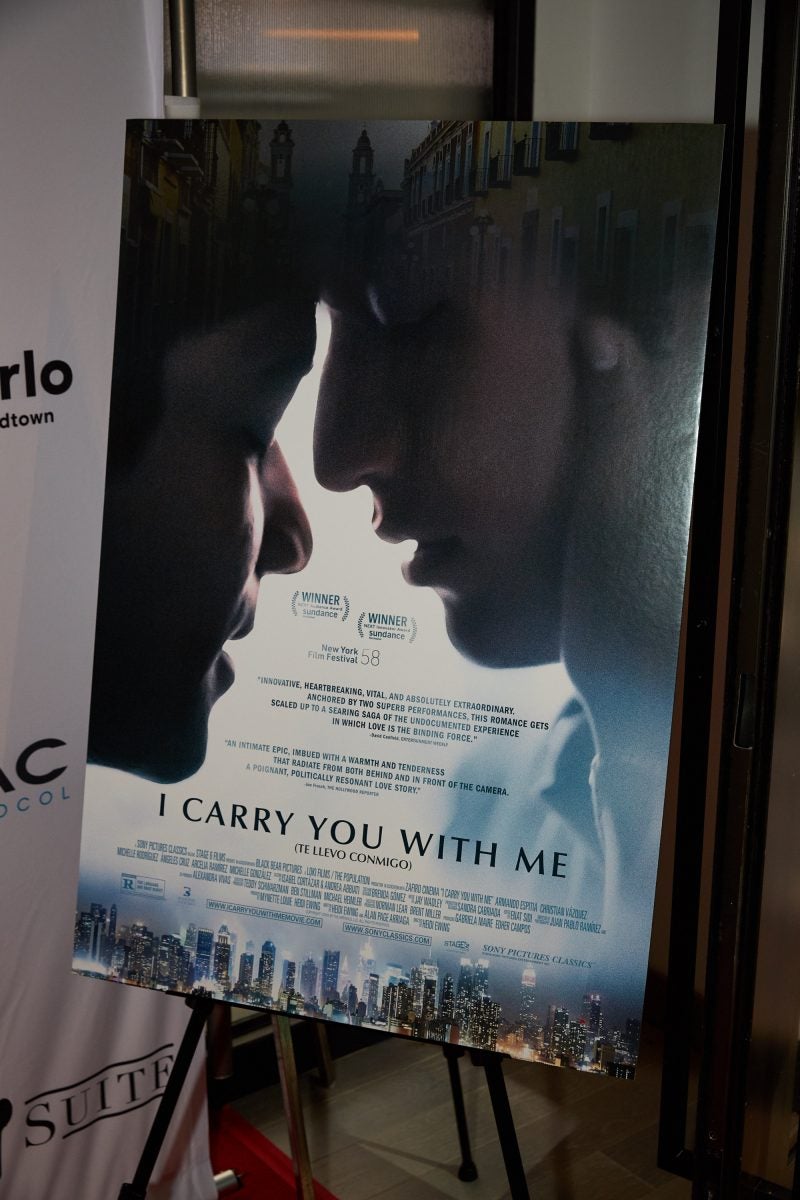 "I Carry You With Me" was directed by Heidi Ewing in her narrative debut, and stars Armando Espitia, Christian Vázquez, and Michelle Rodríguez. Based on a true story, the film follows an epic love story between two men in provincial Mexico that spans decades; however, due to ambition and societal pressure, one must leave their soulmate in order to become a chef in New York.
In order to celebrate this emotionally packed film, Supper Suite hosted a pre-premiere reception so that the cast and crew could feel honored and be praised for all of the hard work that they put into the film. 
With lively energy filling every corner of the room, the event sure was a night to remember. Reminiscent of pre-pandemic fun, everyone in attendance was filled with pure joy, and of course pride for what magic they had created.
A large part of the success of the event was because of the wonderful selection of food and beverages.
Food was provided by Nearly Ninth's Executive Chef, Corey Becker. He described the menu as "classic American with Italian influences" that included all comfort foods. All dishes were elevated with premium ingredients that were locally sourced from the best purveyors in the Northeast, such as Natoora and Buon'Italia.
To accompany the food, beverages were provided by GREY GOOSE Essences, Peroni Beer, and Billionaires Row Champagne.
The new and already very popular GREY GOOSE Essences are fragrant, bright, and flavorful expressions that can turn any soda into a delicious, mouth-watering cocktail. Made with all natural ingredients, no sugar or carbs, and an ABV of 30%, GREY GOOSE Essences were made for those who like to drink mindfully. With flavors such as Strawberry & Lemongrass, White Peach & Rosemary, and Watermelon & Basil, the smooth, fruity tastes will leave you craving for more.
For those who prefer a nice lager over a cocktail, Peroni was present, exuding luxurious, Italian style. Leaving you feeling refreshed and revitalized, Peroni is able to meticulously balance bitterness, citrus, and spicy flavors that are unique to its kind.
For the most important part of the night, in order to toast, Supper Suite turned to the rising champagne company, Billionaires Row. As the second Black-owned Champagne company that is recognized by both the French and American governments, Billionaires Row has proven to be an incredibly successful brand from the start. With a luxurious, distinct taste that is evident of high quality making, Billionaires Row will be the next big champagne company that everyone looks to in order to celebrate their glamorous special occasions.
The event also could not have happened so successfully without the support of PAC Protocol. At the event, PAC Protocol was able to showcase their PAC App mobile wallet that connects customers with a fast and cost-effective way to send, save, and store digital transactions globally. Whether your digital data transfer includes cryptocurrency or is a Hollywood movie file being transferred from filmmaker to filmmaker or distributor to theater, PAC Protocol will provide a safe and secure way to store your valuable data.
With obvious success, everyone left the pre-premiere reception with smiles on their faces, stomachs satisfied with food and beverage options, and a new app to consider when creating the next big Hollywood movie. Supper Suite is sure to successfully strike again.