Get your Best Sleep and Improve Sleep Fitness with the Eight Sleep Pod Pro.
Sleep helps you to regain energy and repair your body to perform better during the day. You can measure and achieve sleep fitness through the Eight Sleep Pod Pro.
Eight Sleep has developed technology that enables you to control, monitor, and understand your sleep as it impacts your well-being and overall health. With the Eight Sleep Pod Pro, you can be assured of the best sleep.
Meet The Pod Pro
Sleep fitness is a combination of your well-being and overall health in relation to quality sleep. New technology enables you to improve the quality of your sleep. This is critical since you need the right quality and quantity of sleep to function properly and have enough energy to last throughout the day. This is the reason Eight Sleep has developed a new type of technology called the Pod Pro.
The device gives you the tools for monitoring, controlling, understanding and making a positive difference in your health while you are sleeping. The best features of the original Pod remain, but new features have been introduced that every Swagger reader will love. The improvements were created to turn your bed into an advanced platform for your health, longevity and performance.
Health research and member feedback are incorporated for the development of the Pod Pro so you can have more control over your health. 
New Pro Pod Features
Comfort Blend™ Integrated Topper:
The Pro Pod has redesigned the active grid and thermoregulation layer with a Comfort Blend™ foam topper. This provides you with better pressure-point relief and contouring in addition to the exceptional cooling and heating performance.
Sensor Upgrade:
This upgrade includes a new (HRV) heart rate variability metric so you can understand the way sleep affects your recovery and health. The variations assist you with tracking your health so fatigue and illness can be anticipated. 
Doubled Sensors:
The doubled sensors strengthen you're biometric and sleep tracking in comparison to the capabilities of the original Pod.
Constant Monitoring:
This is the first mattress allowing you to constantly monitor your HRV, respiratory and heart rate, sleep time and sleep stages for the best sleep you have ever experienced.
New Sensors:
The new ambient sensors measure your local weather, humidity and room temperature for intelligent reactions.
Eight Sleep App:
The Eight Sleep app provides you with new sensing capabilities for performing daily health checks.
Daily Sleep Report:
Your report includes an analysis of your resting heart rate, respiratory rate and heart rate variability.
Recommended Adjustments:
You will receive recommended adjustments for the temperature of your best to ensure you remain comfortable all night long.
New Data Capabilities:
The development of new data capabilities was backed by partnerships for clinical research from USCF and Mount Sinai.
Wake Up Technology
GentleRiseTM technology provides you with a wide range of benefits ideal for every Swagger including:
The Alarm:
Gentle vibration with no sound at your chest level wakes you up. Your bed is gradually warmed or cool just minutes before the time you set for a wake-up.
Thermal Powered Technology:
The technology of Eight Sleep uses water as opposed to foams or cooling gels to cool or heat your bed's surface temperature.
Determine Your Cooling Level:
The Eight Sleep app asks you questions to determine your ideal cooling level. You can find the correct level within a few days for the best sleep possible.
Temperature Regulation:
Dual-zone regulation enables you to select the sleeping temperature for your side of the bed, so your partner is not disturbed. Members fall asleep an average of seven percent faster and wake up 13 percent fewer times during the night with tossing and turning decreased by 15 percent.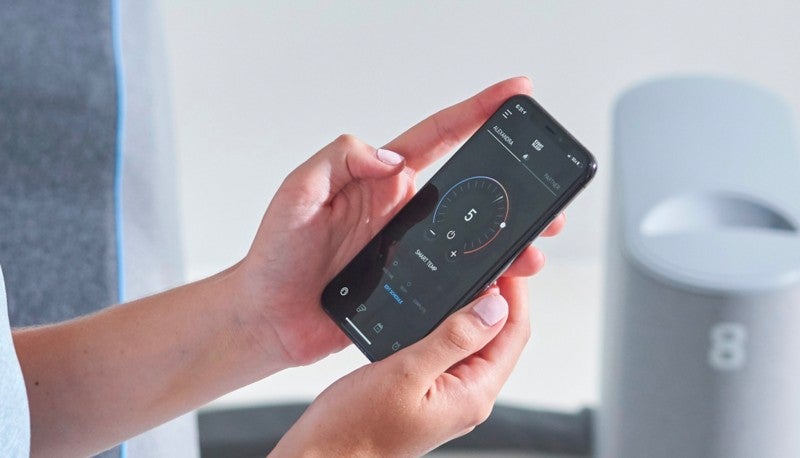 Sleep Cooling:
According to research, sleep cooling can help you sleep longer and deeper while decreasing interruptions.
The Future of Pod Pro
Your sleep coach is powered by AI to analyze your personal data and track your biometrics. This offers insights based on your patterns. Your data is examined quickly with complex algorithms to find insights. Billions of sleep data points are taken into account by the algorithms from all over the country for an accurate comparison of your sleep for your demographic area and age range. The POD can integrate with your Wi-Fi enabled devices to become the center of your home connections. Your sleep routines are seamless when you connect to your devices including Google Home and Alexa. The Eight Sleep app allows you to manage your integrations on an IoT platform called IFTTT. You can have your lights turned on once your alarm goes off or use Night Mode for warming your bed on cool nights. 
Your Pro Pod will ship in the same two units as the Pod, the tech bundle and your mattress. Your mattress contains five layers of certified foam for contouring support and medium firmness. Your mattress is encased in a breathable and premium cover. Water from the hub flows to the thin contouring layer for the ideal temperature. Sensors for tracking your biometrics and a layer of integrated foam are included for exceptional comfort.
Swagger Magazine has discussed the unique grid pattern due to the creation of a seven-foot square cooling surface for a queen-size pod. The continuous absorption of 20 watts of heat from both sides of your bed is ensured with water for the comfort of you and your partner. Water flows through the hydro-engines of the HUB directly to the active grid to keep the bed at your desired temperature for cooling or warmth. Elements for thermo-electric cooling are used by the Pod in addition to two premium fans for cooling and a heat sink.
Your POD is so quiet, you will not be aware when it is on. You can remotely control the functions of your Pod by connecting your Wi-Fi to the hub. The app controls your settings and enables you to access sleep insights and reports. You can remotely use your app for setting your bed temperature worldwide with versions for Android and iOS.
Sleep Fitness Whitepaper
This is the future of health monitoring and the number one whitepaper. Once you begin your journey, you have the ability to improve the quality of your sleep. The Whitepaper offers you important information about sleep myths, the ideal sleep temperature and the connection between heart rate variability or HRV. You will also learn about the natural sleep cycle and how you get rid of waste during sleep.
The best way for you to begin is with an understanding of technology and design incorporated in the design of the Eight Sleep Pro Pod. This new technology will help you get the best sleep of your entire life.
The 68 Degree Fahrenheit Sleep Myth
You might be familiar with the myth that your bedroom must be 68 degrees Fahrenheit for the most restful sleep. This is not accurate because everyone has an ideal sleep temperature for their specific needs. This means there is no such thing as an optimal temperature for everyone to receive good quality sleep during the night. While you are sleeping, your body temperature will change. Your needs will change along with your body temperature and sleep pattern. Both follow a 24-hour cycle. In most cases, there is a decrease in your body temperature during the night. Your temperature will increase an average of two to three degrees Fahrenheit during the day.
Your body takes certain steps to cool off including slowing down your metabolism to decrease your heat generation. This increases your flow of blood to your skin and extremities. When your blood flow to your skin and limbs increases, the heat generated from your core can dissipate faster. This is the reason you most likely feel warmer at night once you become tired. Your blood vessels allow more heat to rise to the surface of your skin. This is where the nerves sensing your temperature are located.
A study was conducted showing most people fall asleep while their bodies are still cooling down. This is right before your temperature reaches the minimum for your day. The researchers discovered how long you sleep is dependent on the time difference between when you fall asleep and when your minimum temperature is reached. When you fall asleep sooner before your minimum body temperature is achieved, you will sleep longer.
In addition to how long you sleep relying on the temperature of your body, this also affects the type of sleep you receive as well. During deep REM sleep, you learn, and high-level thoughts are maintained. REM sleep does not start until your body is at the coolest point. This means there is a close connection between your body temperature and the progression and timing of your sleep. 
The Pod Pro became available in the United States on May 13th. Shipping began at the beginning of June. Sleep Pod provides you with no-contact and free delivery, free returns and a free trial for 100 nights. Your choices are king, queen, Cali king and full. Get your best sleep today!