The team at Swagger has worked "tirelessly" (no pun intended) to uncover the best ways to achieve a perfect sleep and perform at your maximum potential. A good night's sleep has been proven critical for optimal focus, weight loss, athletic performance and mood. We've done our best to cut through and cut down on the noise with our selection below.
Our Honest Review of the Apollo Mattress by GoodMorning.com
So, last night – were you arguing with your mattress, again? Struggling to find that right cozy "nook," but only ending up barely coping with a semi-tolerable position?
Who doesn't know the feeling, right?
We discovered that a hundred thousand Canadians have turned to a GoodMorning.com mattress to solve this problem, and we had to see (and feel) what the fuss was about. (Okay, we're slow on the uptake. Don't judge.)
In 2009, they became the first online luxury mattress brand in North America when premiering their memory foam mattress. This was at a time when buying one without so much as laying on it was unheard of. Instantly, they became industry trailblazers, using premium materials just like competitor's high-end offerings, but without the high mark-up. Plus, they offer a guaranteed 120-night sleep trial: if it's not right for you, they'll pick it up and refund your money. 
All industry-standard today, but they adopted these ideas before any of this was a thing.
Plus, amid growing concerns of sketchy overseas manufacturing, it's heartening to know that GoodMorning.com's products are made by Canadians, for Canadians. Today, they produce a collection of seven varieties of mattresses for every body, bedroom, and budget. 
So, we couldn't resist diving into the GoodMorning.com's Apollo Premium Copper Hybrid Mattress to give it the sleep-test. It arrived in a convenient box that was simple to unpack and unroll. 
The first impression is the feeling that, when splayed out, you wanna stay awhile. You sink in. It's the indescribable sensation that the pinpoints of neck, head, limbs and back all mould into the mattress, yet still feel supported. 
That's the memory foam doing what it does – adjusting to each body shift, and then absorbing the impact so you can move around comfortably. 
Part of getting a good night's sleep is the "Goldilocks Effect" – not too cold, not too hot. And this mattress had the just-right throughout the night. We discovered this is their technology: the combination of the cooling yarn cover, micro-gel beads, and micro-coils provide ideal temperature regulation. 
Interrupted sleep, let's be honest, sucks. At least find comfort – and plenty of it – in a GoodMorning.com mattress.
Imagine, when sleeping in becomes about getting more bed time, and not because you got in past your bedtime.
Paid partnership with GoodMorning.com [Gifted Mattress]
Sleep Soundly with QuietOn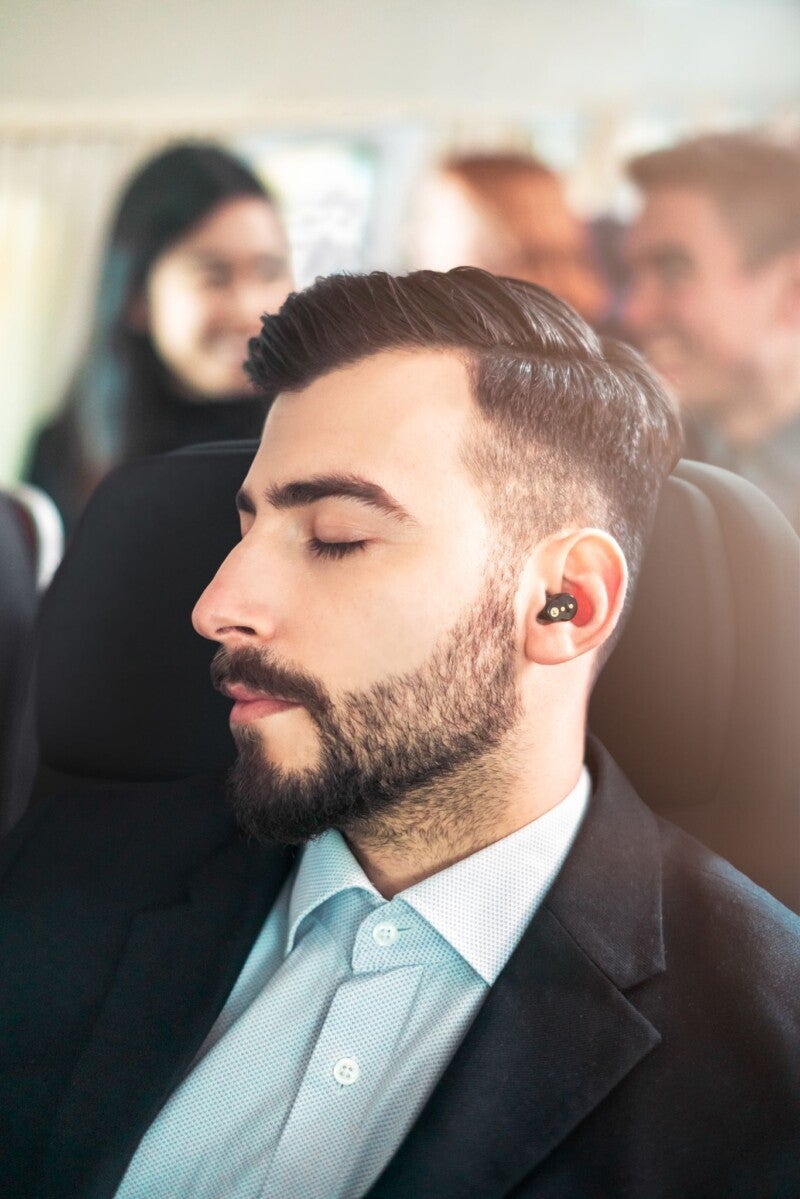 You dress with swagger, stroll into work with swag, drive with swag, so why not sleep with Swagger, too?
QuietOn earbuds are the tiniest earbuds known to man. These earbuds are helpful to cancel out distracting noises and are even small enough to be worn comfortably while sleeping in virtually any position. QuietOn earbuds can last for even a marathon of sleep, as they max out at a grand total of twenty hours of battery life.
QueitOn earbuds are specially made to cancel out noises that tend to operate on a lower frequency. Noises like this include traffic noise, the passing by of cars, honking, snoring, plane engines, and city commotion. While wearing your QuietOn earbuds, it is perfectly feasible to imagine that nothing exists except you and your best sleep.
These earbuds improve quality of life as they allow for the wearer to not only cancel out daily noise during the day, but also improve sleep quality during the nighttime hours. For those who sleep next a significant other who snores, these earbuds can be a lifesaver.
Snoring noises dissipate into thin air as the wearer is lulled into a comfortable and calm sleep, free of sudden jolts of noise or disturbances to tranquil rest. These earbuds can bring swag to your life throughout the day and to your peace of mind throughout the night. 
The Future of Sleep: Moona
Have you ever flipped your pillow to the cold side? Discover Moona!
Moona's smart cooling system has already improved more than 500 000 hours of sleep and has been particularly effective in combatting night sweats, migraines and hot flashes.
How? Temperature is the key to good sleep and effective thermoregulation plays a critical role in determining both how long it takes you to fall asleep, and the quality of sleep itself.
The Moona sleep solution uses revolutionary precision cooling technology to target your body's thermoregulation centre for each phase of the night and ensure you fall asleep quickly, sleep deeply, and wake up naturally.
Developed with doctors and powered by Machine Learning, Moona's smart cooling system adapts night after night and caters specifically to your needs with a personalised sleep programme.
On top of your smart-pod and ultra-comfort pad, your Moona package will also come with a companion app that will enable you to manage your sleep profile, set up a "thermal alarm" clock, get insights about your sleep and much more. 
This is the future of sleep.
Ready to join the movement? Moona comes with a 30-night trial so you can see for yourself.
Enhance Your Sleep Fitness: Eight Sleep Pod Pro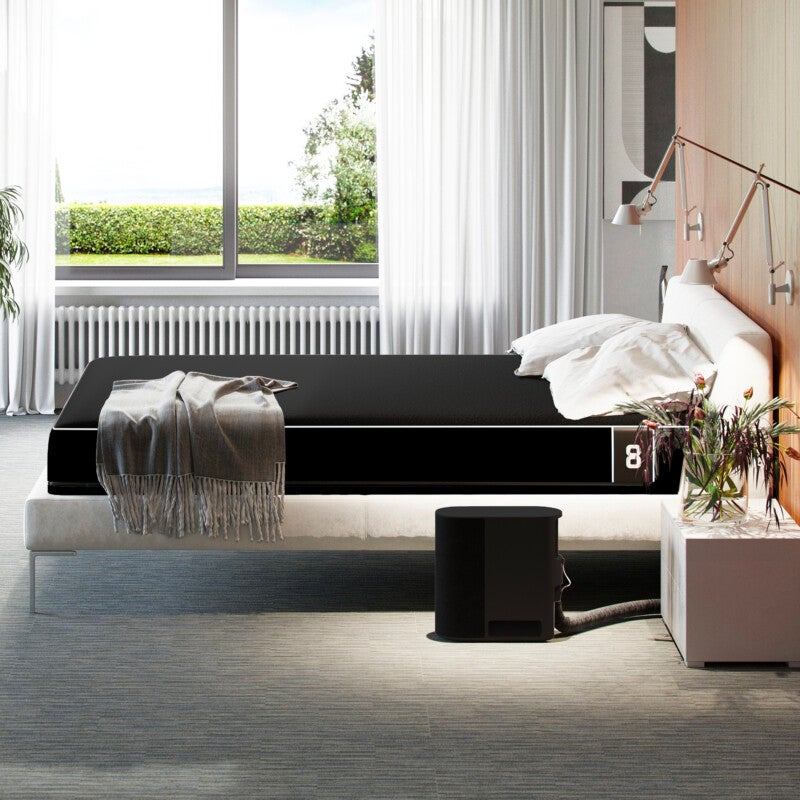 It is important to have quantity and quality sleep for your overall health. Sleep helps you to regain energy and repair your body to perform better during the day. You can measure and achieve sleep fitness through Eight Sleep Pod Pro. Sleep Fitness is a state of overall health and well-being fueled by quality of sleep. Eight sleep has developed technology that enables you to control, monitor, and understand your sleep as it impacts your well-being and overall health. With the Eight Sleep Pod Pro, you can be assured of the best sleep.
The Pod Pro has swagger features on your bed. These features are for sleep fitness and the durability of the mattress. Below are the designs and the technology of the Pod Pro.
DualSense™ Technology and heart rate variability monitoring
The DualSense™ technology allows you to understand sleep impact on your heart health. You can anticipate, track fatigue and illness when there is a drop on the metric. The swagger mattress is one of the best in monitoring heart rate variability in the market.
Room climate and weather response
This technology enables you to have the best sleep because it adjusts to the surrounding environmental changes. The technology measures room temperature and humidity and adjusts accordingly. You will be comfortable throughout the night with the Pod Pro.
Daily health checker
The Eight Sleep App enables the user to check their daily health and the daily sleep fitness report. You get a resting heart rate report and respiratory rate analysis.
Gentle Rise Wake Up Technology
The wake-up alarm uses gentle vibrations to wake you up without producing any sound. It's gently warming and cools the bed a few minutes before your wake-up time.
Comfort Blend™ Integrated Topper
The Comfort Blend™ integrated topper enhances pressure point relief and contouring to have a good sleep without sacrificing the cooling performance and dynamic heating.
Swagger Magazine indicates that individuals who sleep less than 5 hours are especially prone to heart diseases. An adult between 26 and 64 years old is recommended to have seven to nine hours of sleep. The Eight Sleep Pod Pro will help you get quality and recommended sleep to be active during the day. Visit the Swagger Magazine page and see more simple ways for sleep enhancement during the night.
Honeydew Sleep: The Scrumptious Pillow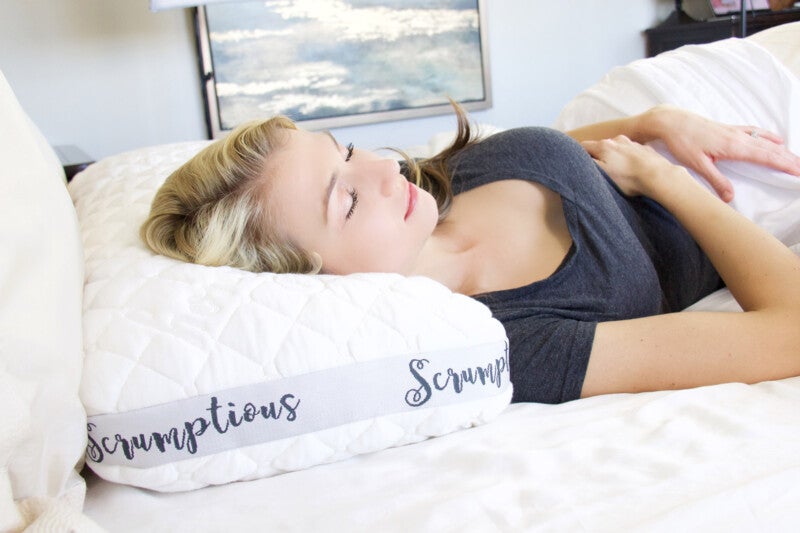 If your pillow isn't every bit as badass as you, there is no way that you are sleeping like a boss. And let's face it, when it comes to getting a good night's rest, anything less than the best is a waste of time (and money). We're here to help. The Honeydew Scrumptious Side Sleeper Pillow is here to change the way you sleep by transcending the ordinary and turning your bed into exactly what it should be – your sanctuary. 
The Scrumptious Pillow is a marvel of engineering, meticulously designed to restore and rejuvenate. With sexy curves reminiscent of a luxury sports car, it is at once both cozy and sleek. Its unique scrumptious curves wrap around your neck and shoulders to provide unrivaled support, and keep you aligned all night long.
What truly sets the Scrumptious Pillow apart and gives it its' namesake feel is the proprietary fill inside. This took years to develop, and (like the pillow itself), is all made in house by Honeydew Sleep in Southern California. Their Scrumptious fill provides the perfect balance of feeling soft and luxurious, while still being substantial and supportive. This fill uses state of the art copper-infused gel to draw heat away from your body, so that you sleep cool, all night long. Combine that with a cover made from natural fibers that wick away moisture so you don't wake up sweaty, and you have a pillow that lets you look hot and feel cool at the same time.
A true boss doesn't settle for the ordinary, and neither should you. All of Honeydew's pillows let you custom tailor the amount of fill inside for a truly bespoke pillow that was made exclusively for your body. Because 'one size fits all' doesn't apply to you.
Your Best Sleep With Puffy Lux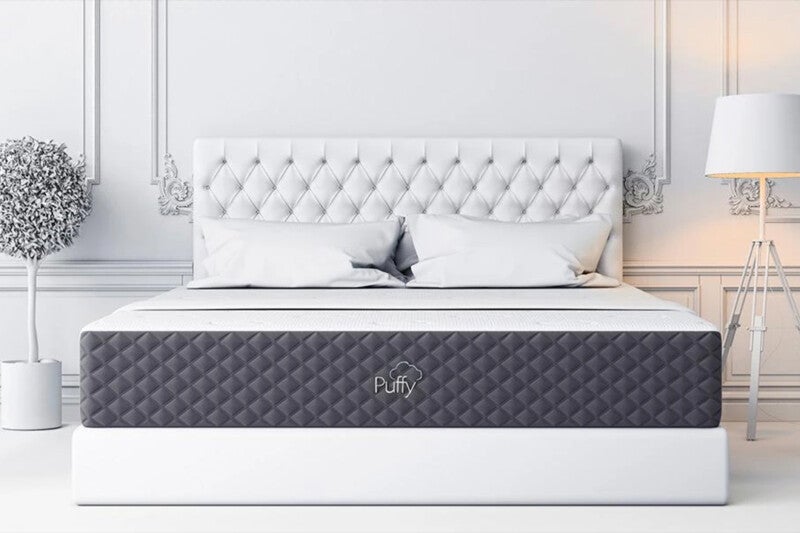 A perfect synergy of luxurious comfort, targeted support, and contemporary style – the Puffy Lux is rated America's most comfortable mattress of 2020 for more reasons than one. As Puffy's flagship mattress, a precise combination of contouring cloud comfort, and industry-leading spinal alignment, sets the Puffy Lux apart as an award winner for all-around perfect sleep. 
With a 4-layer design measuring 14 inches high, the Lux delivers on quality as well as the finer details that make all the difference. Motion isolation, advanced edge support, plus Climate Comfort™ and Cooling Cloud™ foam layers combine for superior sleep. 
Puffy takes modern comfort to the next level with immaculate attention to detail. Designed with maximum efficiency in mind, the luxury mattress has a premium zip-n-wash cover that's hypoallergenic with an Oeko-Tex® Standard 100 certification. 
If you're ready to take your sleep to the next level, Puffy offers free shipping, lifetime warranty, and a 101-night sleep trial. If you don't love Puffy's famous 'sleeping on a cloud' feel, you can get a full refund. Did we mention all Puffy Mattresses are 100% made in the USA? Feeling sleepy? Our readers get $300 off plus a FREE Pillow with every purchase by checking out at Puffy.com. 
There's Never Been A Better Time To Sleep Organic!
The Metta Organic mattress delivers on the promise of a great night's sleep, naturally. 
Free from chemical fire retardants, conventional foams or other synthetic materials, Metta is made with the finest certified organic raw materials available – organic latex, cotton and wool – and is GREENGUARD Gold certified, to help ensure a pure sleep environment, for the rest and relaxation (and peace of mind) you need.
Handmade to order then conveniently delivered to your door in a single box, setup is a cinch and comfort and quality are guaranteed.
Using an innovative layer system, the Metta Organic Mattress offers three distinct comfort levels – plush, medium and firm. Choose a comfort level at the time of purchase, then after sleeping on your new mattress, if you need to adjust the comfort, our comfort layer exchange program allows you to exchange a layer at no cost (even the shipping is free).
The Metta® brand of certified organic sleep products is the vision of the family who proudly owns and operates Organic Mattresses, Inc. (OMI)® – the leading organic mattress brand in America since 2003.
Sleep Well with Aura Cacia 
Aura Cacia has always worked to inspire positive change in everyone's lives. The essential oils, skincare oils and other products are made from the simplest botanical ingredients. This allows each of the oils to unlock the ability to improve the user's wellbeing naturally. They find plants and test them in their lab. This allows them to show users how to use the oils in the best ways. When people see the name Aura Cacia on the label, they know the source of the oil is pure plants.

Aura Cacia Lavender Aromatherapy Mist combines water with 100% pure lavender and Lavandin essential oils. To use the oils, shake well and spray into the air or on the body. Keep the spray away from the eyes. The small 4-ounce container can easily be stored in a purse or packed in a suitcase with other swag. This lavender oil mist can freshen up a room or be used to freshen linens. Using the lavender oil as cologne is a good way to add some swagger to your step or just freshen up after a workout.

Aura Cacia Lavender Aromatherapy Mist is small enough to keep in your bag with other swag. The lavender oil has no synthetic colors or fragrances, it is paraben petroleum and paraben-free, there is no animal testing done, the oils are 100% pure and tested for purity. The lavender oils give some swagger to a person when using it as a body spray. It has a calming effect on the mind and can soothe the body. Using the lavender oils in the bedroom allows a person to relax and fall asleep easier.

Aura Cacia is committed to the responsible, ethical and social aspects of their business. They only sell high quality pure essential oils. They are part of a Co-Op that has a responsibility to the planet and people. The other companies in the Co-Op are Simply Organic, Frontier Co-Op and Co-Op Market.
Enjoy Naturepedic's trendy and organic bedding line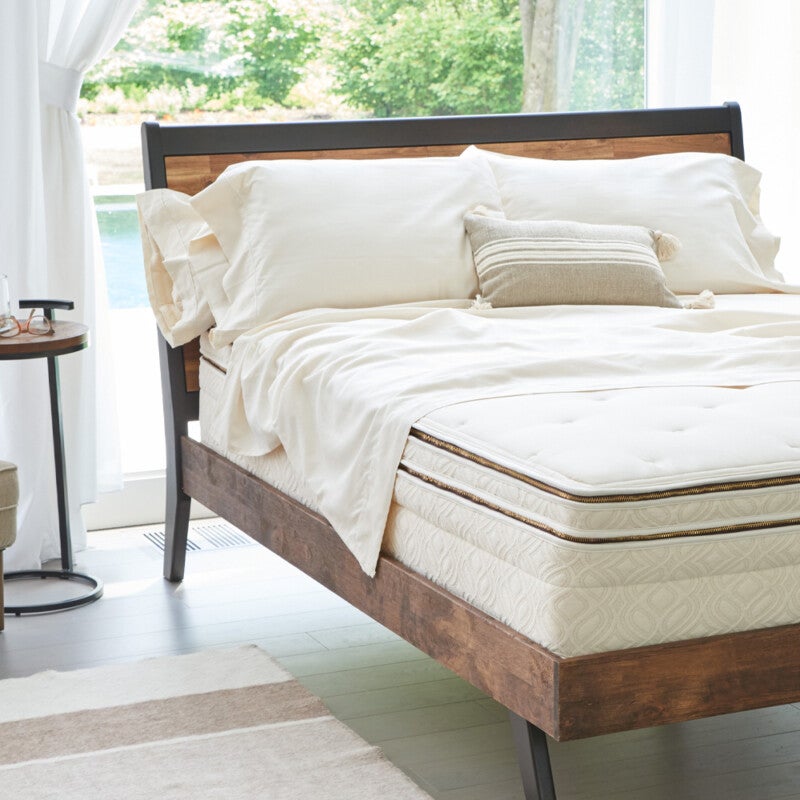 What if you were sleeping on toxic chemicals, every night? Most mattresses contain flame retardants, adhesives, vinyl, polyurethane foam, glues and other items considered poisons.
Since 2003, Naturepedic has been making certified organic mattresses, so your body doesn't spend hours each a night rubbing up against questionable materials. 
The ingredients of their mattresses are simple: steel, organic cotton, organic wool, organic latex, and some have sugar-cane derived thermoplastic polyester. And when you're ready to toss the mattress, it's landfill safe. 
What's also great is it's not a one-size-fits-all mattresses company. There's something for everyone: a standard medium, firm, to super-plush, and everything in between. They have a baby, kids and adult line. Their popularity and demand is demonstrated with 17 stores across North America, and countless happy customers.
The craftsman shift that goes into each product speaks luxury. For example, what's new and innovative is the EOS collection, all about customization and meeting every consumer's needs. 
It consists of three different designs: The Classic, Pillow Top, and Trilux (all latex option). Each of these designs consists of a zippered encasement, internal support, and comfort layer. The internal layers can be swapped in and out. 
So, say you don't like it after a year, or your weight changes, or preferences change, it's like having a new mattress each time. It's quite innovative for the industry.
Just unbox, put the layers in, zip it up and there's your mattress.
The McRoskey Modern Collection
Unmatched Quality. Soulfully Crafted.
Founded in San Francisco in 1899, McRoskey has painstakingly hand-tailored luxury mattresses for more than 100 years. It has taken over 90 years of passionate pursuit to master the Artistry of Sleep and introduce a new collection worthy of the McRoskey heritage. McRoskey is proud to introduce their all-new Modern Collection–an evolution in exquisite comfort and all natural design. 
The evolution began when their Mastercrafters eliminated all man-made materials typically used in the construction. Looking to the natural world for true comfort, the line features meticulously sourced all-natural layers of sustainable harvested Wool, Alpaca, and cashmere. All-natural Talalay latex provides buoyancy when paired with a proprietary hand-made pocketed coil system. Together they provide unrivaled cradling supportive comfort with no motion transfer for a truly rejuvenating night's sleep. 
Uncompromising in their commitment to deliver functional, enduring, and beautiful mattresses, they continue to apply time-tested techniques to hand layer and trim each natural fiber. The finishing touch binds all the materials together by applying traditional hand-tufting techniques ensuring a long comfort life. By cutting no corners and indulging generously in quality materials, the double-sided mattress allows you to consistently revitalize the comfort and extend the life of your McRoskey for years to come. The result is a soulfully modern mattress artfully designed so you can let go and truly rest.
Experience the Artistry of Sleep at McRoskey.com
Power Up With Brentwood Home's Legendary Hybrid Latex Mattress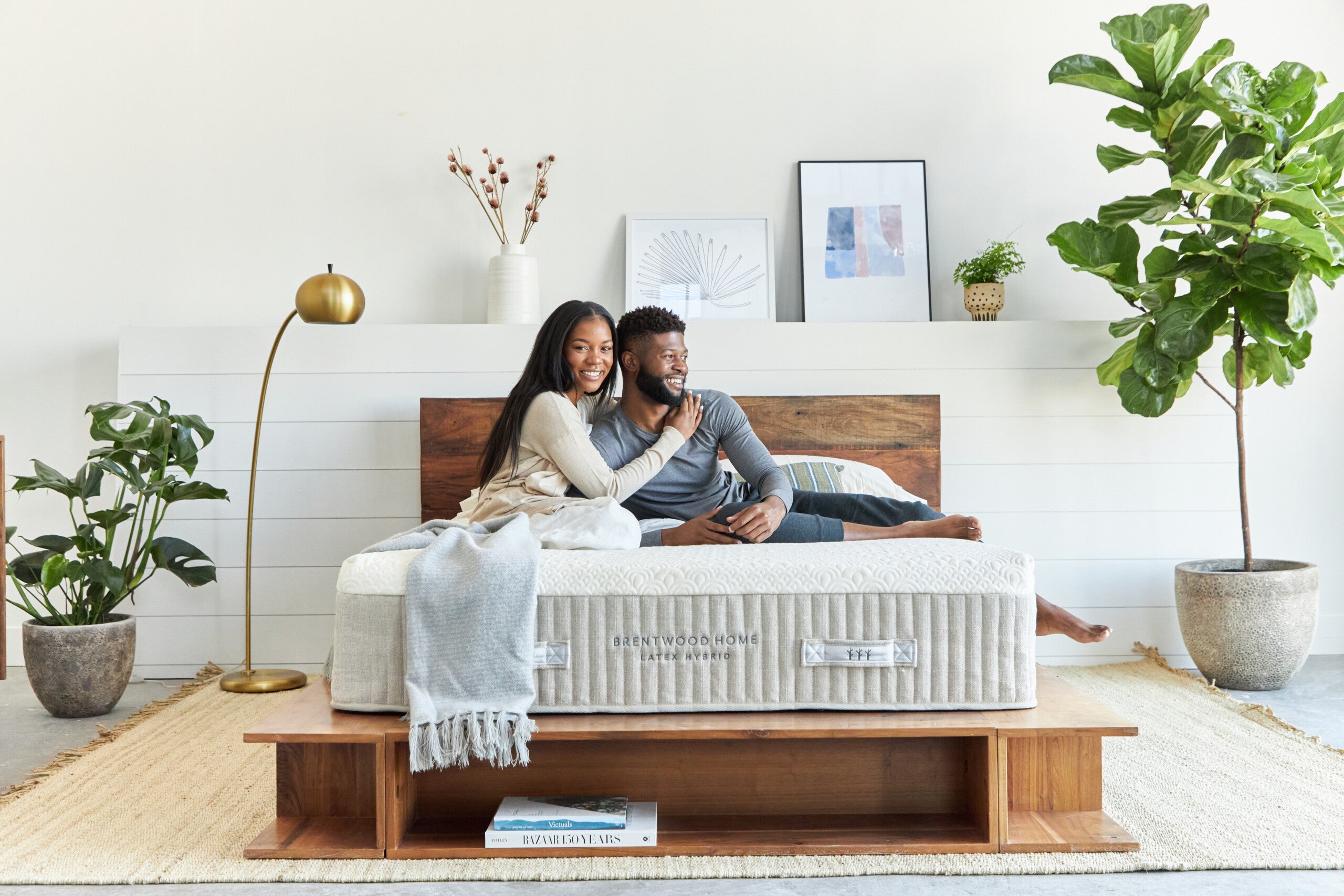 When you optimize your sleep, you optimize yourself. That's why Brentwood Home evolved the mattress game — to support restorative rest, peak wellness, and environmental responsibility. 
Their new luxury Hybrid Latex mattress is a breakthrough. Float, don't sink — the Hybrid Latex delivers robust support and insane comfort. To start, Brentwood Home built a better foam core. Using 100% natural Dunlop latex, their industry disrupting, patent-pending foam makes waves. Literally. They cut the foam to create zig-zagging waves that reduce motion transfer and create specific support zones. At the bottom and top thirds of the latex, the contours elongate to reduce pressure points in the shoulder and hips. In the middle third, they tighten to protect and heal your spine. That means your body gets the targeted support it needs to recharge each night. 
What's just as clutch are Brentwood Home's innovative materials. Upcycled denim, ludicrously soft performance fibers made from recycled water bottles, flax seed pads — the Hybrid Latex Mattress minimizes its environmental impact by reimagining how a luxury mattress can be made. 
Plus, the deluxe foam core and ActivEdge™ Quantum® Edge Coil Unit with up to 975 8-inch coils ensure the sustainable, revolutionary materials are only half the story. It's all finished with 100% GOTS organic certified cotton, which adds a breathable, gentle, luxurious feel. 
And yet the Hybrid Latex will do more than just maximize your wellness. Brentwood Home crafts the mattress in their own organic certified facility in Los Angeles. The innovative, eco-conscious design and artisan U.S. construction are a rebuke to the low-quality, mass-market mattresses made overseas. With each mattress it sells, Brentwood Home will also plant three trees through the National Forest Foundation. 
Meet: Moon Pod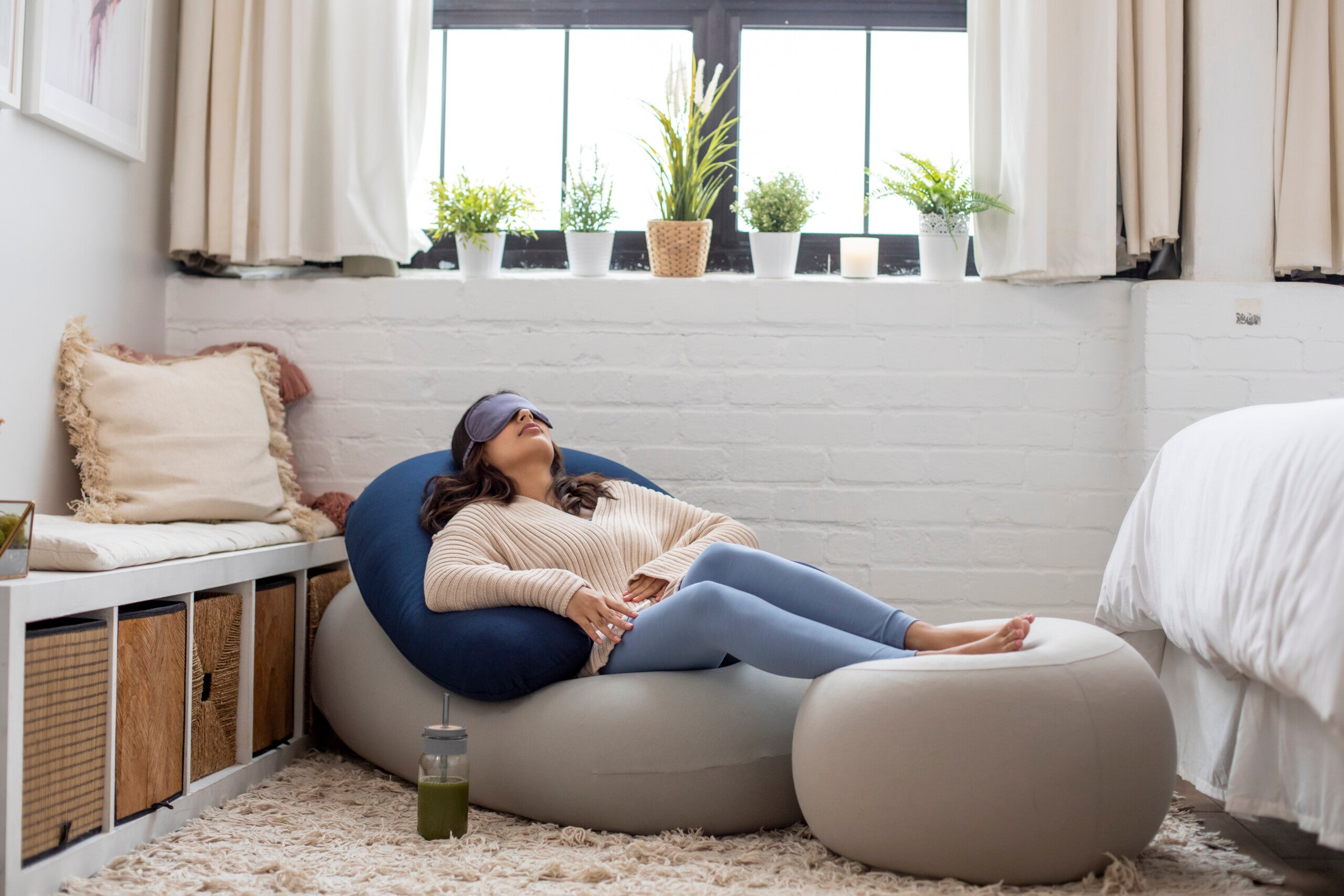 Seems like everywhere you turn these days, someone is selling you a mattress. Did you get one out of a box in a Labor Day sale? Me too. Now that we've covered that, let me introduce you to, in my opinion, the most incredible advancements in comfortable lounging since sweatpants.
Moon Pod products would be like the beanbag of your youth if beanbag chairs were designed by ergonomics experts and futurists, not just a trio of chainsmoking Italians, sitting on styrofoam and trying to find something that hippies wanted to chill on in the 1970s.  The Moon Pod product line was created with the idea of getting more people into a more relaxed state of being. Thanks in part to massive success via Kickstarter, Moon Pod managed to raise more than a million dollars to get this product off the ground and start delivering new ways to relax directly to consumers. 
More Americans report feeling stressed, angry, frustrated, and overwhelmed than ever before. The good news is that Moon Pod can help. Created as the ultimate relaxation station, the Moon Pod offers supreme comfort as you sit, relax, nap, and kickback. Made up of thousands of high-density microbeads that form to and around the shape of your body, the Moon Pod creates an entirely individualized support system for all shapes and sizes. Designed with weightlessness in mind, the Moon Pod uses micro-cushions to transfer your body's weight across the pod, creating a floating, free sensation. Take it from me when I say this is an ideal place to spend an afternoon watching the RedZone and following your fantasy team on FanDuel. 
Offered in five colors, the Moon Pod makes an ideal addition to any room, space, or house. From mansion mancave to bachelor pad studio, and everything in between, the Moon Pod can blend in or stand out, depending on your vibe. Weighing only 12 pounds, it's quickly tossed aside to make room for any game of beer pong that breaks out. Taking up about four feet of space, depending on the shape, the Moon Pod can slip under a bed, be stored in a closet, or left where it is depending on the day's circumstances. It's as versatile as it is comfortable. 
Billed as the future of relaxation, the Mood Pod cuts out the need to crawl in bed for a 60-minute slumber. Instead, enjoy the scientifically proven ideal nap length of about twenty-six minutes right there on the pod. When you wake up, you'll feel refreshed and ready to tackle any project in front of you. Better yet, if you realize you've no projects to tackle, shift the shape and stay relaxed as you chill on the Moonpod at the scientifically proven ideal sitting angle of 135 degrees. From sleeping to sitting, Moon Pod has used science to improve how customers relax and unwind.
If you're still not sold, or more likely, you find yourself asking: but what else can I do with a Moon Pod? Let me introduce you to Moon Pod's slightly more substantial and dynamic friend, Super Moon. It's like if Moon Pod did HIIT workouts for a month and then came back as a more swoll version of itself. 
The Super Moon offers all the comfort of the original Moon Pod but with a few added bonuses, namely, size. The Super Moon slogan says it best, so no need to get too clever here: "Stay inside, cozy up, and relax with a friend." This is the type of item that someone who had a Moon Pod but now has a significant other will want to grab immediately.
Recently, you had the opportunity to get out of the house, hang in a backyard or park with friends and acquaintances, but summer has turned to fall, and fall begets winter. This is the ideal time to plop down on the Super Moon with that someone special and do whatever it is you've decided you're going to do to pass the time. For some of us, that means days of Youtube and Netflix, and others, Call of Duty on your new Playstation 5. The SuperMood pod is perfect for just about any indoor activity. Grab yourself an IPA and a hard seltzer for your partner and settle into the Super Moon. 
At twice the size of the original, the Super Moon is comfortable enough for you to enjoy hours of mashing the vids on your own or with a friend. Because of its amorphous nature, it's difficult to give the exact specs of the Super Moon. Ballpark though, if you can chunk out a five-foot by four-foot space for a three-foot thick beanbag chair, then this is the seating option you'll want.  
My suggestion is to go ahead and grab the Crescent by Moon Pod and add a level of support and comfort that other pillows just don't quite fulfill. Made with the same ergonomic technology and specifications as the Moon Pod and Super Moon, the Crescent takes your zero-gravity relaxation to a whole new level. If you thought you knew chilling, I reckon that this combo of Mood Pod (or Super Moon) plus Crescent will genuinely blow you away. 
I can't really say enough about how comfortable I've found myself when just hanging out around the house on the Moon Pod. I need fewer naps, feel more rested, have better posture, and have the spot that everyone else tries to claim as theirs. There is, in my opinion, no better way to try to relax than on a Moon Pod product. They truly are relaxation products designed for bosses and masters of the house.