In a time when the world is inundated with endless stories, content and non-stop media it's nearly impossible to find a sense of calm in the madness.
Unless of course, you're Isaac Pelayo. One look at the fine-artist's work and a clearer picture comes into focus. Sitting in Isaac's studio with him as he paints, you can feel a stillness radiating from him, and that stillness can be felt in each piece. His work is for lack of a better word, timeless. What's even more fascinating is the fact that at just 23 years old Isaac's paintings reflect a wisdom and refinement hard to imagine at his age.
We sat down to discuss Isaac's newest work, what inspires him and his upcoming show BIRDS & BEES.

Isaac, where are you from and how did you begin painting?
I was born in Los Angeles but grew up all over Southern California, mostly LA County and the Inland Empire. My interest in painting didn't begin until I was twenty years old.re
Is paint your only medium?
Painting became my choice of medium after years of practice and experience with pencil drawing.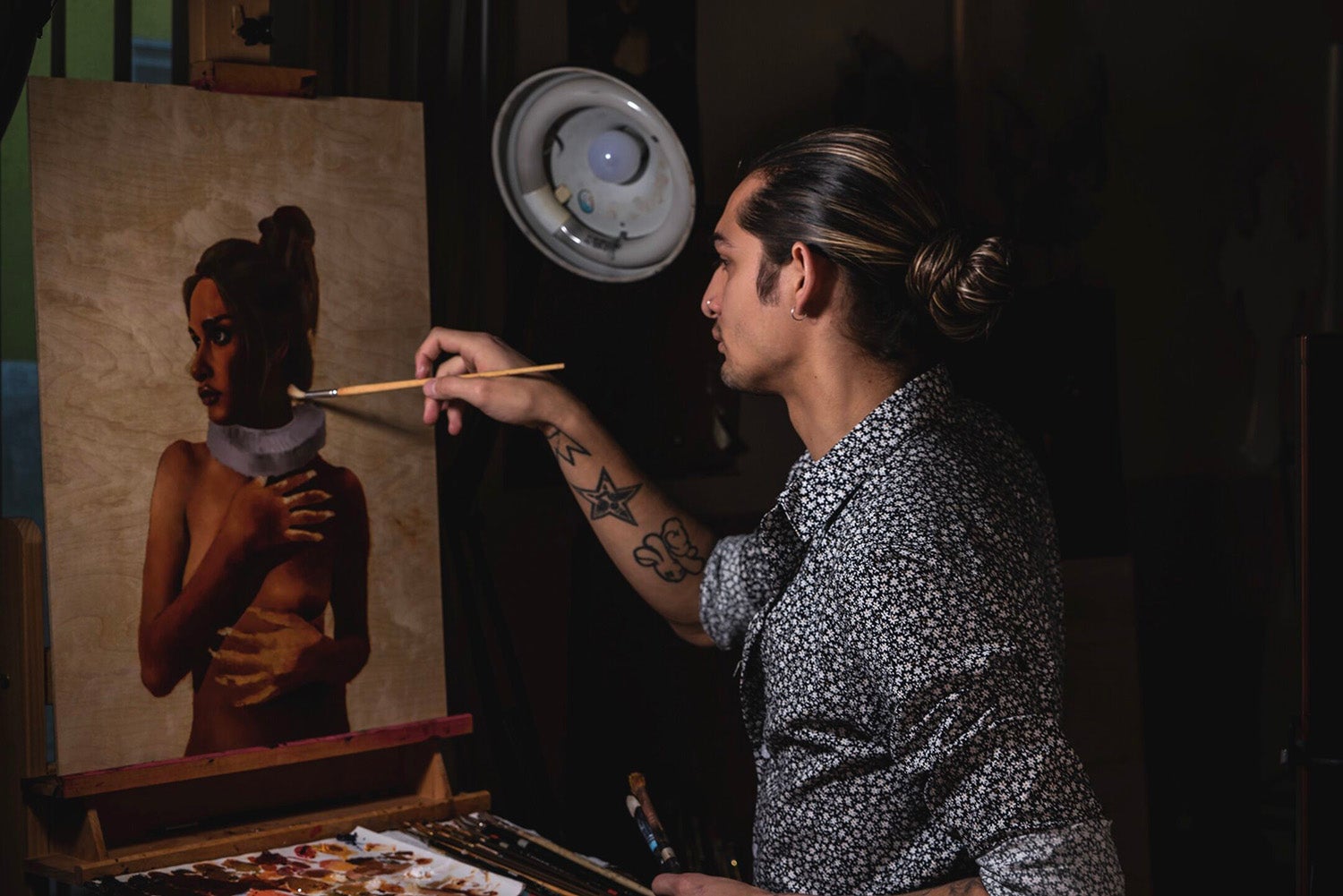 Why did you gravitate to art and when did you know you'd make a career out of it?
I showed interest in the arts as early as two years old when I created my first drawing. Art and creativity flourished within me as time passed however, When I reached fifteen I became fully invested, committed, and dedicated to making it a career.
How do you usually begin working on a new piece?
I begin with an idea and/or concept, sometimes and often a feeling. An emotion I want to inflict and provoke on others. Sometimes I paint things that reflect on my past experiences wether good or bad.
 What people have been influential to you throughout your career?
My father first and foremost being an established fine artist himself including artist's like Da Vinci, Rembrandt, Velasquez, Picasso, and Kahlo to artists like Basquiat, Shepard Fairey, Banksy, Retna, and Damien Hirst. 
Tell me a bit about how your past and your childhood/adolescence brought you to where you are now…
My childhood was filled to the brim of domestic hardship but balanced by love at the same time. I grew up in my mother's household where my grandmother and great grandmother took care of us along with my two uncles. Our environment was something of a zoo at times. Everyone lacking a certain element of what it is to be human. A large disagreement between everyone's lifestyles but passionate love for family. I was just caught in the middle of it. I grew up visiting my father on the weekends where he, my aunts, and grandparents adopted a large disconnect with one another. To say the least pencils and paper were the closest things to a counselor I ever knew. Those experiences as a child shaped the mentality I have now. I wouldn't change a moment from my past. 
You have a show coming up this month BIRDS & BEES, can you tell us what we can expect? What's the inspiration behind this show?
This show is about my early introduction to sex and animation. The two being the biggest motivators throughout my entire life thus far. Some can't see beyond the surface of the idea but this body of work is much deeper than what meets the eye. The show reflects on my relationship with a young woman whom I loved and had wished to keep. The journey reached a sour end but grew bright by meeting some amazing individuals after the fact. I wanted to combined two forces into a contradicting dance which one could be affected as I was. I learned to view nudity, women, and life through another lens. I can see past the influences society has had on mans mind and now I understand the true beauty which lies beyond the horizon of what is kept under looked and hidden. Sex is a belief system. A state of vulnerability in which one can see past the bullshit and find a real human. It's the perfect conductor for sharing energy. Animation is just the child in us all. Hasn't anyone taught you about the birds and the bees?
What's integral to your workflow? 
Feeling good. I have to feel good and whole in order to create. When I feel empty or incomplete that often shows in my work. When I feel dark and uninspired my paintings take on a weight I can't help lift. I also like when things see an incline. When I feel as though I'm not going up I lose focus and get frustrated. But I suppose that's part of being an entrepreneur.
What role does the artist have in society?
I believe it's our responsibility to collect as much information we can about ourselves and unleash it upon the world with the intention of someone relating and/or being affected. Good or bad. We express the inner emotions most people are afraid of. It's our job to show no fear and face those demons with zero remorse. Were super heroes without a cape. Knights wielding a brush and palette. The downfall is some die before seeing victory.
How has your art changed over time?
My work has seen various shifts throughout my life due to changing state of mind and position. Being able to see the world from different perspectives allowed me to adapt and tell stories from different angles. I'm also constantly challenging myself to try new things and create new experiences.
Where's the craziest place you've ever created a piece of art?
I can't recall but the craziest thing I've done regarding my art is probably the time I flew to Miami, snuck into Art Basel, and hung my own piece using duct tape to comment on the contemporary art world. That was dope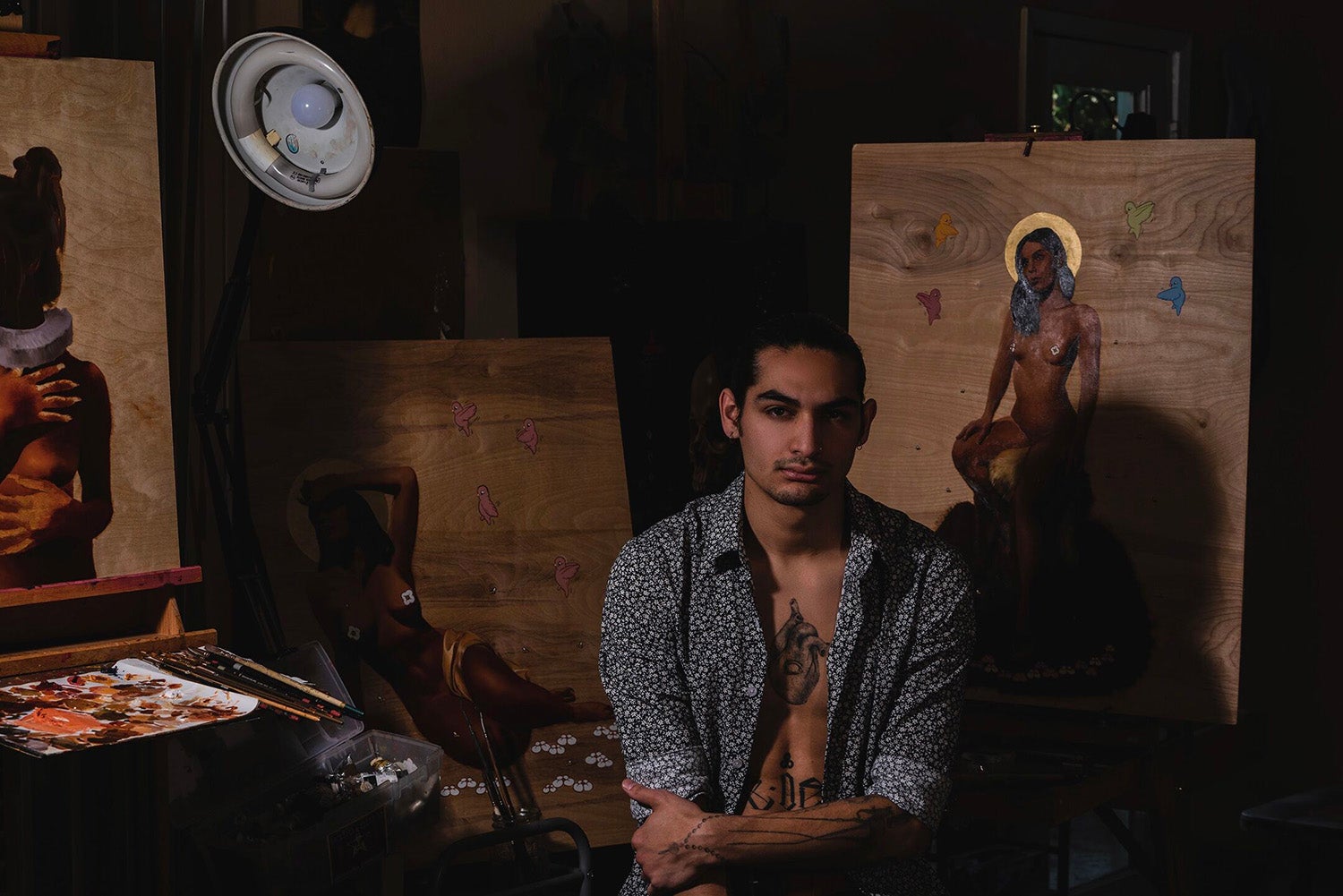 It's difficult to say however, my favorite experience creating a work is when I built a stand-alone ten foot wall exhibiting my interpretation of Mona Lisa entitled "Isaac's Lisa" with the help of my uncle, Fred Barra, to comment on President Trumps plan to build a border between US/Mexico. I left the wall across Gagosian Gallery in Beverly Hills, CA. It was mistaken for a Banksy…
Describe a real-life situation that inspired you?
The most impacting situation thus far has been the breakup between myself and my previous partner. A four year run that in reality began when I was seven. Fifteen years of friendship and obsession left on the sidelines for who knows what. That moment shows in my work most because that relationship was the balance I needed for my inner instability. Shit happens I guess.
Who are some of the artists that inspired you while coming up in your career?
The list is long but to name a few, Da Vinci, Rembrandt, Raphael, Michaelangelo, Velasquez, Rubens, Titian, Picasso, Dali, Disney, Kahlo, Warhol, Basquiat, Haring, Shepard Fairey, Banksy, Retna, Hirst, and Koons… oh Antonio Pelayo too.
Do you think you see the world from an artistic point of view?
I think I see the world from a broad point of view. I try to see things without definition or label. I like to see the world in its realest state possible. The purity in all of life makes it all worth while. As an artist I see things poetically. I tend to extract the unusual things in things and that makes things interesting.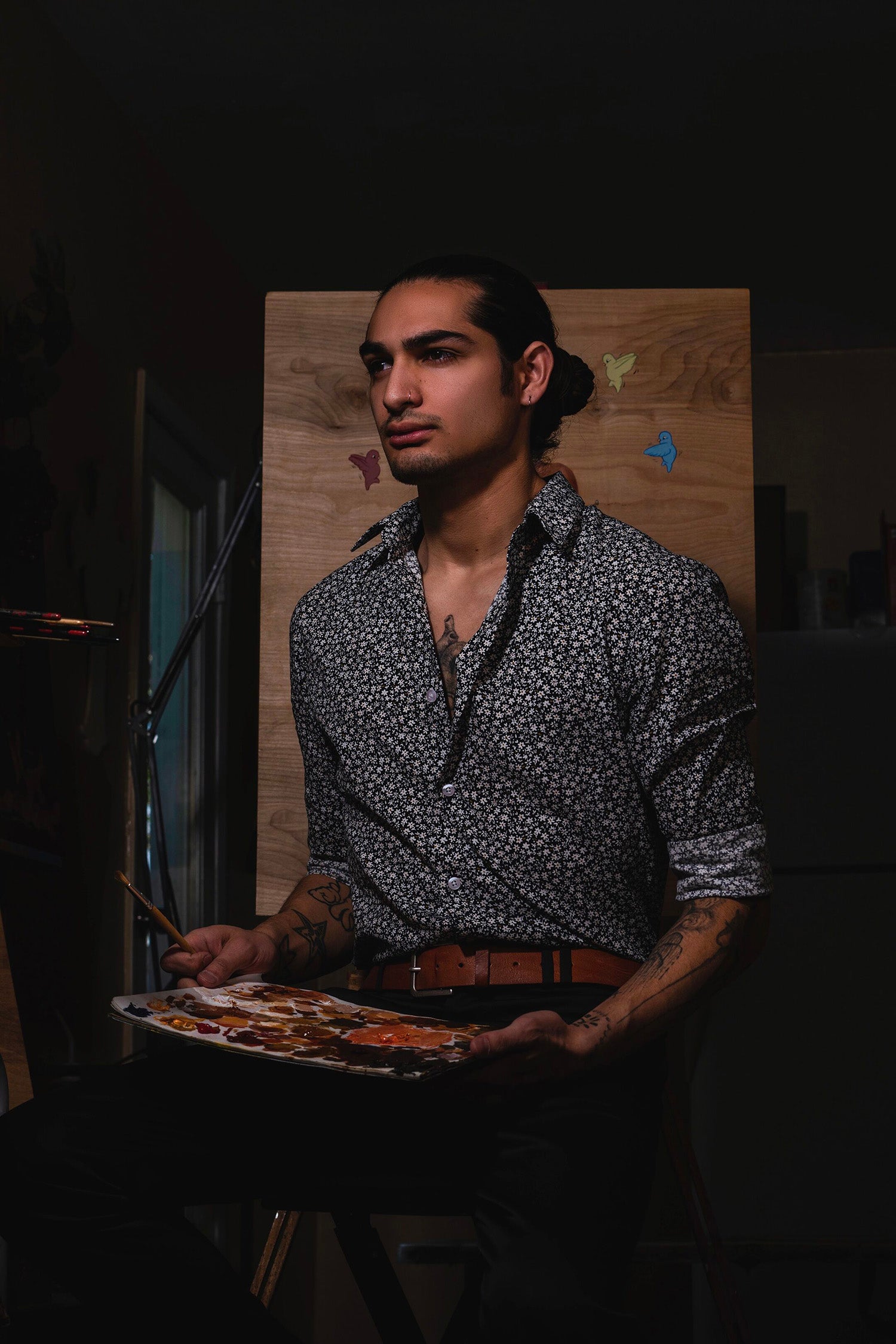 What do you do when you're not creating art?
I'm probably reading, studying, writing, producing, or thinking. Definitely thinking. I think about a million things at a time. Then I rethink them again in ways I haven't thought before. Thinking is a hobby in itself.
You've made quite a name for yourself in the art community, why do you think your art is so valuable to those who get to enjoy it?
Always. I'm surprised when I even finish a painting! I impress myself when someone purchases my work or a piece travels around the globe. It's humbling and gratifying. I'm just a hopelessly romantic kid who dropped out. Now my work is in Diddy's house? Interesting.
I think my hunger as a young striving artist has an affect on my work. I think the collector can feel that. They crave that. They feed on that. I believe it inspires people and people see me for who I am truly. I think I won the hearts of my collectors. I may be totally wrong and that my work just looks dope. Who knows?
In your opinion, how can we help encourage the arts to today's youth?
By creating more art. People who make art make it because they saw someone else make it and got inspired. Place the right books in front of every child. Museum field trips. Bring master artists to schools. Commission more murals. Talk about art. Be about art. For real.
What is your dream project?
I don't have a dream project per se but a dream moment maybe. Having my work placed in a museum like LACMA, GETTY, or Musée Du Lourve. I have ridiculous dreams I've been told.
What's next for you? How can fans and collectors get in touch with you
As of now I'm gearing up to begin a few new bodies of work in collaboration with my father for a few shows this year in 2020 amongst creating work for several group shows and fairs. To stay updated the best way is through my Instagram @isaacpelayo and/or Facebook @isaacpelayo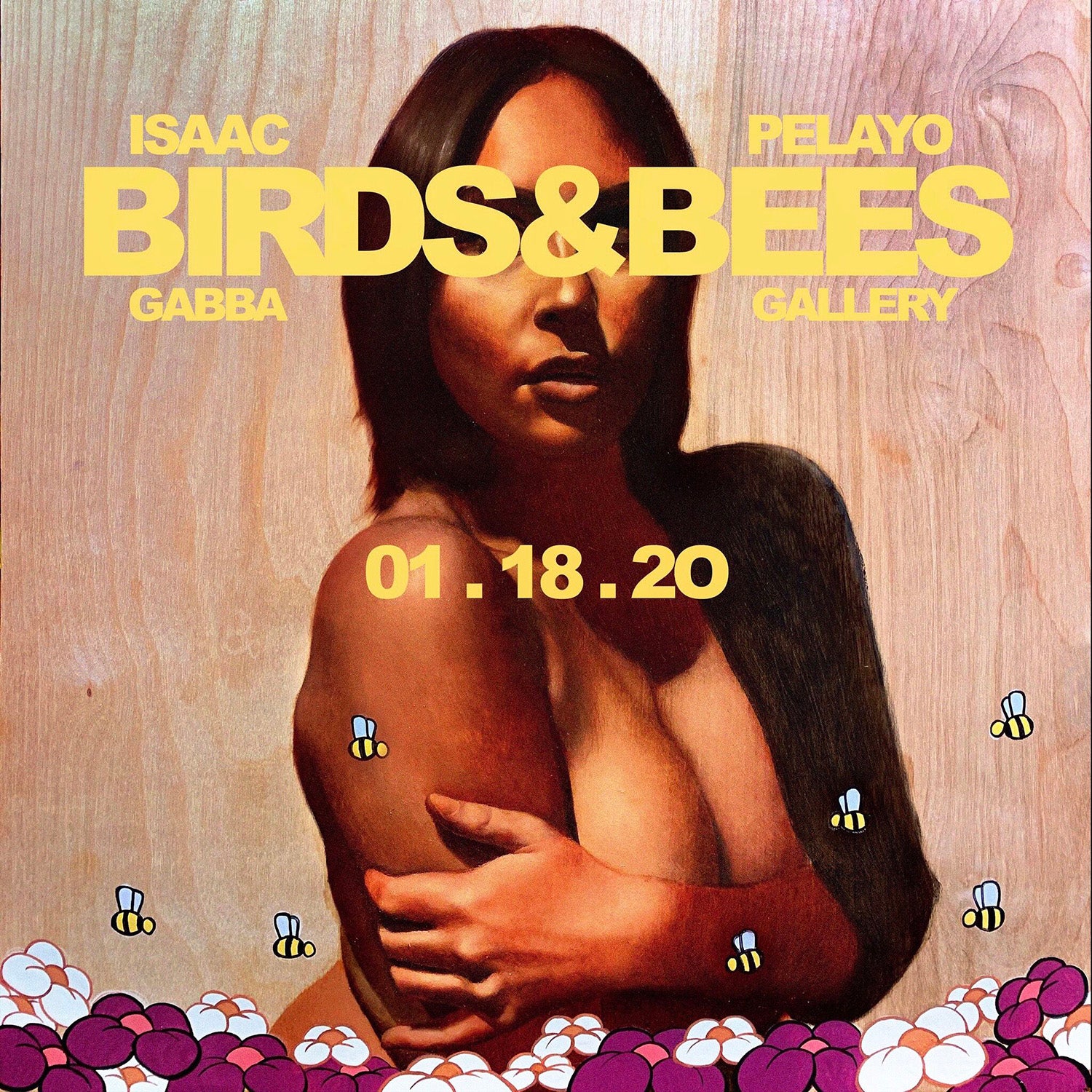 Photography by Lou Harvard @louharvard
Interview by Raven Durán / MUSE Publishing