Greetings from Sunshine Products USA!
So, did Frank awake one morning with the idea to start machining gadgets and sell them online? 
No, not exactly, that is not the way it happened. For one thing, "online" was not even a concept yet!
Frank graduated high school in 1971 and started college the same year at the University of California at Berkeley, with a goal of graduating with a degree in Forestry and Conservation and eventually getting into Wildlife Management. He worked at BOS Mfg., a small machine shop in neighboring Emeryville to help with college expenses. Time passed, and school became less interesting than the excitement of a possible career in manufacturing.
Frank soon discovered that he had a passion and keen interest in machining. He was put through an informal but rigorous apprenticeship program. By 1978, thinking he had learned enough, he bought a small metal lathe and started his own company… Sunshine Machine.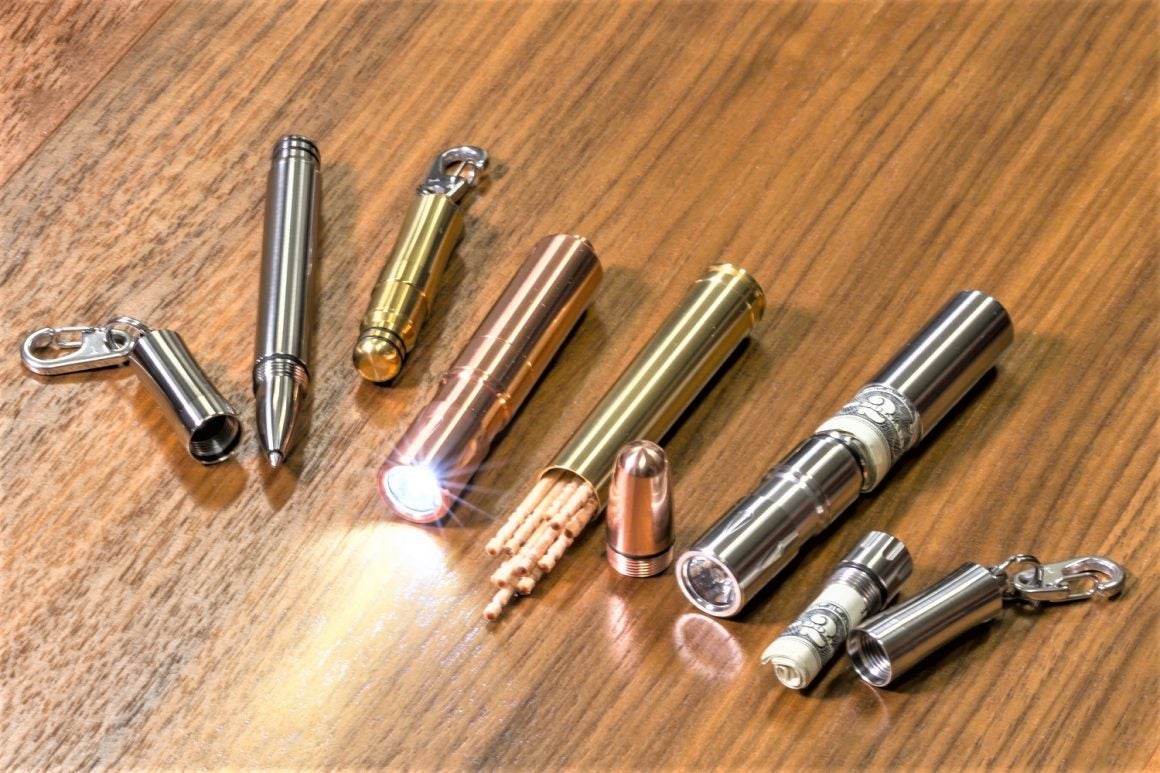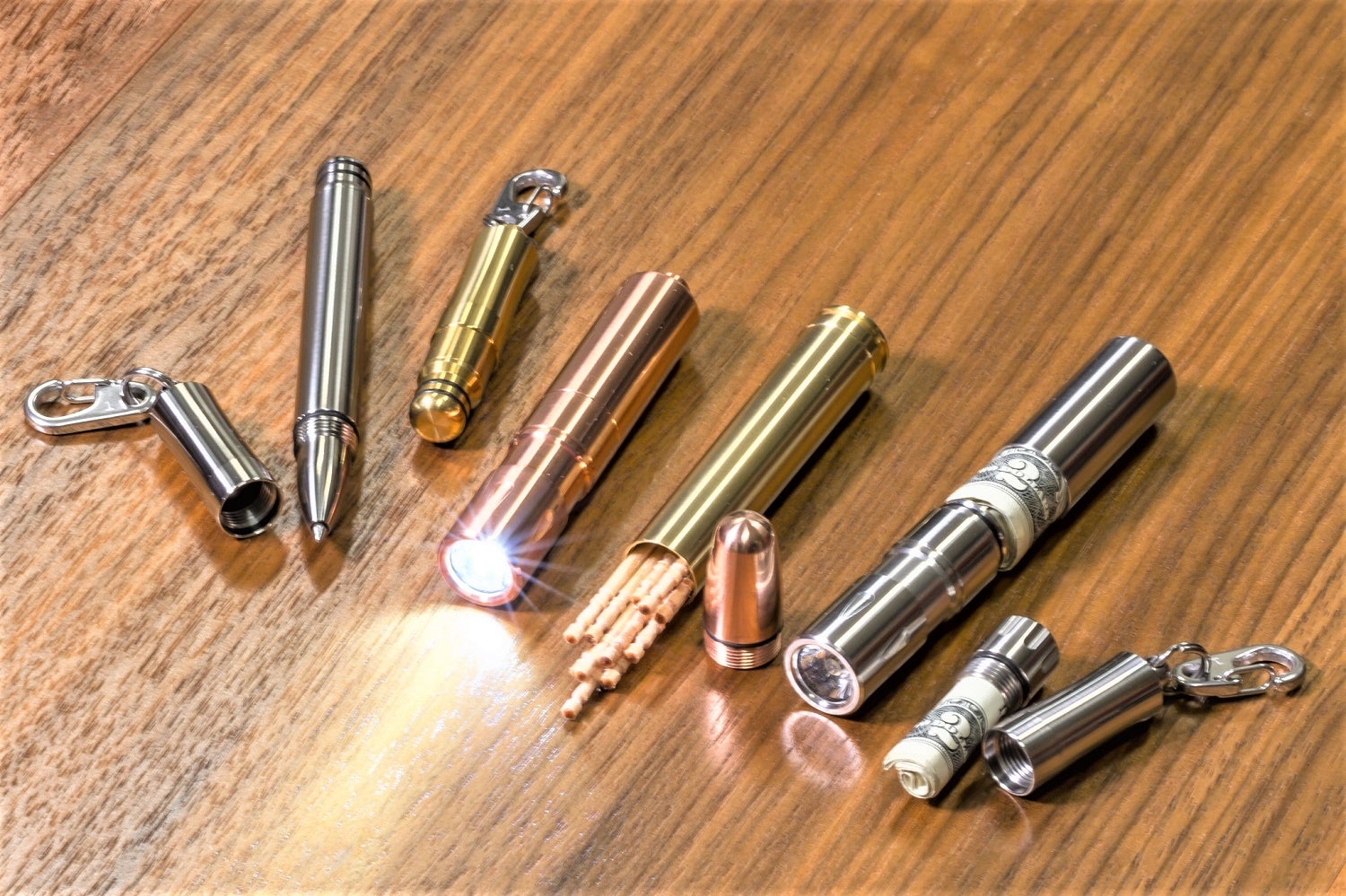 Frank's area of expertise soon became small precision machined components for the semiconductor related industries. By 1980 the shop had acquired several more pieces of equipment and ETEC Systems began ordering small parts for their multi-million-dollar Electron Beam encoding machine that programmed silicon chips for computers. Randtron Systems, a defense subcontractor, learned about Frank's precise manufacturing capabilities and began ordering a major component for AWACS, the early warning radar system used by the military.
Fast forward a bit to 1995. Frank had arrived! His company was known and respected in the machining industry. Orders were pouring in and he soon became overwhelmed. He went to a trade show to explore possibilities of how to increase production. Frank had not yet considered computerized machining. But there it was… the industry had become computerized! A Hardinge CHNC III, a CNC (Computerized Numerical Control) lathe capable of holding tolerances in the millionths was promptly ordered.
Over a period of 20 years thousands of parts were ordered by ETEC Systems and Sunshine Machine proudly maintained a 100% acceptance record. Business was great!
Then… it was over! January 12th, 2000. Applied Materials had purchased ETEC. The new management was not interested in a small manufacturing company. So, was this the end of Sunshine Machine? Maybe not… Frank had learned that when one door closes, another door opens. His former boss had instilled in him a dream to manufacture his own product line. Being suddenly unemployed, Frank had not only been given the gift of time, but a complete machine shop was at his disposal!
The loss of a steady income was the catalyst for a series of life changing events. By this time, the internet was changing, well, everything was changing. Purchasing, marketing, sales, you name it – everything was changing, so Frank rolled with it. In 1975 he had invented a wall mounted toothpaste dispenser and dreamed of producing these by the thousands. After spending quite a bit of time on the prototype, he decided it would be best to start with a product that was not quite as complex.
His first product was a pocket toothpick holder. Precision machined inside and out, the case was touted as "The Toothpick Holder built to Semiconductor Standards". Sunshine Products USA was brought into existence to market the products produced by Sunshine Machine and an online presence was established. This toothpick case, now called "The Original TubePix Pocket Toothpick Holder" is still a bestseller. At one time there were over 30 variations of the TubePix line of Toothpick Holders. In the year 2007 Herrington Catalog featured a few of these models in their mail order catalog.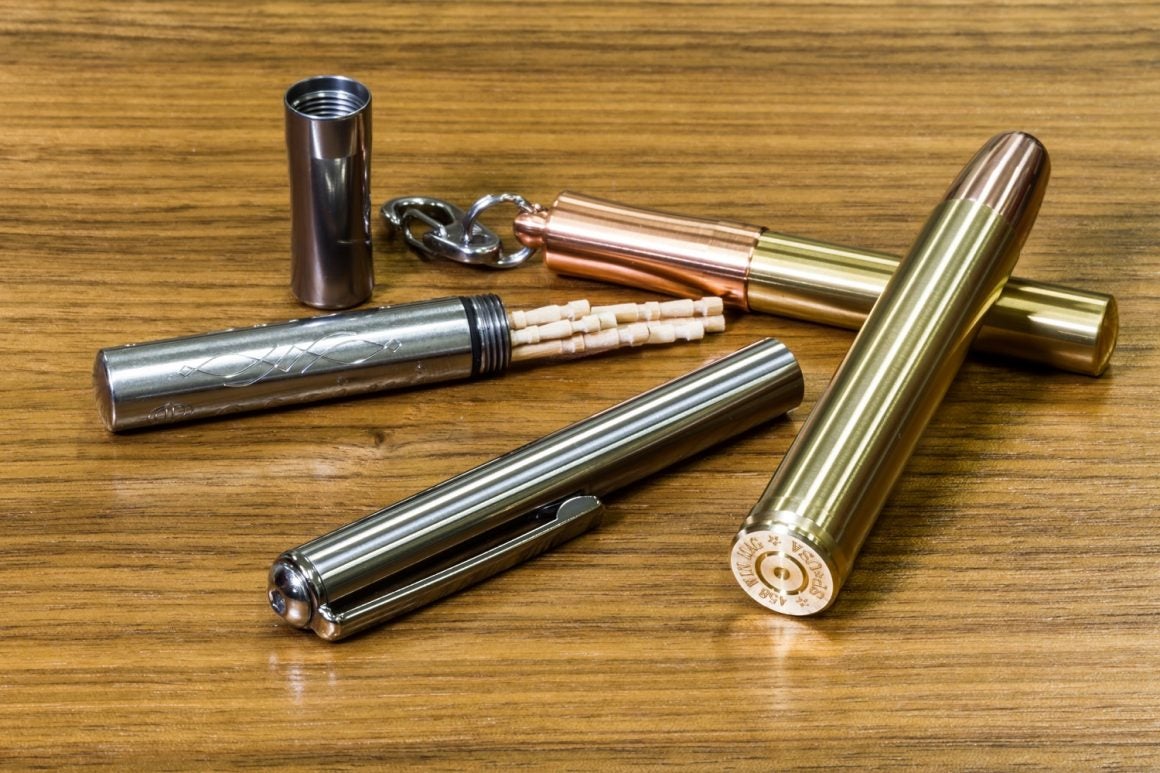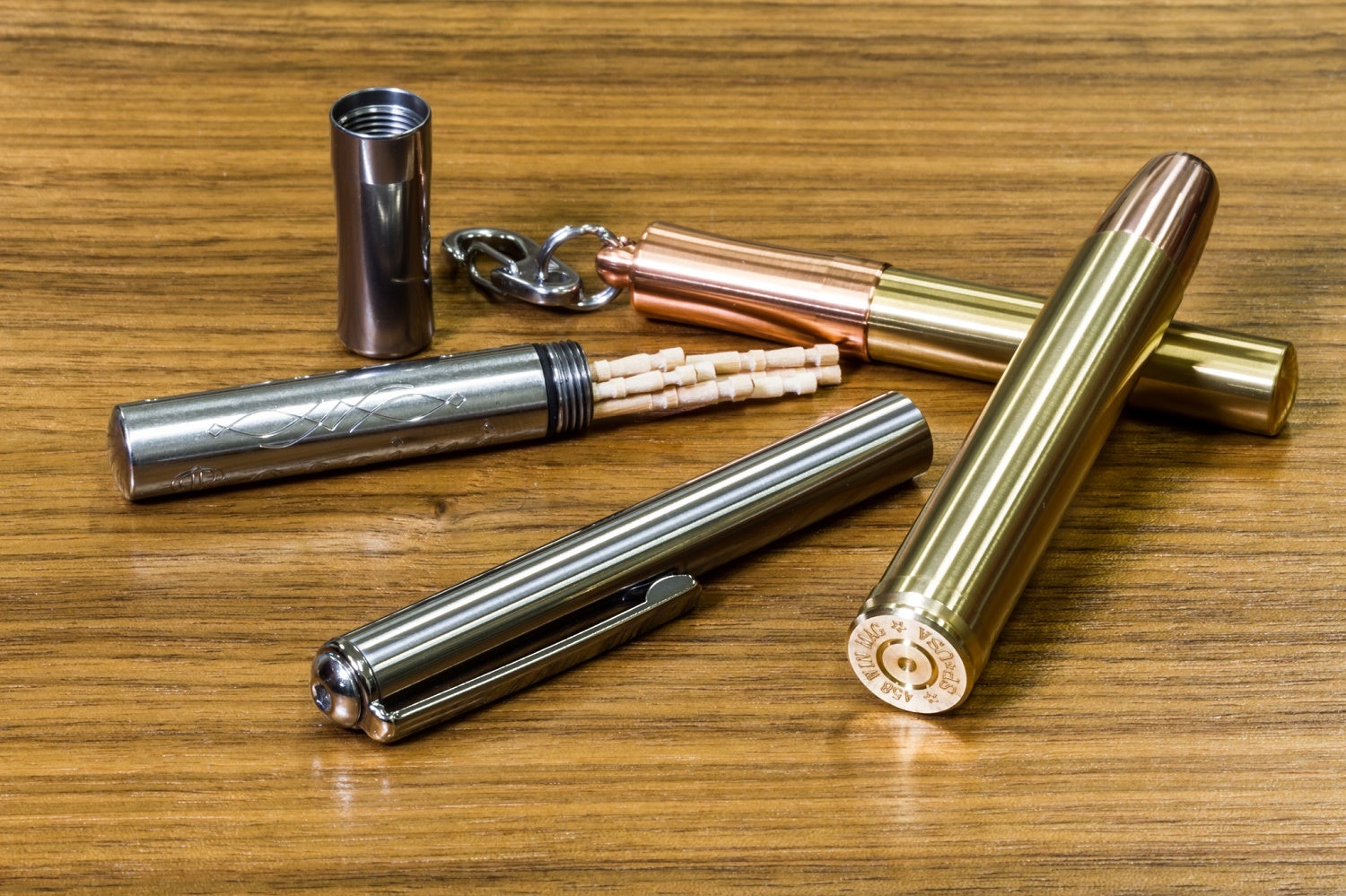 The Hardinge CNC lathe became the workhorse for the company. Most products were small, round, and threaded. After the successful debut of the toothpick case, a small waterproof pill box was introduced as the 550 Series Screw Top Box. The design was modular, available with a key chain option, and was available in various lengths and metals. These screw top boxes were made of aluminum, brass, or copper, and they became popular for carrying emergency medications, money, and memorial keepsakes.
To meet the needs of those who needed to carry more daily meds or larger items, the 1 ¼ diameter screw top box was developed. These were made of copper or brass and available in 3 lengths. Very possibly the most versatile of all the screw top boxes was the box dubbed Lo Profile Container. It was originally developed for a craft show vendor to sell as a discreet box to carry condoms. The box was 2 inches in diameter but only ½ inch in thickness and fit perfectly into a pants watch pocket. The lid unscrewed in less than a twist! No wasted time there! Although the intended use may have never actually caught on, the Lo Profile design was most definitely one of Frank's great innovations. All the pill boxes mentioned above can be viewed here.
Frank was asked to design a waterproof keepsake capsule that would attract the interest of motorcyclists, or the 'biker' crowd. The 44 Magnum Bullet Stash was the answer to this request. The cartridge case was machined from a solid bar of brass using actual 44 Magnum bullet specifications. The precision machined copper cap screwed into the brass case and an o-ring was added which not only rendered the case waterproof but helped keep the assembly secure. The primer end was engraved with the caliber to add a sense of realism.
Not any parts of an actual cartridge were used. A line of replica bullet stashes to hold money quickly evolved. Included in the lineup are the 44 Auto Mag, 45 ACP, 357 Auto Mag, 50 Action Express, Colt 45 and the S&W 500 Magnum. All these Bullet Stashes are now popular as emergency money keyring stashes. Frank's most innovative money stash, the 'Cash-Can', will be presented in a separate Swagger EDC article.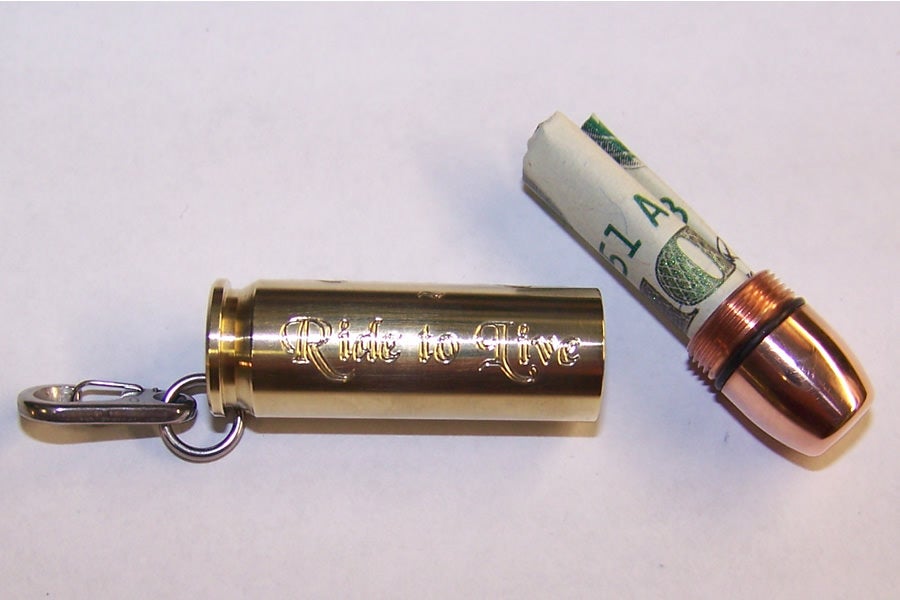 In 2007 when Herrington Catalog featured the toothpick cases, a computerized engraving machine was put into use. Personalized cases accounted for over 30% of the orders. It became evident that the target market had expanded from personal Everyday Carry purchases to products being ordered as personalized gifts. When a copper and brass bullet stash was ordered with the engraving "Happy 7th Hot Shot", we learned that copper was the suggested traditional material and brass the modern material for the 7th wedding anniversary.
Realizing the potential for a product being purchased as an anniversary gift, the following materials were added as product options: Bronze (8th), Aluminum (10th), and Stainless Steel (11th). A personalized 44 Auto Mag became the best-selling item for a 7th Wedding Anniversary gift for him. The copper, bronze, or stainless steel Bud Vase with a Swarovski Crystal Rose was the best-selling anniversary gift for her. Finished vases and crystal roses were kept in stock because it seemed that men waited until the last minute to shop for anniversaries! Most vase orders were shipped UPS Next Day Air!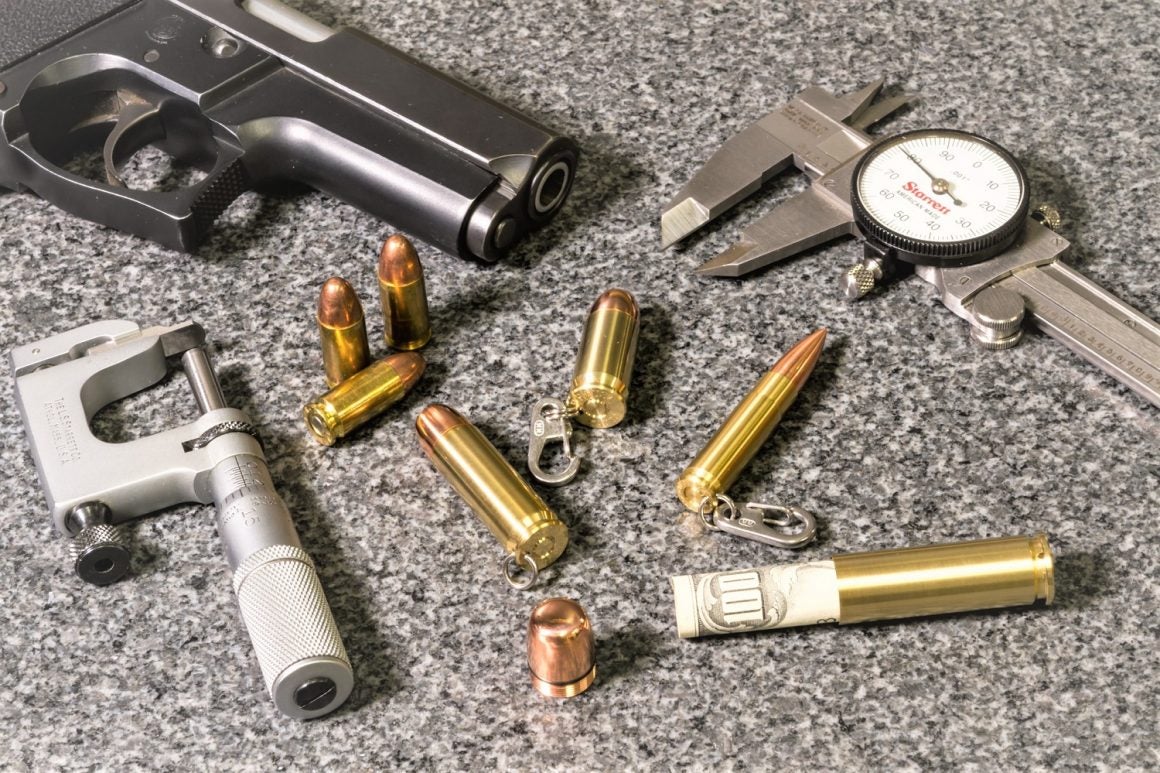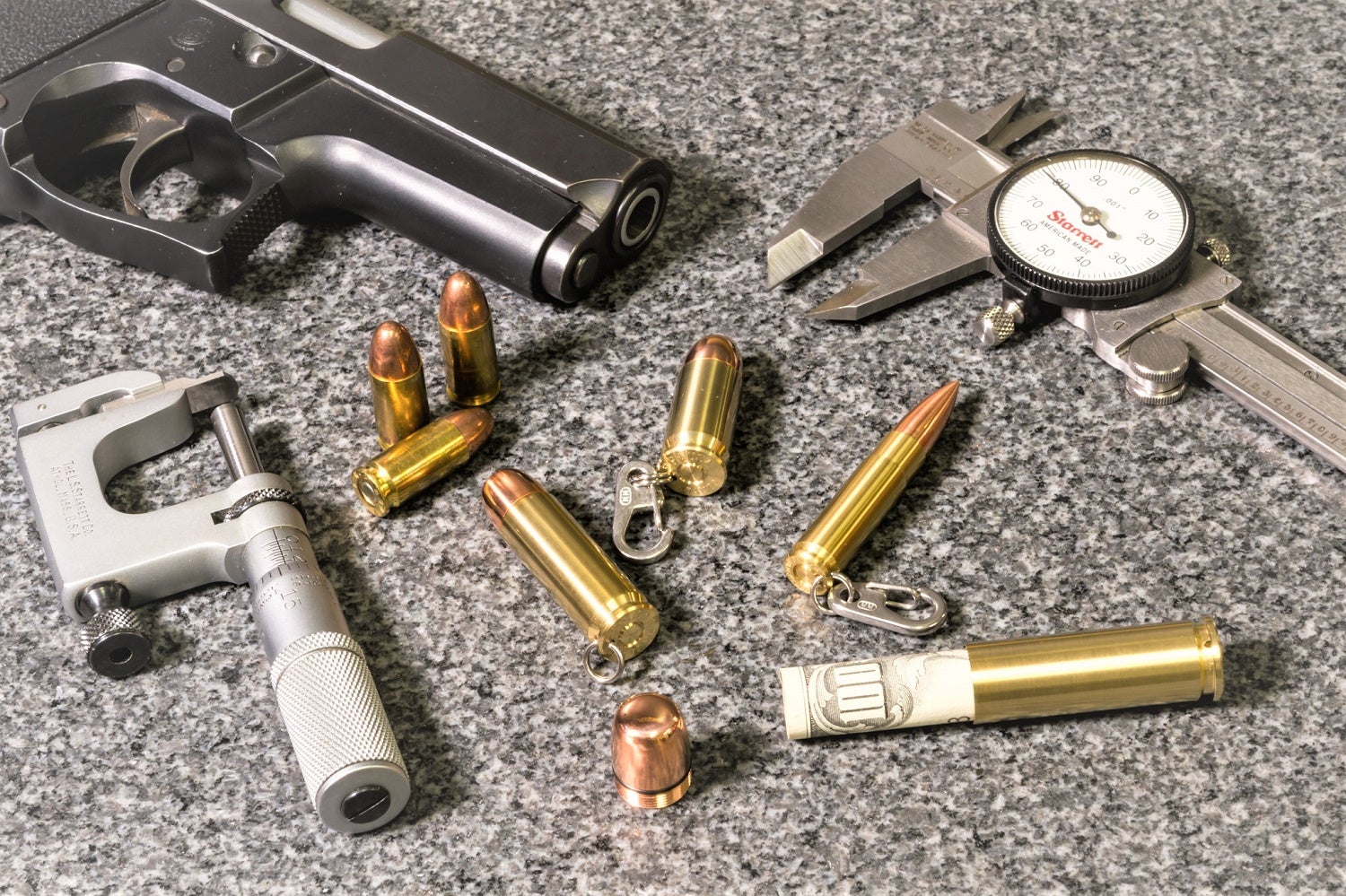 The products presented here represent best sellers for Sunshine Products USA. They are widely used as personal Everyday Carry items as well as gifts for many occasions.
Other quality items include metal Chapstick Covers, Zipper Pulls, "Cash-Light", Titanium Gadgets, and several unique models of Custom Metal Pens. Take a look at the Sunshine Products USA YouTube channel for product specific information. Custom engraving is available on any product. Frank encourages product comments and suggestions and offers his expertise in the field of design and manufacture to those looking for something completely unique. Customers can ask for a product modification or request a custom one-off product.
Give Frank a shout and let him know you read this article!