Times have changed in terms of expectations of home theater and "man cave" seating.  Reclining chairs used to be relegated to the basement or den, out of sight and often out of mind.  Now theater seating is designed with superior comfort and incorporates modern technology. The key customer for theater seating has broadened to include not only individuals but people with aspirations for entertaining and accommodating the whole family.
2020 has been an unprecedented year and has had a huge impact on the home and lifestyle market.  People are migrating outside of large urban centers and into more suburban and even rural settings. New homeowners and people upgrading to larger homes are eagerly transforming their spaces into multi use activity hubs.  Covid has most people spending more time at home and less time travelling and participating in activities outside the homestead.  Being home more has led people to rethinking the layout and use of their private space.  The demand for home multimedia rooms has skyrocketed and the desire for more stylish but still comfortable and functional chairs has increased.
Valencia Theater Seating creates chairs that can either command or compliment any space with contemporary designs that deliver superior comfort.
The History
The Italian/North American company, Valencia Theater Seating, was founded over a decade ago and fuses the idea of old-world craftsmanship and style with a commitment to superior customer service and cutting-edge technology.  The company has grown rapidly but continues to strive for design innovation and provide discerning clients with the ultimate in comfort and style.  Valencia's R&D team is dedicated to making sure each model is not only exquisitely styled but exemplifies the best in comfort and support.  Beyond building chairs, Valencia is building legacy.  With a commitment to providing their clients with luxury and comfort in their lives, the company offers a premium home theater seating experience.
Responding to the market has been key to Valencia's success.  Appealing to a luxury client, Valencia realized bringing the option to customize was a way to offer another level of exclusivity to customers. Production has been modified to accommodate clients looking for specific colors of leather and details. In 2020, the company launched their online customizer on their website to help clients visualize and choose their chair specifics.  Not only can customers choose from a wide array of upholstery, but they can also select the finishing of the cup and accessory holders as well.  The chairs can be configured into up to 17 different combinations from a standard row of 2 to a curved loveseat sectional.
Form Meets Function
Valencia has become a key link between the technology driven world of home theater set-ups and the lifestyle and home décor market.  Producing seating that satisfies the audiophiles and interior designers alike is unique to Valencia.  The chairs each have state of the art reclining system known as the Leggett and Platt mechanism.  The mechanism is both durable and smooth and facilitates a full recline on the chairs even with only five inches of clearance between the back and the wall.  The design team incorporates key design details such as accent piping and diamond stitching to appeal to the luxury client's visual aesthetic.
Luxury on Your Terms
Offering customization on their seating appeals to the high-end client.  Customers have enthusiastically shared photos and videos of their home theater setups featuring Valencia chairs over social media in leading to a huge demand.  An exotic car and sports enthusiast, who ordered chairs to match his favorite basketball team colors, shared his set up on Instagram.  The post quickly went viral being re-posted by sports and music stars across North America and leading to another surge in sales for Valencia.  The company's chairs are the center pieces in countless luxury homes throughout North America and beyond.
While the company is primarily an ecommerce business, Valencia works hard to keep their support team trained, informed and accessible to clients.  They have an in-house content creation team dedicated to producing informative photos, videos, and guides to share with clients.  Each and every member of the Valencia team is devoted to delivering the best product and service to their customers.
Products:
Valencia Theater Seating offers four different capsule collections of premium seating.  Each capsule embodies a slightly different style and character guaranteed to delight any home theater enthusiast. The four capsules include the Premier, Multimedia, Cinema and Performance series.
The Premier Series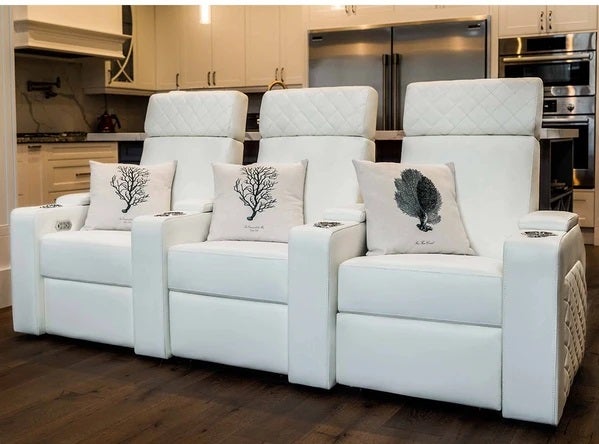 This series shines the spotlight on top-quality craftmanship.  The Tuscany, Oslo, Zurich and Bern models boast the finest in top grain nappa leather upholstery.  The butter soft leather is tested for durability and colorfast qualities to ensure the seats will be a center piece in your home for years to come. Each model uses attractive diamond stitching that increases the ergonomic comfort.
The Multimedia Series
For the ultimate in-home theater experiences, combine a row of either the Oxford for the Tuscany models and add a center console.  The console folds down to access reading lights, cup holders, charging ports and power sources.  The perfect way to enjoy a glass of wine, charcuterie tray and your favorite movie.
The Cinema Series
A sleek and refined style, the Cinema series includes the Venice, Budapest, Verona and Piacenza.  Featuring top-grain leather, each model is designed to complement any space from a theater room to a modern living room.
Valencia Theater Seating's interactive website showcases each of their models and outlines the prices and customization options available (www.valenciatheaterseating). The company's theater seating experts offer advice on anything from chair designs to home theater layouts.   Valencia is also dedicated to their online social media community and can be found on YouTube, Facebook, Instagram, Twitter and Pinterest.
Shop the collection at www.Valenciatheaterseating.com ,call us at 1-888-533-9991 or follow us on Facebook @Valenciatheaterseating.
For $100 off use the Promo Code: SWAGGERMAG at checkout at our online*
*on purchases over $2000 USD and $2300 CAD until Feb 2021